The NJ Child Seatbelt Laws—Keep Your Child Buckled Up Properly
Despite the strict child safety restraint regulations, car accidents are a leading cause of fatal injuries for children 1–13 years of age.
Are you driving minors on the New Jersey roads? Complying with NJ child seatbelt laws can help you keep your kids safe and avoid serious consequences in the event of a crash. You can also dodge hefty fines and unpleasant visits to the court.
Let our simple guide introduce you to the basics of NJ seatbelt legislation, including:
What Is the New Jersey Seatbelt Law for Children?
The State of New Jersey demands that all motor vehicle occupants are properly buckled up. The same law applies to children. If you have minors in the car, make sure that they are in a car seat, booster seat, or wearing a regular seatbelt. Drivers are responsible for securing children, and they will be fined if they fail to do so.
While NJ enforces secondary seatbelt law for backseat passengers, it is a primary offense if children under 18 don't wear a safety belt. Here's the difference between these two types of enforcement:
Primary seatbelt law enforcement—Police officers can pull you over to issue you a ticket if they notice that you are unbuckled
Secondary seatbelt law enforcement—Police officers don't have the authority to stop you only for not wearing a seatbelt. They need to register a primary offense as well
Children older than eight and taller than 57 inches can use a regular safety belt with both lap and shoulder belts on. If they meet the height requirement before turning eight, you can secure them with an adult seatbelt.
Car Seat Regulations According to the NJ Child Passenger Restraint Law
How you need to restrain your child depends on their age, height, and weight. Use the information below to find the right safety seat for your child:
| Age | Weight/Height | Safety Seat |
| --- | --- | --- |
| Under two | Weighing under 30 pounds | Rear-facing safety seat with a five-point harness |
| Under four | Weighing under 40 pounds | Rear-facing seat until they outgrow it and then a forward-facing seat with a five-point harness |
| Under eight | Shorter than 57 inches | Rear- or forward-facing car seat until they outgrow it and then a booster seat |
If there are no back seats in the car, you can install a proper restraint system in the front. The only exception is that a rear-facing seat shouldn't be placed in the front seat if the passenger's side airbag is active. You need to deactivate the airbag first to make this option acceptable.
Every car safety seat needs to meet federal standards, or you can get a ticket. The restraint system also must be installed properly. According to the National Highway Traffic Safety Administration (NHTSA), 41.7% of children between 40 and 59 lbs aren't properly fastened in their car seats—which can lead to injuries or death if the crash occurs.
The Cost of Breaking the NJ Child Seatbelt Law
If you violate the child seatbelt law, you will need to pay a fine. How much it will cost you depends on the offense:
| Offense | Fine |
| --- | --- |
| An unbelted child who should be wearing a seatbelt | $46 |
| An unrestrained child who should be in a car seat or booster seat | $75 |
Note that not paying your ticket can result in a much higher fine.
Does the Seatbelt Ticket Go on Your Record?
New Jersey doesn't categorize not wearing a seatbelt as a moving violation. You don't need to worry about demerit points as the DMV won't assign them to your driving record. Failing to buckle up also won't bump up your insurance rate.
​​Can You Contest a Ticket Under New Jersey Child Seatbelt Laws?
Do you have a good argument about why your child was not restrained? This can be a solid foundation for overturning a ticket.
Some valid reasons are:
Your child unbuckled the seatbelt while you weren't looking
You have a physician's note that your child shouldn't wear a seatbelt
The officer ticketed you even though you had a receipt that you had purchased the car seat an hour before
Arm yourself with a witness that supports your claim or provide proof if you can.
You need to present your case effectively and comprehensively. Are you uncertain that you can pull it off? Don't stress because DoNotPay comes to the rescue! and skip the hassle of writing an appeal. We'll do it for you, and the whole process will last a couple of minutes!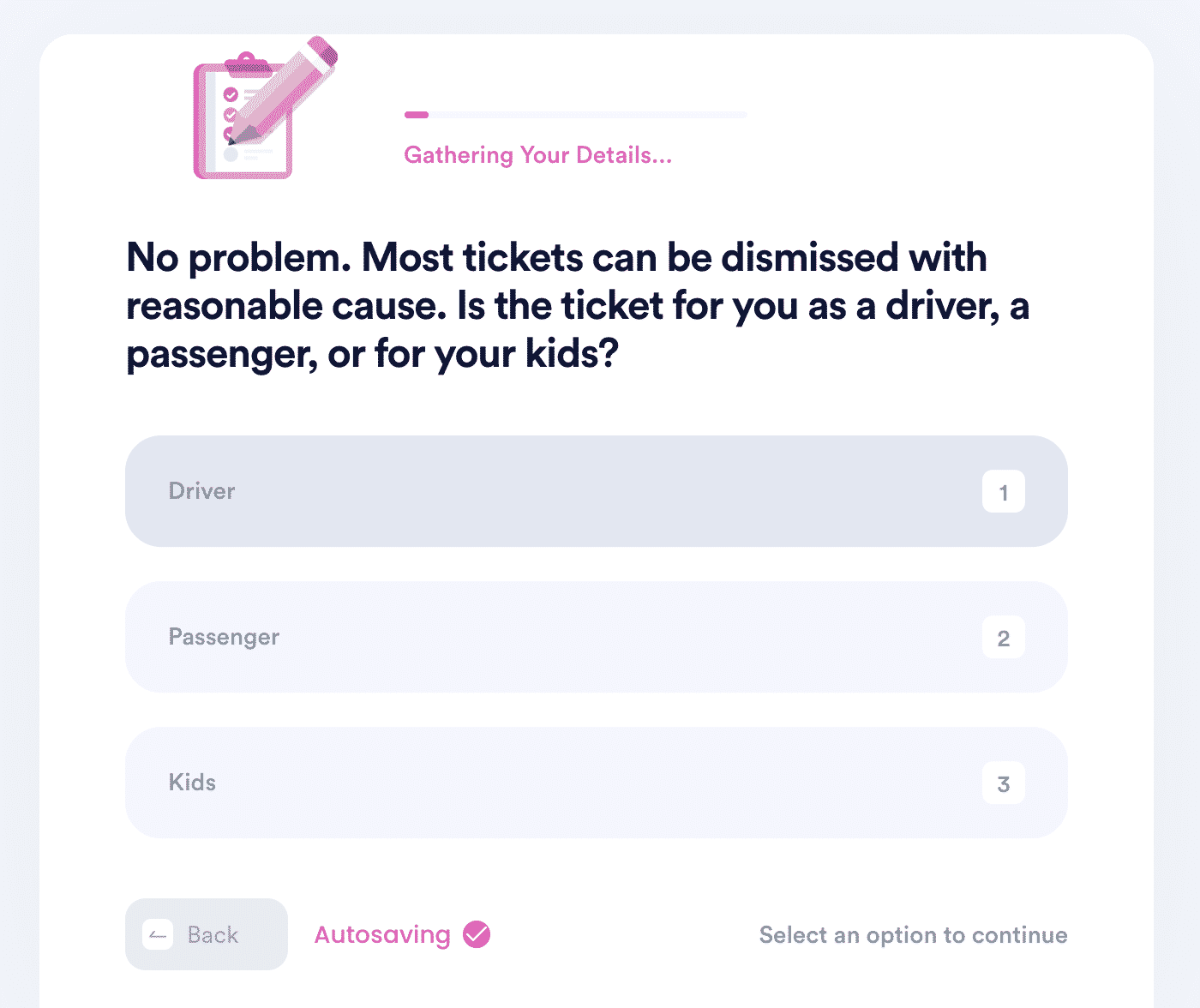 DoNotPay Is the Simplest Way to Overturn a Ticket
Drafting an appeal was never easier—with DoNotPay, all you need to do is answer a few questions! We'll generate a tailor-made, formal request for a ticket dismissal in no time. You won't even have to deal with mailing it—we'll do it in your stead!
Follow these steps and get your appeal in a snap:
Search for Seatbelt Ticket
Upload a photo of your citation
Answer our chatbot's questions regarding:

Who made the offense
What argument you want to present
Which evidence you can provide—if any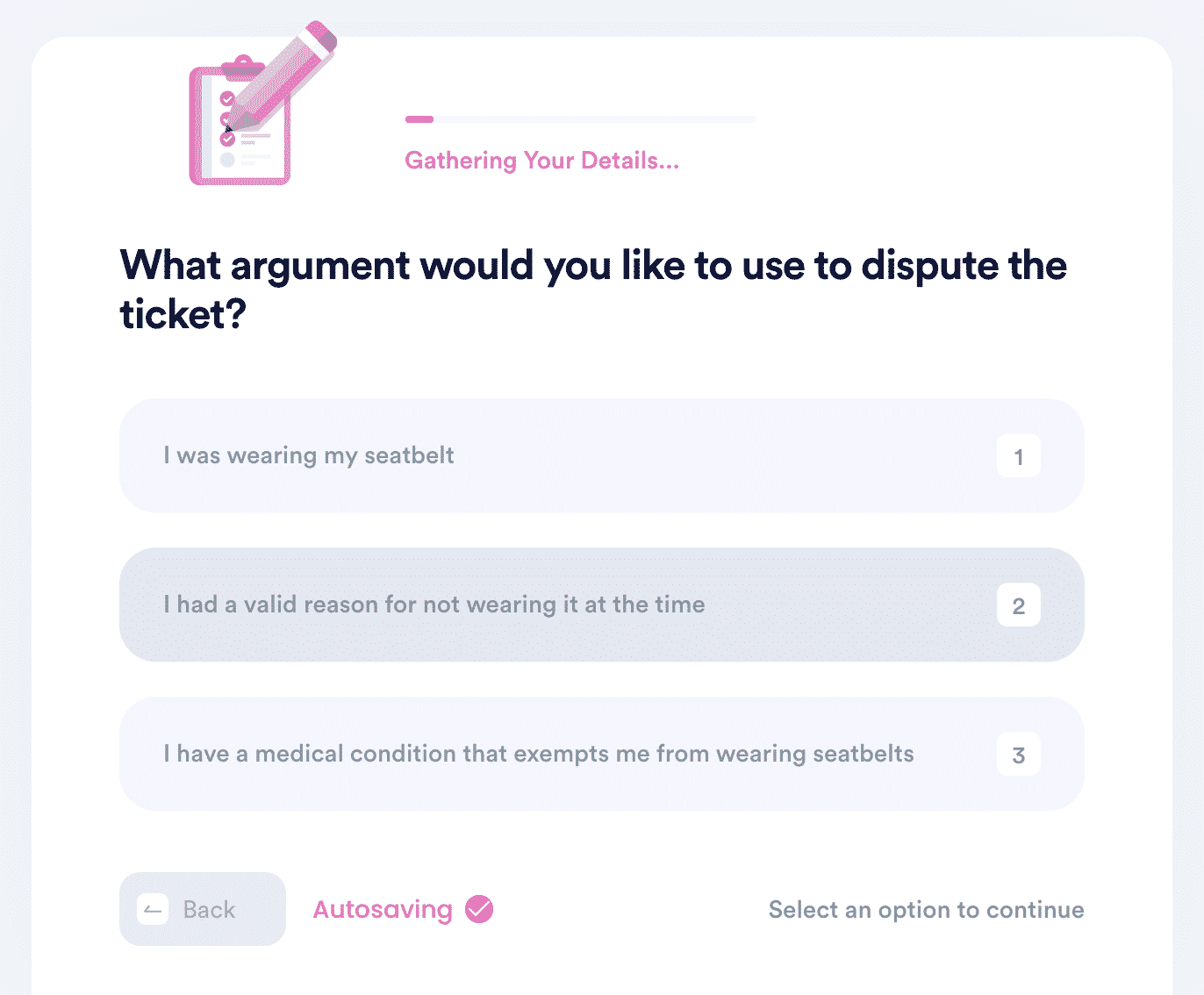 Be a Role Model for Your Kids—Know Your Laws
Not all states in the U.S. have the same child seatbelt laws. Why risk getting a ticket when you can learn about different child regulations here:
Are you unsure about having to wear a seatbelt when you head to other states? DoNotPay enables you to have this information in the palm of your hand with our state-specific seatbelt guides:
DoNotPay's Assistance at Your Fingertips
DoNotPay is all about easy solutions. Turn to our app when you need to get rid of unwanted services, block spam emails and text spam, and overturn unpaid parking tickets. We can also assist you in registering on platforms without disclosing your number and signing up for free trials using our virtual credit card.
With our app, you'll forget about old-fashioned ways of completing certain tasks. Let us help you send faxes online, mail letters, reach customer service, and get in touch with an incarcerated loved one.
DoNotPay Has More To Offer
Our app boasts a wide range of products—from filing a warranty claim, requesting a refund, and booking a DMV appointment to getting a document notarized, filing financial aid appeal letters, and fighting discrimination at work.
For DoNotPay users, no problem is too difficult to solve. Here are only some of the tasks our app can help you complete: