Everything You Must Know About the Child Seatbelt Law in Maryland
Did you know that more than 109 children in Maryland lose their lives in car crashes annually due to improper restraint system installations? The purpose of the current child seatbelt law in this state is to reduce the number of fatalities and injuries and protect the young ones in the best possible way. The main problem is that not all parents know how to secure their kids properly in a vehicle or when to introduce a seatbelt to their children.
The purpose of this article is to break down these regulations for you and help you comply with them. We will also explain:
How you can check if your child is ready to wear a seatbelt
What the consequences of violating child seatbelt rules are
What the most popular ways to get your ticket dismissed are
How can help you appeal the citation within five minutes
Maryland Child Seatbelt Laws Deciphered
All Maryland seatbelt laws for children are defined in Section §22–412.2 (Transportation) of the Maryland Code. These regulations apply to the children transported in the following vehicle categories:
Class A—passenger vehicles
Class E—trucks
Class M—multipurpose vehicles
According to the statute, all passengers below eight must be placed in an adequate child restraint device while the vehicle is moving. While children from zero to eight years old should be in a proper car seat, the older ones can switch to standard seatbelt use once they outgrow their restraint devices.
In the table below, we have simplified the child restraint scheme based on your kid's age or height/weight:
| Age | Restraint System Type |
| --- | --- |
| Zero to two years old | Rear-facing infant car seat or convertible seat (if your child weighs between 30 and 45 pounds) |
| Two to four years old | Forward-facing car seat—until the child turns four or weighs 40 pounds or more |
| Four to eight years old | Booster car seat—until the child gets taller than 4' 9'' or reaches 65 pounds |
| Above eight years old | Regular seatbelt |
Exemptions From the Maryland Child Seatbelt Law
Your child can avoid wearing a seatbelt or riding in a child restraint device only if they have a medical condition that doesn't allow them to do so. Before driving the child anywhere, you must get a written statement from a certified medical practitioner. The document must confirm the exact health issue and contain the doctor's signature. Have it with you whenever your child is in the vehicle.
How To Know if Your Child Is Ready for a Seatbelt
To check whether your little one is ready to switch to a traditional seatbelt, you should ensure:
Your child can sit all the way back against the installed booster seat
The upper belt crosses the child's shoulder between their arm and neck
The child's knees fit comfortably to the edge of the booster seat
The lower (lap) belt should be as low as possible, touching the child's hips and thighs
They can spend the entire trip in this position without being uncomfortable
Is the Maryland Seatbelt Ticket a Moving Violation?
Not wearing your seatbelt in Maryland is a primary offense but isn't a moving violation. It means that the fine doesn't endanger your driver's license by adding demerit points to it. As per the statute, it also won't affect your current car insurance rates.
How High Are the Child Seatbelt Ticket Costs in Maryland?
Failing to secure your child in an adequate restraint system in your vehicle entails an $83 seatbelt fine, which includes additional court expenses. The driver receives a ticket for each person under the age of 16 that isn't buckled up. You should also avoid paying the ticket after the specified deadline as this may increase your fine even more.
Popular Methods of Fighting a Child Seatbelt Fine in Maryland
Parents who fail to protect their children properly according to the Maryland Code and get ticketed have several ways to have their fine waived, such as:
Getting a suitable child restraint device based on your child's age, height, or weight—If the main reason for your fine was a missing car seat, you can buy one before the court hearing and provide the authorities with a receipt. In most cases, the citation should be dismissed once the judge checks the proof
Showing reasonable doubt—Can you prove that your child was indeed placed in a suitable restraint device when the police pulled you over? Show it to the court and explain the mistake the officer made
Mounting due diligence defense—Do you have a good excuse for not complying with the seatbelt rules? Use it as an argument in the case. This option requires evidence as well
Kiss Your Ticket Goodbye With DoNotPay's Help
If you think the only way to get rid of a seatbelt ticket is to pay for it, think twice. You can appeal it in a few taps from anywhere in the world by using DoNotPay! We use the details of your case to draft a comprehensive claim and send it to the local ticket department right away. Everything is done online, with zero paperwork or administrative issues!
To help us compose your document, do the following:
Choose Seatbelt Ticket
Provide us with a clear photo of your seatbelt citation
Tell us which argument you want to stick to
Explain the case further by answering a few questions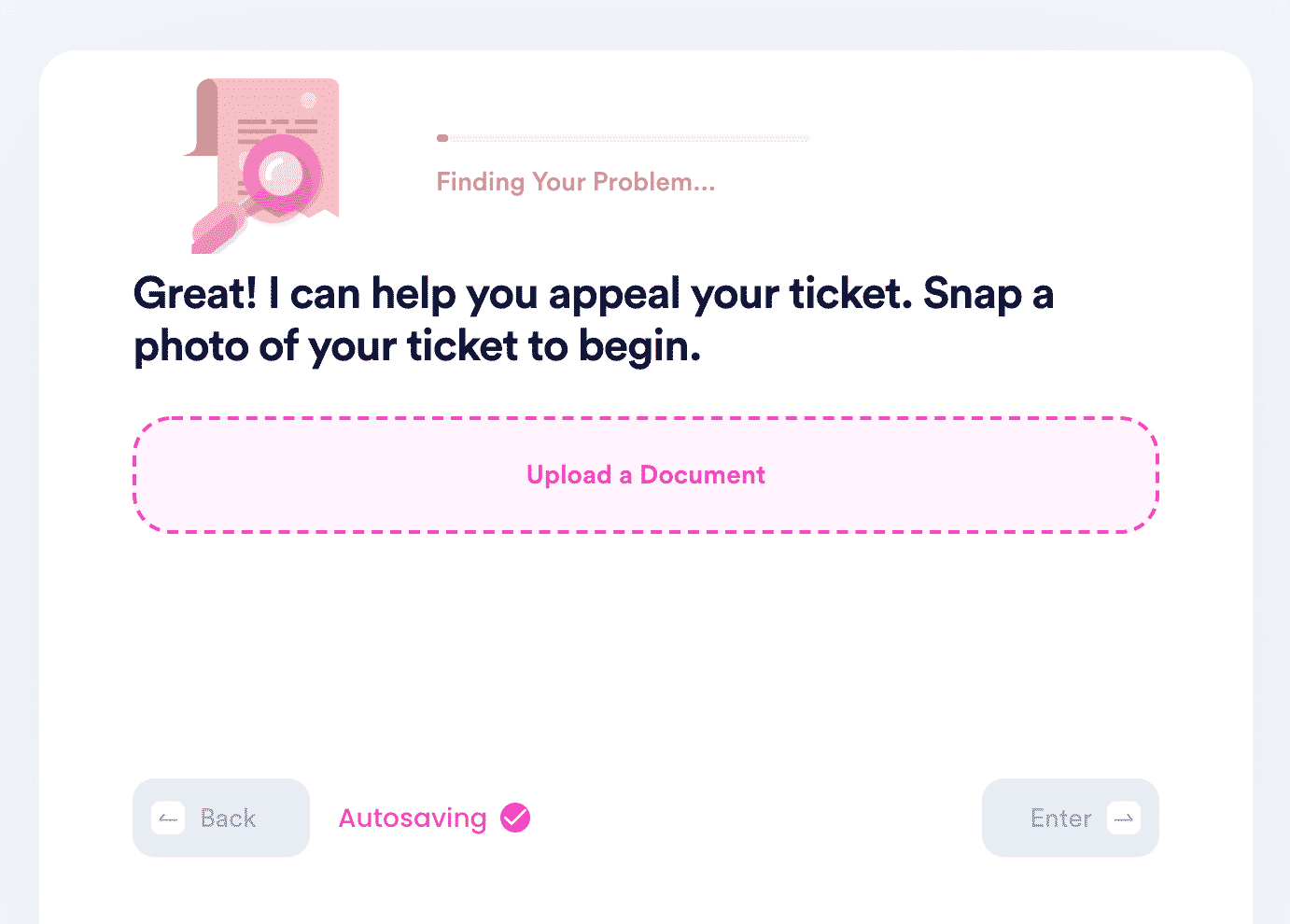 Should you be interested in learning more about child seatbelt laws in other states, discover more great manuals in the following table:
Save Time and Money Using DoNotPay
Being on hold while trying to reach customer service is no picnic. With DoNotPay, you can jump the phone queue and reach a rep with ease. Are you contacting a company to request a refund or cancellation? No need for that! Our app can get it done in a few clicks. We can also help you return an item or handle a late delivery.
Dispute parking tickets, claim your warranty or insurance, set up a DMV appointment, contact an embassy, and deal with any other task with our assistance.
You can also request access to public records, apply for tourist visas, or file complaints with the help of our AI-powered app.
We're Not Done Helping You!
Our multifaceted app keeps getting new features that can streamline numerous tasks and solve all kinds of problems.
Would you like to join sweepstakes or giveaways? Are you up for participating in clinical trials and earning some money? Are you interested in sending mail without visiting the post office? We've got it covered!
We will help you protect your privacy by putting an end to spam emails, incessant text messages, and robocalls. If you think you're being stalked, you can count on our assistance. You can also use our app to perform a sex offender search, fight workplace discrimination, and handle annoying neighbors.