All You Need To Know About the Seatbelt Laws in Maine
Research from 2020 showed that Maine was the second state in the U.S. with the most car accidents—preceded by Massachusetts and followed by Maryland. You might not be able to affect the dangers of the road, but you can decrease the likelihood of a similar outcome by wearing a seatbelt.
Drivers, passengers, and children have to respect the seatbelt laws in Maine. Otherwise, the offender can end up with a hefty fine and other unpleasant consequences.
DoNotPay will help you find out all about the seatbelt laws in the Pine Tree State, including how you can dismiss the ticket.
Seatbelt Laws in Maine—The Basics
The U.S. Department of Transportation has strict laws for Maine drivers and passengers. This is one of the 34 states who have primary enforcement for seatbelt laws. What this refers to is that the police officer can issue a citation upon observing the seatbelt violation alone.
Drivers and passengers who are 18 years of age or older need to have a safety belt on at all times while they are in the vehicle. For passengers who are at least eight years old—and more than four feet and seven inches tall—but younger than 18, the driver is responsible for ensuring that they are buckled up.
You won't be bothered by pesky tickets if:
You're driving a taxi or a limo, and your passengers haven't put on a seatbelt
Frequent (un)fastening would get in the way of your efforts to deliver newspaper in a timely fashion
Your doctor has strictly forbidden you from wearing a seatbelt
What Are the Maine Child Seatbelt Laws?
Using a child restraint system properly can reduce the risk of serious injuries and death during motor vehicle crashes. What restraint you need to use depends on the child's:
In 2019, the government strengthened the child car seat laws, and now, they go as follows:
| Children of Age and Weight | Car Seat Requirement |
| --- | --- |
| Under the age of two | Rear-facing car seat |
| Over two years old, weighing less than 55 pounds | Front-facing car seat with a harness |
| Under the age of eight, weighing less than 80 pounds and being shorter than 58 inches | Booster seat |
| Under the age of 12, weighing less than 100 pounds | Back seat only |
Parents are instructed to respect the height and weight limits set by the car seat maker. It is also recommended that children ride in the back seat for as long as possible.
How Much Does a Seatbelt Ticket Cost in Maine?
If you make a seatbelt offense as a driver or passenger or you fail to follow the child seatbelt laws, you can be fined:
$50—for the first offense
$125—for the second offense
$250—for the third offense
You can pay for the ticket in one of these ways:
By mail
In person by going to any Maine state courthouse
By phone at 1-866-729-8499
Before you take out your wallet, check if the ticket is in the system. They are issued by hand, so there can be a delay from the time you were ticketed to the moment when it's registered in the online portal or the automated phone system.
Do Seatbelt Tickets Go on Your Driving Record?
The Secretary of State records all traffic and moving violations in Maine. You may receive points for breaking the seatbelt law, and it will stay on your record for one year.
This type of ticket is a conditional one, but if you have made other traffic violations in the past, your insurance rates can increase significantly.
Local law also states that a vehicle, its contents, the driver, and the passengers can be searched if you get pulled over because you're not wearing a seatbelt.
Can You Dispute the Ticket?
To contest your ticket, you need to have a plausible argument in the form of:
Reasonable doubt—Claiming that the officer issued the ticket by error—for example, they didn't see that you were wearing the safety belt
Due diligence defense—Stating that you had a valid reason for not buckling up—such as a medical condition that prevents you from doing it and a doctor's certification that proves it
Note that if you don't dispute the ticket or pay the fine, you can face additional costs.
Do you have a good explanation but don't know how to present it? DoNotPay can help! Skip the hassle with hiring lawyers, and to generate a convincing appeal letter in minutes.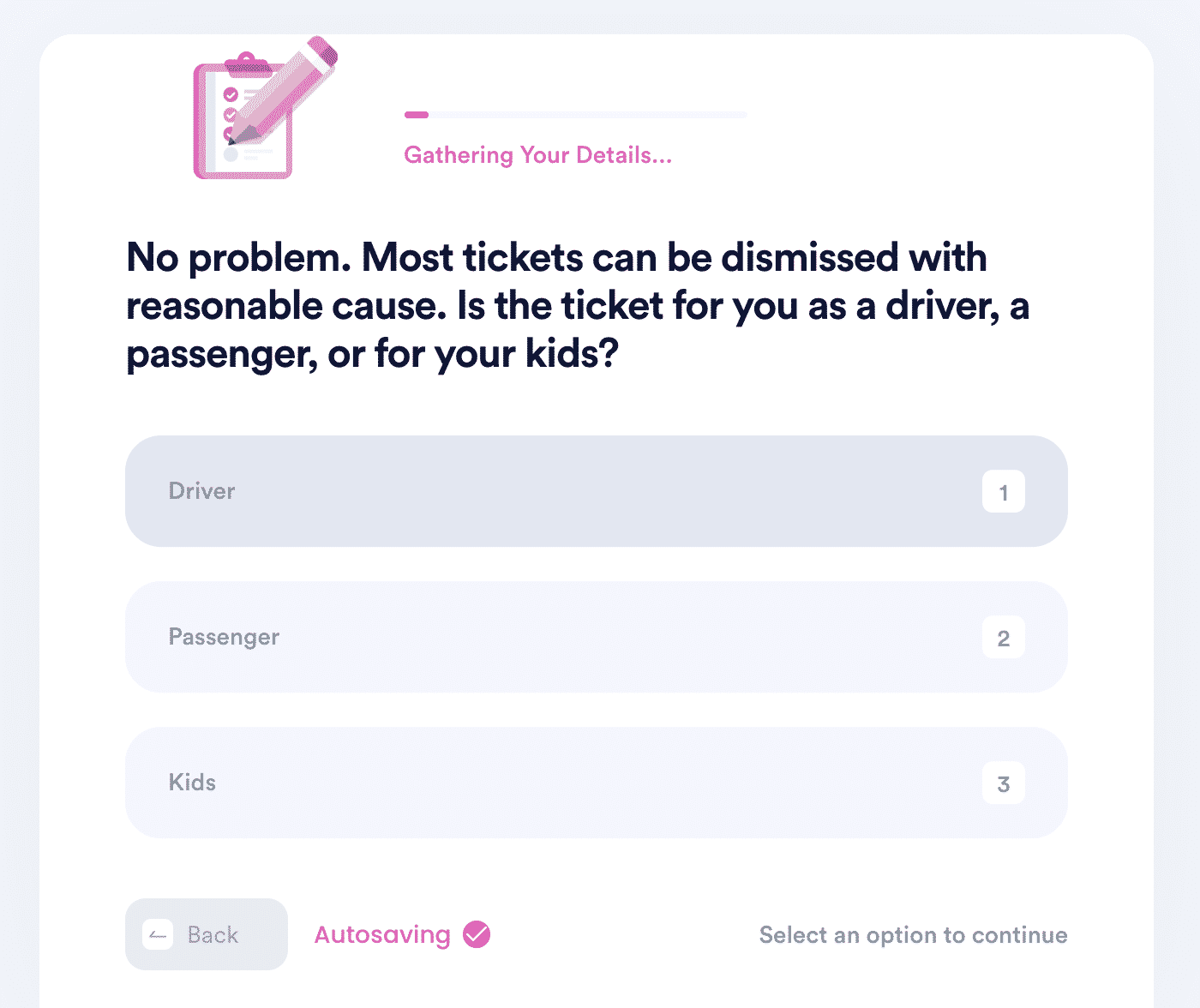 Dismiss the Ticket Stress-Free With DoNotPay
With a credible argument on your side, there is no reason why you shouldn't dispute the ticket. DoNotPay will make this process fast, easy, and cheap for you. All you need to do is and:
Select the Seatbelt Ticket product
Upload a photo of your seatbelt ticket
Tell us more about the situation—including who got it, when, and what happened exactly
Inform us of the argument you want to use to fight the ticket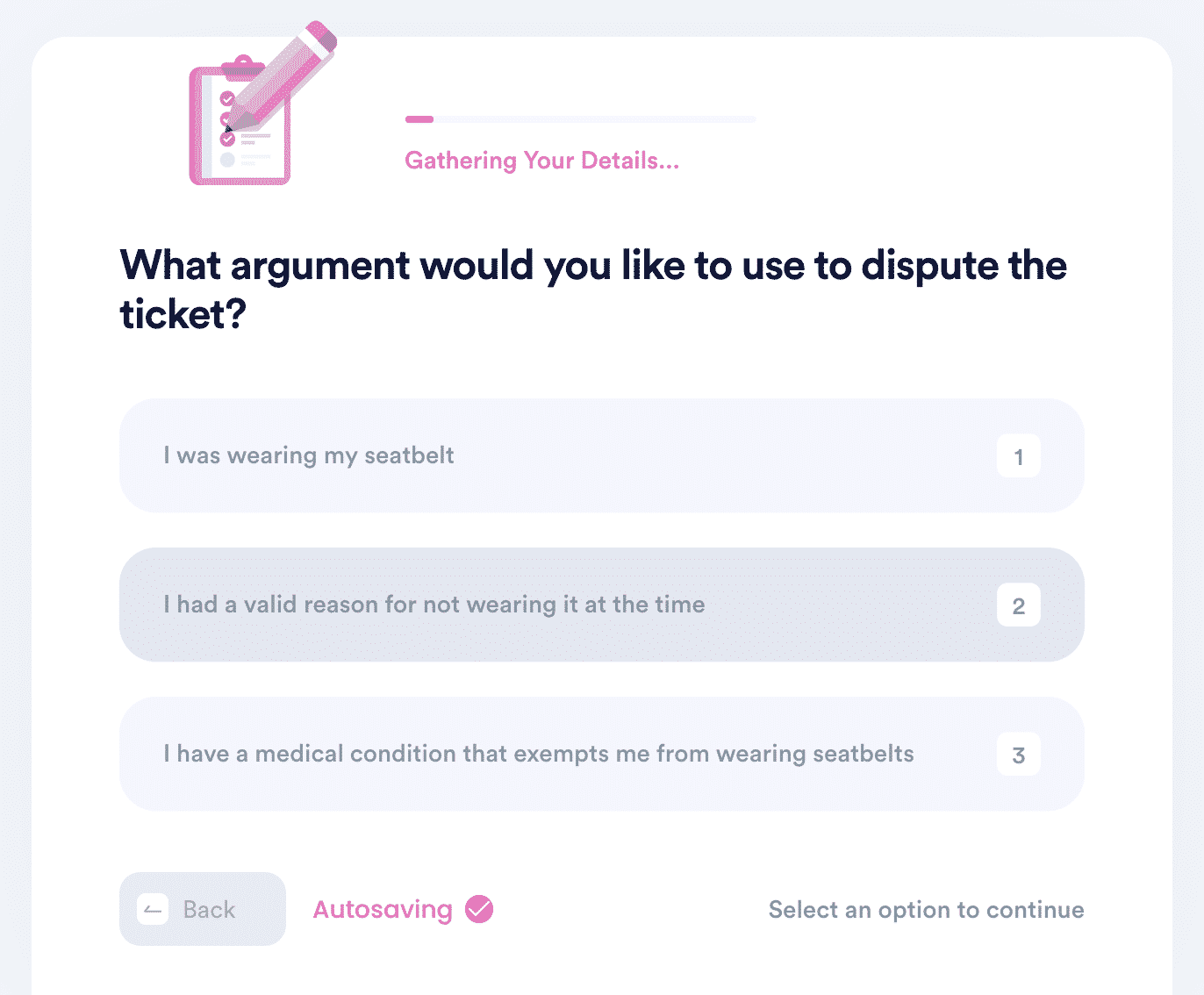 Your personalized appeal letter will be on its way to the authorities before you know it! We'll handle the mailing procedure as well.
Traveling outside of Maine? Here are the state-specific seatbelt guides that can help you prepare and avoid new tickets:
Anything Else You Need?
DoNotPay offers an exhaustive range of products and services for one low monthly fee. You can take full advantage of our offer once you resolve the issue at hand.
Our app can both save you money and help you earn it—sign up to appeal parking tickets, get assistance with utility bills, get compensation from airlines, request a refund, have your college application fees waived, find your missing money, reduce property taxes, enter any sweepstake, or send a financial aid appeal letter to any school.
We can also turn your gift card balance into cash, help you apply for scholarships, and assist you in getting compensation as a victim of crime.
There's Even More to Our Offer
The world's first robot lawyer can turn any nightmarish admin or legal procedure into a piece of cake. Look into our knowledge base to find out how to send a letter of warning to your bad neighbor, submit an anonymous complaint to your HR, fight workplace discrimination, get access to public records, deal with a stalker or harasser, put an end to robocalls, and file a complaint with any company.