What Everyone Must Know About the Child Seatbelt Laws in Missouri
Protecting children in traffic is the biggest concern of all parents. Whether you are driving with a baby or a ten-year-old in the back seat, you must take all measures to make the ride safe for them. Missouri has strict child seatbelt regulations, and if you are aware of them, you can avoid going to court for citations and keep your children secure.
We offer all the info you need about the child seatbelt laws in Missouri in one place and shed light on other related dilemmas, such as:
What are the essential seatbelt regulations in the Show-Me state?
How much can you pay for a Missouri child seatbelt ticket?
What options do you have when you get a seatbelt citation?
How can you to appeal a fine from home in less than five minutes?
General Missouri Seatbelt Laws
Seatbelt law violation is a secondary offense in Missouri. In other words, the driver can get a safety belt ticket only if they were pulled over by the police for another offense. Law enforcement officers won't fine you only for removing your seatbelt.
Here are some essential Missouri seatbelt laws you should be aware of:
Drivers and passengers must wear a safety belt during a ride
Driver must make sure that all children below 16 have their seatbelts on, while passengers who are 16 or older are responsible for themselves
Seatbelt citations don't add points to your driving record unless they are followed by a primary offense
Failing to wear your safety belt won't affect your insurance rates as seatbelt citations are non-moving violations in Missouri
Exemptions from these rules include:

Postal carriers on duty
Drivers who operate vehicles made before 1968
People who drive motor vehicles designed for more than ten people or used for agricultural work activities
People who can't wear seatbelts due to specific health conditions and have a written statement from their medical practitioner to confirm it
Truck drivers and cyclists
Missouri Child Seatbelt Law Untangled
The children car seat rules are listed in Section 3017.179 of the Revised Missouri Statute. Check out the list below for more details:
Passengers below 16 must be secured in a proper child restraint system
Kids under the age of one and not heavier than 20 pounds must be in a rear-facing car restraint device
Children below four that weigh less than 40 pounds must be in a child safety seat during the ride
Passengers between four and seven years of age who weigh between 40 and 80 pounds should be secured in an appropriate booster seat
Children who are eight and older, more than four feet and nine inches in height, and heavier than 80 pounds must be in a booster seat or wear a safety belt
Kids below 13 can ride in the backseat only
Authorities and pediatricians advise parents to use rear-facing seats for their kids as long as they can. Forward-facing restraint devices are appropriate for children who are four years old or older.
How Much Is the Seatbelt Fine in Missouri?
Failing to comply with children seatbelt regulations in Missouri entails costs ranging between $10 and $50. If you don't pay the fine or forget about the deadline, the court may impose additional costs. The only way to get the charges dismissed is to prove that the police officers made a mistake when assessing the situation.
What Can You Do if You Get a Seatbelt Citation?
Once you receive a seatbelt citation, you have three options:
| Method | Details |
| --- | --- |
| Pay the ticket and accept your responsibility for the offense | If you are guilty, the best option is to pay the fine. You must do it within 30 days to avoid court proceedings and extra fees |
| Argue your case by showing reasonable doubt | Are you sure that you had your seatbelt on when the police stopped you? You can write a claim and explain the situation to the court |
| Take a due diligence defense | Mounting a due diligence defense helps you explain to the ticket authorities that you had a good reason to remove or not wear a seatbelt at the moment you were pulled over |
How Does DoNotPay Help You Appeal a Safety Belt Citation in a Few Taps?
Appealing the ticket yourself can be burdensome since you must create a convincing letter with all the necessary information in one place. If you have never done it before and want some help with the process, DoNotPay is happy to jump in and save the day!
Here's what we can do for you:
Process the details of your case and the supporting evidence within minutes
Generate a fully personalized appeal letter based on the info you provided us with
Send the claim to the local ticket authorities right away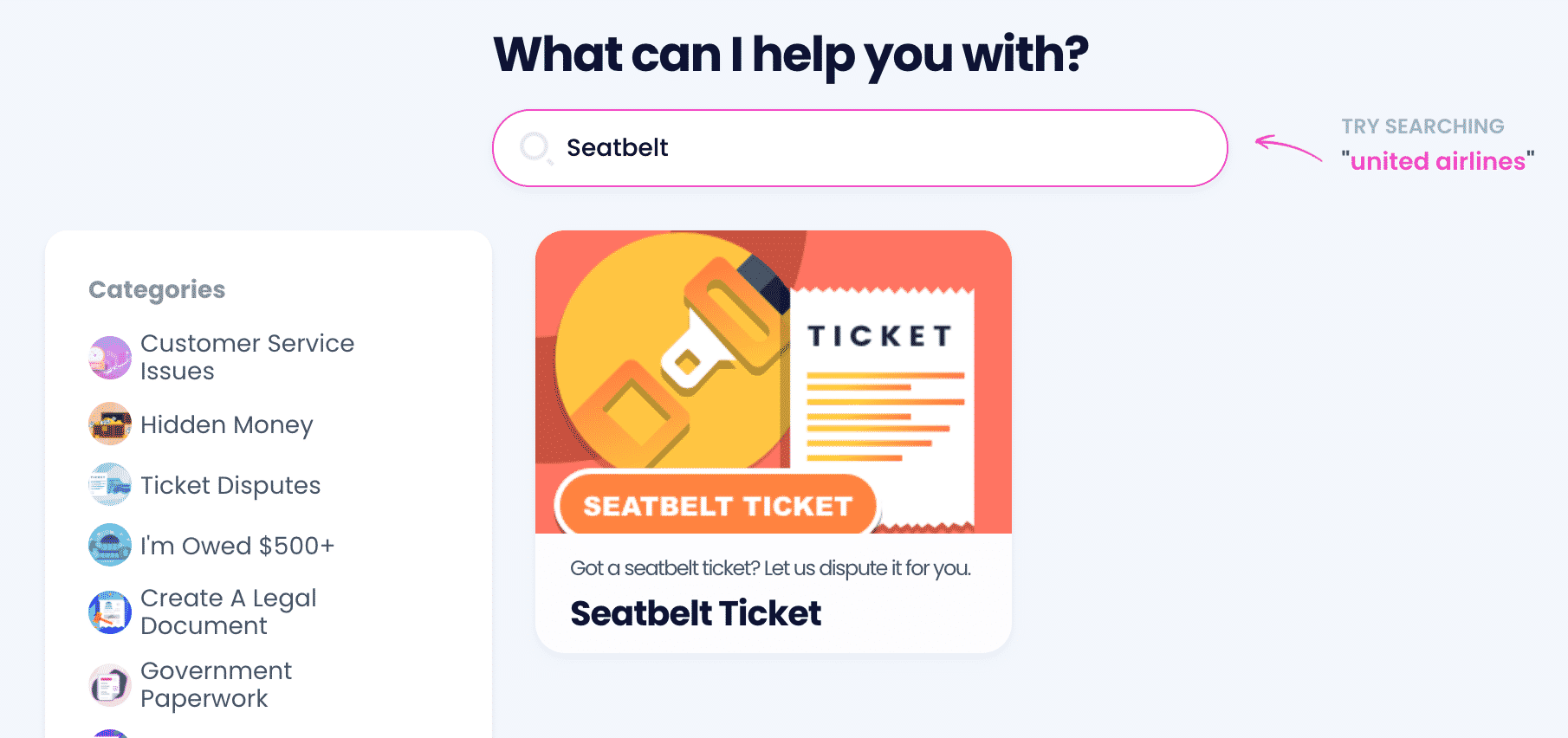 With our user-friendly app, you can file a complaint from any location or device!
To do it, follow the instructions below:
Search for the Seatbelt Ticket option
Specify the person who got the citation
Choose whether you want to convince the authorities that you had your safety belt on or prove that you had an acceptable reason not to wear it
Provide more details about the situation and upload a photo of the ticket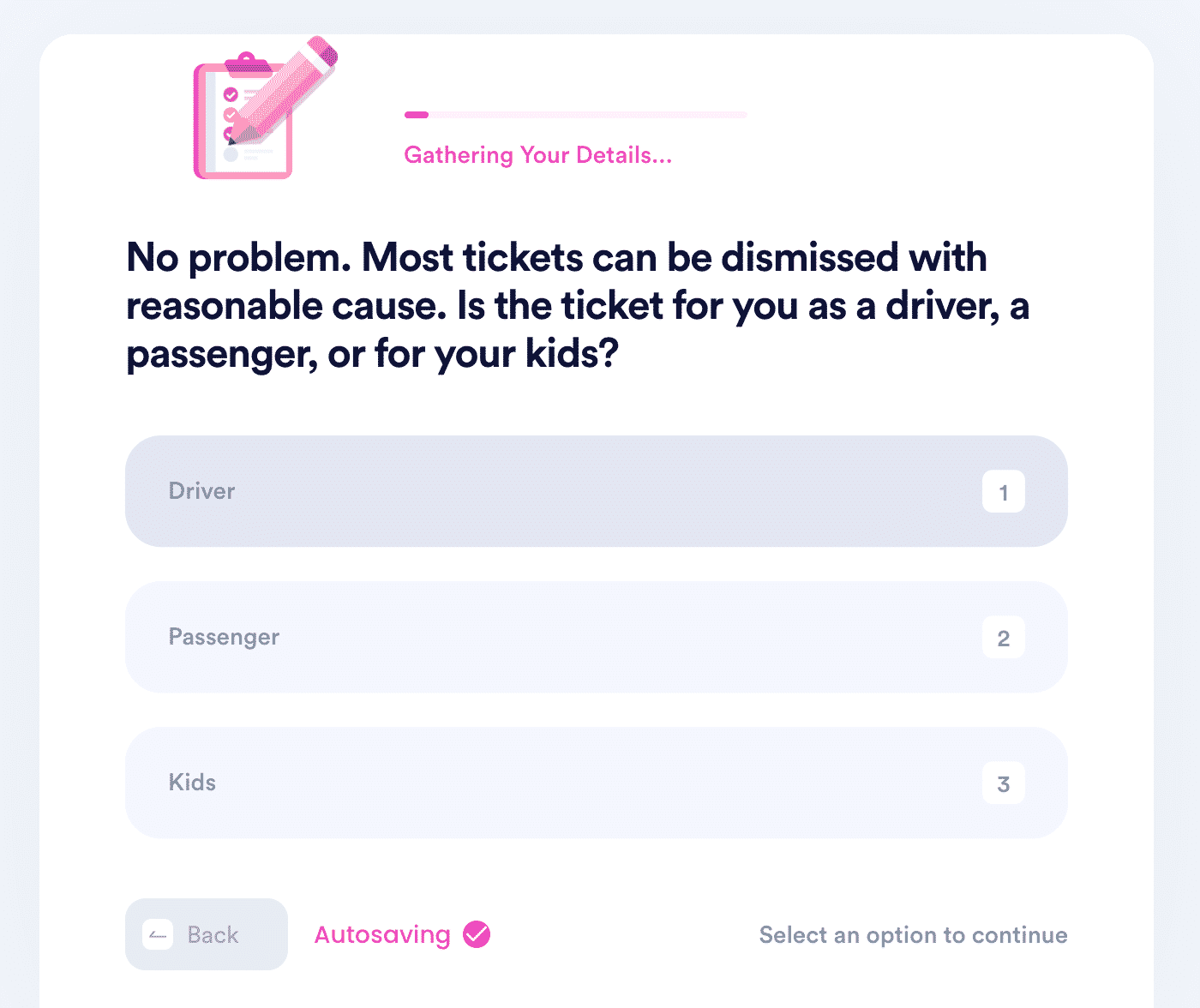 Our knowledge base boasts many useful articles that can help you get your seatbelt citations waived in any U.S. state, including:
Save Time and Money Using DoNotPay
Being on hold while trying to reach customer service is no picnic. With DoNotPay, you can jump the phone queue and reach a rep with ease. Are you contacting a company to request a refund or cancellation? No need for that! Our app can get it done in a few clicks. We can also help you return an item or handle a late delivery.
Dispute parking tickets, claim your warranty or insurance, set up a DMV appointment, contact an embassy, and deal with any other task with our assistance.
You can also request access to public records, apply for tourist visas, or file complaints with the help of our AI-powered app.
We're Not Done Helping You!
Our multifaceted app keeps getting new features that can streamline numerous tasks and solve all kinds of problems.
Would you like to join sweepstakes or giveaways? Are you up for participating in clinical trials and earning some money? Are you interested in sending mail without visiting the post office? We've got it covered!
We will help you protect your privacy by putting an end to spam emails, incessant text messages, and robocalls. If you think you're being stalked, you can count on our assistance. You can also use our app to perform a sex offender search, fight workplace discrimination, and handle annoying neighbors.