What To Expect From the Minnesota Seatbelt Laws
Not wearing seatbelts can have dire consequences. Around 30% of the victims of fatal road accidents were unbelted in 2019. To prevent severe injuries and deaths, most states have stern seatbelt regulations in place. The implementation of Minnesota seatbelt laws has had a significant influence on Minnesotan drivers, with 93.4% being buckled in while in a moving vehicle.
This article will give you a deeper understanding of the seatbelt laws in Minnesota and explain how to contest a seatbelt ticket with ease.
What Is the Minnesota Seatbelt Law?
The Minnesota laws are straightforward when it comes to using seatbelts as a preventative measure. The state follows a strict "buckle up" rule that requires all drivers and passengers in every seating position in a passenger vehicle to wear seatbelts or child restraints.
Apart from the usual sedan and SUV type cars, passenger vehicles include:
Pickup trucks and vans
Electric vehicles
Recreational or rented vehicles
Motorcycles, school buses, buses, trains, scooters, and commuter vans are not considered passenger vehicles in Minnesota, and not wearing seatbelts while riding in these vehicles is not considered a moving violation.
If you've received a ticket for a seatbelt violation by mistake or you have a valid reason for not wearing a seatbelt, you can to dispute it!
Exceptions to the Minnesota Seatbelt Law
A person without a seatbelt will not get ticketed if they are:
Driving in reverse
Suffering from a physical condition or have a disability that does not allow them to be restrained
A rural mail carrier
A newspaper delivery person
Driving a vehicle that was manufactured before 1965
Engaged in delivery work that requires them to exit the vehicle frequently—only applicable if the vehicle is going at speed lower than 25 mph
Engaged in farming activities
Minnesota Child Seatbelt Law
The Minnesota seatbelt law for children is enforced strictly. A violation of this law leads to a bigger fine than that of adults. The law includes rules for children under 18—here's the breakdown:
Infants and toddlers must be restrained in appropriate rear-facing car seats
Children between the ages of one and eight must ride in federally approved booster seats. This law is not applicable if the child is more than 4' 9'' tall
Children taller than 4' 9'' or older than eight are required to wear seatbelts that fit comfortably across their waist and shoulders
Anyone found in violation of the child seatbelt law can receive a ticket. For children aged below fifteen, the ticket will be issued to the driver. If the child is over fifteen years old, they will be fined.
Exceptions to the Child Seatbelt Law in Minnesota
Drivers and passengers will not be considered to be in violation of the Minnesota child seatbelt law if:
Children are being transported in an emergency medical vehicle and cannot be restrained due to a physical condition
A child is being transported by a police officer who does not have an appropriate child restraint system—but the child must be wearing a regular seatbelt
Children are traveling in a school bus
How Much Is a Seatbelt Ticket in Minnesota?
Anyone suspected of violating the seatbelt laws in Minnesota may be pulled over and ticketed. You must pay a ticket in full or dispute it within the stipulated period. Failure to do so may lead to penalties or demerit points that can affect your insurance. Repeated offenders also run the risk of having their licenses suspended.
Here is a complete breakdown of the fines for seatbelt violations in Minnesota:
| Age | Fined Amount | Who Is Fined |
| --- | --- | --- |
| Younger than 15 | $50 | The driver |
| 15 and older | $25 | The person who has committed the violation |
Although these are the fines for a seatbelt law violation, the total amount may go up to $100 with court fees.
Individuals ticketed for non-compliance with child seatbelt laws can get out of paying the fine by providing proof of having purchased and installed the appropriate restraint system within 14 days of receiving the ticket.
How To Contest a Minnesota Seatbelt Fine With DoNotPay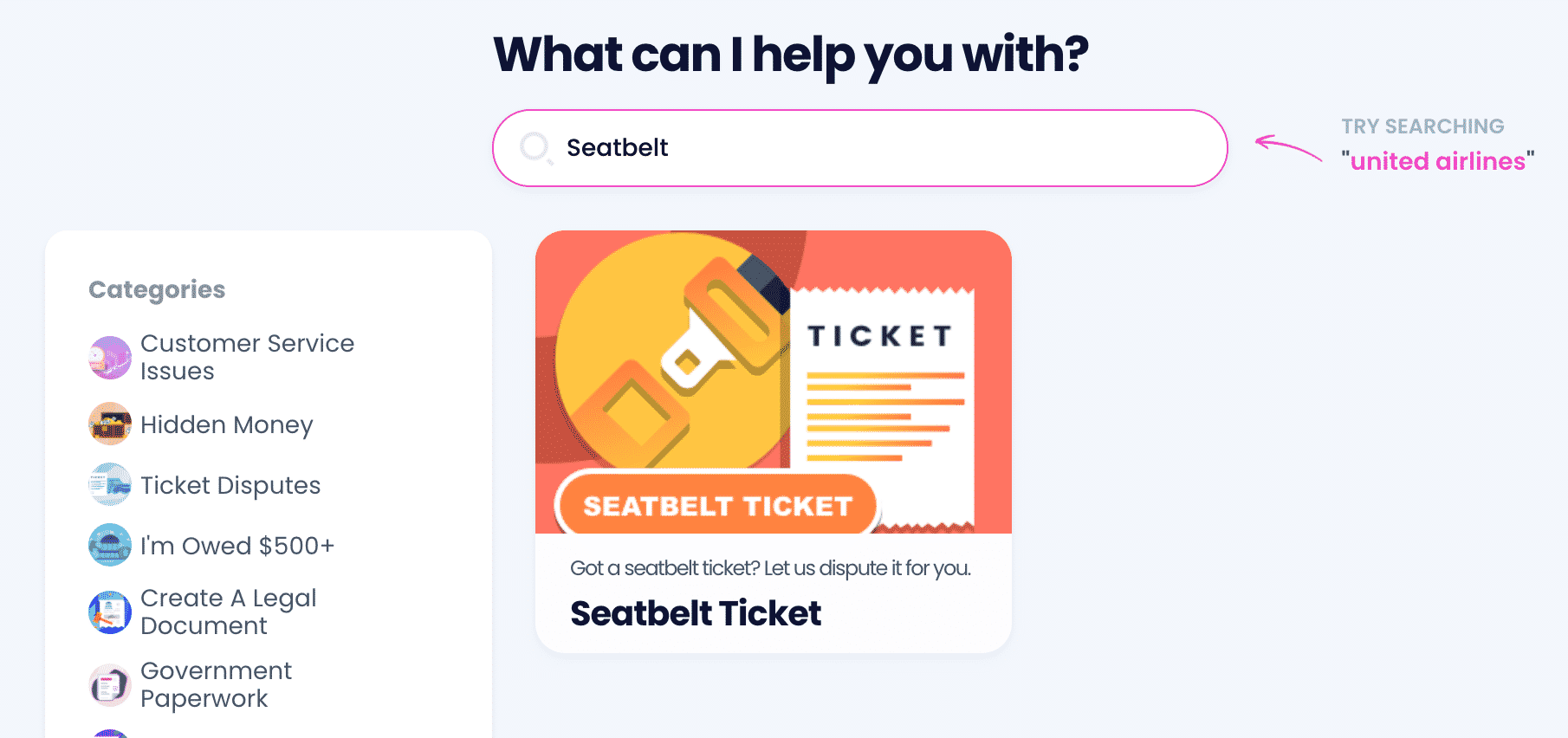 Disputing a seatbelt ticket is a hassle—there are long lines to stand in and time-consuming processes to complete. You can save a lot of time and energy by using DoNotPay! Here's how:
and search for the Seatbelt Ticket feature
Give us some information about the ticket (e.g., who received it)
Tell us about the argument you would like to use
Upload your ticket
We will draw up an appeal letter in your stead and send it to the ticket authorities!
Learn About the Seatbelt Laws in Other States With DoNotPay
DoNotPay can help you dismiss seatbelt tickets in any U.S. state. If you plan on traveling across the country, you should familiarize yourself with the law.
You can find all our seatbelt law guides in the table below:
Solve Many Annoying Issues Using Our App
Nobody likes dealing with bureaucracy. This is where our app comes in! We can help you complete the following tasks:
Draw up legal documents

Get tourist visas
As soon as you sign up for DoNotPay, you will be able to handle all these chores and many more with ease.
What Else Can You Use DoNotPay For?
Aside from streamlining numerous tasks for you, our app can be of more assistance. You can rely on DoNotPay when you need to:
With our help, you can also connect with a loved one in jail, send online faxes, or create passport photos in the blink of an eye. Explore our learning center, and you'll see that there's not much DoNotPay can't do!