Massachusetts Child Seatbelt Law From A to Z
Child seatbelt laws are rigorous and thorough because ensuring children's safety on the road, especially during a car crash, is of utmost importance.
If you're visiting or live in the Old Bay State, you should get to know the Massachusetts child seatbelt law to ensure the safety of your little ones. This article will take you through all the details of this law and explain:
The Basics of Massachusetts Child Seatbelt Laws
The Massachusetts seatbelt law states that all children must be properly restrained in a federally approved child safety device until they are older than eight and taller than 57 inches.
You can find more details about the child seatbelt law in the table below:
| Age | Explanation |
| --- | --- |
| Infants | Parents or legal guardians must use rear-facing convertible car seats for infants—for the first 12 months at least—in the back of the vehicle |
| One year and older | Children who are older than 12 months can be put in a forward-facing car seat. The National Highway Traffic Safety Administration (NHTSA) suggests, though, that children younger than three should be placed in rear-facing seats until their weight and height don't exceed the manufacturer's limit |
| Four years | Once your child is four and weighs more than 40 pounds, you can position them in a booster seat |
| Eight years | All children who are eight or younger must be restrained in booster seats. After they outgrow the booster seat, children must be protected by a safety belt |
| 13 years and younger | Children who are 13 or younger mustn't ride in the front seat |
Massachusetts is a secondary enforcement state which means that a police officer may not pull you over for only not wearing a seatbelt or failing to restrain your children in a car seat. They need to stop you for a different offense, such as speeding, and then they can issue a seatbelt ticket in addition to the primary violation.
Are There Exceptions to Child Seatbelt Laws in Massachusetts?
The Massachusetts child seatbelt law doesn't apply to passengers of vehicles that don't have seatbelts installed, such as:
School buses
Motor vehicles manufactured before July 1966
Another exception refers to children who have a medical condition or physical disability that prevents them from being restrained in a child safety device. If that is the case, you must have a doctor's note that confirms the condition.
How Much Is a Seatbelt Ticket According to the MA Child Seatbelt Law?
There are many consequences of failing to restrain your child in a vehicle, one of which is a seatbelt ticket. For violating a child seatbelt law, you, as the driver, will have to pay a $25 fine for any passenger who is 16 or younger.
If you don't pay your ticket within 30 days from the issuing date, you might face a license suspension.
Do You Get Points for Violating Child Seatbelt Laws in Massachusetts?
Failing to secure your children in a proper child safety device isn't considered a moving violation in Massachusetts. This means that you won't get any demerit points on your license, and the ticket probably won't affect your insurance rates.
How Do You Fight a Seatbelt Citation?
If you get a ticket for failing to restrain your child and end up in court, using one of these arguments might get you out of paying it:
Reasonable doubt—Using reasonable doubt as your argument implies that the police officer made a mistake, and your child was properly restrained. You should use this argument only if the statement above is true
Due diligence—By choosing this argument, you claim that you had a valid reason for not restraining your kid. Some of the top excuses you can use are:

You weren't aware that your child unbuckled the seatbelt
Your child has a condition that prevents them from being restrained in a car seat
You were having an emergency
You should use due diligence defense if you did break the law but had a good reason for it.
Appealing seatbelt citations is a complicated matter—that's why DoNotPay created the Seatbelt Ticket tool. , and we'll create the perfect appeal letter for you.
DoNotPay Helps You Appeal Your Citation
Our platform is the fastest, easiest, and most affordable way to fight your seatbelt citations. We do it by creating a convincing and fully personalized appeal letter and mailing it to the Massachusetts traffic authorities.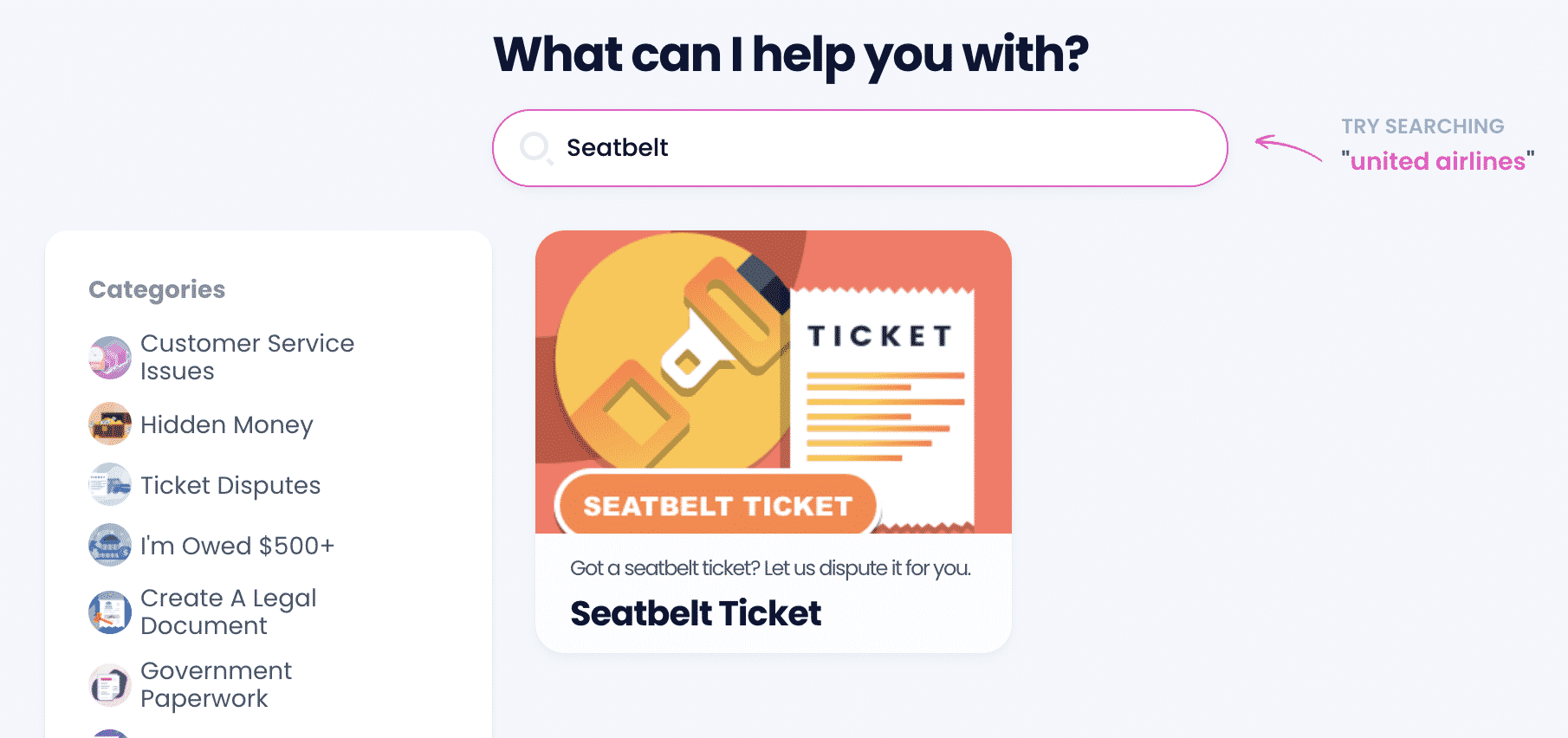 Here are the steps you need to follow:
and select the Seatbelt Ticket tool
Upload a photo of your seatbelt citation
Complete a questionnaire to provide us with details about the situation
Pick the argument you want to use
We'll use the provided information to generate your letter in no time!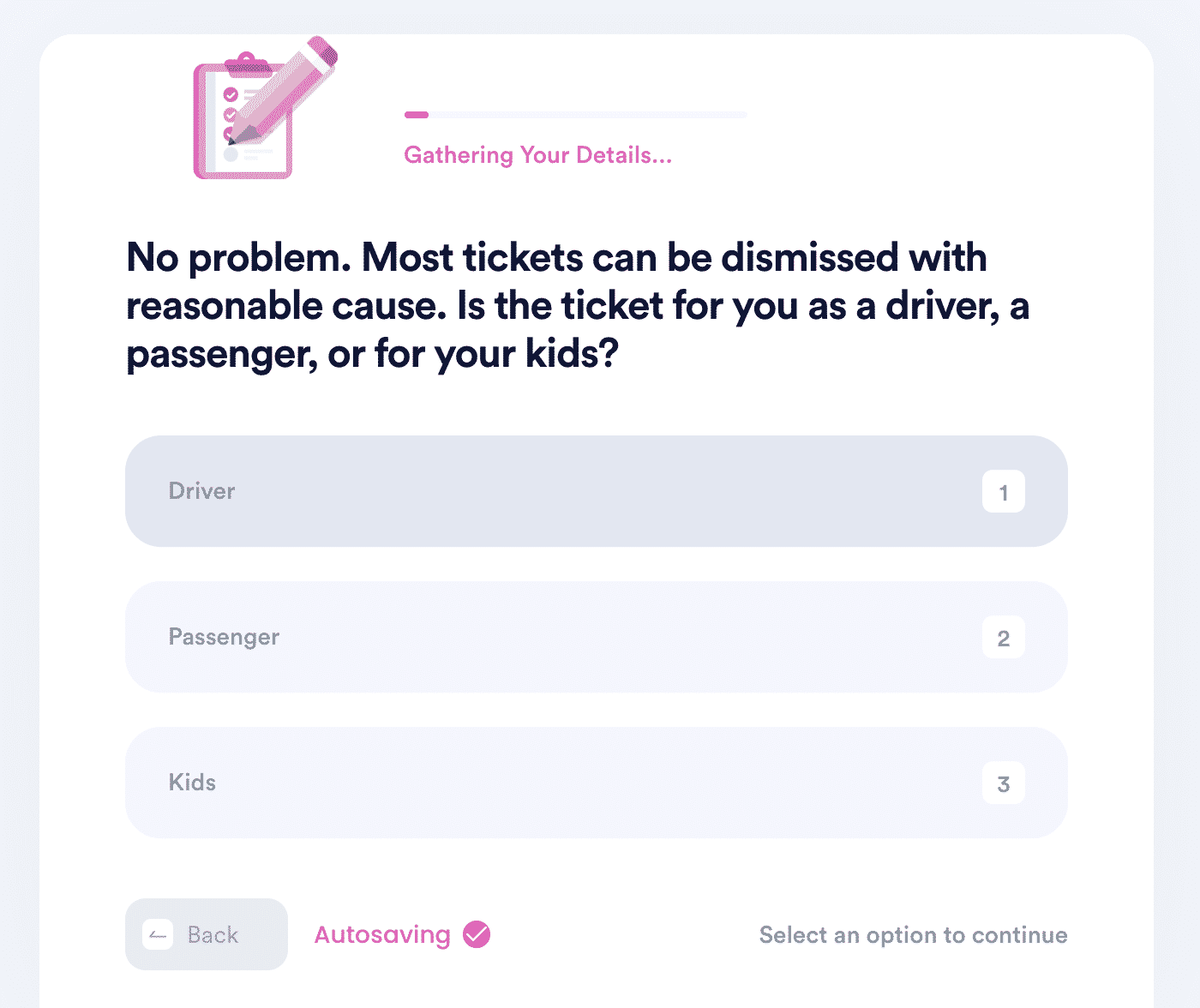 Say Goodbye to Boring Tasks
When a task takes up too much time, you may give up or procrastinate incessantly. We have a solution—use DoNotPay to manage numerous administrative or bureaucratic errands.
No more waiting in neverending DMV lines or staying hours on the phone waiting for a customer service rep to pick up. You can even skip going to the post office. We can help you send letters and even online faxes in a flash. If what you're sending needs to be notarized, use our app to schedule an appointment with an online notary.
Traveling soon? Get your passport photos ready, apply for a tourist visa, contact embassies, and draw up a child travel consent form—all within the same app.
What Else the World's First Robot Lawyer Can Do for You
When you need legal assistance but you can't afford to hire a lawyer, rely on DoNotPay. With our legal expertise, we can help you do the following: