An Unsurpassed Guide to Michigan Seatbelt Law for a Child
Car crashes are a leading cause of child fatalities in the United States. Many of them can be avoided if the kids are properly restrained.
Understanding the Michigan seatbelt law for a child will make every journey safer, whether you're going on a road trip to the Great Lake State or live there. Find all the info you need in DoNotPay's easy-to-read guide!
Child Seatbelt Laws in Michigan
According to Michigan's Child Passenger Safety Law, children must be properly secured in a car seat or booster seat until they are:
Eight years old
4'9" tall
Children under the age of four must ride in a car seat in the back seat if the vehicle has one. If all children under four don't fit in the back seat, one of them can ride in the front seat, but only if the airbag is turned off.
When it comes to children that are four or older, the law doesn't specify where they must be positioned in the vehicle.
A seatbelt must be worn by any child passenger under the age of 16 regardless of where they are sitting in a vehicle. If a motor vehicle has more children than safety belts, a kid aged between eight to 16 must sit in the back (if a vehicle has a rear seat). The law doesn't specifically state whether a child who is 16 or older should wear a safety belt when riding in the back seat.
In any case, it is advisable for anyone to buckle up wherever they sit for their own safety.
Are There Any Exemptions to the Michigan Child Seatbelt Laws?
There are some exemptions to the child seatbelt laws in Michigan. Rules for kids younger than four—who must be restrained in car seats—don't apply to:
Taxis
Buses, including school buses
Motorcycles and mopeds
Other motor vehicles which are not obliged to have safety belts under federal law
The seatbelt rules for children aged four to sixteen also don't refer to:
Cars manufactured before 1965
Buses and school buses
Motorcycles and mopeds
Other motor vehicles that are not required to be equipped with seatbelts under federal law
A child passenger can be exempt from being restrained in a car seat, booster seat, or wearing a seatbelt due to physical or medical reasons. You are required to provide a physician's letter confirming the child's health issues to be granted a seatbelt exemption.
Recommendations for Keeping Your Child Safe in a Vehicle
The Michigan child safety law has minimal requirements, which are not enough to keep young passengers completely safe. A child can't be protected by a car seat that is improperly installed or not the right size for them. The Michigan Office of Highway Safety Planning gives the following advice for keeping your child as safe as possible in a moving vehicle:
Keep your child in a rear-facing car seat as long as possible, i.e., until they outgrow it
Start using a forward-facing seat when your child outgrows the rear-facing one, and keep on using it until your child reaches the height and weight specified by the manufacturer
Buy a booster seat once your child becomes too big to fit in a car seat and use it until they turn eight or reach the height of 4'9"
When your child is ready to use a seatbelt, make sure it is a lap/shoulder belt rather than the lap-only belt (for maximum protection). Keep in mind that the American Academy of Pediatrics recommends children younger than 13 always ride in the back seat.
Can the Police Stop You for Violating Seatbelt Laws in Michigan?
A police officer may pull you over and give you a citation if:
You—as a driver—failed to buckle up
Other adult passengers riding in the front seat didn't wear a seatbelt
Children riding in your car weren't buckled up or secured in a child restraint system as required by the law
How Much Does a Seatbelt Ticket Cost in Michigan?
Breaking the seatbelt of child passenger safety laws will cost you $65. This sum includes:
$25 for civil fine and court costs
$40 for justice system assessment
A seatbelt ticket is a non-moving violation in Michigan. This means that no points will be added to your driver's license, and the ticket won't affect your insurance rates.
Until 2013, a person who broke Michigan's child seatbelt laws could avoid paying a fine by getting a car seat and presenting it to the court. Now, the Michigan Vehicle Code allows trial court judges to decide whether or not to waive the fine.
What Happens if You Don't Pay a Seatbelt Ticket?
If you don't pay the fine, your ticket debt will increase, and the court may order a suspension of your driving privileges. If you are guilty, paying a ticket is the best solution. In case you feel like you had a good reason for not restraining your child in a car seat or booster seat, you can try overturning the ticket in court.
Do you need help with building a strong case but don't want to waste money on expensive lawyers? You should sign up for DoNotPay!
Fight Your Seatbelt Ticket With DoNotPay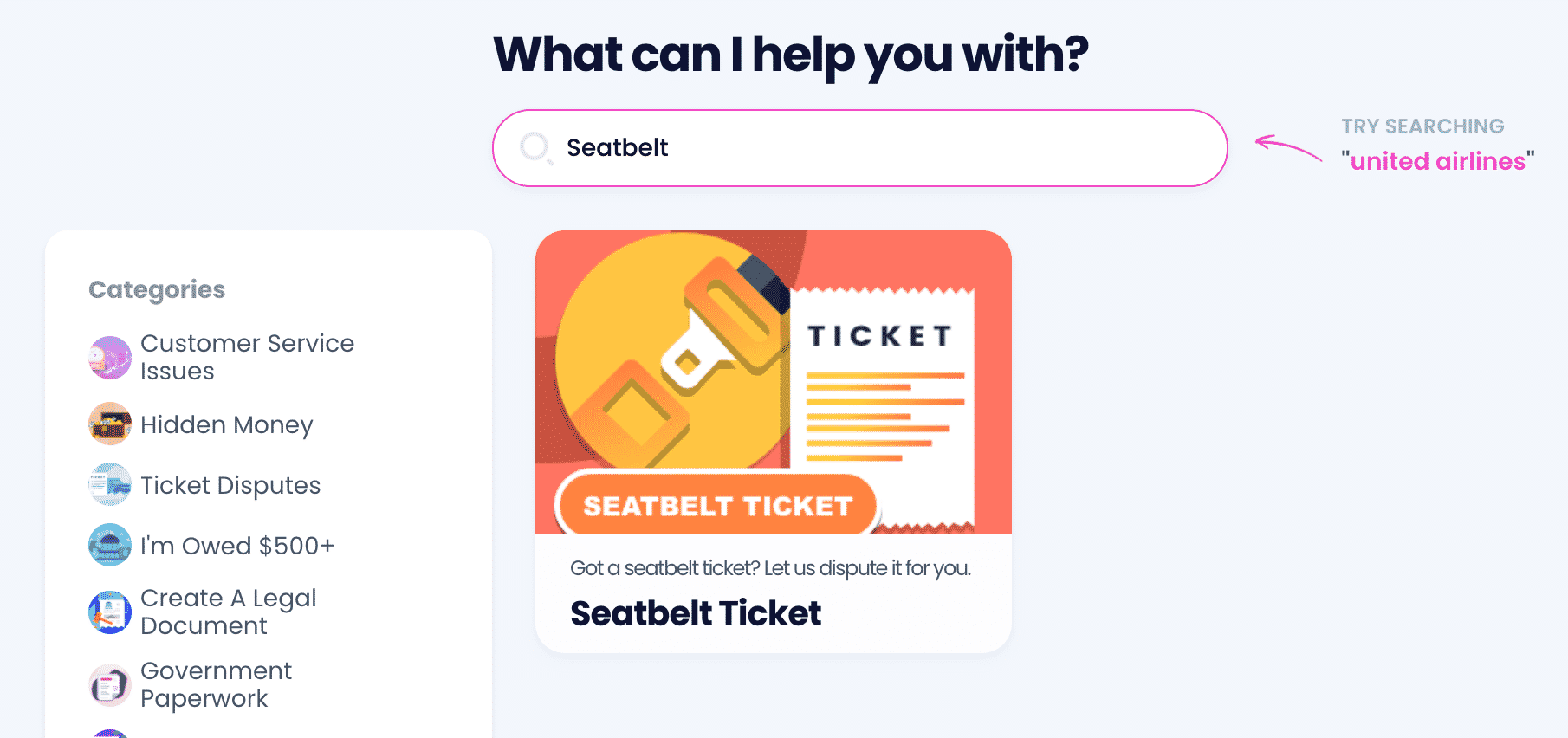 There's no need to waste your time reading seatbelt laws for your state or learning how to write a good appeal letter. Our AI-powered app will draft a personalized appeal letter and send it to the authorities on your behalf in minutes!
All you need to do is:
Look for the Seatbelt Ticket product
Take a photo of the ticket
Provide essential information, including:

Who made the violation
When it occurred
Which argument you want to use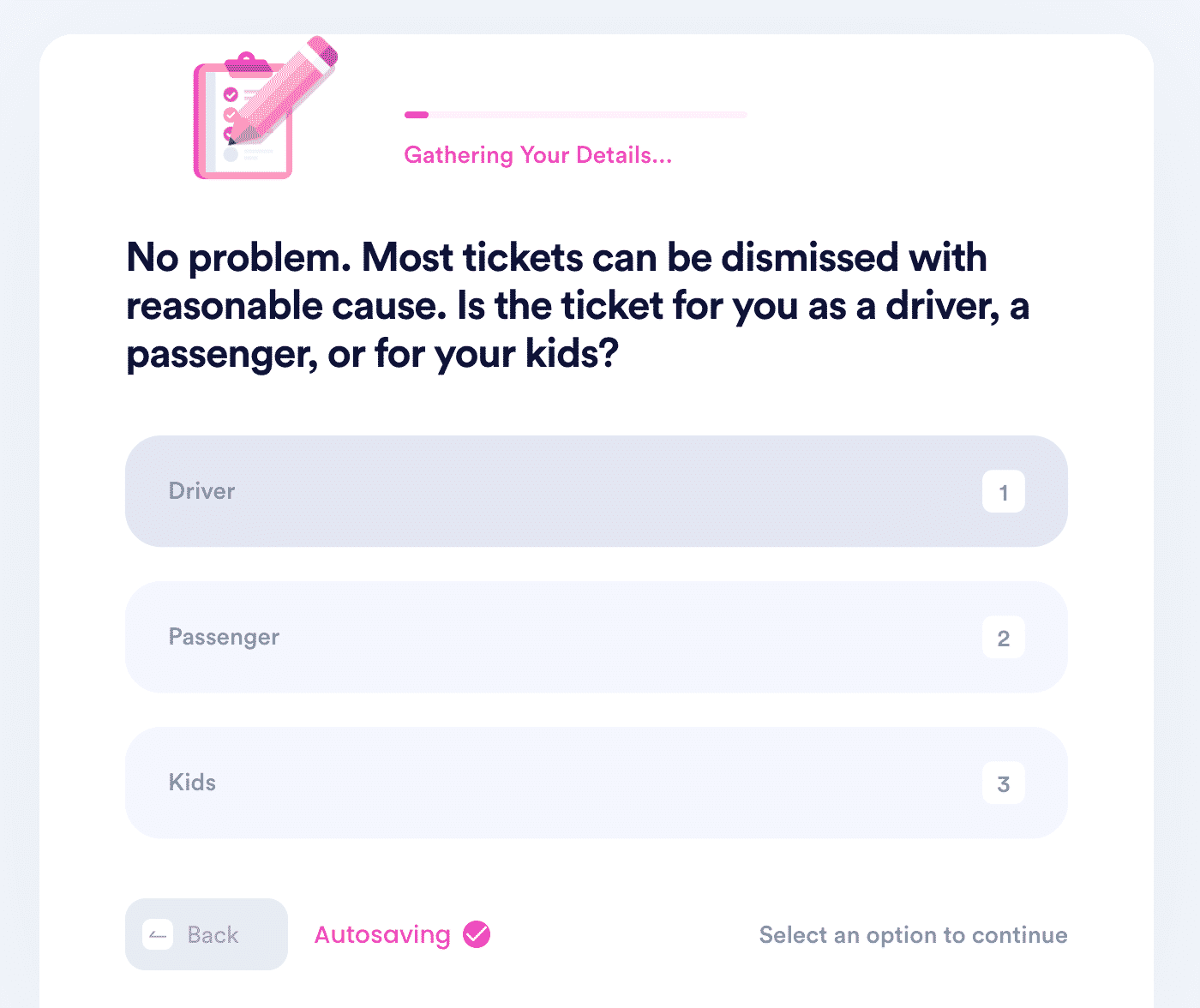 If you plan to travel with your kids, you should get familiar with state-specific child seatbelt laws. Find guides to seatbelt laws in other U.S. states in the table below:
Put Greedy Companies in Their Place
If being on hold with customer service and requesting refunds and cancellations is your idea of the worst nightmare, we come to the rescue!
When you create a DoNotPay account, you'll be able to do the following with ease:
If worse comes to worst, we can guide you through suing any company in small claims court.
Use DoNotPay To Resolve Numerous Issues
The number of products we offer keeps growing. From simple chores to bureaucratic tasks and serious issues, there's not much DoNotPay won't be able to handle in a few clicks.
Would you like to search for unclaimed money you may not know about? Are you trying to save your work from copyright violations? Do you want to contact government representatives? Once you have a DoNotPay account, you will get everything done in a flash.
Even if you are a victim of stalking or harassment, violent crimes, or workplace discrimination, we can help you out! DoNotPay can also perform a sex offender search in your area and give you weekly updates.
If robocalls and spam are what's bothering you, our app will free you from such annoyances for good. Whether the spam is coming via email or text, we'll know what to do.