All You Need To Know About Children Seatbelt Laws
According to research on traffic accidents from 2017, proper restraint saved the lives of 325 children who were four years old and younger. Knowing when and where your children need to wear a seatbelt ensures their safety and helps you avoid paying hefty fines.
The problem is that regulations can vary. Children seatbelt laws and restraints depend on the state, kids' ages, and their weight and height. If you want to respect the rules and keep your children safe, you are in the right place. Our simple guide will provide you with all the information you need about this topic.
What Are the Seatbelt Laws for Kids?
All U.S. states have seatbelt requirements designed to keep children of different ages safe. The regulations can demand the following measures for protection:
Rear-facing seats—Children up to four years old
Forward-facing (harnessed) seats—Children up to six years old
Booster seats—Children up to nine years old
Regular seatbelts—Children aged 9–12 when they reach the height of four feet and nine inches
What you need to go for depends on your kid's age, weight, and height. The measures don't refer to age solely—children can outgrow booster seats, for example. You need to consider all three factors when deciding how to protect your child in a car.
It is strongly recommended that children under 13 ride only in the back seat. Until the shoulder seatbelt and vehicle lap fit properly, the child should use the belt-positioning booster seat.
Do Child Seatbelt Laws Align With Best Practices?
The law itself isn't the only guideline you need to follow. You should also look into the best practices recommended by safety experts.
For example, in many states, there are no seatbelt regulations regarding children riding in taxis. Despite this, you should use the appropriate restraint or seatbelt practice to protect your kids.
With that in mind, you can revise some of these best practices recommendations by the American Academy of Pediatrics (AAP):
Ride the infants and toddlers in a rear-facing car safety seat as long as possible
Follow the seat manufacturer's instructions on the allowed weight or height
Use the lap and shoulder belts for maximum protection when the children are old and large enough for regular seatbelts
Child Seatbelt Regulations According to Different States
The measures regarding child seats and seatbelts for kids are regulated by each state individually. You need to look into the laws in your place of residence to check what instructions you need to follow.
For example, in Idaho, adult safety belts are allowed for children of seven years old and older, while in Nevada, they need to be at least six years old and have over 60 lbs to use the seatbelts.
You can learn about child safety regulations in your state in more detail by reading our guides:
What if a Child Is Not Wearing a Seatbelt?
If your child needs to wear a seatbelt by law and you disrespect that rule, you can get a ticket. The fines can be as big as $500, and in certain states, you might also get penalty points for noncompliance.
In case this is your first offense, the maximum base fine can differ—and you can check the examples in the table below:
State
Maximum Base Fine for the First Offense (Additional Fees Can Apply)
Alabama
$25 for both a seatbelt and child seat
Arkansas
$45 for a seatbelt

$100 for a child seat

Colorado
$71 for a seatbelt

$81 for a child seat

Idaho
$10 for a seatbelt

$79 for a child seat

Nevada
$25 for a seatbelt

$500 for a child seat

Rhode Island
$40 for a seatbelt

$85 for a child seat

Tennessee
$30 for a seatbelt

$50 for a child seat

Washington
$124 for both a seatbelt and child seat
If your child unbuckled the seatbelt without you noticing, you can plead not guilty and get your seatbelt ticket dismissed.
Do you hate the thought of going to traffic court? You can skip that whole mess by . Our AI-powered app will craft an appeal letter in your stead and save you the trouble of tackling the ticket issue on your own.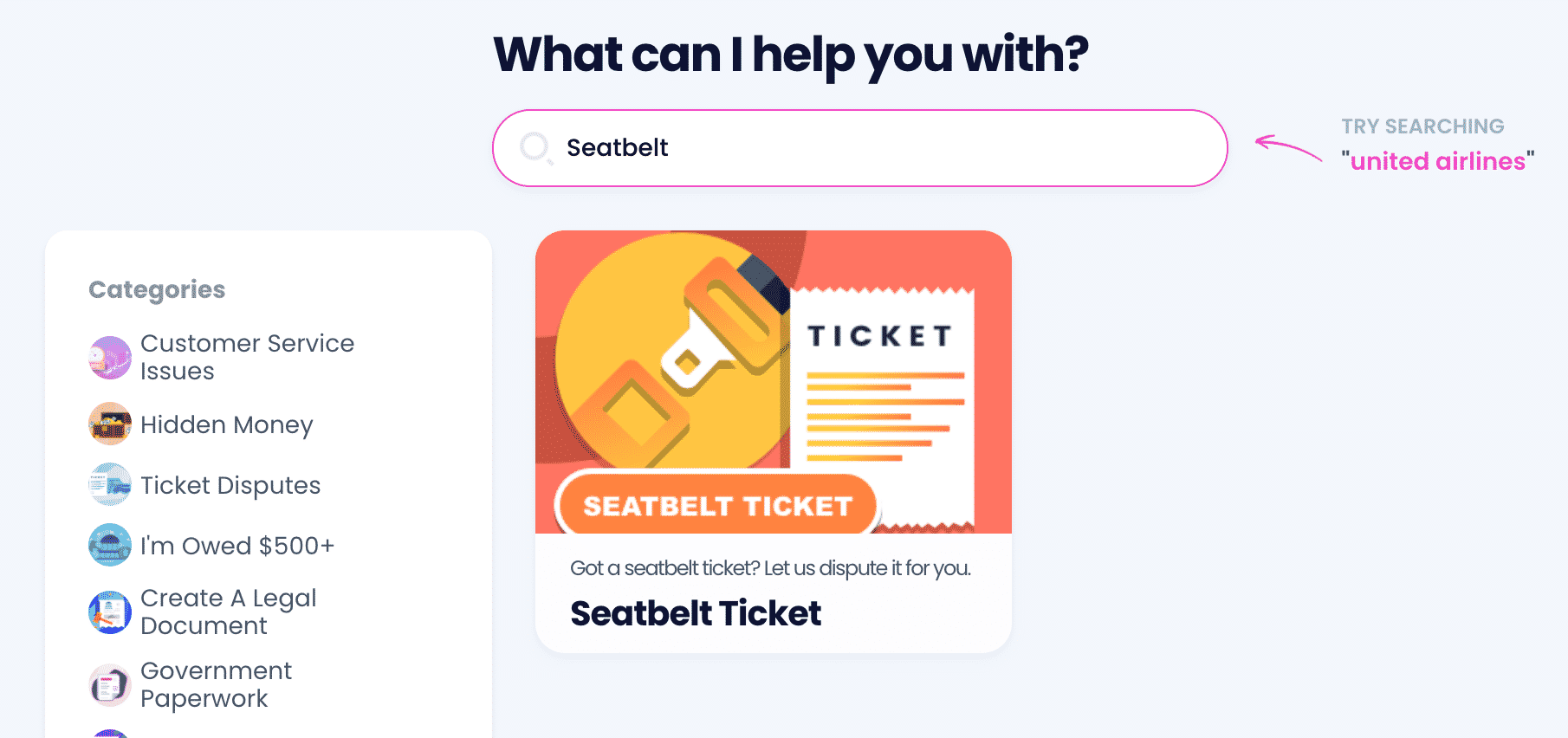 Appeal Your Seatbelt Tickets in a Flash With DoNotPay
Turn to DoNotPay for appealing your seatbelt tickets because this solution is:
Whether you got the seatbelt ticket for your child, yourself, or a passenger, we can help you take care of it professionally. By beating the ticket, you can avoid unpleasant consequences such as going to court or an increase in insurance rates if you already have a moving violation on your record.
We'll both generate the appeal letter and mail it to the authorities. All you need to do is:
Find the Seatbelt Ticket tool
Upload a photo of the ticket
Tell us who got the ticket, what happened, and what argument you want to use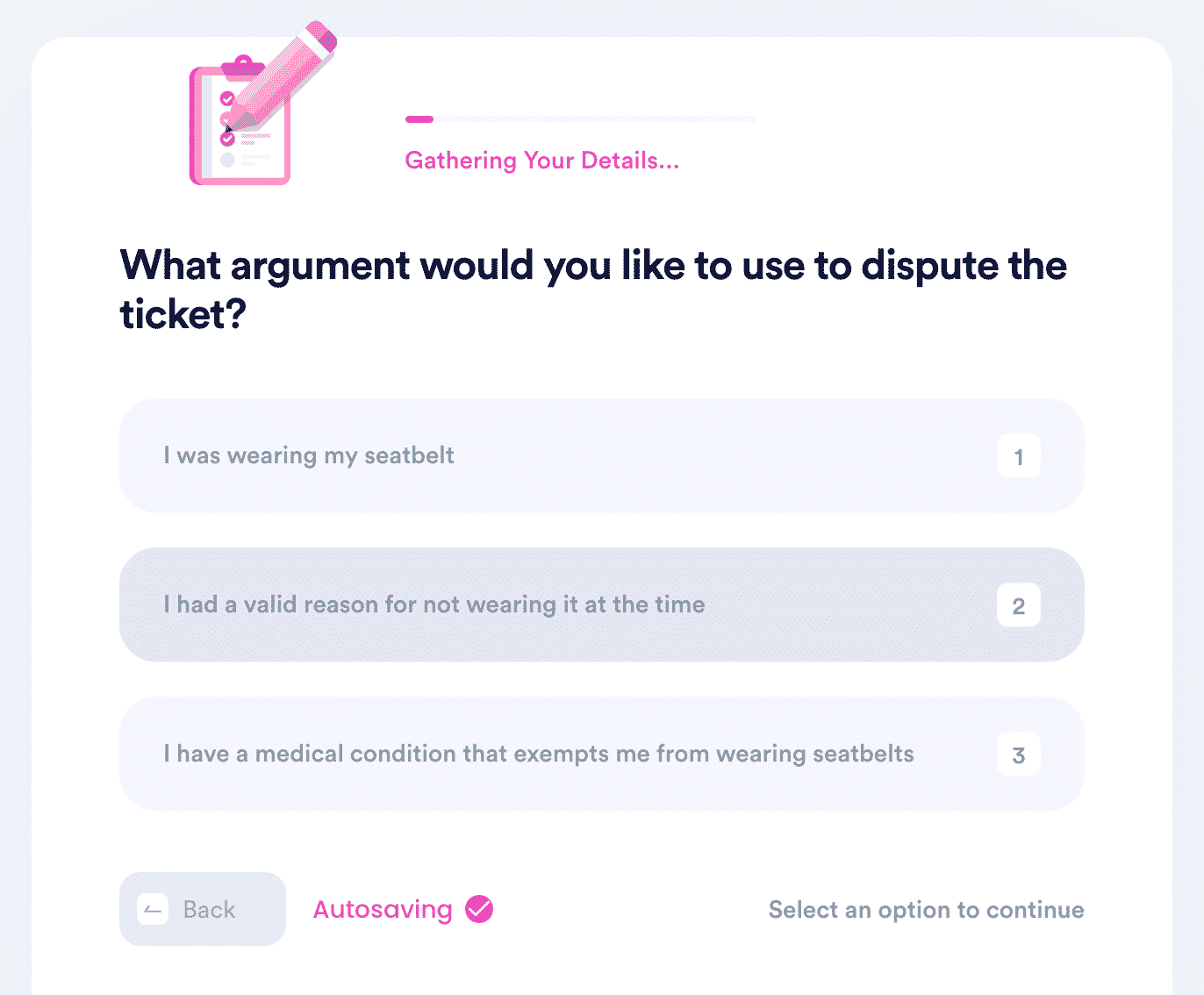 If you want to learn more about what can happen if you don't wear a seatbelt in your state or don't pay the ticket, head to our seatbelt law guides:
Anything Else You Need?
DoNotPay offers an exhaustive range of products and services for one low monthly fee. You can take full advantage of our offer once you resolve the issue at hand.
Our app can both save you money and help you earn it—sign up to appeal parking tickets, get assistance with utility bills, get compensation from airlines, request a refund, have your college application fees waived, find your missing money, reduce property taxes, enter any sweepstake, or send a financial aid appeal letter to any school.
We can also turn your gift card balance into cash, help you apply for scholarships, and assist you in getting compensation as a victim of crime.
There's Even More to Our Offer
The world's first robot lawyer can turn any nightmarish admin or legal procedure into a piece of cake. Look into our knowledge base to find out how to send a letter of warning to your bad neighbor, submit an anonymous complaint to your HR, fight workplace discrimination, get access to public records, deal with a stalker or harasser, put an end to robocalls, and file a complaint with any company.