NJ Seatbelt Laws From A to Z
Whether you're traveling through New Jersey or live there, you should be familiar with traffic laws. What NJ seatbelt laws and rules should you comply with? We'll tell you everything in this article—from whether you can go to court for a seatbelt violation to how to get your ticket dismissed with zero hassle.
If you've already gotten a seatbelt citation, DoNotPay will help you overturn it by creating an appeal letter in minutes.
The Basics of the Seatbelt Law in NJ
Before the New Jersey Legislature was established, not all passengers were required to wear seatbelts—only the ones in the front seats. Recently, this law has changed—now, even if you're a rear-seat passenger in a moving vehicle, you must also buckle up.
There are two types of enforcement actions in New Jersey—primary and secondary. Check out the details in the table below:
| Enforcement | Explanation |
| --- | --- |
| Primary | A police officer may pull over the vehicle if they see that the front-seat occupants aren't wearing a seatbelt and issue a ticket based solely on that |
| Secondary | A law enforcement officer may not stop the vehicle because the people in the back aren't wearing a seatbelt. Instead, they can only pull over the driver if they committed a different primary offense, such as speeding or running a red light or a stop sign |
Not wearing a seatbelt in New Jersey isn't a moving violation, which means that you will not get any points on your record. Getting a ticket may, in some cases, increase your insurance rates because your insurance company will consider you a risky driver who is most likely to get injured in the event of a car accident.
New Jersey Seatbelt Law Regarding Children
Ensuring the safety of the young ones is of utmost importance—that's why child seatbelt laws are so rigorous. In September 2015, the State of New Jersey updated and improved the passenger safety law for children. The new rules are:
Children who are two or younger and weigh less than 30 pounds must be restrained in the rear-facing car seat in the back of the vehicle
Kids who are younger than four and weigh less than 40 pounds must be secured in a rear-facing car seat in the back of the vehicle until they outgrow the seat. Once they outgrow it, they may be placed in a forward-facing child restraint seat with a five-point harness
Children who are younger than eight and at least 57 inches tall must be restrained in a rear- or front-facing child seat or a belt-positioning booster seat
Kids who are younger than eight but taller than 57 inches must be secured by a standard adult seatbelt
NJ Seatbelt Law Exemptions
There are some exemptions to the NJ seatbelt law. They mainly refer to occupants in the front seat. A person won't be required to wear a seatbelt if:
Their car was manufactured before July 1, 1966
They have a mental or physical medical condition that prevents them from buckling up (they must have a doctor's note confirming the condition)
The vehicle they're driving isn't required to be equipped with a safety seatbelt system under federal law
They are a rural letter carrier of the USPS and need to make frequent stops
What Are the Consequences of Failing To Comply With the Seatbelt Laws in NJ?
The most obvious consequence of not wearing a seatbelt is getting injured in a car crash. To protect yourself and others, you should always wear a seatbelt and ensure that the passengers in your vehicle have theirs on too.
Another consequence of failing to buckle up is getting a ticket. The good news is that if a rear-seat passenger who is 18 or older doesn't wear a seatbelt, they will be issued a ticket, not the driver.
If you fail to pay the ticket, the court might issue an arrest warrant or demand the suspension of your driver's license.
How Much Is the Seatbelt Fine in NJ?
A nationwide seatbelt enforcement campaign—Click It or Ticket—is aimed at keeping the people of America safe during their travels. If you get fined for not wearing a seatbelt in New Jersey, you can expect to pay $46. If you miss the deadline for paying your fine, it might be raised or even doubled.
Can You Get a Seatbelt Citation Dismissed?
You can fight your seatbelt ticket in two ways:
Stating reasonable doubt—Reasonable doubt implies that the law officer fined you unfairly. Here are potential excuses you can cite:

You unbuckled the seatbelt because you were reaching for your documents
Your clothes matched the color of your seatbelt
You were wearing your seatbelt while driving but removed it when the police officer pulled you over

Taking due diligence defense—If you're taking due diligence defense, you're arguing that you had a valid reason for removing your seatbelt. One of the reasons can be:

You had an emergency
Your seatbelt wasn't working, and you were driving to the mechanic to get it fixed
You were reversing
Your medical condition prevents you from buckling up, and you have a doctor's note to prove it
As you might suppose, fighting seatbelt tickets isn't easy. That's why you should rely on DoNotPay—we make appealing citations as simple as possible for you.
Use DoNotPay To Dismiss Your Seatbelt Ticket
Once you register for DoNotPay, you'll be able to use our Seatbelt Tickets feature to generate a fully personalized appeal letter and fight your seatbelt citation. We will use the information you provide to create your letter in a few minutes.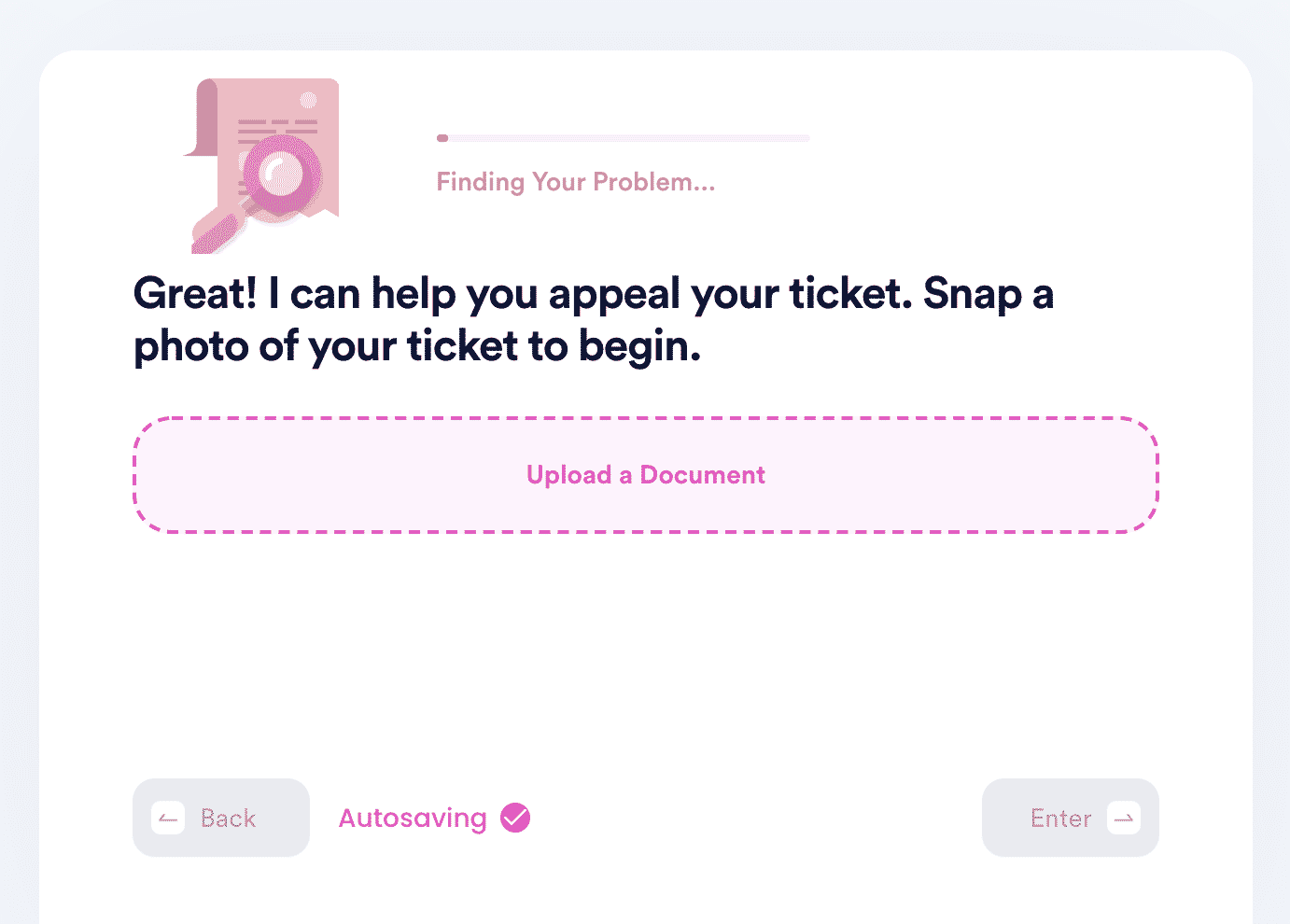 Follow the instructions below to use our product:
Search for the Seatbelt Ticket tool
Upload a photo of your citation
Provide information about who got the ticket
Tell us more about the event and select an argument you'd like to use
After we create your fully personalized appeal letter, we'll mail it to the NJ authorities.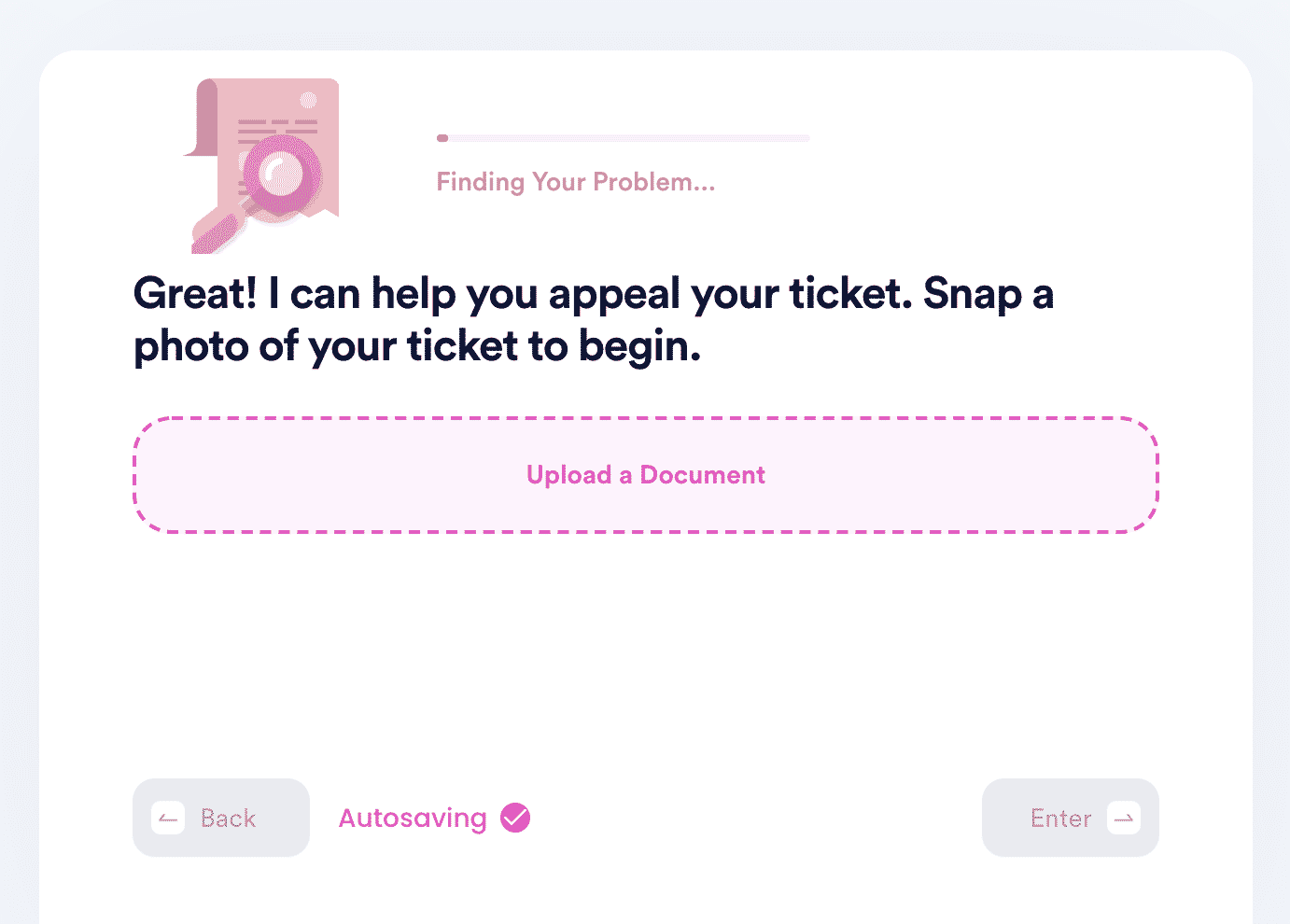 DoNotPay Turns Any Tiring Task Into a Piece of Cake
Are you tired of dealing with bureaucratic or legal matters on your own? You no longer have to—as soon as you subscribe to DoNotPay, we'll take any exhausting task off your plate.
Our app is capable of drawing up legal documents—including marital settlement agreements, child travel consent forms, powers of attorney, defamation demand letters, and affidavits to homeschool—getting them notarized remotely, filing complaints against companies, suing any individual or corporation in small claims court, sending FOIA requests, and so much more.
The World's First Robot Lawyer Offers So Much More
DoNotPay's capabilities don't end there—we can also: