A Quick Guide to the New York Seatbelt Laws
Seatbelt laws vary from state to state. Whether you live in New York or you're just visiting, you should familiarize yourself with the applicable laws to avoid consequences such as:
Taking driver improvement classes
Getting your license suspended
In this guide, we have summarized the New York seatbelt laws to help you when driving on the roads of the Empire State.
What Is the Seatbelt Law in New York State?
New York has a primary enforcement seatbelt law. An officer can stop and ticket you for not wearing a seatbelt whether you are a resident or visiting the state. The New York seatbelt law requires the driver and all front seat passengers to wear safety belts.
There is no requirement for back seat passengers over 16 years of age to wear seatbelts unless the vehicle is operated by a holder of a Limited Class-DJ, Class-DJ Learner Permit, or Class-DJ driver's license.
Here is the overview of the children seatbelt laws in NY:
Children under 16 must be properly secured with seatbelts or child restraint systems no matter where they are seated
Children under four years of age weighing more than 40 pounds should use appropriate booster seats
A federally approved child restraint system must be used for children under the age of eight. The seat should have a lap and shoulder belt
A child passenger who weighs more than 100 pounds or has a height of at least four feet nine inches can use regular safety belts with a lap belt and a shoulder harness
Exemptions to the New York Seatbelt Laws
The NYS seatbelt law exemptions include:
Persons in emergency vehicles
Passengers in motor vehicles manufactured in 1964 or older
Occupants in buses other than school buses
Rural letter carriers, when delivering mail
People with physical conditions that prevent them from properly using a seatbelt—They must have official medical proof, which should be carried whenever they travel
Guidelines for Seatbelt Usage in NY School Buses
The state requires school buses to adhere to the following:
School buses manufactured after July 1st, 1987, must be equipped with seatbelts, and all children should be properly secured
A person operating a school bus must wear a seatbelt
Children under the age of four must be properly secured in federally certified child safety seats
Different school districts may also have additional child seatbelt rules for school buses.
Consequences of a New York State Seatbelt Violation
Seatbelt fines in New York can set you back a pretty penny:
The driver or a front seat passenger can get a fine of up to $50
Child passenger safety violation can go anywhere from $25 to $100
The driver will also get three penalty points if a child under the age of 16 is not restrained in the right car seat. The seatbelt violation is not a moving violation, and no points are assigned to a driver or passenger who is 16 years old and older.
If you accumulate 11 points within 18 months, your license can be suspended. Insurance providers use their own point systems, and they can adjust your premiums based on your driving record. If you want to know how the driving record affects your rates, talk to your insurance agent.
How Can You Dispute Your New York State Seatbelt Ticket?
Instead of pleading guilty and paying the fine, you can dispute the seatbelt ticket. The trick is having a valid reason for not wearing the safety belt or securing the child properly, for example:
Driving in reverse
Having an emergency
Attending to the child's needs
Having a medical condition
Having a faulty seatbelt
If the officer did not pull you over to confirm, you may also argue that you had the seatbelt on.
Would you like to maximize your chances of getting the seatbelt ticket dismissed? Then you need to use smart and time-tested strategies. DoNotPay will help you to the relevant authorities within minutes.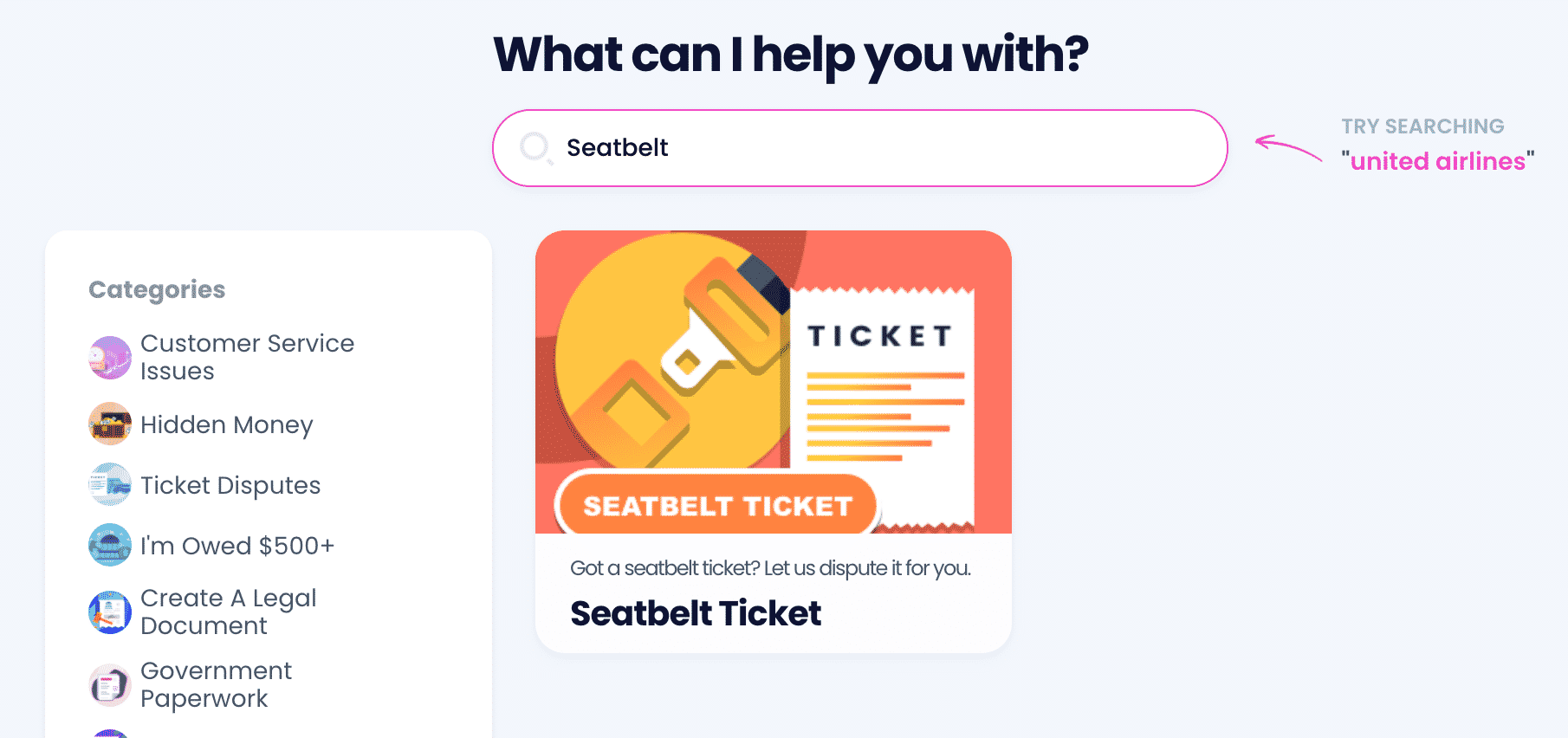 Appeal Your Seatbelt Ticket Using DoNotPay
Hiring a lawyer is great, but with DoNotPay, you don't need to break the bank to get the right kind of help when you need it the most. We know what makes a good seatbelt ticket appeal letter, and we will create one for you as soon as you:
Find the Seatbelt Ticket tool
Tell us who got the ticket and upload a photo of the ticket
Provide more information about the situation by answering a few questions
Choose the type of defense you would like us to use
This will take less than five minutes, and your appeal letter will be sent to the authorities quickly.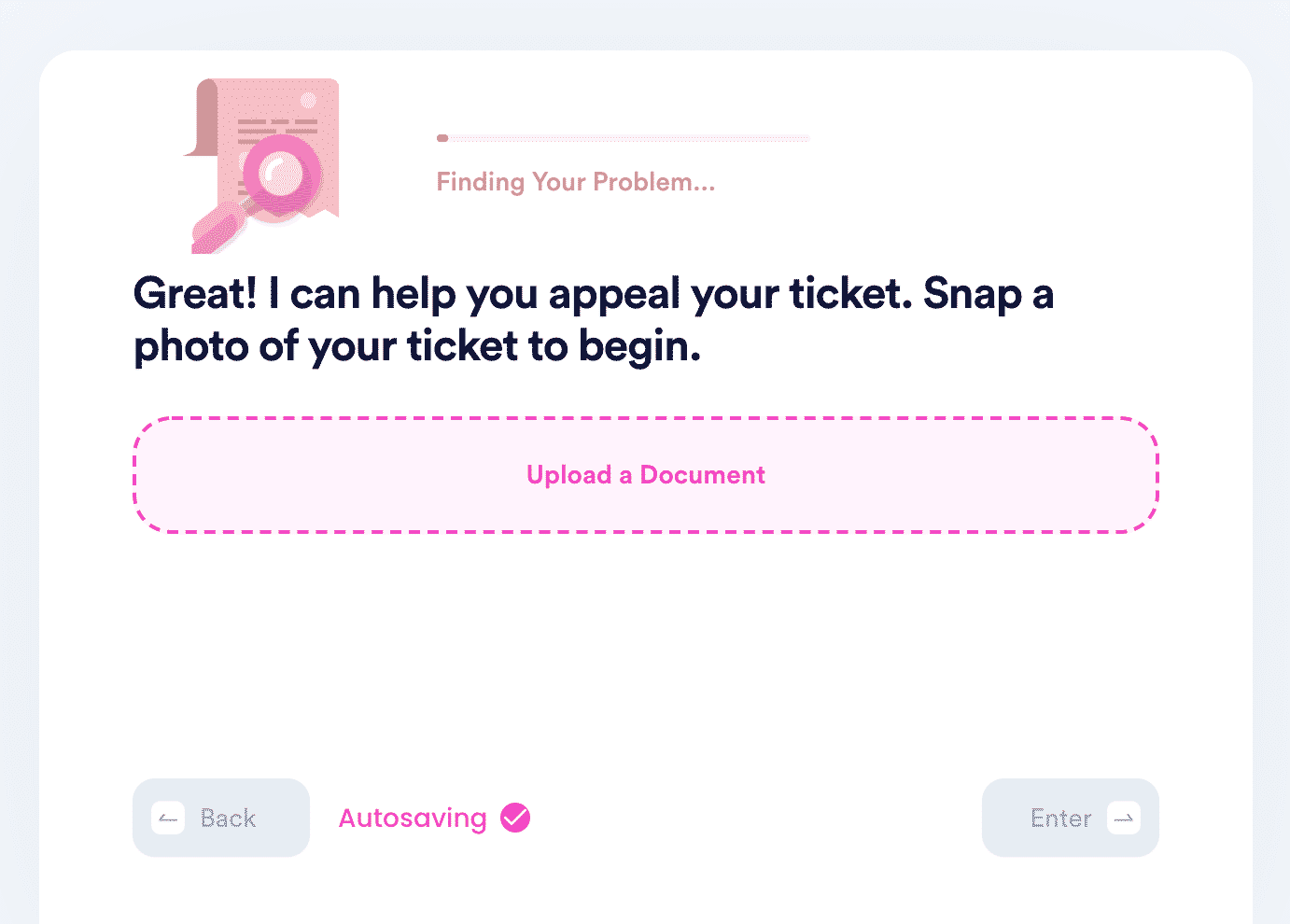 You can also use DoNotPay to get answers to the most common seatbelt question:
Don't stop there! If you're on the road often, check out our simplified guides to seatbelt laws in other states:
DoNotPay's Assistance at Your Fingertips
DoNotPay is all about easy solutions. Turn to our app when you need to get rid of unwanted services, block spam emails and text spam, and overturn unpaid parking tickets. We can also assist you in registering on platforms without disclosing your number and signing up for free trials using our virtual credit card.
With our app, you'll forget about old-fashioned ways of completing certain tasks. Let us help you send faxes online, mail letters, reach customer service, and get in touch with an incarcerated loved one.
DoNotPay Has More To Offer
Our app boasts a wide range of products—from filing a warranty claim, requesting a refund, and booking a DMV appointment to getting a document notarized, filing financial aid appeal letters, and fighting discrimination at work.
For DoNotPay users, no problem is too difficult to solve. Here are only some of the tasks our app can help you complete: