The Complete Guide to the California Child Seatbelt Law
Injuries from car accidents are among the major causes of hospitalization and mortality among kids under the age of 16. Using the appropriate child restraint systems can provide protection in the event of a car crash. That is why you should understand and follow the California laws on child restraint systems—rear-facing, forward-facing, and booster car seats. This guide will give you a comprehensive yet concise overview of the California child seatbelt law and penalties for violations.
What Is the California Child Seatbelt Law?
The child seatbelt laws in California require all kids to be secured in child safety seats in the back seat of the vehicle. The law also determines the seating positions for children of different ages, heights, and weights—as follows:
Rear-facing car seat—All children who are less than two years old should use rear-facing car seats unless the child weighs 40 or more pounds or is 40 inches tall
Forward-facing car seat—Children who have outgrown their rear-facing seats by weighing 40 or more pounds or are taller than 40 inches should use forward-facing car seats with a harness
Booster seat—Children below eight years who have outgrown forward-facing car seats should ride in booster seats. This typically happens when the kids are between 40 and 65 pounds. You should also follow the car seat manufacturer's guidelines on height and weight limits
Front passenger seat—The minimum age for a child to sit in the front seat is eight years. At this age, some children can be restrained using the car safety belt, but most children safety experts suggest that you use the booster seat until the kid is 13 years old
Taxi car seat—The parent is primarily responsible for the compliance with the child seatbelt law, but in case the parent is not present, the taxi driver is responsible
How Much Does a Child Seatbelt Ticket Cost in California?
In California, the driver is held accountable for any passengers without seatbelts in the front or back seat. If the police officers find that you aren't using a child restraint system, you will pay a fine of $100 for the first violation and $250 for other violations thereafter. Keep in mind that other fees and penalty assessments may increase the actual fine.
If you are driving in other states, you need to be aware of the applicable children seatbelt laws. Find our state-specific guides to car seat laws in the table below:
Do Seatbelt Tickets Go on Your Driving Record?
Yes, a violation of the California child seatbelt laws adds one point to your driving record. The points can be reported to your insurance provider. Combined with other factors, such as accumulated points and driving record, this can lead to needless increases in your insurance premiums.
It doesn't have to end up that way. helps California residents fight and dispute seatbelt tickets on the go.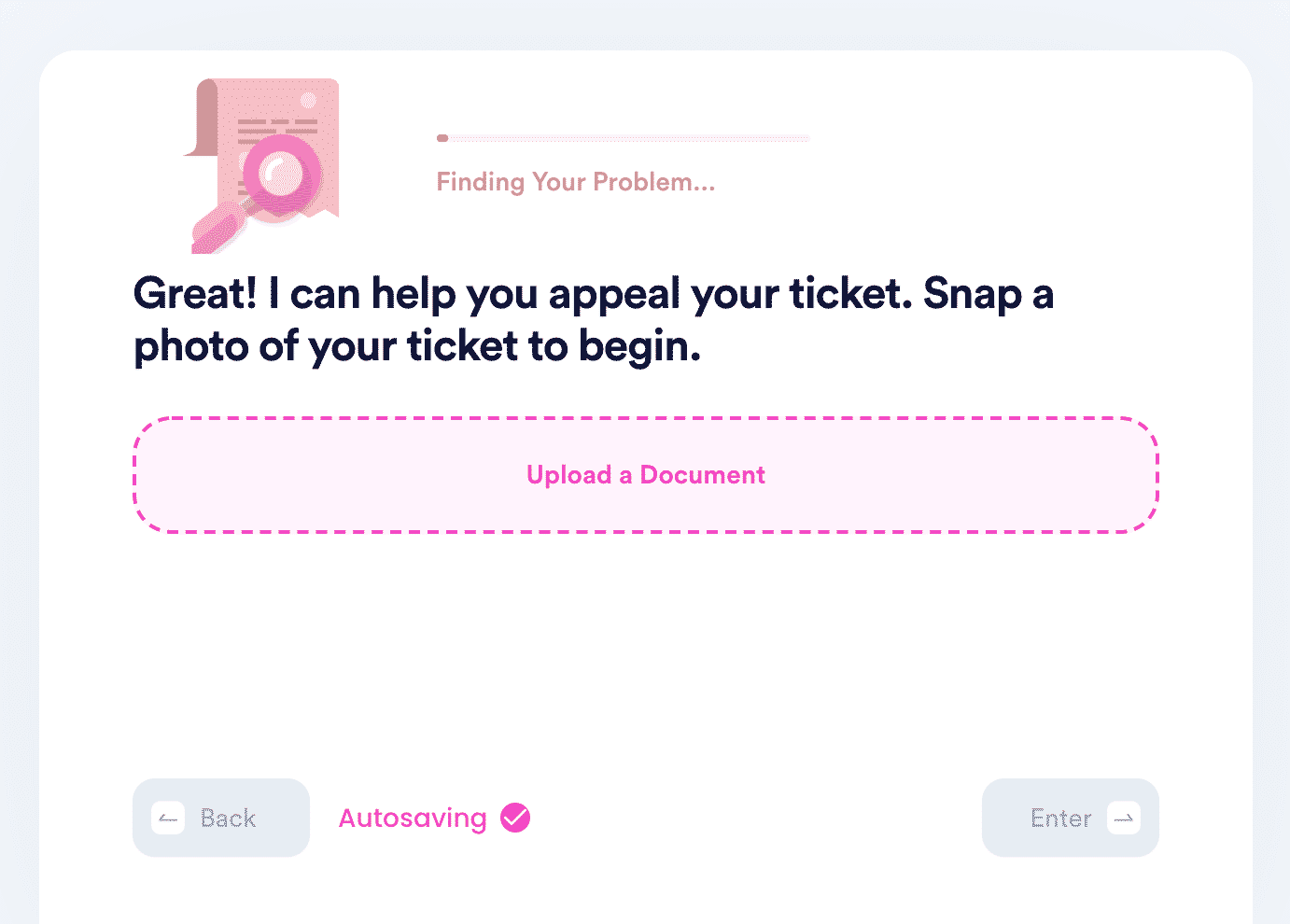 What Happens if You Don't Pay Your Ticket?
If you ignore your seatbelt ticket, it will result in additional charges. If you are required to appear in court and don't show up, you violate another vehicle code, and penalties can be up to 6 months in jail or a fine of up to $1,000.
How Can You Dispute Your Seatbelt Ticket?
California law allows you to challenge a seatbelt ticket. It can be difficult to create a good argument without legal knowledge, but you can try these methods:
Reasonable doubt—You can argue that the child was properly secured if the officer did not pull you over to check
Due diligence defense—You need to provide a reason why the child was not properly restrained. The most common defenses include:

Emergency situation
A medical condition—You should be able to provide proof issued by a physician
Beat Seatbelt Tickets With DoNotPay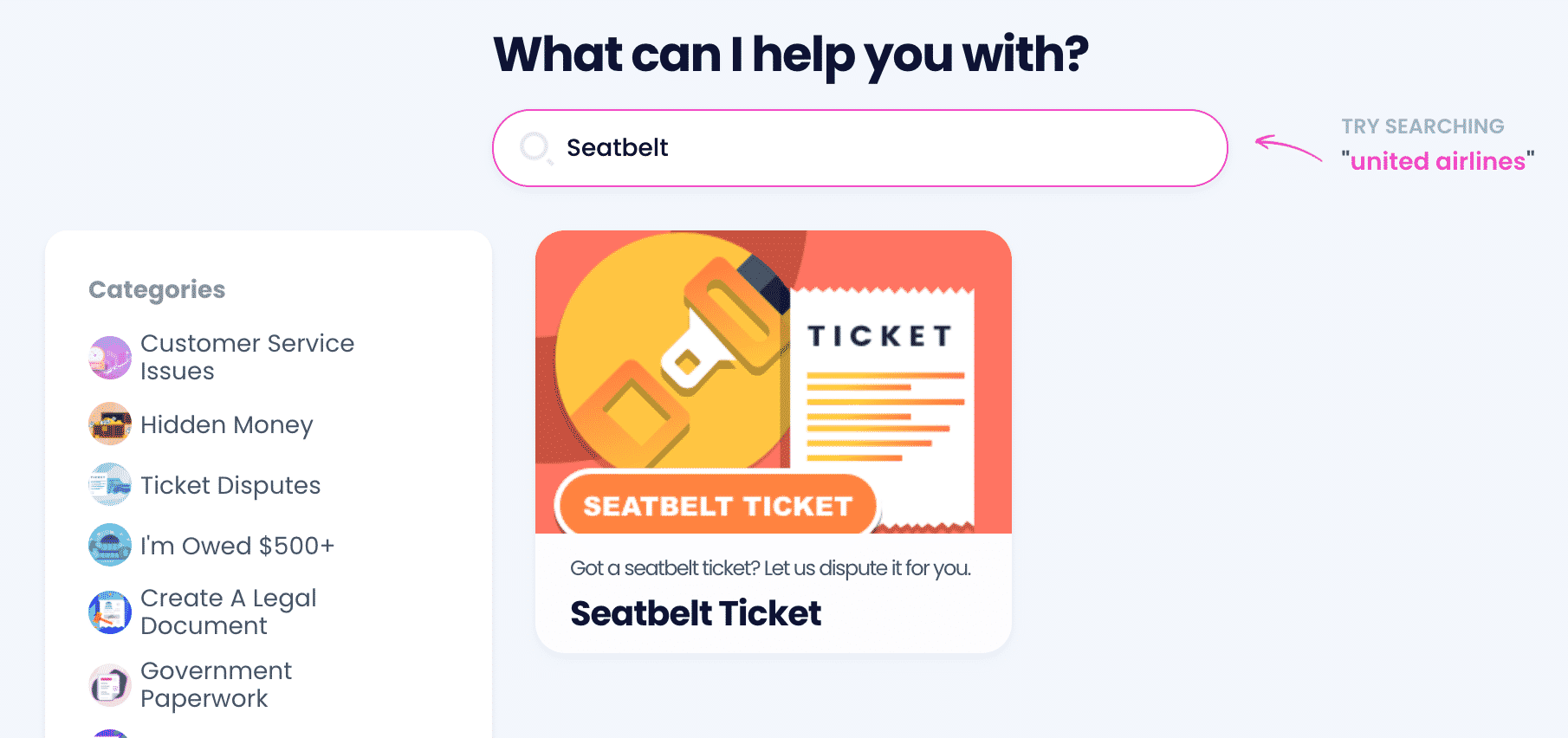 It doesn't matter why you got cited—DoNotPay can help you appeal the ticket. We help drivers challenge their seatbelt tickets every day.
If your ticket gets dismissed, you avoid high ticket fines, appearing in court, raised insurance premiums, and points on your driving record. To appeal the seatbelt ticket, all you will need to do is:
and search for Seatbelt Ticket
Tell us who got the ticket—the driver, passenger, or a child
Tell us about the type of argument you want to use—are you arguing that the seatbelt was on, or did you have a valid reason for not using one?
Provide more information about the situation and upload a photo of your ticket
We will generate a custom appeal letter and mail it to the authorities on your behalf.
If you're traveling out of California, check out our guides to seatbelt laws in all U.S. states:
Make Your Money Troubles Go Away
If you want to join free trials and not worry about automatic renewals, our app is what you need. With DoNotPay's virtual credit card, you'll be able to avoid charges and keep your personal details to yourself.
We can also help you get a refund or request a cancellation.
Getting your money back is our field of expertise—Use DoNotPay to:
No Task Is Too Difficult for DoNotPay
Signing up for our app brings you an AI-powered assistant. Check out the benefits of having a DoNotPay account in the table below: