Missouri Seatbelt Law—What You Need To Know
States create seatbelt laws to save lives and minimize injuries in car crashes. Missouri has both adult seatbelt laws and child passenger safety laws, which are enforced differently. Understanding the regulations will not only keep you safe but also help you avoid non-compliance consequences.
Our guide to the Missouri seatbelt law will uncover the following:
What the seatbelt law in Missouri is
How much a seatbelt ticket costs in Missouri
How you can contest the citation fast with DoNotPay
Highlights of the Adult Seatbelt Laws in Missouri
Missouri is a secondary enforcement state when it comes to adult seatbelt laws. Law enforcement officers cannot stop you and issue a citation solely for not wearing a seatbelt.
The Missouri seatbelt law applies to:
Front seat passengers and drivers
Truck passengers or drivers under 18, regardless of their seating positions
Passengers in vehicles that have a capacity of ten people or less
Missouri Seatbelt Law Exceptions
The following persons are not required to wear seatbelts:
Postal service workers while on official duty
People who have medical reasons for not wearing seatbelts
A person who is driving or riding in a vehicle used for agricultural activities
Drivers of trucks with a licensed weight of 12,000 pounds or more
Cyclists
Passengers in a motor vehicle in which all seatbelts are used
Missouri Child Seatbelt Laws
Child car seat violations in Missouri fall under primary enforcement and apply to children under 16 years. A law enforcement officer can stop and ticket you for this violation, whether the child is seated in the front or the back seat.
The Missouri car seat safety laws require children to ride in the appropriate restraint devices for their age, height, and weight as follows:
| Child's Age | Car Seat Law |
| --- | --- |
| Under four years | Any child under four years or who weighs less than 40 pounds must use the appropriate child passenger safety device. The device you will use depends on the manufacturer's specifications |
| Four to seven years | Children who weigh 40 pounds or more must use the right car seat or booster seat |
| Eight years and older | Children who have reached a height of 4' 9'' or weigh 80 pounds can legally use the regular safety belts |
Are There Any Exceptions?
There are certain situations when Missouri child seatbelt laws stated above don't apply:
Children under 16, who should be using a booster seat, can use a lap belt only if the rear seats of a vehicle do not have a combination of a lap and shoulder belt. This is important because booster seats should never be secured only with a lap belt
Children who weigh over 80 lbs or are taller than 4' 9'' can use the regular seatbelts starting from the age of four
Passengers riding in a for-hire vehicle (a taxi cab, for example) or public transport are not required to wear seatbelts
Children who don't need the restraint system should sit in the rear seats unless the vehicle only has front seats if the number of children exceeds the number of available seats
Students who are four years old or older riding in a school bus that has a capacity of 11 or more passengers are not required to buckle up
What Is the Cost of a Seatbelt Ticket in Missouri?
Violating the adult seatbelt rule results in a fine of $10, while violations of the child safety rule can cost up to $50. If you get a ticket because you don't have a proper child car seat, the fine can be waived if you present proof of acquiring a child restraint system. Failure to pay the fine can result in additional penalties.
A seatbelt law offense is not a moving violation in Missouri, and no points are assessed on your driving record. Since your driving record is not affected, your insurance rates cannot bump up.
What To Do if You Get a Seatbelt Ticket in Missouri
If you are issued with a seatbelt citation in Missouri, here are your options:
Pay the fine—It means that you plead guilty and accept the consequences of the offense
Contest the ticket in traffic court—If you believe the ticket was undeserved, you can use one of the following arguments to contest it:

Reasonable doubt—You argue that you were wearing a safety belt and the ticket was a mistake
Due diligence defense—You plead guilty but provide a credible explanation for not being buckled up—for instance, you have a special medical condition or were experiencing an emergency
Do you want to contest the ticket but feel overwhelmed by the process? Let DoNotPay appeal the seatbelt ticket on your behalf.
DoNotPay Can Appeal Your Seatbelt Ticket for You
Contesting a seatbelt ticket can be a daunting task if you haven't done it before, but DoNotPay is here to help. Our AI bots will draft a personalized appeal letter with a solid defense and send it to the local authorities in your stead. Just answer a few questions to help us understand the situation, and we will handle the rest.
Our process is straightforward:
Click on the Seatbelt Ticket tool
Upload a photo of the ticket and answer a brief questionnaire
This will take less than five minutes.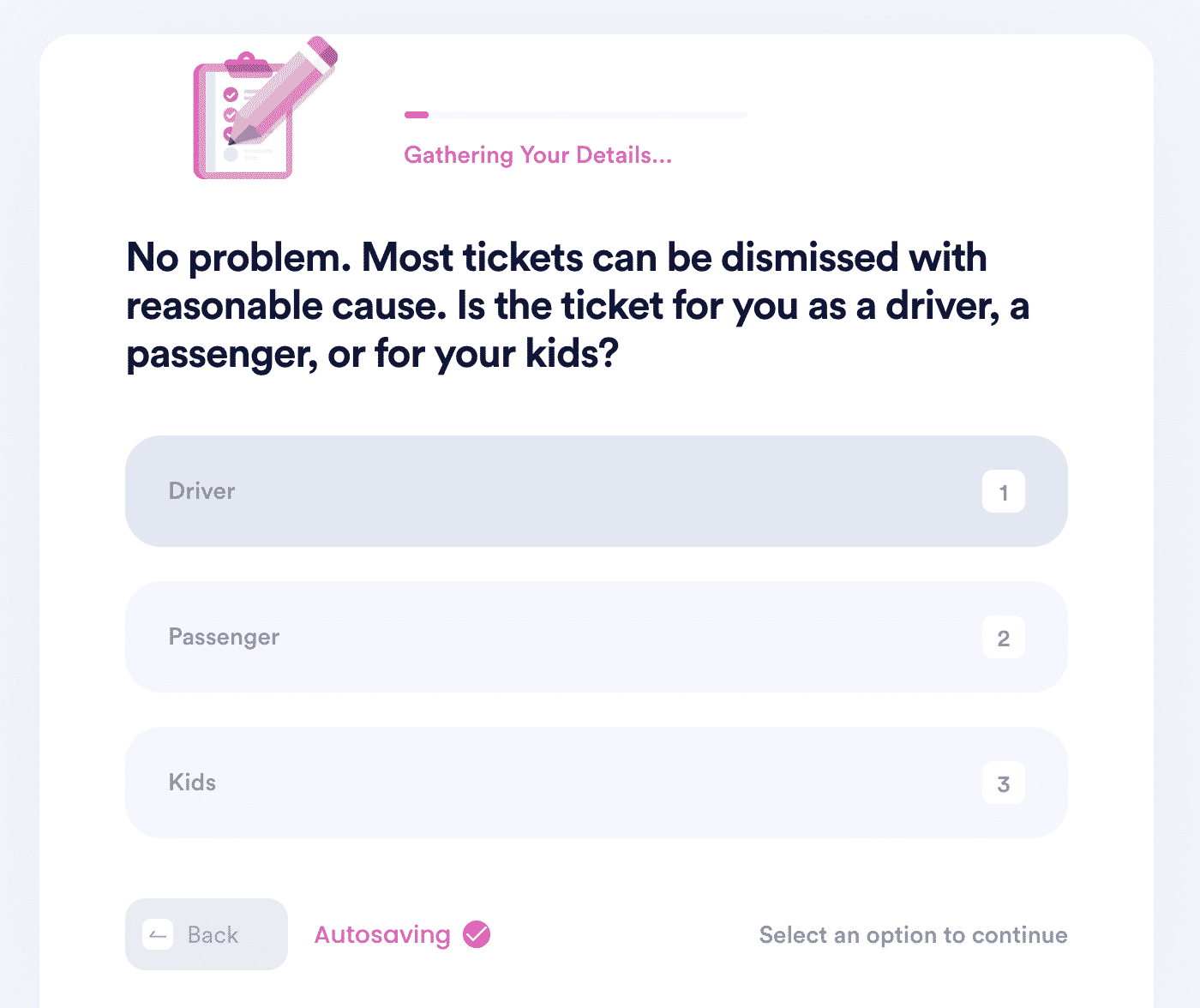 Every state has its own seatbelt laws. If you are planning a trip or just passing through another state, you need to know the applicable rules. Use our detailed guides to get acquainted with seatbelt rules in any U.S. state:
Our App Offers Assistance in More Ways Than One
As a multifaceted app, DoNotPay creates solutions to numerous problems. Check out the table below and get to know a fragment of what our app can do:
| Keep Your Privacy Intact | Deal With Legal Problems | Solve Money Issues |
| --- | --- | --- |
| | | |
Use DoNotPay To Streamline Different Tasks
Tick the items off your to-do list faster by signing up for DoNotPay. In record time, you'll be able to request a refund, cancel a subscription, and get a free trial.
If talking on the phone is your worst nightmare, don't worry—you can use our app to schedule a meeting with an online notary, reach customer service with ease, and make a DMV appointment.
Feel free to also rely on our app when you want to prep for government tests, file FOIA requests, or connect with loved ones in prison.