The Ins and Outs of Wisconsin Seatbelt Laws
Not wearing a seatbelt can endanger your life, but there are legal and financial consequences as well. Whether you live in America's Dairyland or are visiting, you need to comply with the state's seatbelt laws. This article will help you get familiar with Wisconsin seatbelt laws and provide essential information about the rules you need to follow.
We will also touch upon other important topics, such as whether:
The Basics of the Wisconsin Seatbelt Law
Wisconsin law states that everyone four years and older must be properly restrained with a safety device, such as a car seat, booster seat, or seatbelt. In Wisconsin, seatbelt use is a primary enforcement law, which means that a police officer may pull you over for not wearing a seatbelt and issue a citation.
Not having a seatbelt on is not considered a moving violation in Wisconsin, so your ticket won't be reported to the Department of Transportation (DOT), which means it won't count as a demerit point or affect your insurance.
Everyone, including non-residents, must comply with the Wisconsin seatbelt law. As for vehicles, every car in the state of Wisconsin must be equipped with safety belts.
If you get a citation, you will have to pay a $10 fine within a given deadline. Failing to pay your ticket before the set date can cause serious repercussions, such as going to jail.
What Does the WI Seatbelt Law Say About Children?
The children seatbelt law in Wisconsin states that:
All children who are four years old or younger and weigh up to 40lbs must be restrained in a car seat
All eight-year-olds who weigh more than 80lbs and are taller than four foot nine must be restrained in a booster seat
Breaking the children seatbelt law is a much more serious violation than breaking the regular seatbelt law. It can cost you up to $75 if the child is younger than four and up to $25 if they're between four and eight years old.
Wisconsin Seatbelt Law Exemptions
There are some exemptions to the Wisconsin seatbelt law. They are as follows:
Seatbelt use isn't required in authorized emergency vehicles
The driver doesn't have to wear a seatbelt if a vehicle makes ten or more stops that require them to exit the vehicle
The driver isn't required to wear a seatbelt if they have a physical or mental condition that prevents them from wearing a seatbelt. The driver needs to have a doctor's note that proves the condition
Can You Dispute a Seatbelt Citation in Wisconsin?
Yes, you can appeal a seatbelt ticket in Wisconsin. There are two main arguments you use to dispute your citation—reasonable doubt and due diligence.
Check out the table below for details:
Argument
Explanation
Reasonable doubt
Arguing your case on the basis of reasonable doubt means that you'll either present an explanation of why you weren't wearing your seatbelt or claim that the police officer was wrong and you actually did wear it. Here's what you might present as arguments:

You were wearing your seatbelt but unbuckled it when the officer pulled you over
The color of your seatbelt was the same as your clothes
You removed the seatbelt to reach for something

Due diligence defense
If you choose to argue your case based on due diligence defense, you must give a good reason for not wearing a seatbelt. This can mean that you:

Were driving in reverse
Were experiencing some kind of emergency
Noticed that your seatbelt was faulty but couldn't fix it at that moment
Hadn't noticed that your child unbuckled the seatbelt
How To Dispute a Seatbelt Ticket in Wisconsin
If you decide to fight your seatbelt ticket in Wisconsin, you have to plead not guilty via mail and use a valid argument. Most people don't bother with fighting tickets because it's a complicated matter. Luckily, you can bypass the demanding procedure by having DoNotPay get your citation dismissed in your stead—register for our app to start the process now.
Appeal Your Seatbelt Ticket With DoNotPay!
If you want to appeal your seatbelt ticket with zero hassle, DoNotPay is the app for you. We can create a personalized appeal letter in a few minutes. All you need to do is complete a brief questionnaire, and we'll generate your letter based on the details you provide.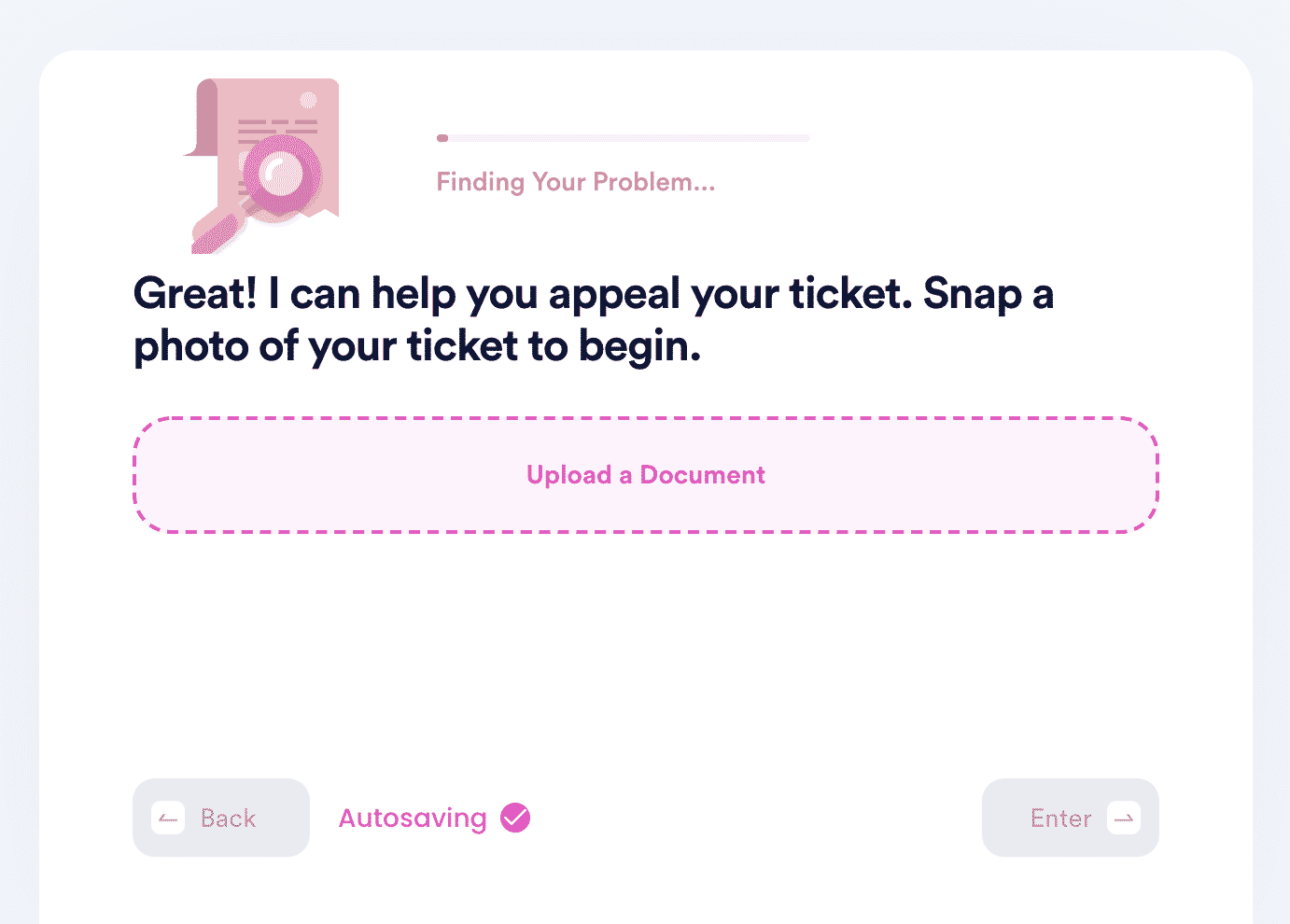 Follow the instructions below to start your case:
Find the Seatbelt Ticket feature
Snap a photo of your ticket
Tell us who got the citation and which argument you'd like to use
After you complete all the steps, DoNotPay will create your appeal letter and mail it to the Wisconsin authorities.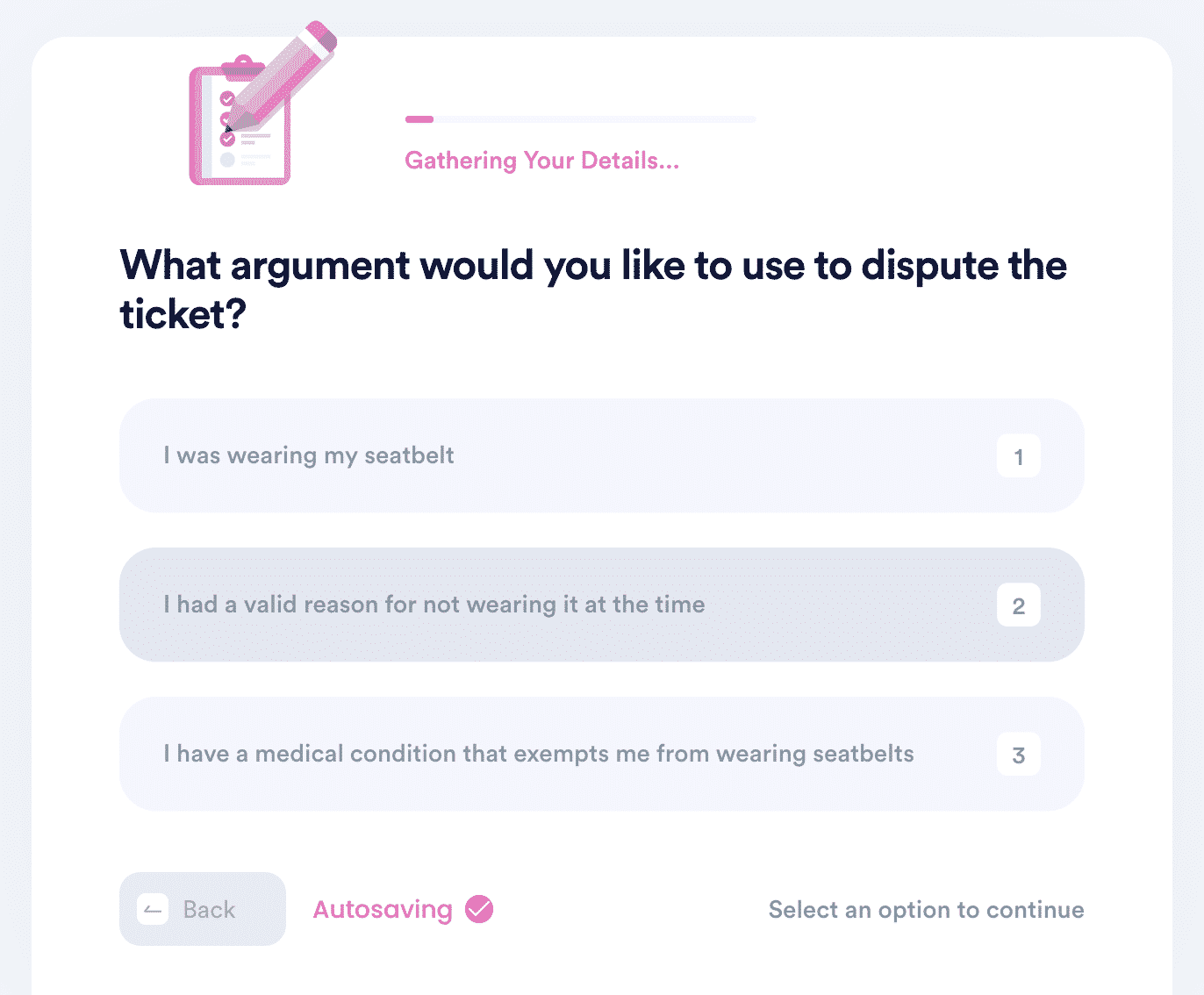 Do you need more information about seatbelt laws and related matters? DoNotPay has answers to all the questions you might have, such as:
DoNotPay Turns Any Tiring Task Into a Piece of Cake
Are you tired of dealing with bureaucratic or legal matters on your own? You no longer have to—as soon as you subscribe to DoNotPay, we'll take any exhausting task off your plate.
Our app is capable of drawing up legal documents—including marital settlement agreements, child travel consent forms, powers of attorney, defamation demand letters, and affidavits to homeschool—getting them notarized remotely, filing complaints against companies, suing any individual or corporation in small claims court, sending FOIA requests, and so much more.
The World's First Robot Lawyer Offers So Much More
DoNotPay's capabilities don't end there—we can also: