Can You Be Pulled Over for Not Wearing a Seatbelt?
If you've never got pulled over in your state, you might come across an unpleasant surprise while traveling. Can you be pulled over for not wearing a seatbelt? Learn which states consider not wearing a seatbelt a severe moving violation that enables officers to pull you over!
Seatbelt Laws—Primary and Secondary Enforcement
Whether you can be pulled over for not wearing a seatbelt depends on whether the state's seatbelt law is subject to primary or secondary enforcement.
Primary enforcement means that an officer has the right to pull you over and issue a seatbelt ticket solely for not wearing a seatbelt. Secondary enforcement implies that you have to commit another traffic violation for an officer to pull you over. In that case, the officer will issue a ticket for both the missing seatbelt and the other offense.
States With Primary Seatbelt Law Enforcement and Their Ticket Costs
These are the states in which you can get pulled over for not wearing a seatbelt and their ticket costs:
States
First Offense Fine
Tennessee, Wisconsin
$10
Kansas

$10 for drivers and passengers over the age of 18
$60 for drivers and passengers 14–17 years old

Alaska, Georgia
$15
Oklahoma
$20
Alabama, Arkansas, Delaware, Illinois, Indiana, Iowa, Kentucky, Louisiana, Massachusetts, Michigan, Minnesota, Mississippi, New Mexico, South Carolina
$25 + additional fees in Arkansas, Illinois, and Minnesota
Florida
$30
Rhode Island
$40
Utah, Hawaii
$45
New York, Maine, District of Columbia
$50
Oregon
$110
Washington
$124
California
$162
Texas
$200
Missouri (for passengers 8–15 years old)
$10
Pennsylvania (for passengers 8–17 years old)
$10
North Dakota (for passengers and drivers who are less than 18 years old)
$20
Vermont, Virginia (people sitting in any seat of the vehicle who are over 18 years old)
$25
North Carolina (for drivers and front-seat passengers)
$25 + court fees
New Jersey (for drivers and front-seat passengers)
$46
Colorado (drivers and front-seat passengers who are less than 18 years old)
$71
What Happens After You Get Pulled Over?
If an officer pulls you over in a state with primary enforcement of seatbelt laws, you can get:
A seatbelt ticket
Demerit points on your driving record
Your license taken if you've accumulated 12 demerit points over three years
Higher insurance fees for being deemed a high-risk driver
What Can You Do About Your Seatbelt Ticket?
If you get a seatbelt ticket, you can do one of the following:
Ignore it
Pay it
Go to court if you fail to pay the ticket until a specified deadline
Ignoring the ticket is risky. Even though the officer who issued it might have misspelled some information, there's still a high chance that you will have to go to court. If you pay the ticket, you don't have to face a trial. Paying the ticket is an ideal option for residents of states with low seatbelt ticket fees, but if you live in Texas, that means spending a shocking amount of $200. As a result, many people decide to try to defend themselves in court. Some states even allow trials by written declaration, where you can defend yourself by presenting your case with a written statement.
Did you get a seatbelt ticket you can't or don't want to pay? Do you need help building your case? to get a personalized appeal letter that will help you get your ticket dismissed!
Appeal Your Seatbelt Ticket in a Jiffy With DoNotPay!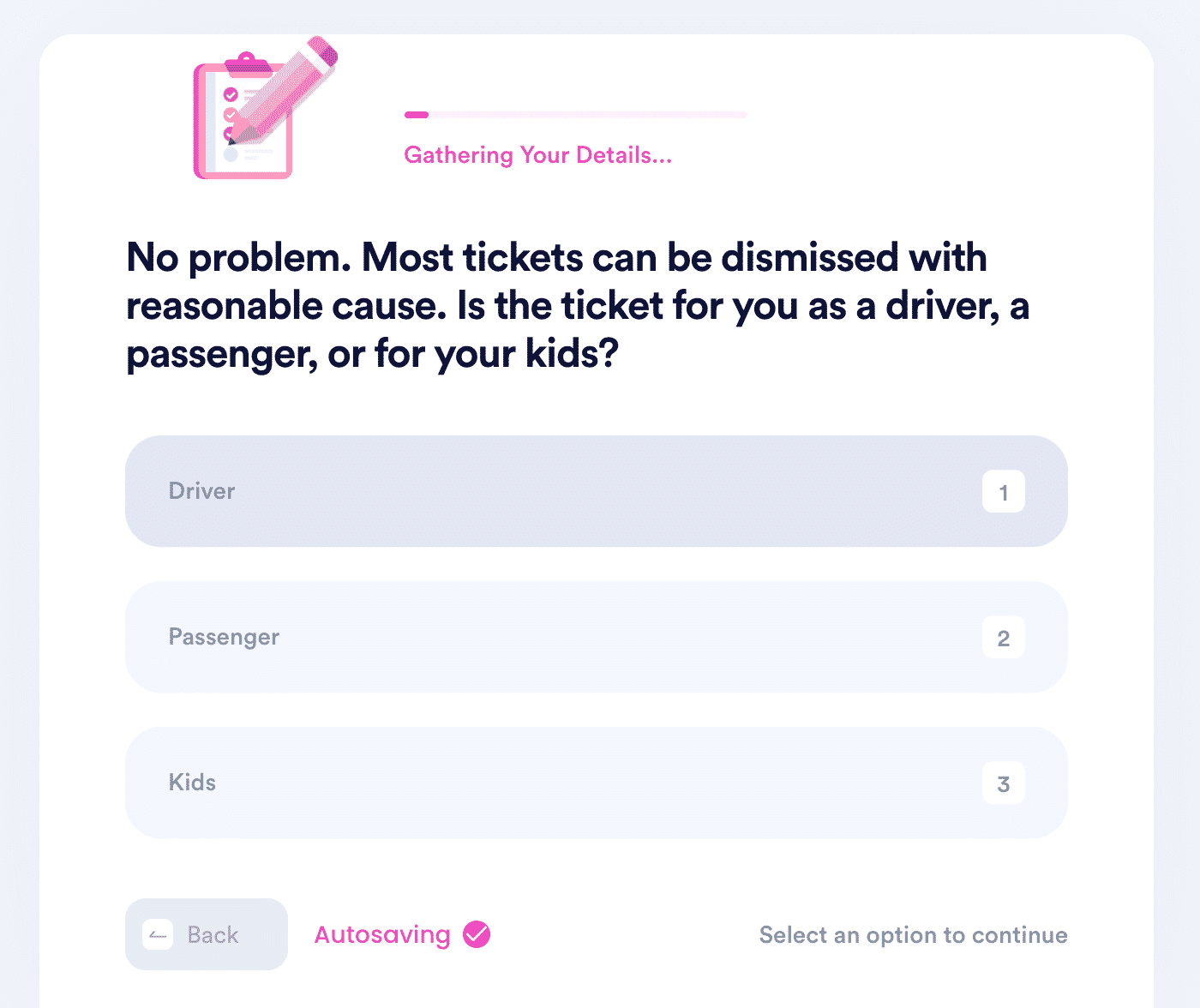 Pesky seatbelt tickets tend to find their way to you when you need them the least, if ever. If you had a good reason for not wearing a seatbelt or want to argue that the police officer didn't see that you had one on—DoNotPay can help!
All you need to do is:
Search for the Seatbelt Tickets feature
Provide details about what happened and attach a photo of your ticket
Our app will generate your appeal letter and mail it to the ticket authority on your behalf. The whole process takes a few minutes of your time and can keep you from spending big bucks on that seatbelt ticket and potential court fees.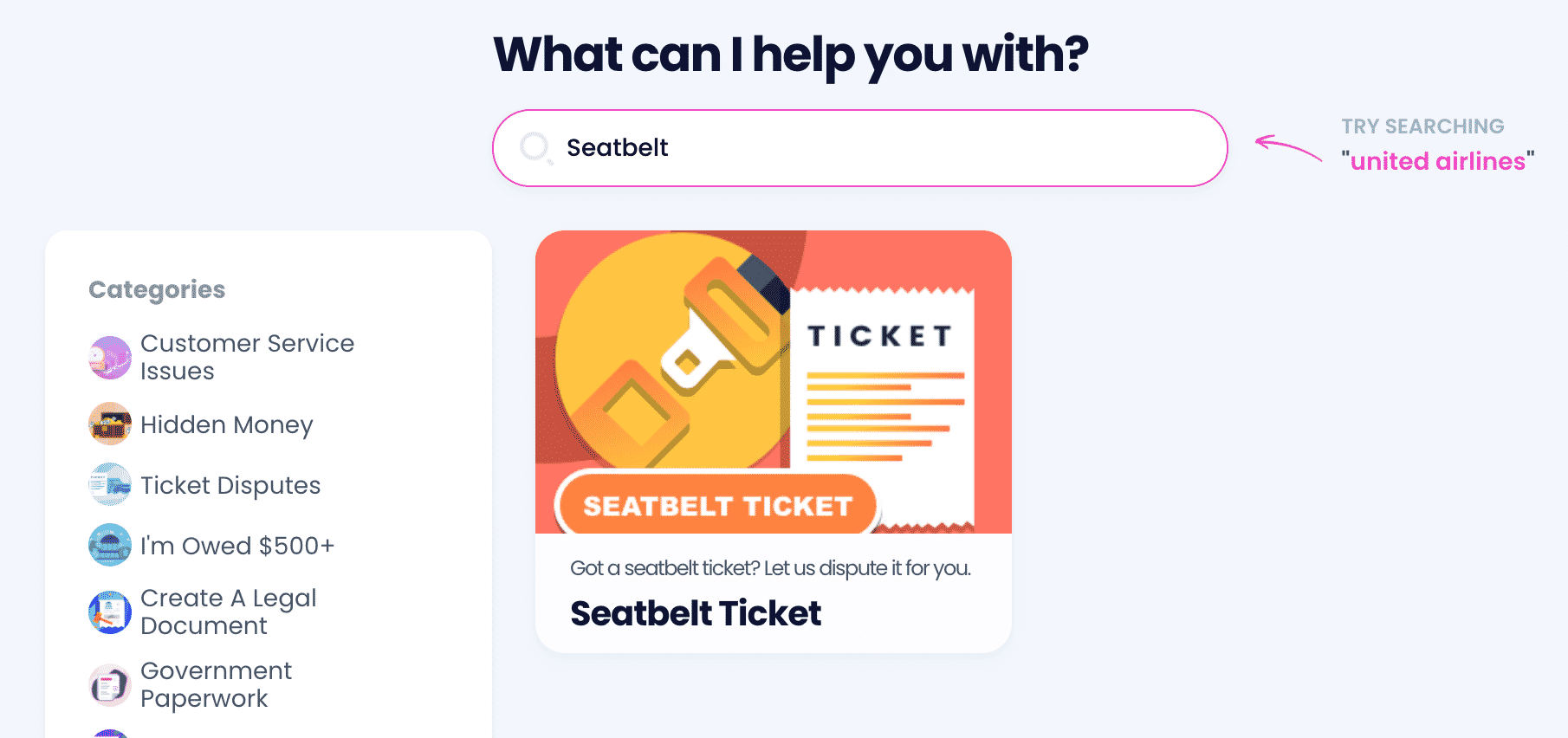 How Old Do You Have To Be To Not Wear a Seatbelt?
In most states, you have to wear a seatbelt regardless of age. Children typically need to ride in special car seats until they are 13 years old or meet height and weight requirements to ride without one. Wearing a seatbelt is mandatory for all drivers and front-seat passengers, but some states allow children to stop wearing a seatbelt in the back seat once they reach a certain age. Check the table below to learn about those states and their age limits:
What's Next?
Once you complete the task at hand, you don't have to stop there—we offer a myriad of products that can relieve you of the stress that comes with dealing with admin and legal hurdles.
DoNotPay can assist you in drawing up a divorce settlement agreement, child travel consent form, power of attorney, and other legal documents, contacting government representatives, getting tourist visas, fighting workplace discrimination, getting a burner number, appealing banned accounts, getting access to public records, scheduling a DMV appointment, and much more.
Tackle Any Energy-Draining Task With DoNotPay
With DoNotPay by your side, you don't have to worry about how you'll cover your utility bills at the end of the month—we'll provide swift assistance as soon as you sign up!
Wondering what else our app is capable of? Check out how we can: