DoNotPay Deciphers Delaware Seatbelt Laws for You
According to statistical data released by Delaware authorities, 53% of the state traffic victims in 2018 were unbelted at the time of the crash. Going by the state's most recent fatal car crash reports, over 40 people have died because they didn't wear a seatbelt in the past few months. As tragic as they are, most of these deaths could have been prevented by complying with Delaware seatbelt laws.
In this article, we have compiled all rules and regulations deriving from the relevant seatbelt laws in the state to help you understand the:
What Is the Delaware Seatbelt Law for Adults?
Delaware seatbelt laws for adults apply to anyone 16 and older, i.e., these persons are held accountable for buckling themselves up. We have put together a short Q&A table to help you understand this somewhat confusing piece of legislation:
Question
Answer
Who needs to wear a seatbelt in Delaware, and how?

Every driver or passenger (irrespective of seating position) in Delaware must wear a seatbelt while the vehicle is in motion
The person should strap both the lap and shoulder belts appropriately
The shoulder belt should not be pushed behind the back or under the arm under any circumstances

Do seatbelt regulations apply to all vehicles?
Delaware laws on seatbelts covers:

All passenger vehicles (such as pickup trucks, sports cars, etc.)

Classic or antique cars cannot be used for everyday travel and transportation in Delaware, so the seatbelt laws don't affect them

How are seatbelt violations treated in Delaware?
According to Delaware laws, not wearing a seatbelt is a non-moving traffic violation with primary enforcement, which means an officer can pull you over for any seatbelt related offense
The Delaware Seatbelt Law for Children
An adult driving someone under 16 years of age must ensure the child is adequately belted or restrained as per the Delaware children seatbelt laws. Refer to the table below for specific details:
Age Range
Child Occupant Protection Law
0–12 months

All infants must be placed in a rear-facing car seat fitted in the backseat of the vehicle
The car has to:

Be altered as per the needs of the growing child
Support the baby's neck and spine through a harness

You can use an infant car seat for more than 12 months if it is suitable for the child

13 months to eight years

Children in this age range cannot use regular seatbelts, so they need to be positioned in a booster seat fitted to their height and weight
You should place the booster seat in the backseat if the child weighs 65 pounds or less (as the airbag impact in the front seat can be fatal to a young child)

Nine to 15 years
Fines and Penalties for Committing a Seatbelt Violation in Delaware
If you get a ticket for a seatbelt violation in Delaware, you'll need to:
Pay a $25 fine (for each violation)
Visit the court for a mitigated hearing
Pay another $60 in court costs
Getting a seatbelt ticket immediately raises your risk level as a motorist and increases your insurance expenses. Currently, the state doesn't add negative points to your driving license for not wearing a seatbelt, but you may face two to six demerit points if you get a ticket for other traffic offenses along with the seatbelt one.
You should pay the fine if you don't want to face the following consequences:
Becoming a court debtor
Getting an arrest warrant issued in your name
Having your vehicle or any other asset taken away
If you're facing financial hardship, you should explain your situation to the judge to get an installment payment plan. In certain cases, the judge may reduce your fine if you pledge to do community service or enroll in a traffic safety course.
What if the Seatbelt Ticket Was Unfair?
If you feel you got slapped with an unjust ticket, you can refuse to pay the fine and contest it in court, which entails hiring a pricey lawyer and attending proceedings. If the court accepts your argument, your ticket will be dismissed.
Do you fear this may devastate your budget and devour your time? If you're looking for a fast and money-saving way to appeal your seatbelt ticket, . You can use our Seatbelt Ticket product to fight your ticket without throwing away your hard-earned money! DoNotPay acts as your robot lawyer, so you don't have to:
Negotiate with attorneys
Draft tricky appeal letters yourself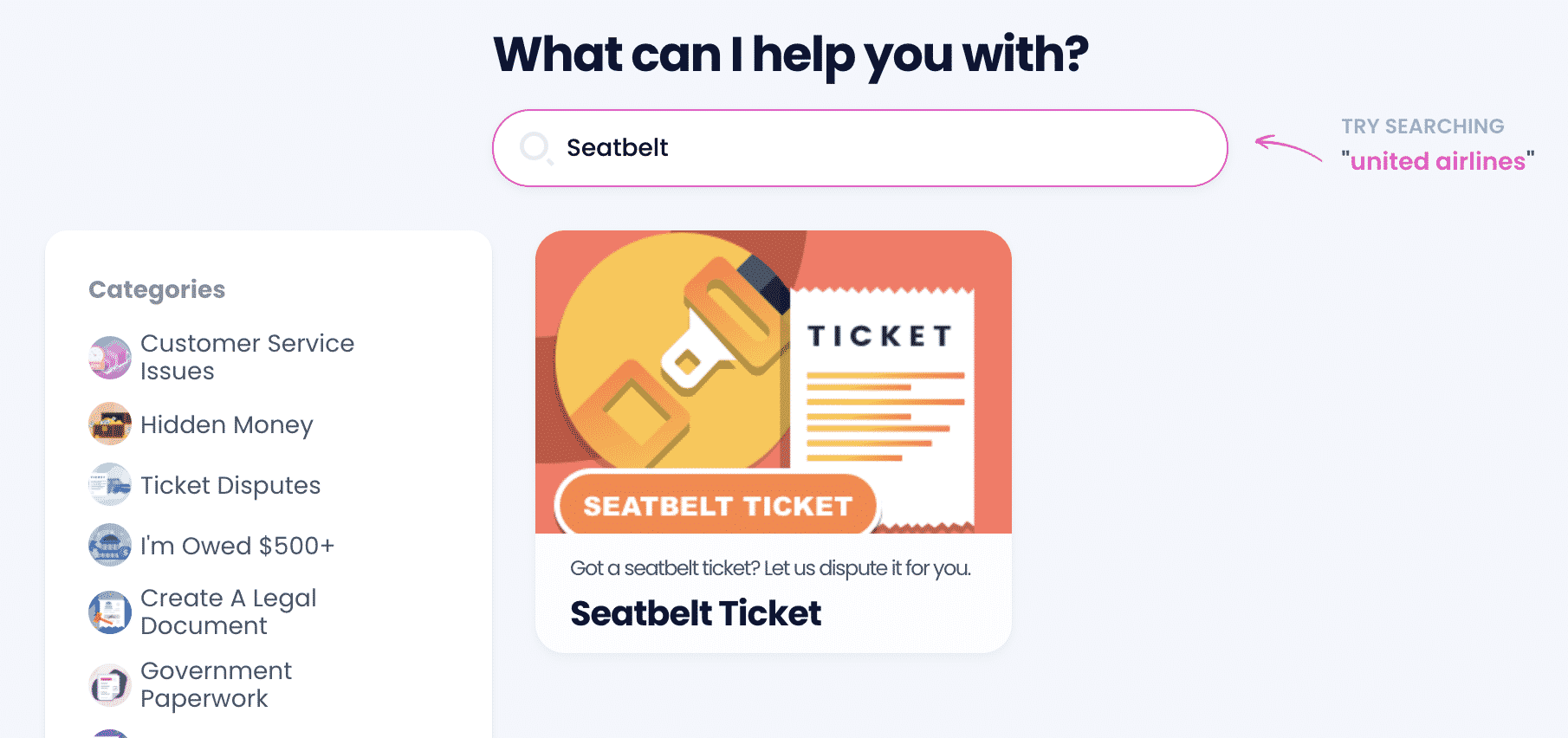 How Does DoNotPay Appeal a Seatbelt Ticket?
We use the info you provide to generate a customized appeal letter highlighting the arguments specific to your case. We then mail the document to the authorities on your behalf.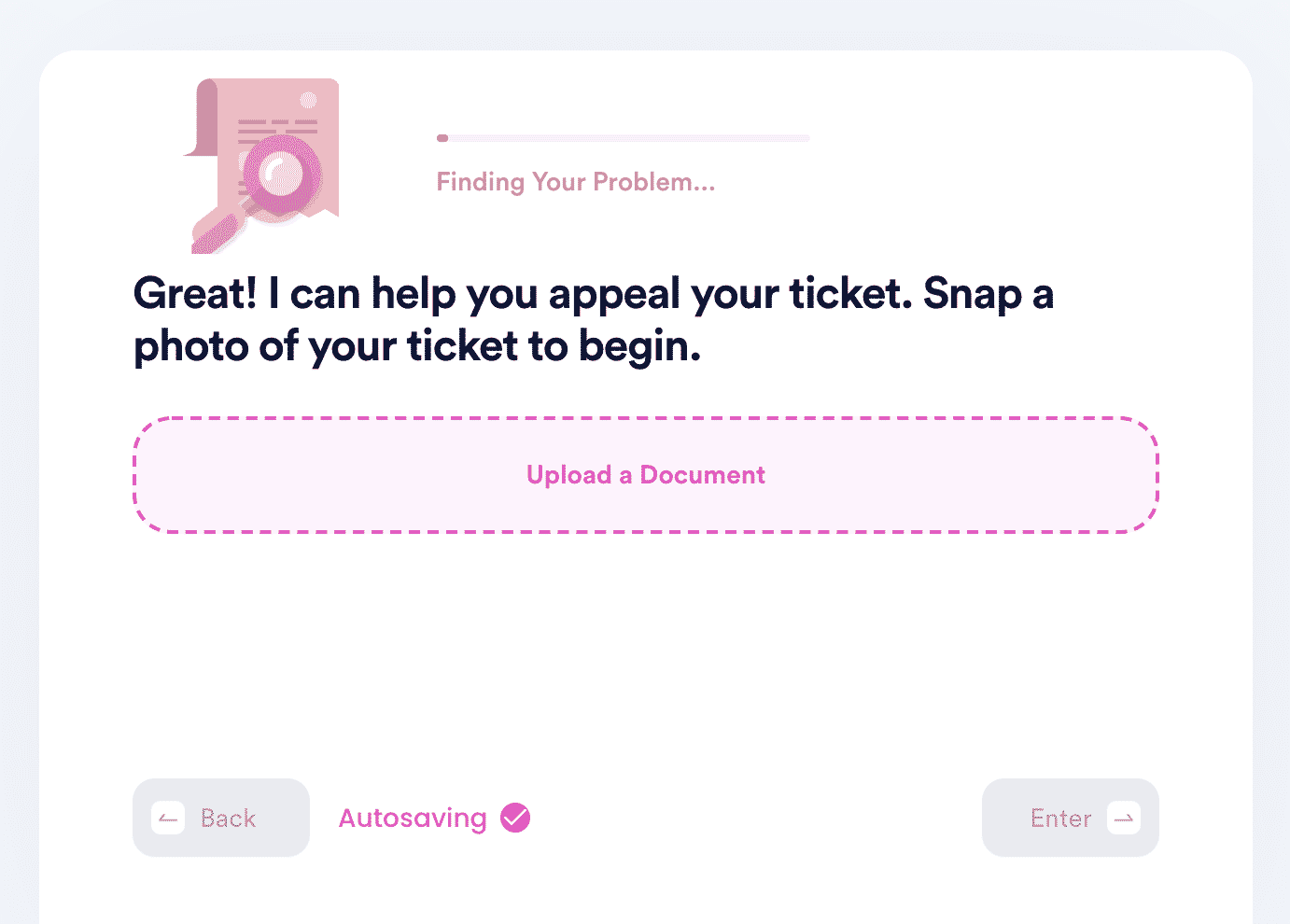 To use our services, follow these straightforward instructions:
and click on the Seatbelt Ticket tab
Attach a photo of your seatbelt ticket
Tell us who received the ticket
State the argument you want to use and add any exonerating evidence, if possible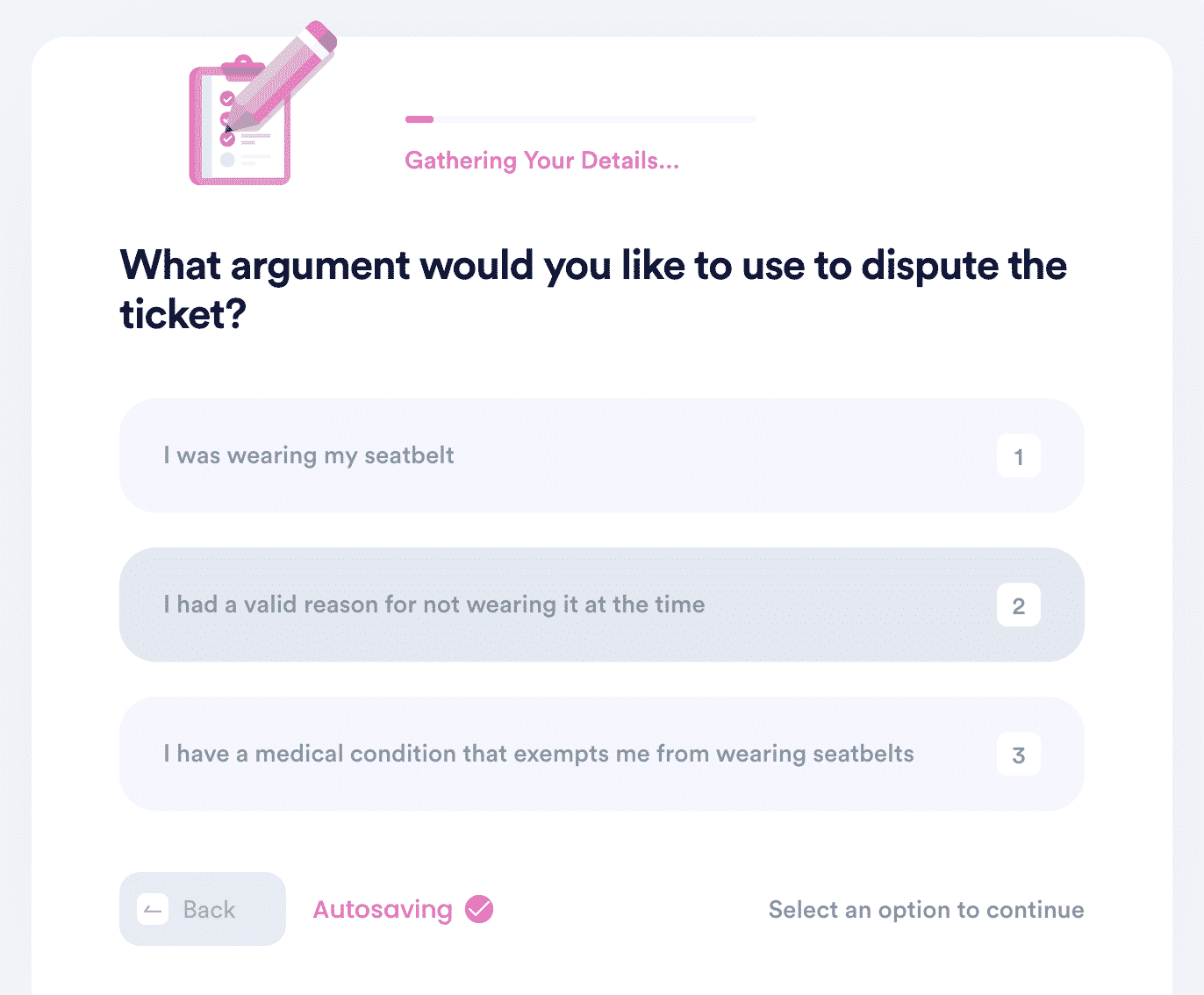 If you're confused about what argument to use, we've got your back! When it comes to fighting seatbelt tickets, flimsy excuses won't work. You should use an argument that either proves you were wearing a seatbelt or were not wearing one for common sense or medical reasons.
The following should do the trick:
"I had strapped my seatbelt on, but the officer missed it as it was the same color as my shirt"
"I have a doctor's certificate that exempts me from wearing seatbelts"
"My seatbelt jammed and turned faulty, and I have a mechanic's certificate to prove it"
Keep in mind that you should state the facts and not lie because it can lead to more serious problems. DoNotPat recommends wearing a seatbelt at all times because it boosts safety on the roads.
What's Next?
Once you complete the task at hand, you don't have to stop there—we offer a myriad of products that can relieve you of the stress that comes with dealing with admin and legal hurdles.
DoNotPay can assist you in drawing up a divorce settlement agreement, child travel consent form, power of attorney, and other legal documents, contacting government representatives, getting tourist visas, fighting workplace discrimination, getting a burner number, appealing banned accounts, getting access to public records, scheduling a DMV appointment, and much more.
Tackle Any Energy-Draining Task With DoNotPay
With DoNotPay by your side, you don't have to worry about how you'll cover your utility bills at the end of the month—we'll provide swift assistance as soon as you sign up!
Wondering what else our app is capable of? Check out how we can: