The Overview of the NC Child Seatbelt Laws
Not complying with the NC child seatbelt laws can result in various problems—from serious injuries to astronomical fines. If you want to avoid such issues and protect your little ones adequately, you must inform yourself better about the car seat requirements you must meet.
Instead of checking the info scattered all over the internet, use our guide to solve all your dilemmas. We will help you find out more about:
Breaking Down the North Carolina Child Seatbelt Laws
To provide solid protection for your child when driving in North Carolina, you must be aware of the following child safety rules:
Passengers below eight weighing less than 40 pounds must be in an appropriate child restraint device, which includes child car or booster seats
Booster seats are recommended for children under the age of eight or weighing between 40 and 80 pounds
Children weighing at least 80 pounds can wear a regular safety belt
Passengers under the age of five must ride in the back seat
The law doesn't specify how long your child should use a rear-facing restraint device. Child car seat manufacturers usually recommend rear-facing car seats for all children under the age of one
NC Child Seatbelt Law Exemptions
Your child won't have to be secured in a restraint device if:
You drive them in:

Cars manufactured before 1968
SUVs, vans, and light trucks manufactured before 1971

They ride an ambulance or any other emergency vehicle
All sitting positions with available seatbelts in your car are occupied
Their personal needs are being tended to
What Is the Cost of a North Carolina Child Seatbelt Citation?
If you get a child seatbelt ticket in North Carolina, you must set aside up to $25.5. While this doesn't seem like a huge amount, there are also court expenses of approximately $263. Offenses including children safety violations are more serious than the regular ones. They add two driver's license points to your record.
General Seatbelt Laws in North Carolina
Once you are familiar with the essentials of the child car seat laws in North Carolina, it doesn't hurt to remind yourself of some general seatbelt regulations in this state. Find more details in the table below:
Criteria
Details
Positions covered by the law
All positions, including:

Driver's
Front seat passengers'
Backseat passengers'

Vehicles covered by the law
Passenger vehicles that can carry 11 or fewer persons, including:

Cars manufactured after 1967
Vans and light trucks made after 1971

Seatbelt/restraint requirements

The restraint system must be properly fastened
Both belts (lap and shoulder ones) must be adequately worn
Shoulder belt can't be placed behind the passenger's back or under their arm

Responsibility
Besides for themselves, drivers bear full responsibility for all passengers below 16. Persons above the age of 16 are responsible for themselves
Degree of offense

Secondary if rear-seat passengers commit it
Primary in all other cases

Non-moving violation
Yes
Additional demerit points for your driving record as a consequence of a seatbelt ticket
No, except when children car seat laws are violated
Car insurance rate increase/additional insurance points as a consequence of a seatbelt ticket
No
North Carolina Seatbelt Law Exemptions
According to the state law, persons who don't need to wear safety belts include:
Drivers who operate vehicles not covered by the North Carolina seatbelt law
People suffering from mental phobias that prevent them from using seatbelts
Persons suffering from any other medical condition that prevents them from having their safety belt on—it must be confirmed by a certified practitioner
Letter and newspaper carriers on duty
People who often stop and leave the car to deliver goods—only if the vehicle speed between stops isn't higher than 20 miles per hour
Individuals who operate farm or commercial vehicles for agricultural purposes
Ways To Get Your Seatbelt Ticket Dismissed
Do you want to avoid paying a seatbelt citation? It's not always easy, but you shouldn't despair. Find a few smart ways to get your ticket dismissed in the table below:
| Method | Explanation |
| --- | --- |
| Purchase a child restraint device if you don't have it | Not possessing a child seat or booster is one of the common reasons for getting a seatbelt ticket. You can get the fine waived if you submit proof of child seat purchase/acquisition |
| Go to court and argue your case | The best option is to bring witnesses to prove that you indeed were buckled up |
| Use DoNotPay to fight the ticket from home | Finish the appeal procedure quickly and efficiently by getting a ready-made claim generated by our app |
Don't Let Seatbelt Fines Ruin Your Day—Let DoNotPay Get Rid of Them!
Do you think the only way to appeal the seatbelt ticket is to spend hours composing a claim yourself? Get ready to change your mind because DoNotPay proves the opposite!
Our app features a chatbot that gathers the info about your case and creates a personalized appeal letter ready for submission. Not only does the procedure take less than five minutes, but it can also be performed from anywhere!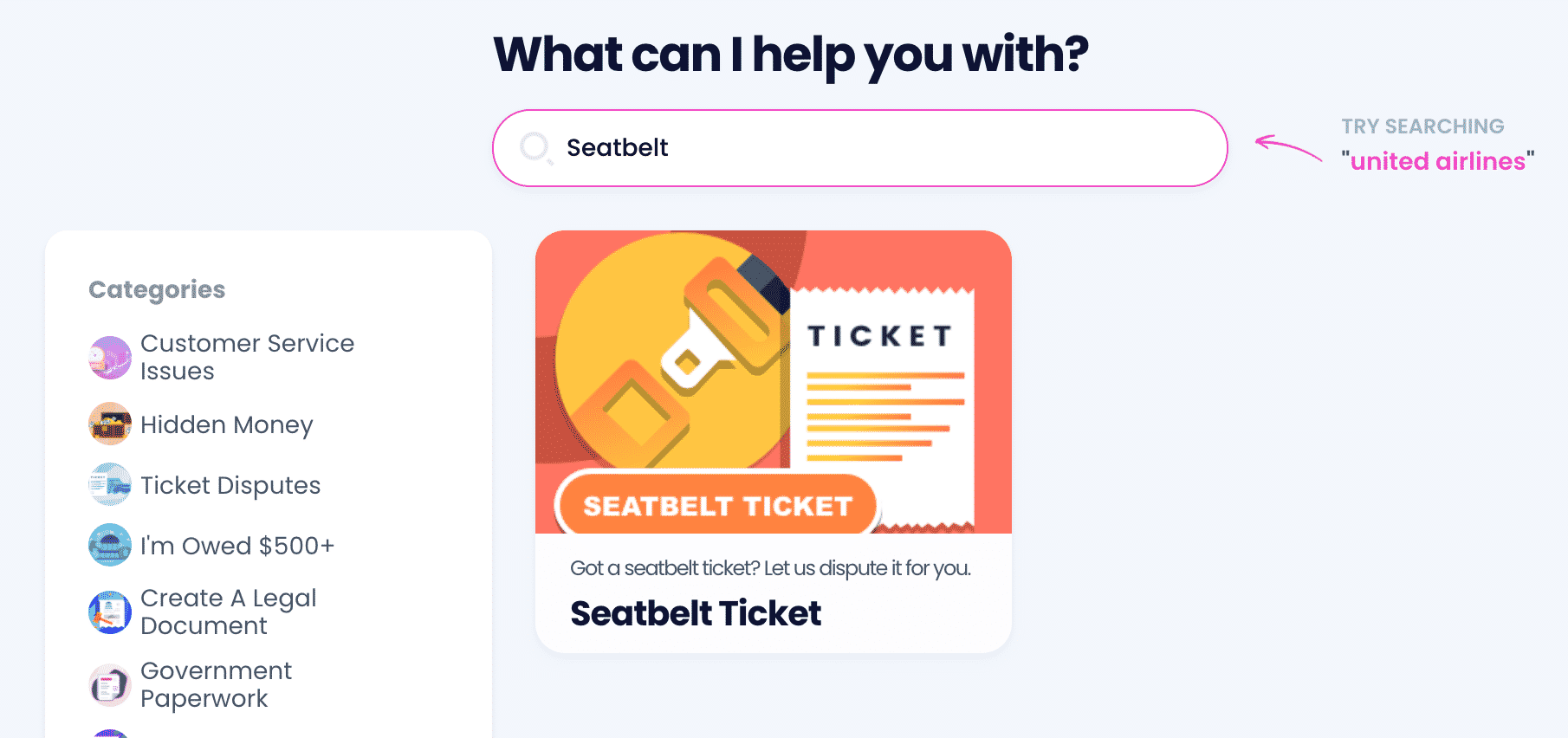 Follow these steps to get your document:
Find the Seatbelt Ticket feature
Specify who got the ticket—a driver or a passenger
Choose the desired argument for your case
Upload a photo of your seatbelt citation and disclose more details about the case
Once we create the claim, we will gladly send it to the chosen department in your name!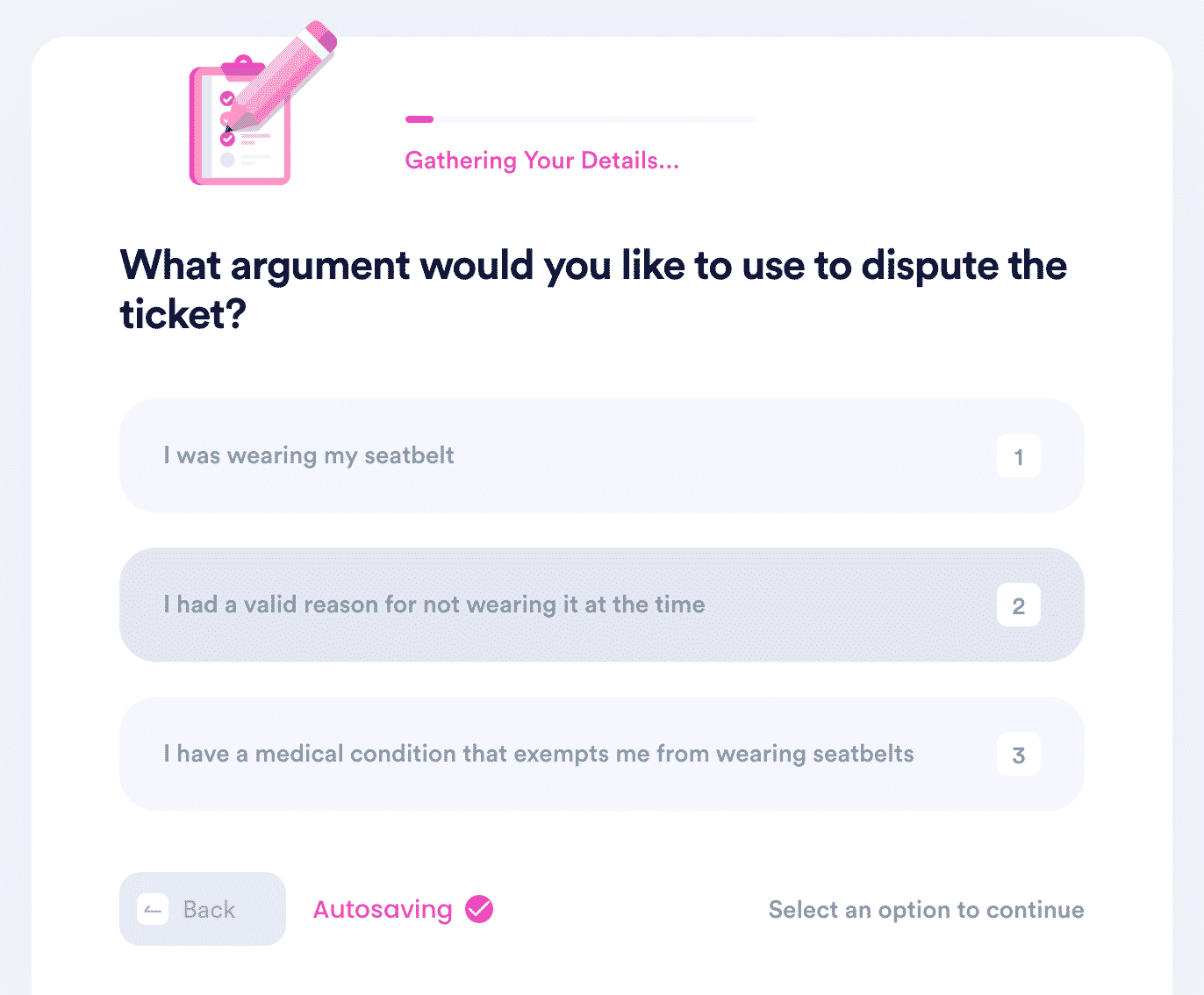 If you are going on a road trip soon or just want to inform yourself better, you can use our amazing guides to get all the info about seatbelt laws in other states! Check out the table below for more details:
Save Time and Money Using DoNotPay
Being on hold while trying to reach customer service is no picnic. With DoNotPay, you can jump the phone queue and reach a rep with ease. Are you contacting a company to request a refund or cancellation? No need for that! Our app can get it done in a few clicks. We can also help you return an item or handle a late delivery.
Dispute parking tickets, claim your warranty or insurance, set up a DMV appointment, contact an embassy, and deal with any other task with our assistance.
You can also request access to public records, apply for tourist visas, or file complaints with the help of our AI-powered app.
We're Not Done Helping You!
Our multifaceted app keeps getting new features that can streamline numerous tasks and solve all kinds of problems.
Would you like to join sweepstakes or giveaways? Are you up for participating in clinical trials and earning some money? Are you interested in sending mail without visiting the post office? We've got it covered!
We will help you protect your privacy by putting an end to spam emails, incessant text messages, and robocalls. If you think you're being stalked, you can count on our assistance. You can also use our app to perform a sex offender search, fight workplace discrimination, and handle annoying neighbors.