A Guide to Nevada Seatbelt Law
Wearing seatbelts reduces the risk of injury by 50% and death by 40%. This is why you'll always hear phrases like "Click It or Ticket" and "Seatbelts Save Lives." If you live in the Silver State or you're passing through, you should learn all about Nevada seatbelt law to avoid getting fined.
This guide will help you get familiar with the regulations. We'll also provide answers to other seatbelt-related questions, such as:
If you've already got the ticket, DoNotPay will help you get your ticket dismissed.
Nevada Seatbelt Laws
The Nevada seatbelt law requires that all passengers who weigh more than 60 pounds, including those in the backseat, wear a safety belt. Children must be properly restrained in child car seats.
Seatbelt law is not the primary law in Nevada, which means that a police officer can't pull you over for not wearing a seatbelt only—you must make a primary violation, such as speeding, so that the officer can stop you. If they notice you aren't buckled up, then they may issue a seatbelt ticket.
The law also states that it is illegal to drive passenger vehicles on a highway built after:
January 1st, 1968, unless they have at least two lap-type seatbelts in the front
January 1st, 1970, unless they have a seatbelt for each passenger (this doesn't apply to vehicles of the police department or sheriff's office)
January 1st, 1970, unless they have at least two shoulder-harness-type seatbelts in the front
Nevada Child Seatbelt Law
The DMV advises that all children under 13 should sit in the backseat. Nevada also has clear instructions regarding children of different ages. You can check out a brief overview of child seatbelt laws of Nevada in the table below:
| Age | Description |
| --- | --- |
| Under one | Infants and children under one must ride in a rear-facing car seat until their height and weight reach the manufacturer's limit |
| From one to three | Children from one to three should be positioned in a rear-facing car seat for as long as possible. If they exceed the manufacturer's height and weight limit, they have to be switched to a forward-facing car seat with a harness |
| From four to seven | Kids between four and seven should be restrained in an appropriate booster seat until they outgrow it |
| From eight to 12 | Children between eight and 12 must be secured with a seatbelt only, especially if they'd outgrown their booster seat. An important note is that the shoulder belt shouldn't go across their neck or face |
Who Can Get the Ticket for Not Wearing a Seatbelt?
Seatbelt law in Nevada states that a citation will be issued to any driver or adult passenger who fails to wear a seatbelt. If the passenger is a child between six and 18 or is younger than six but weighs more than 60 pounds, the driver will get a citation. If both the driver and child fail to wear a seatbelt, only one ticket will be issued.
The fine is no more than $25. If you allow a child younger than six to ride without being properly restrained, you can face more severe penalties—$100 for the first offense and $500 for the second. For a third or any subsequent offense, your license might be suspended. This can also happen if you decide to ignore your citation and fail to appear in court on time.
Is Not Wearing a Seatbelt in Nevada a Moving Violation?
No, failing to buckle up in Nevada isn't considered a moving violation. This also means that no points will be added to the driver's license, and this ticket won't influence their insurance. The law also says that this violation won't be considered negligence or causation in a civil action.
Seatbelt Laws in Nevada—Exemptions
Individuals exempt from the Nevada seatbelt law are:
A driver or a passenger who has a doctor's note explaining a condition that prevents them from wearing a seatbelt
A USPS rural mail carrier who is performing their duty
Anyone in a vehicle that must make frequent stops, whose speed doesn't exceed 15 mph
Anyone in a vehicle that isn't required by federal law to be equipped with seatbelts
Passengers riding in public transportation, such as a school bus
How Can You Overturn a Citation?
There are two arguments you can use when disputing your citation:
Reasonable doubt—Using reasonable doubt as an argument means that you're saying the police officer was wrong and that you were wearing your seatbelt. You should choose this argument only if you have proof that you got a ticket unfairly
Due diligence defense—Building a due diligence defense means that you admit to not wearing a seatbelt, but you have a valid reason. You should build your defense based on a solid excuse—you can say that you:

Were driving in reverse
Didn't noticed that your child had unbuckled the seatbelt
Didn't realize you didn't have the seatbelt on
Have a medical condition that prevents you from wearing a seatbelt and a doctor's note to prove it
Noticed your seatbelt was broken and that you were going to get it fixed
You'll find plenty of attorneys that deal with disputing tickets, but keep in mind that their fees might cost you at least as much as the ticket, if not more. You should if you want an easy and affordable way to fight your seatbelt citation.
How To Appeal a Seatbelt Ticket With DoNotPay
DoNotPay is the platform that offers a simple and user-friendly product to help you dispute your ticket by creating a convincing and personalized appeal letter.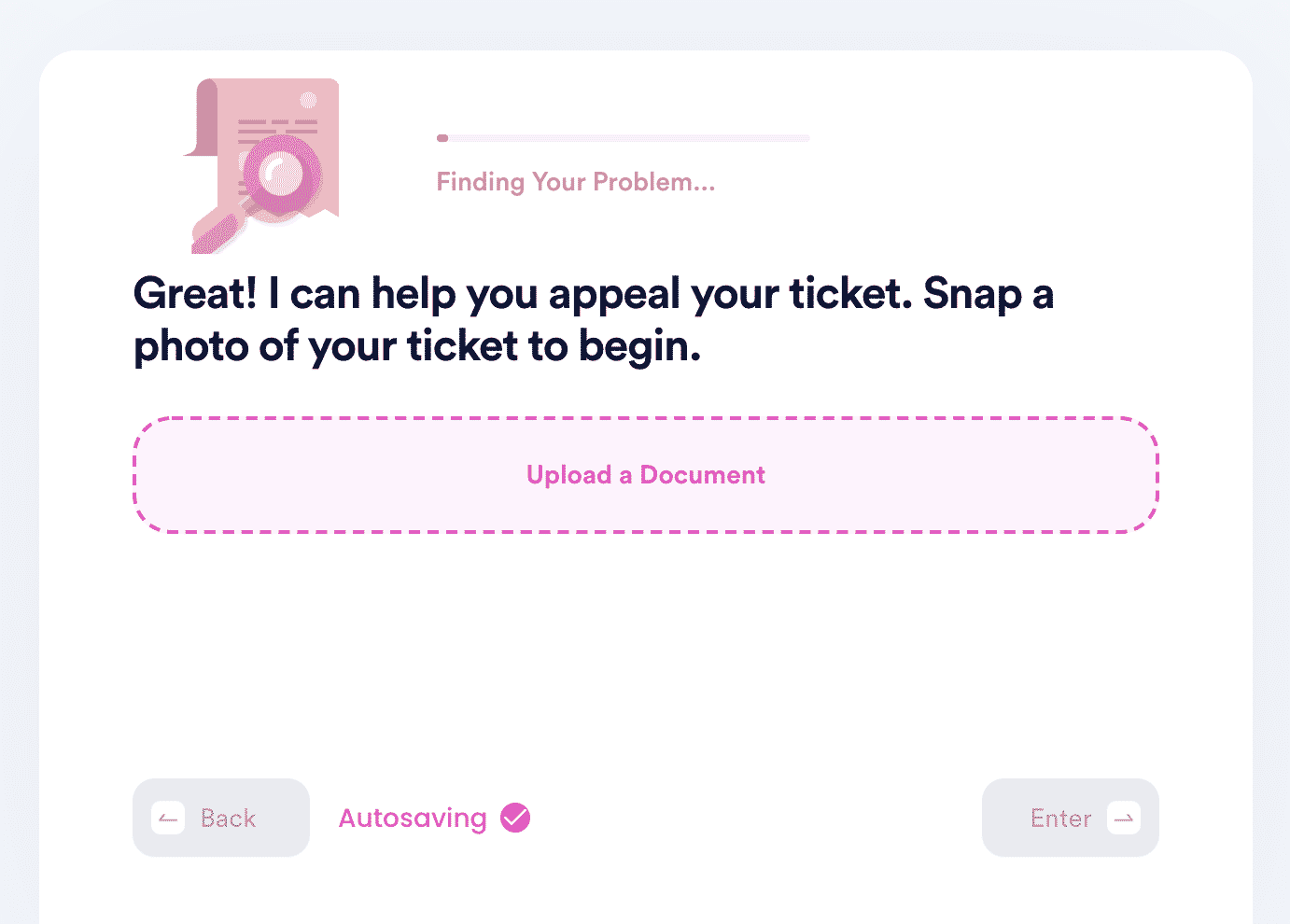 Here's how to use it:
and select the Seatbelt Ticket feature
Provide a photo of your citation
Answer a few of our chatbot's questions regarding your ticket
Choose the argument you want to use
After we generate your appeal letter, we'll mail it to the Nevada seatbelt ticket authorities.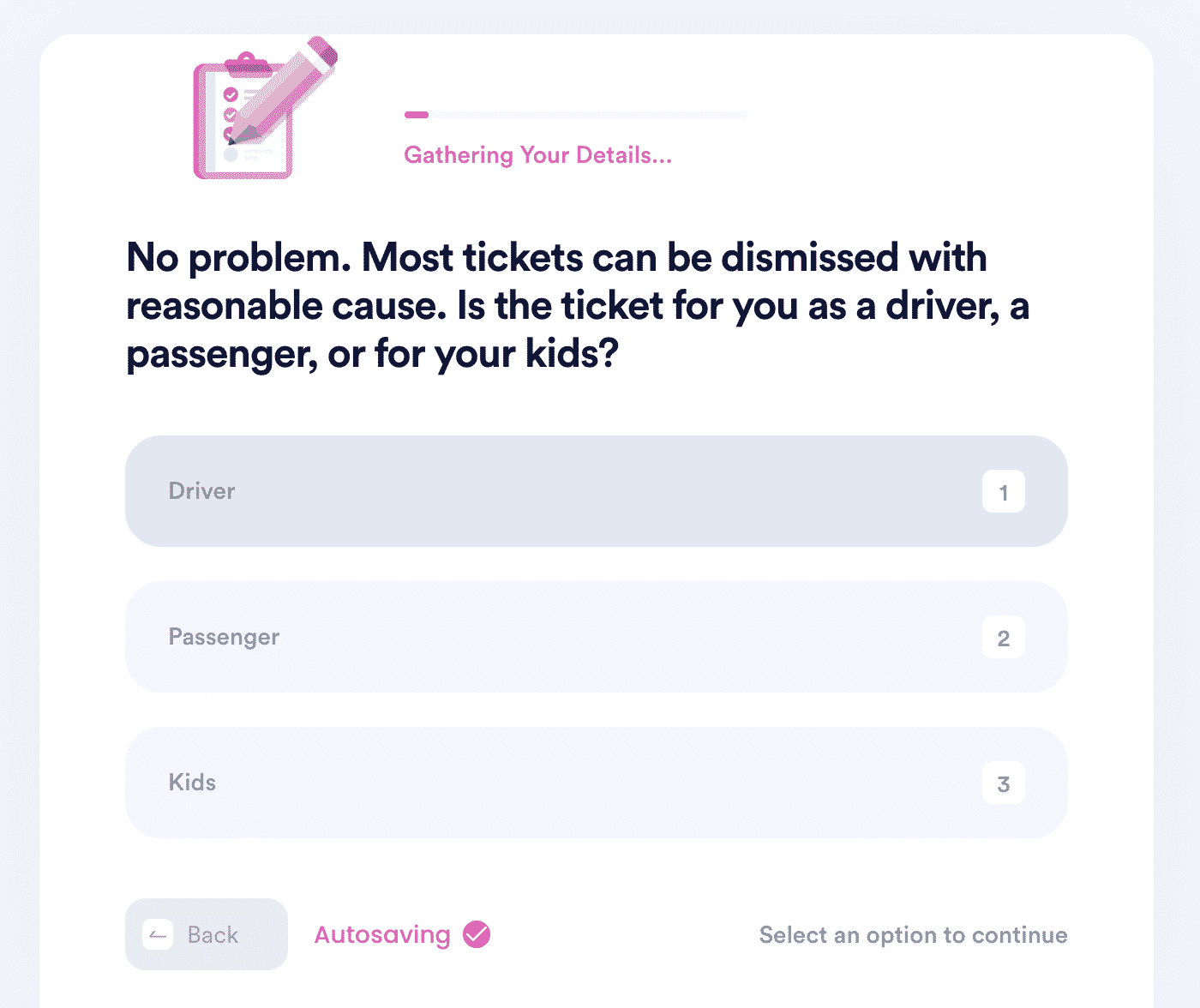 Protect Yourself With DoNotPay's Help!
In case you're looking for protection from harassers and stalkers, you can count on our help. Even if you're dealing with discrimination at work or noisy neighbors, our app can solve your issues. When spam is what's bothering you, our AI-powered app will put a stop to it. Email spammers, texters, and robocallers won't be able to reach you.
What if you need to take the issue to court? The world's first robot lawyer will be by your side. With our help, you can file a complaint or sue anyone in small claims court.
If you're wondering whether there might be a sex offender in your area, we can help you find out. Use our app to perform a sex offender search and get updates.
A Pocket-Sized Assistant Is All You Need
Is your to-do list getting longer and your paperwork piling up? DoNotPay swoops in! We'll cut through numerous bureaucratic tasks so that you can sit back and relax.
Here's what we can assist you in: