A Quick Guide to the Oregon Seatbelt Law
Accidents involving motor vehicles are a leading cause of death in the United States. Lives could have been saved by wearing seatbelts, which are some of the most effective preventive measures available to drivers and passengers. In recent years, safety belt usage by drivers in Oregon was one of the highest in the U.S.
If you are an Oregon resident or plan on visiting the Beaver State soon, it is vital you understand what the Oregon seatbelt law is.
To find all the information you need, check out this comprehensive guide written by DoNotPay. Our app can also help you fight a seatbelt ticket in Oregon.
Adult Seatbelt Laws in Oregon
In Oregon, all motor vehicle drivers and passengers must be properly secured with a seatbelt unless all seating positions with safety belts are occupied by other people. This regulation applies to:
Passenger cars
Motor homes
Pickup trucks
Commercial vehicles carrying no more than 15 persons:

Vans
Limousines
Shuttles
Taxis (the only occupants that are exempt from this rule are taxi cab drivers)
Vehicle owners must keep their belt systems in working order according to the law. Not wearing a seatbelt is not considered a moving violation but a class D traffic violation.
What Are the Exemptions to Oregon Seatbelt Laws?
Besides cab drivers, any person on whose behalf the Department of Transportation receives a statement signed by a physician, nurse practitioner, or physician's assistant is not required to wear a seatbelt. The statement must clearly explain why using a safety belt or child safety restraint device would be harmful or impractical. The reasons for it may be:
A physical condition
A medical problem
Body size
Child Seatbelt Laws in Oregon
Child safety seat and seatbelt regulations in Oregon vary depending on the child's:
Children under the age of eight who weigh less than 40 pounds must be secured in a child safety seat. A rear-facing child seat is required for all children under the age of two. Keep in mind that the state laws don't specifically require children to sit in the back but installing a rear-facing car seat in front of an airbag is not a proper way to do it.
Booster seats are required for children who weigh more than 40 pounds and are four feet nine inches or shorter until they reach the age of eight. The child must be elevated in the booster seat for the adult safety belt to fit properly:
The lap belt should be worn low across the thighs
The shoulder belt should be placed over the collarbone and away from the child's neck.
If the vehicle's back seat only has lap belts, the use of a shoulder belt is not required.
When driving a car on the highway with a passenger under the age of 16, the driver must ensure that they are using a child safety device, safety belt, or safety harness.
What Is the Cost of a Seatbelt Ticket in Oregon, And Does It Go on Your Driving Record?
If you violate seatbelt laws in Oregon, you will be charged $115. Although the state of Oregon does not use a point system, each traffic offense will go on your driving record. The state will suspend your license if you have five convictions in two years.
Insurance companies examine your driving record and may use it to determine your insurance premiums. If you have a bad driving record, the financing firm may charge you a higher interest rate on your car loan.
Can the Police Stop You for Not Wearing a Seatbelt?
Oregon is a state with primary enforcement seatbelt laws, which means the police officers can pull you over for not wearing a seatbelt. For this reason, seatbelt usage in primary enforcement states is much higher.
What if You Don't Want To Pay Your Ticket?
If you've received a seatbelt ticket, you have a few different options:
Pay your fine and leave it on your record—this means you're pleading guilty
Pay the ticket and go to traffic school to get it off your record
Dispute the ticket by yourself
Hire an attorney to go to court for you
Dispute the ticket with the help of
DoNotPay Can Appeal Your Seatbelt Ticket for You!
The court will dismiss your ticket only if you have credible arguments. If you're not sure you can write a convincing appeal letter to fight your seatbelt ticket, leave it to us! DoNotPay is the world's first robot lawyer specializing in drafting all kinds of formal documents. We'll build a strong case based on the information you provide us within minutes.
We'll even send the appeal letter to the relevant authorities, so you don't have to deal with that.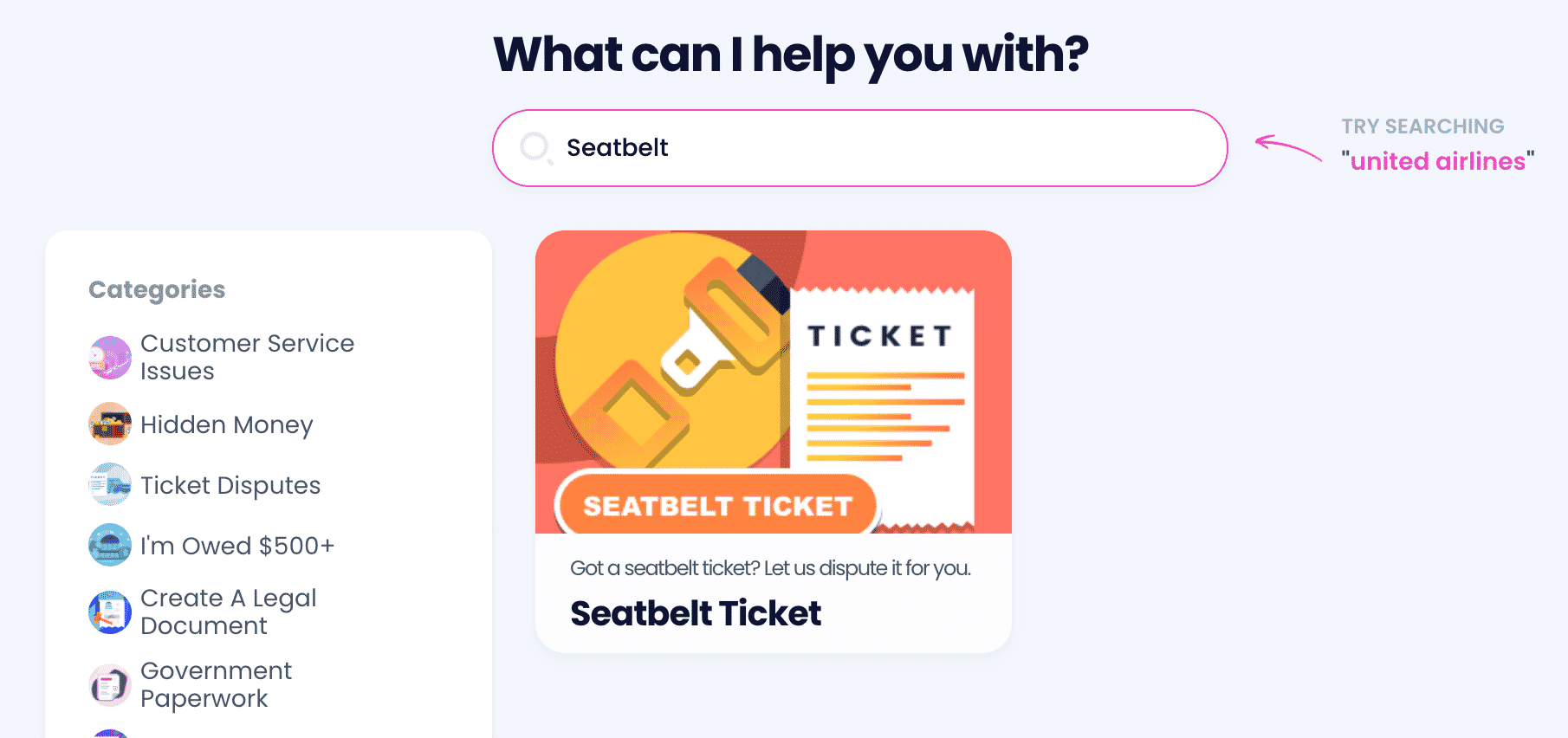 All you need to do is and follow these steps:
Find the Seatbelt Ticket feature
Tell us who got the ticket
Upload a photo of your ticket
Give us more information about what happened and tell us which argument you'd like to use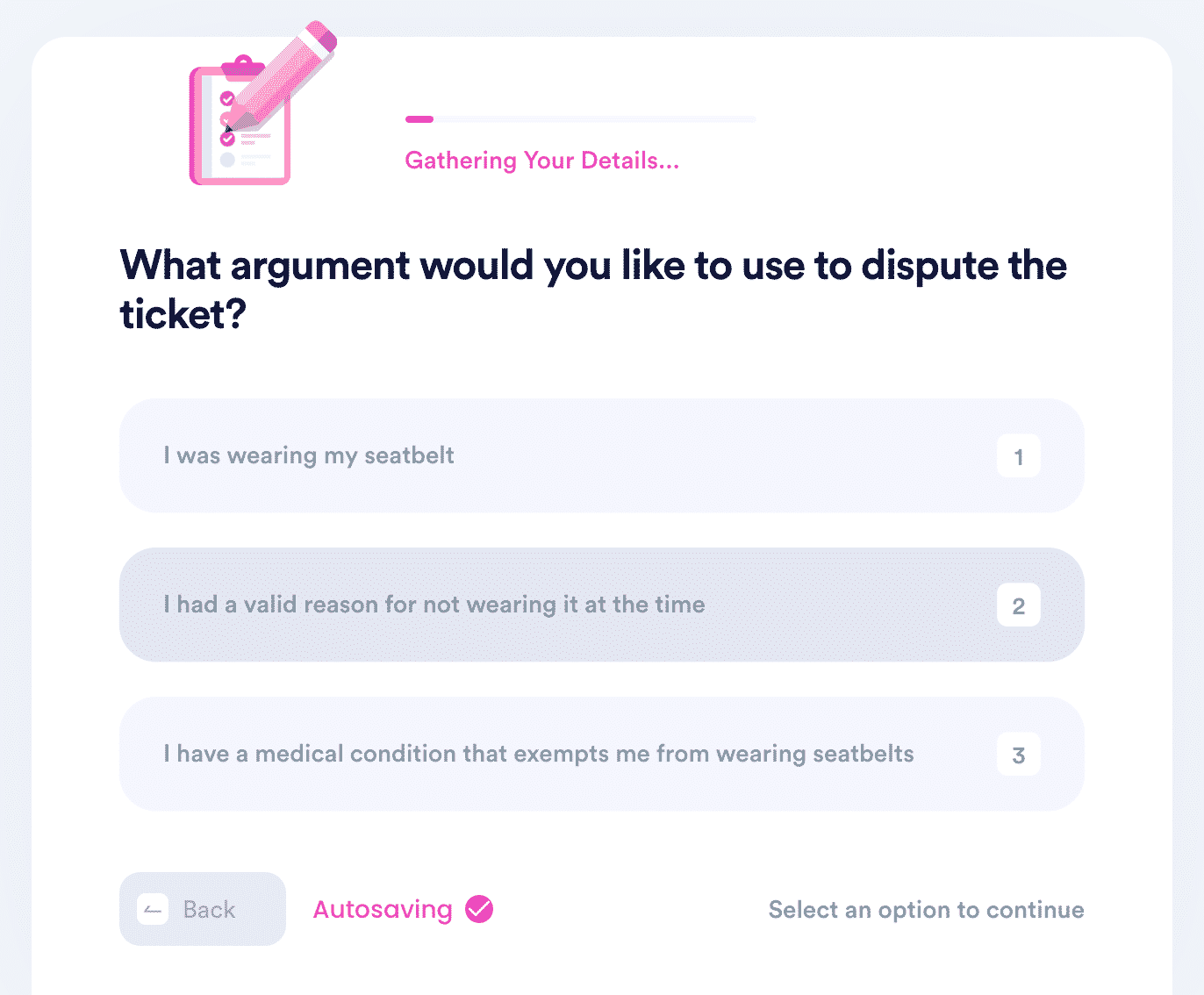 Check out the table below if you're curious about the general seatbelt laws in other U.S. states:
Fast-Track Different Tasks With DoNotPay
Are you trying to get a refund from a company and can't reach its customer service? Was your flight canceled or delayed, and you want to get compensated? Is hiring a lawyer out of the question because they're too expensive, but you have to draft some legal documents? Once you register for DoNotPay, we'll be able to help you with all of the above and more!
Rely on our app to finally put an end to text spam, annoying robocalls, and spam emails.
Do you need help canceling your forgotten subscriptions? We'll help you detect all your active memberships or subscriptions and get rid of the ones you no longer want.
In case you're studying for your driving test, you can use our Government Tests Prep product and ace this and many other exams. We can also schedule an appointment with the DMV on your behalf.
If you have to claim your car or any other insurance or warranty, rely on DoNotPay. Use our app to also contest parking tickets in a jiffy!
Protecting Your Privacy Is Easy Using Our App!
While staying anonymous online can be difficult, we can turn it into a breeze. Get a temporary number when you sign up for various platforms. Do you want to keep other personal info to yourself? Use our virtual credit card and avoid hidden charges for free trials.
We'll also help you stay safe from stalkers and harassers, sex offenders, defamation, and workplace discrimination.