What You Need To Know About Seatbelt Laws in Colorado
Studies show that wearing a seatbelt can save your life or prevent serious injuries in a motor vehicle crash. This is why governments create seatbelt laws and awareness campaigns attempting to save more lives. The federal government only requires vehicles to be equipped with seatbelts, and the state governments dictate who must buckle up. That is why seatbelt laws vary from one state to another.
This guide will help you find out:
Colorado Seatbelt Laws for Adults
Colorado has secondary enforcement seatbelt laws for adults. The law enforcement officers cannot pull you over and issue a ticket solely for not buckling up. This law applies to:
Drivers and front-seat passengers
Passengers in autocycles
All passengers if the driver is younger than 18
Colorado Seatbelt Law Exceptions
Certain persons are exempt from the Colorado seatbelt laws for adults:
Drivers and passengers with physical or psychological conditions that prevent them from buckling up
Persons in a motor vehicle that is not required to have seatbelts by the federal law—trucks and buses manufactured before July 1, 1971
Colorado Seatbelt Law—Backseat Rules
In Colorado, passengers in the backseat are not required by law to wear seatbelts. Although you won't get a ticket, you should consider other consequences of not buckling up. For instance, statistics show that if you don't buckle up, you are 30 times more likely to be ejected from the vehicle in a crash—which is usually fatal.
Colorado Child Seatbelt Law
Child seatbelt law violations in Colorado fall under primary enforcement and apply to children below 16 years of age. You can be pulled over and issued a citation for this violation, regardless of the child's seating position.
The law requires children to be secured in the correct federally approved child restraint systems or seatbelts based on their age and weight, as outlined in the table below:
| Child's Age | Requirements |
| --- | --- |
| Under one | Any child under one, weighing less than 20 pounds, should be restrained in the back seat using a rear-facing car seat |
| 1–4 years | Children between one and four years of age and weighing 20–40 pounds must be in a rear-facing or forward-facing child restraint device |
| Up to eight years | Children up to the age of eight must be secured in the appropriate car seat for their height and weight per the manufacturer's guidelines |
| 8–15 years | Any child between eight and 15 should be secured with a regular seatbelt or an appropriate child restraint system |
All children who are older than one and weigh at least 20 pounds can ride in a front seat if properly restrained. Although a child can legally use the front seat, experts recommend that children ride in the back seat at least until their 13th birthday.
Colorado Child Seatbelt Law Exceptions
The child seatbelt and car seat laws do not apply to children who are:
Being transported due to a medical emergency if no child restraint is available
Riding in a commercial vehicle that is managed by a child care center
Riding in a vehicle managed by a luxury limousine or a common/contract carrier
What Is the Cost of a Seatbelt Ticket in Colorado?
In Colorado, the driver is responsible for ensuring the seatbelt laws are observed. Violating the adult seatbelt and child car seat laws results in a fine of at least $65.
The offense is not considered a moving violation and should not cause an insurance surcharge.
Seatbelt violations involving a minor driver result in two demerit points and the following penalties:
| Seatbelt Violation | Seatbelt Ticket Cost | Hours of Required Community Service |
| --- | --- | --- |
| First offense | $50 | 8–24 |
| Second offense | $100 | 16–40 |
| Subsequent offense | $150 | 16–40 |
What To Do if You Get a Seatbelt Ticket in Colorado
Once you get a seatbelt ticket, double-check the amount, deadline, and other requirements—like potential court appearances. Here is an outline of your options:
If you choose to fight the ticket in a traffic court, you can use one of the following arguments:
Reasonable doubt—Did the officer stop you? If not, you can claim that you had buckled up and then provide a convincing reason why the officer mistakenly thought otherwise
Due diligence defense—It means "pleading guilty" and providing a credible explanation that justifies your failure to wear a seatbelt or secure a child appropriately, for instance, a medical condition
Don't trouble yourself trying to come up with a justifiable argument—let DoNotPay help you. You only need to sign up for DoNotPay, and in less than five minutes, you will get an appeal letter with a solid defense.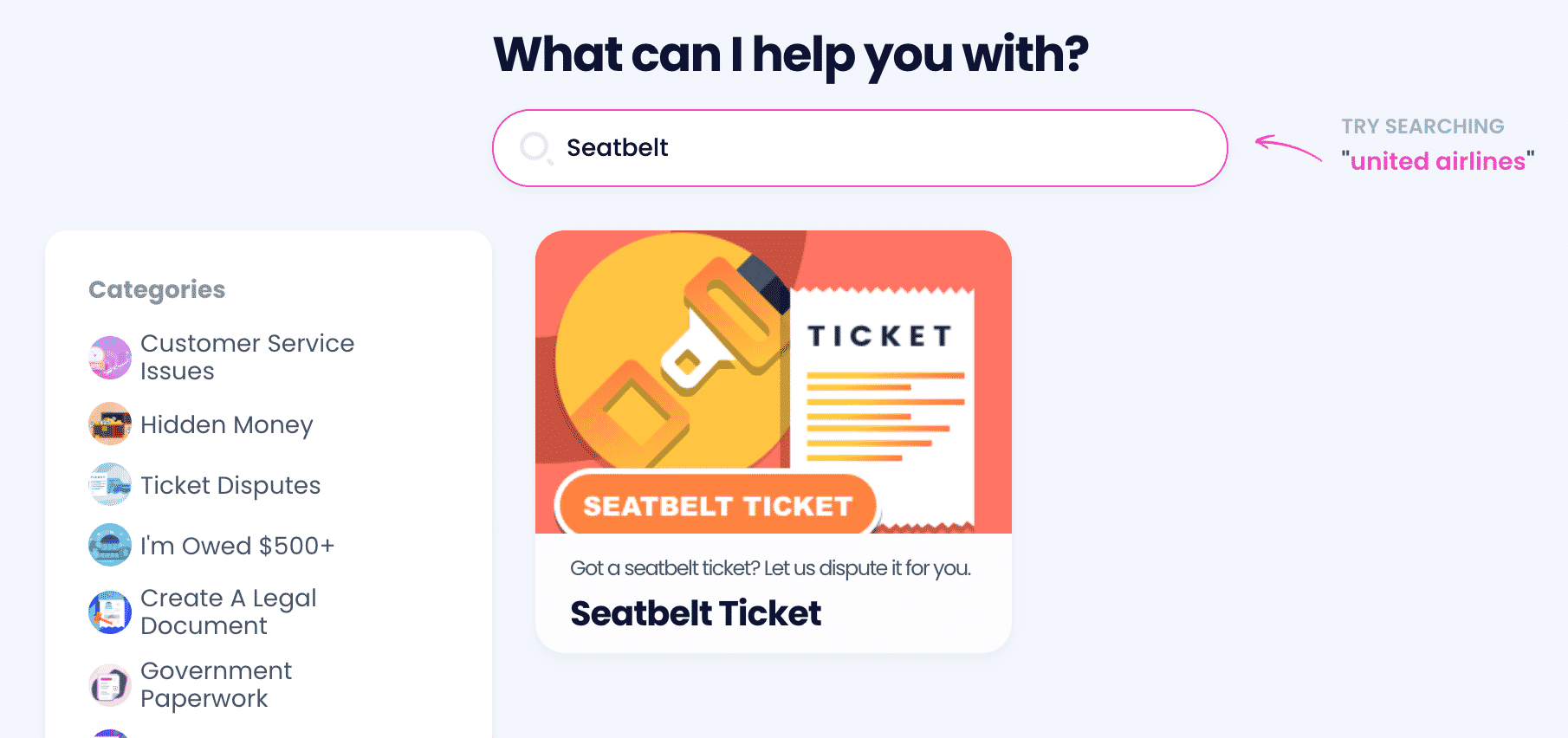 Appeal Your Seatbelt Ticket Easily With DoNotPay
Our AI-powered app can generate a powerful appeal letter for you in a few clicks. You'll only need to answer a few questions about your citation, and the letter will be automatically generated and mailed to the local authorities for you.
Ready to skip court appearances and fines? Just follow these steps:
Find the Seatbelt Ticket tool
Upload the photo of your ticket
Tell us:

Who got the citation
When it occurred
What your argument is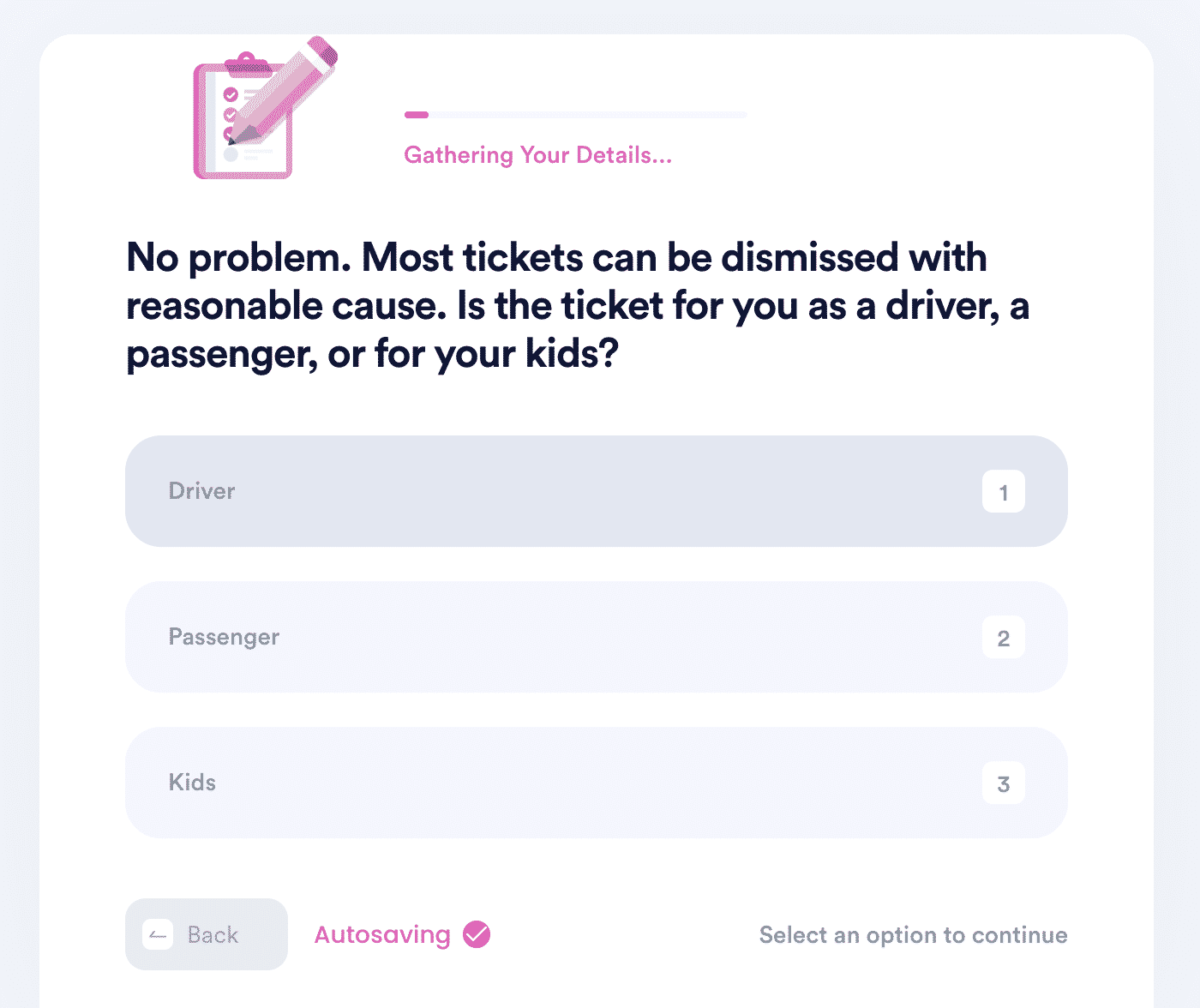 Our App Offers Assistance in More Ways Than One
As a multifaceted app, DoNotPay creates solutions to numerous problems. Check out the table below and get to know a fragment of what our app can do:
| Keep Your Privacy Intact | Deal With Legal Problems | Solve Money Issues |
| --- | --- | --- |
| | | |
Use DoNotPay To Streamline Different Tasks
Tick the items off your to-do list faster by signing up for DoNotPay. In record time, you'll be able to request a refund, cancel a subscription, and get a free trial.
If talking on the phone is your worst nightmare, don't worry—you can use our app to schedule a meeting with an online notary, reach customer service with ease, and make a DMV appointment.
Feel free to also rely on our app when you want to prep for government tests, file FOIA requests, or connect with loved ones in prison.