A Complete Guide to the Texas Child Seatbelt Laws
Do you live in or plan to visit the Lone Star State? If you are driving with a child, you need to know the Texas child seatbelt laws. This will help you keep the child safe while preventing you from violating the state's laws.
Our concise guide to theTexas child seatbelt laws will explain all the important aspects, such as:
What Are the Child Seatbelt Laws in Texas?
Since children are the most vulnerable passengers, it's important to use the appropriate child restraint systems. The right device depends on the child's age, weight, and height. Here is an overview of the Texas child car seat laws:
| Child's Age | Seatbelt Law |
| --- | --- |
| 0–2 years | Children must be restrained in a rear-facing car seat per the manufacturer's height and weight requirements |
| Two and older | Children whose weight or height exceeds the recommendations of rear-facing car seats should switch to forward-facing car seats |
| 4–8 years | Any child who outgrows their forward-facing car seat should use a well-fastened booster seat until they can use the regular seatbelt. This normally happens at the age of 12 or when the child reaches a height of 4' 9'' |
Exceptions to these requirements are allowed if a child outgrows the car seat manufacturer's guidelines for height and weight limits.
The Texas child seatbelt laws do not designate specific seating positions for children but require you to follow the recommendations of the child restraint manufacturer. For instance, most rear-facing car seats should not be used in a front passenger seat that has an active airbag.
The law applies to passenger cars, sport utility vehicles, light trucks, and vans that have a capacity of 15 or fewer persons, including the driver. Vehicles for hire—such as hired shuttles, taxi cabs, limousines, public transit buses, and vehicles in which all safety belts are in use—are exempted from the TX child seatbelt laws.
Cost of a Seatbelt Ticket in Texas
If you violate the Texas child seatbelt laws, you will be issued a seatbelt ticket. The costs of seatbelt tickets are as follows:
$25 to $250 for violations of child seatbelt laws involving children under the age of eight
$100 to $200 for not securing a child under 17 years—who is not required to use a child passenger restraint system—with a safety belt
You may also be required to appear in court and attend a driving safety course that is approved by the Texas Department of Licensing and Regulation. After completing the course, you must provide proof of successful completion. The offense is not a moving violation, but you can get two demerit points on your driving record.
The Texas traffic courts can dismiss the ticket if you acquire the right child restraint system after the violation and meet the following conditions at the time of violation:
You were not arrested or cited for any other offense
You didn't have a child passenger restraint system in the vehicle
The vehicle was not involved in an accident
The consequences of child seatbelt violations and ticket non-compliance vary across the country. Check out our guides to children seatbelt laws in different states:
How To Appeal a Seatbelt Ticket in Texas
Getting a seatbelt ticket dismissed can save you from a lot of trouble. For instance, insurance companies use your driving record, among other factors, to determine your insurance rates. Here is how you can contest a seatbelt ticket:
Use reasonable doubt—This means that you plead not guilty, and it can work if the officer did not pull you over to confirm that the child was properly secured. All you need to do is present a credible explanation of why the officer made the mistake
Raise due diligence defense—In this case, you accept that the child was not properly restrained and provide valid reasons, such as:

A faulty seatbelt clip
The child's needs that you had to take care of
A physical/medical condition
The child's body size
Sounds overwhelming? You don't have to do it yourself or hire an attorney. in under five minutes.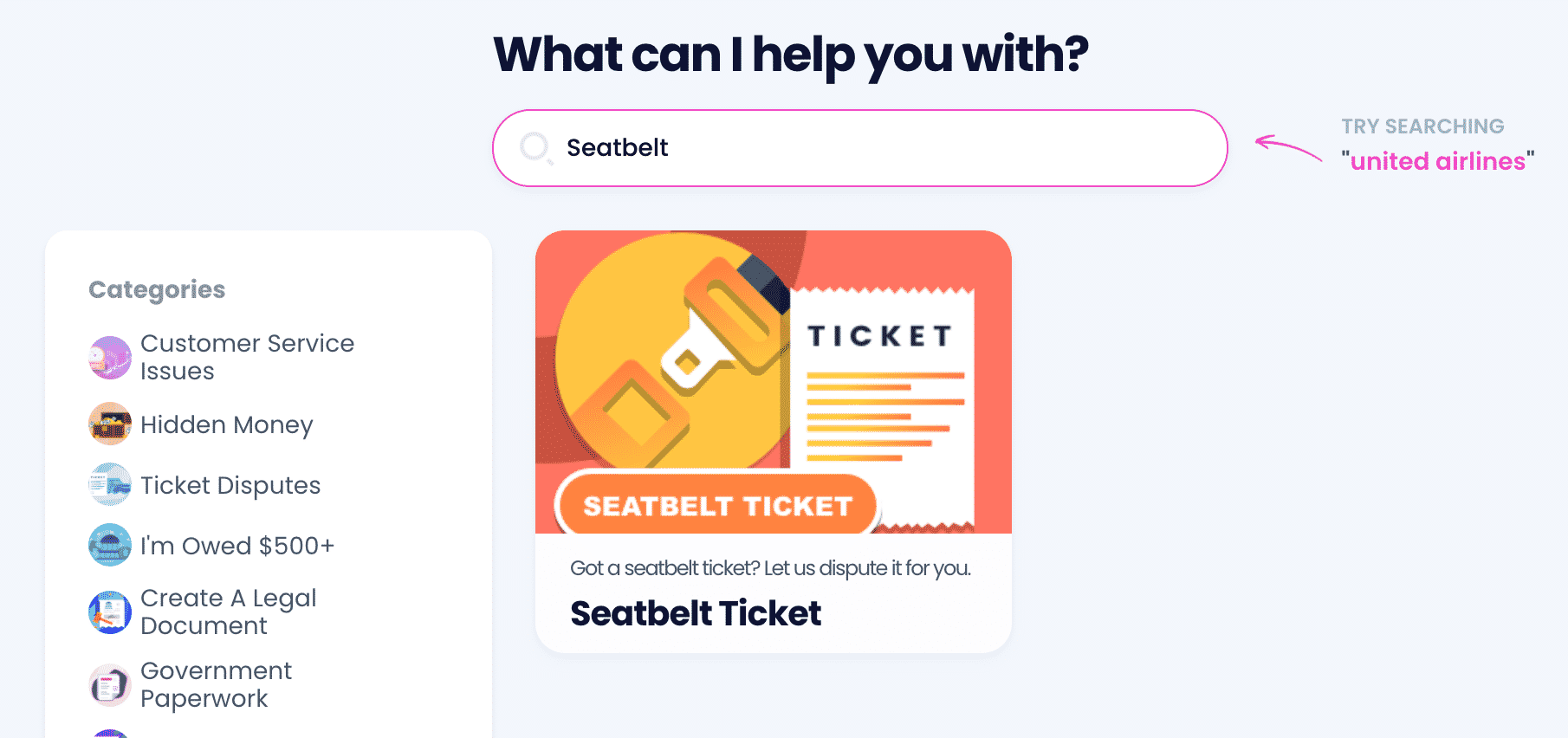 Appeal Your Seatbelt Ticket Using DoNotPay
Do you want to avoid paying fines, going to court, or taking safety driving courses? You should appeal the ticket by using DoNotPay. Our AI-powered app will draft an appeal letter with the best possible defense in less than five minutes. To use DoNotPay, proceed as follows:
and select the Seatbelt Ticket product
Answer a few questions to help us understand the situation
Upload a photo of the ticket
Tell us which argument to use—not guilty or guilty with a valid reason
That's all! Your appeal letter will be sent to the authorities in no time, and you just need to wait for the outcome.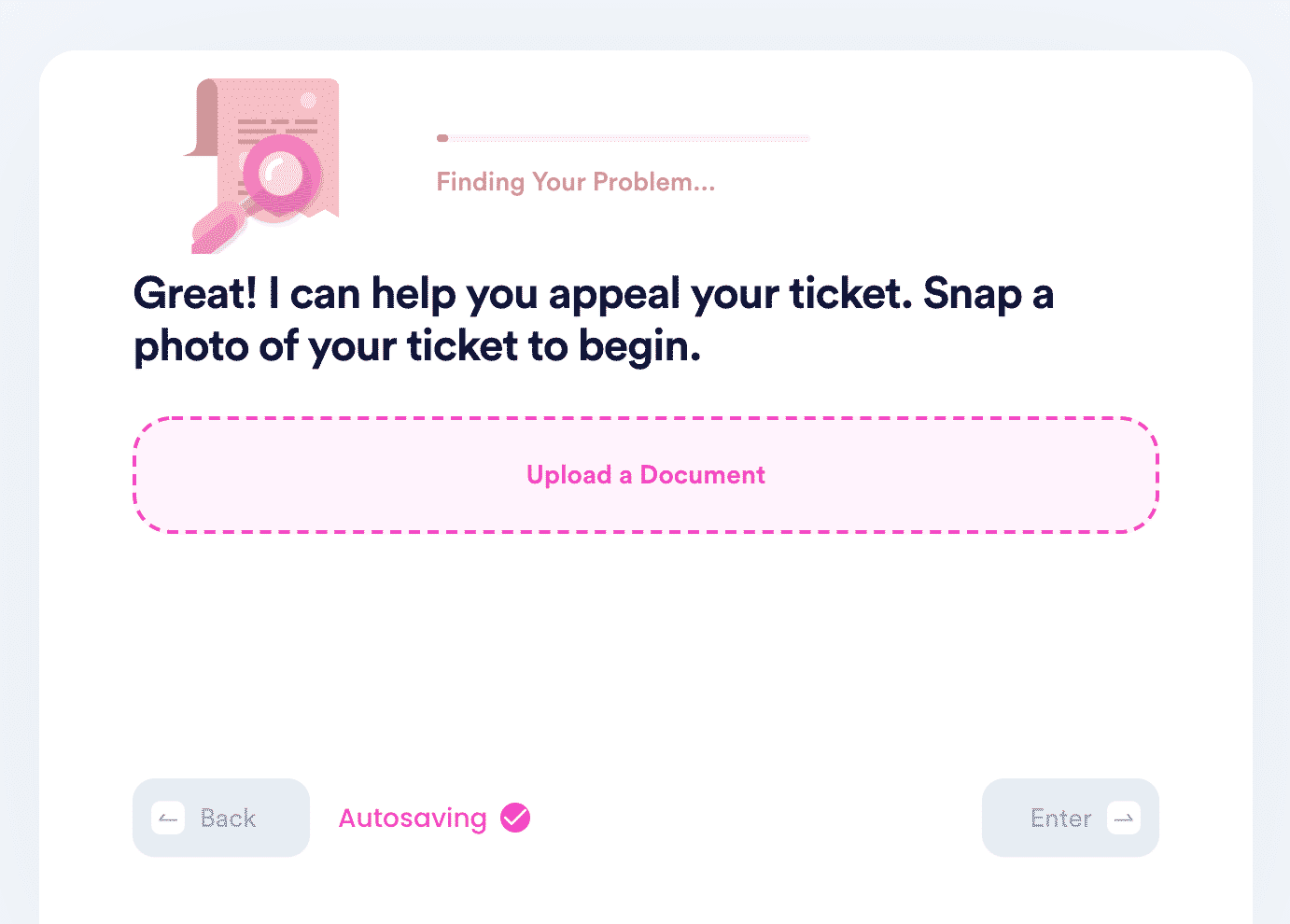 Do you want to know what can happen if the driver or other adult passengers are not wearing a seatbelt? Check out our detailed guides for all U.S. states in the table below:
DoNotPay's Assistance at Your Fingertips
DoNotPay is all about easy solutions. Turn to our app when you need to get rid of unwanted services, block spam emails and text spam, and overturn unpaid parking tickets. We can also assist you in registering on platforms without disclosing your number and signing up for free trials using our virtual credit card.
With our app, you'll forget about old-fashioned ways of completing certain tasks. Let us help you send faxes online, mail letters, reach customer service, and get in touch with an incarcerated loved one.
DoNotPay Has More To Offer
Our app boasts a wide range of products—from filing a warranty claim, requesting a refund, and booking a DMV appointment to getting a document notarized, filing financial aid appeal letters, and fighting discrimination at work.
For DoNotPay users, no problem is too difficult to solve. Here are only some of the tasks our app can help you complete: