Do You Get Points for Not Wearing a Seatbelt? DoNotPay Tells You All
Seatbelt enforcement laws are pretty severe in the U.S. You need to tread carefully to avoid violations that:
Compromise the quality of your driver's license
In this informative article, we will discuss the one major question that haunts drivers—Do you get points for not wearing a seatbelt? We will also help you find effective solutions to avoid lasting legal consequences of not wearing a seatbelt in case you're already in trouble.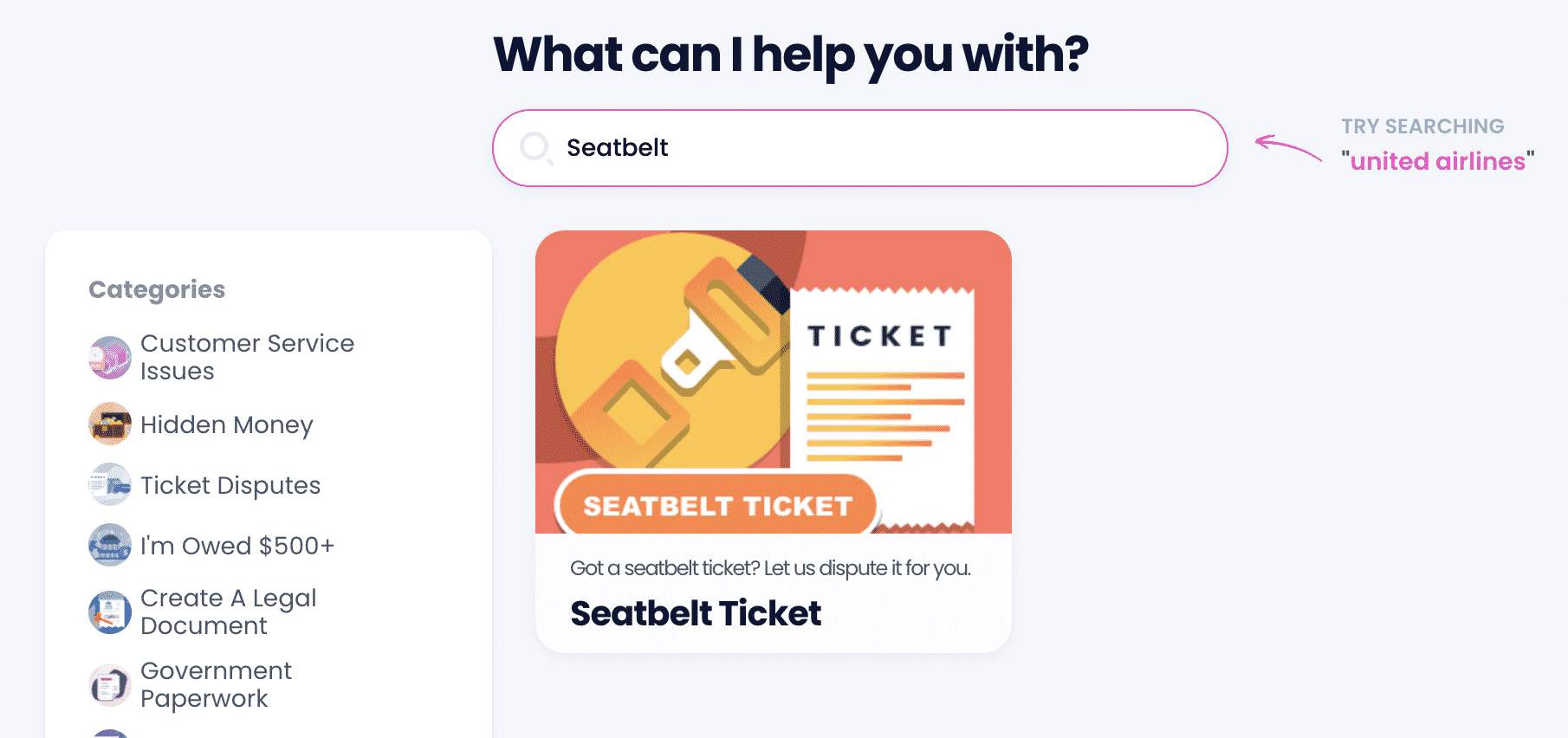 Points for Not Wearing a Seatbelt—Here's What You Should Know
Getting penalized with points for not wearing a seatbelt in the U.S. depends on whether the state you're in:
Follows a driver's license point system
What States Follow a Driver's License Point System?
At present, several U.S. states have established full-fledged point systems to keep track of bad or high-risk drivers, except the following nine states:
Hawaii
Kansas
Louisiana
Minnesota
Mississippi
Oregon
Rhode Island
Washington
Wyoming
Is Not Wearing a Seatbelt a Moving Violation in All States?
A moving violation refers to any breach of traffic laws while the vehicle is in motion, which leads to a law enforcement officer asking you to pull over. It is considered way more serious than a non-moving violation (like a parking ticket).
Not all U.S. states consider seatbelt violations as moving ones. Check out the list of states that categorize seatbelt tickets as non-moving or minor violations:
Alabama
Arizona
Delaware
Indiana
Kentucky
Michigan
Minnesota
Missouri
Nevada
North Carolina
Utah
Wyoming
Non-moving violations may not translate into points, but they can still stay on your driving record for up to three years and increase your insurance rates significantly.
Remember that the above lists may not be absolute as states modify their seatbelt laws all the time.
How Many Points Are Levied for Not Wearing a Seatbelt?
There is no uniformity in the points levied for seatbelt violations across the U.S. Most states assign one to eight points for such breaches. You can learn more about this from our guide on seatbelt ticket demerit points.
Seatbelt Violation Points—An Impending Death Sentence to Your Driver's License
The seatbelt violation points for all adult drivers are usually maintained by state-specific Motor Vehicle Departments (DMV). Every time you are ticketed for not wearing a seatbelt, demerit or penalty points may be added to your driver's license. These points depend on:
The severity of the offense—The severity of seatbelt-related offenses is often determined by the presence of other unrestrained passengers in the car or truck. For example, not buckling up a child or a teen as per local children seatbelt laws will add more demerits in certain states
Frequency of violation—If you get several seatbelt violations within a short period, you may have to face higher penalty points
Presence of other traffic violations—You can be sitting on an ugly pile of demerit points if you are ticketed for multiple other traffic violations apart from the seatbelt one, like getting busted for:

Driving under the influence (DUI)
Speeding
Making an illegal turn while driving a commercial vehicle
With every point added to your driver's license, your record as a driver will suffer. Currently, most U.S. states have their own rules regarding demerit points and their threshold levels. Whenever you cross a threshold level, you may face punishments like:
Paying fines
Enrolling in compulsory defensive driving or traffic school courses
Having your driver's license suspended or revoked for a few months or years
Facing permanent cancellation of license
Seatbelt Violation Points—Impact on Car Insurance
On average, seatbelt violations can increase your annual insurance costs by three to 20 percent, even if you were ticketed as a backseat passenger. The rates can be higher if you were involved in a crash, be it minor or severe.
Practical Solutions After Getting Ticketed for Not Wearing a Seatbelt
Paying seatbelt tickets may seem like a straightforward solution to settle the issue, but it has its share of pitfalls. Check out this table to weigh in on whether you should pay the ticket or not:
You Pay a Seatbelt Ticket
You Don't Pay a Seatbelt Ticket
Paying a seatbelt ticket means you:

May have to shell out hundreds of dollars in fines
Have accepted your wrongdoing and are pleading guilty
Are prepared to live with the permanent blemish on your driving record
May be required to complete a tedious, time-consuming driving course

Not paying a seatbelt ticket means you:
If you have reasonable grounds for contesting a seatbelt ticket, use DoNotPay's Seatbelt Ticket Appeal product to generate a personalized argument. Our app will help you get the ticket overturned without having to pay exorbitant legal charges—all you need to do is sign up for our services!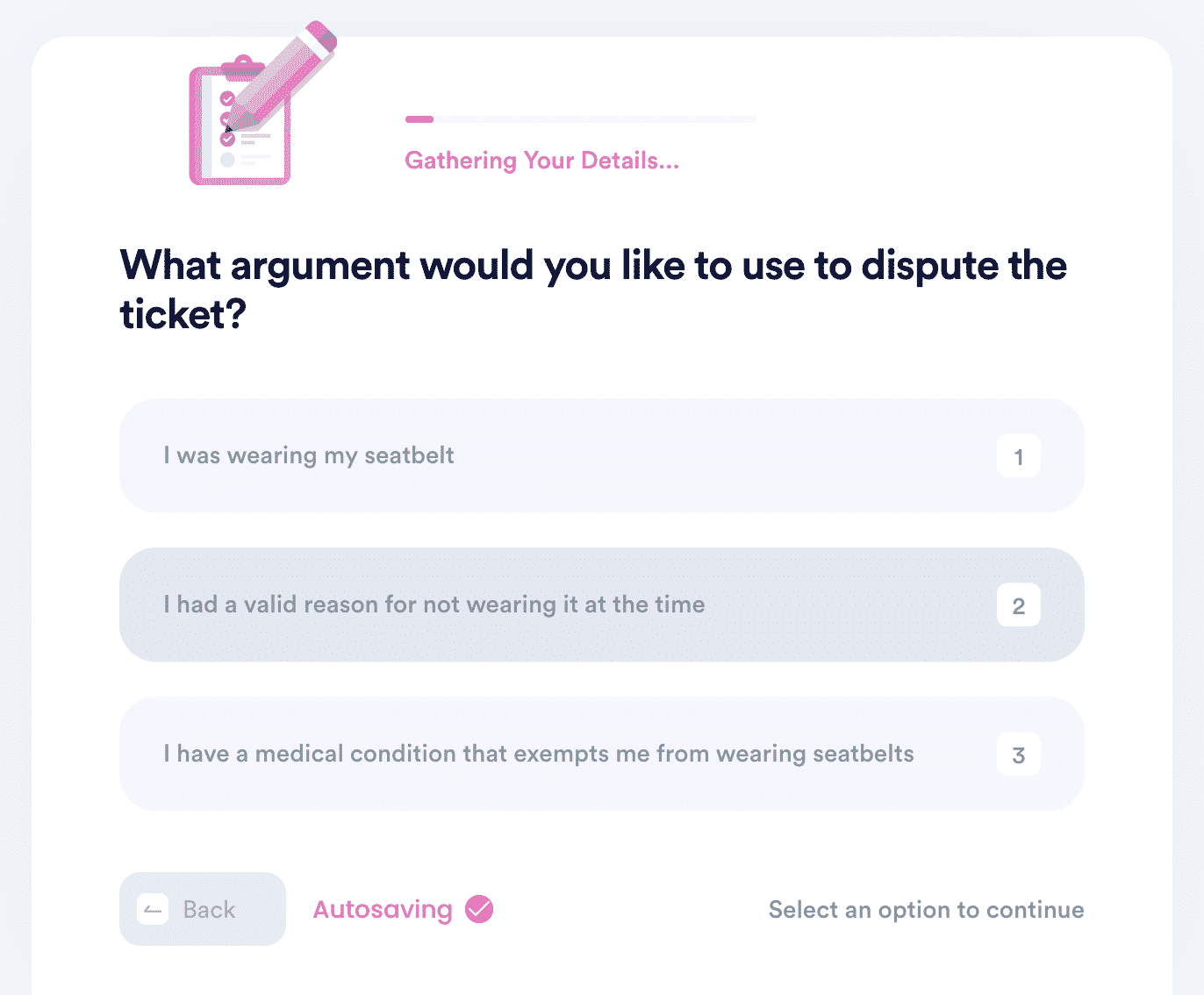 Appealing a Seatbelt Ticket—What Is a Good Argument?
If you're appealing a seatbelt ticket, use an argument that covers one of the following:
Shows you had your seatbelt on and that the ticket was a misunderstanding—e.g., your seatbelt was camouflaged by the color of your shirt
Proves you had a valid reason to remove your seatbelt, such as:

Driving in reverse
Experiencing an emergency
Suffering from a medical condition
Whatever the Reason—DoNotPay Can Appeal Any Ticket in a Wink!
Appealing a seatbelt ticket on your own can be unnerving, especially if you're unsure about the bureaucratic steps involved in the process. If you ever feel lost doing so, turn to DoNotPay—we take the stress factor out of appealing seatbelt tickets with our Seatbelt Ticket Appeal product!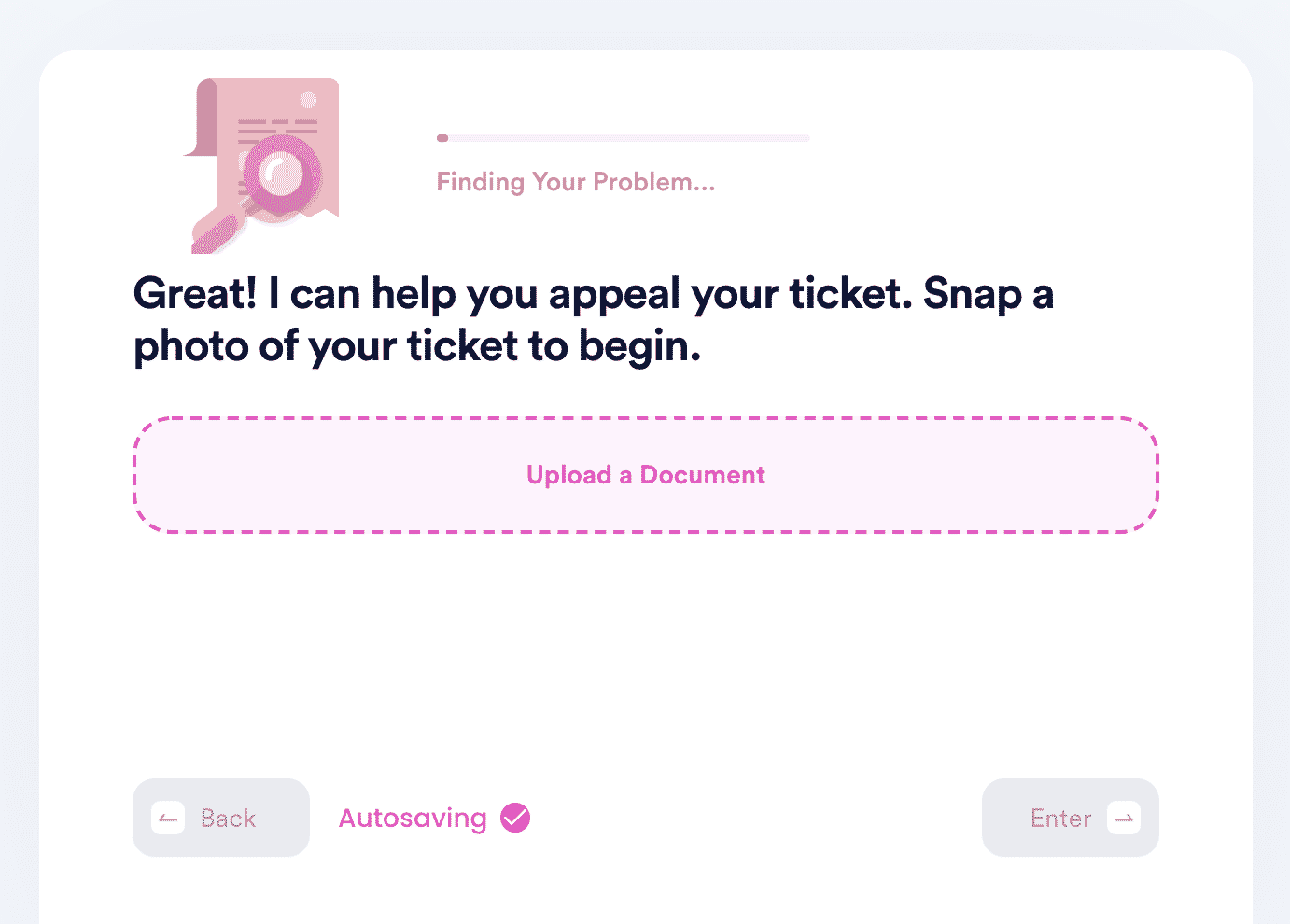 DoNotPay can place a seatbelt ticket appeal on your behalf in an uncomplicated and speedy manner. To use our support, follow these steps:
Log in to DoNotPay and search for Seatbelt Ticket
Upload a picture of the ticket
Tell us who received the ticket—the driver, passenger, or children in the back
State the argument you want to use and provide evidence to support your argument (optional)
Once DoNotPay receives your responses, we will generate a situation-specific appeal letter and mail it to the authorities in your stead.
Want To Learn About Seatbelt Laws of Your State—We Can Help!
Stay updated with the latest seatbelt laws in your state with DoNotPay's comprehensive manuals—use this table to navigate to your state:
What's Next?
Once you complete the task at hand, you don't have to stop there—we offer a myriad of products that can relieve you of the stress that comes with dealing with admin and legal hurdles.
DoNotPay can assist you in drawing up a divorce settlement agreement, child travel consent form, power of attorney, and other legal documents, contacting government representatives, getting tourist visas, fighting workplace discrimination, getting a burner number, appealing banned accounts, getting access to public records, scheduling a DMV appointment, and much more.
Tackle Any Energy-Draining Task With DoNotPay
With DoNotPay by your side, you don't have to worry about how you'll cover your utility bills at the end of the month—we'll provide swift assistance as soon as you sign up!
Wondering what else our app is capable of? Check out how we can: