Understanding the Arkansas Seatbelt Law Exemptions
Did you know that seatbelt offenses are among the top ten traffic violations in Arkansas, even though this state has had a primary seatbelt law since June 30, 2009? While wearing a seatbelt is mandatory in most cases, there are still some Arkansas seatbelt law exemptions that you should be aware of whenever you hit the road.
Our guide will answer your top questions on the Arkansas seatbelt laws, such as:
What is the seatbelt law in Arkansas?
What are the Arkansas seatbelt law exemptions?
What can you do if you get cited?
What Is the Seatbelt Law in Arkansas?
In Arkansas, you must wear a properly fastened seatbelt if you are a front-seat passenger or the driver. Since AK is a primary enforcement state, police officers can stop you and issue a citation just for not wearing a seatbelt.
Here is everything else you should know about the law:
Under the Arkansas seatbelt law, backseat passengers are not required to wear safety belts
If the driver has a restricted license, every passenger, regardless of the seating position, must buckle up
Drivers and passengers who use wheelchairs in motor vehicles must wear seatbelts that are secured to the wheelchair. The wheelchair should also be properly secured in the vehicle
Arkansas Seatbelt Law Exemptions
Here are some of the situations in which you can drive or ride without a seatbelt in Arkansas:
Having a written confirmation from a licensed physician proving that you are unable to use a seatbelt due to a medical condition
Sitting in the rear seat, unless the driver has a restricted license
Having a physical disability that prohibits the use of safety belts
Driving or riding in an emergency vehicle
Riding in a passenger vehicle manufactured before July 1, 1968, or January 1, 1972, for all other types of vehicles
Driving while performing your duty as a rural letter carrier
Arkansas Child Seatbelt Laws
The Arkansas child seatbelt laws require all children under 15 to be properly secured in the appropriate car seats or seatbelts as follows:
Children under six and weighing less than 60 pounds must be in the correct child passenger restraint system in the rear seats of the vehicle
Any child who is six years old and older or weighs more than 60 pounds can use the regular safety belt
All children under 13 should ride in the rear seats
What Is the Fine for Not Wearing a Seatbelt in Arkansas?
The cost of all seatbelt tickets in Arkansas is $25, but the total cost can rise up to about $90 due to court fees. Although the ticket cost isn't high compared to some other states, you should factor in the possibly fatal consequences of not buckling up. Seatbelts protect drivers and passengers from needless injuries in the event of motor vehicle crashes.
Do Seatbelt Tickets Go on Your Driving Record in Arkansas?
A seatbelt offense is not a moving violation in Arkansas. Although the Arkansas Department of Licensing (DOL) uses a driving record point system, you will not get demerit points for a seatbelt citation. This means that you shouldn't experience an insurance surcharge due to the violation.
What Can You Do if You Get Cited?
Once you get a seatbelt ticket, you have three options:
If you choose to appeal the ticket, you should have a credible argument. There are two ways you can build your claim:
Reasonable doubt—Claim that you had a seatbelt on and explain why the officer thought you weren't buckled up. This approach will only work if the officer didn't pull you over to confirm
Due diligence defense—You admit that you did not have a seatbelt on, but provide a justifiable reason for unbuckling—for instance, performing maneuvers like driving in reverse
Do you want to appeal the ticket but need help in building a convincing argument? , and we will handle it for you within minutes.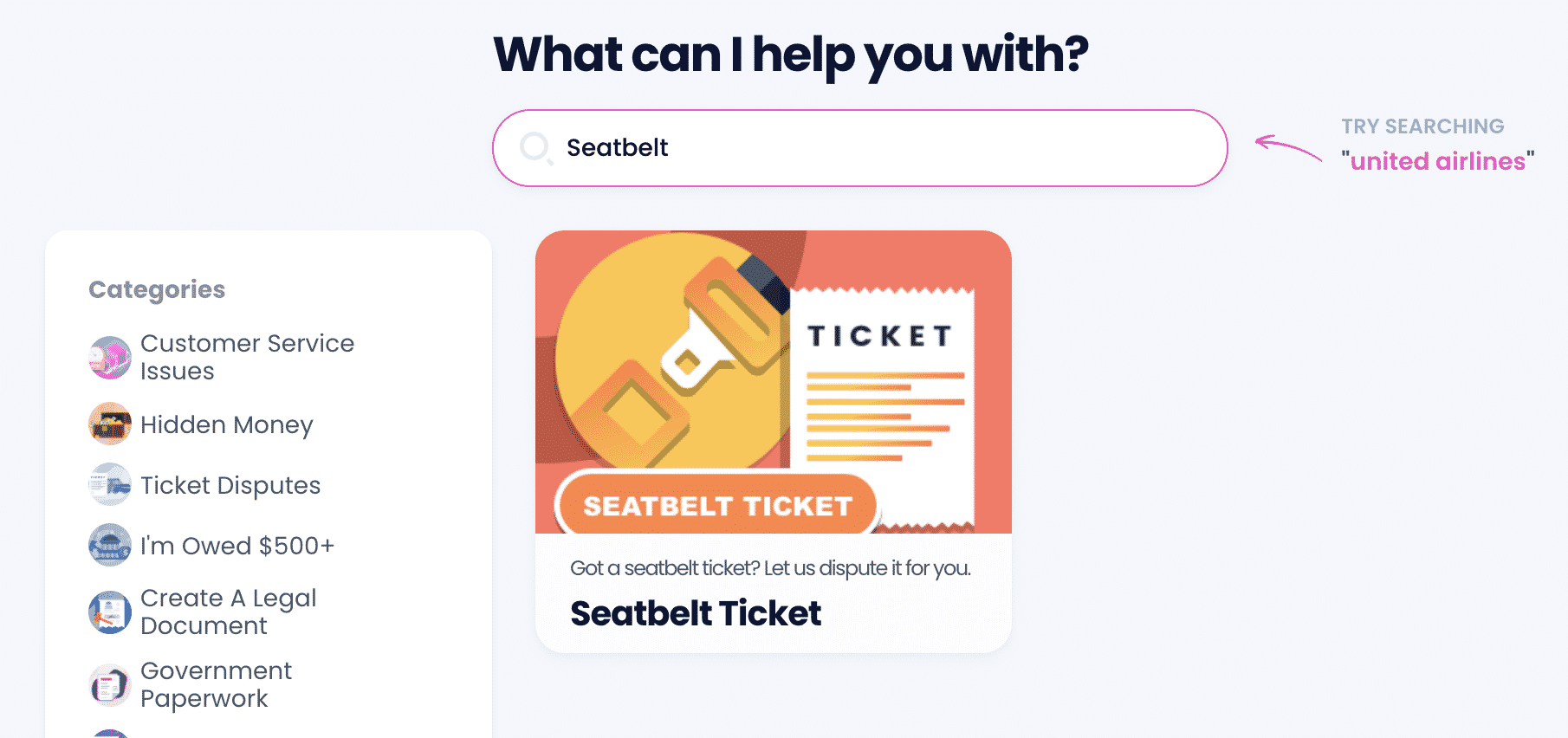 Beat Any Seatbelt Ticket With DoNotPay
Don't waste time trying to build a justifiable argument. We can do it for you in under five minutes. Just answer a few questions and leave the rest to us.
Get started now by following these steps:
and log in
Select the Seatbelt Ticket tool
Take a photo of your ticket
Answer a few questions:
Who got the ticket?
When did it happen?
Which argument would you like us to use?
Once you hit Submit, your appeal letter will be ready within seconds. We will also send it to the local authorities on your behalf, and you'll just have to wait for the verdict.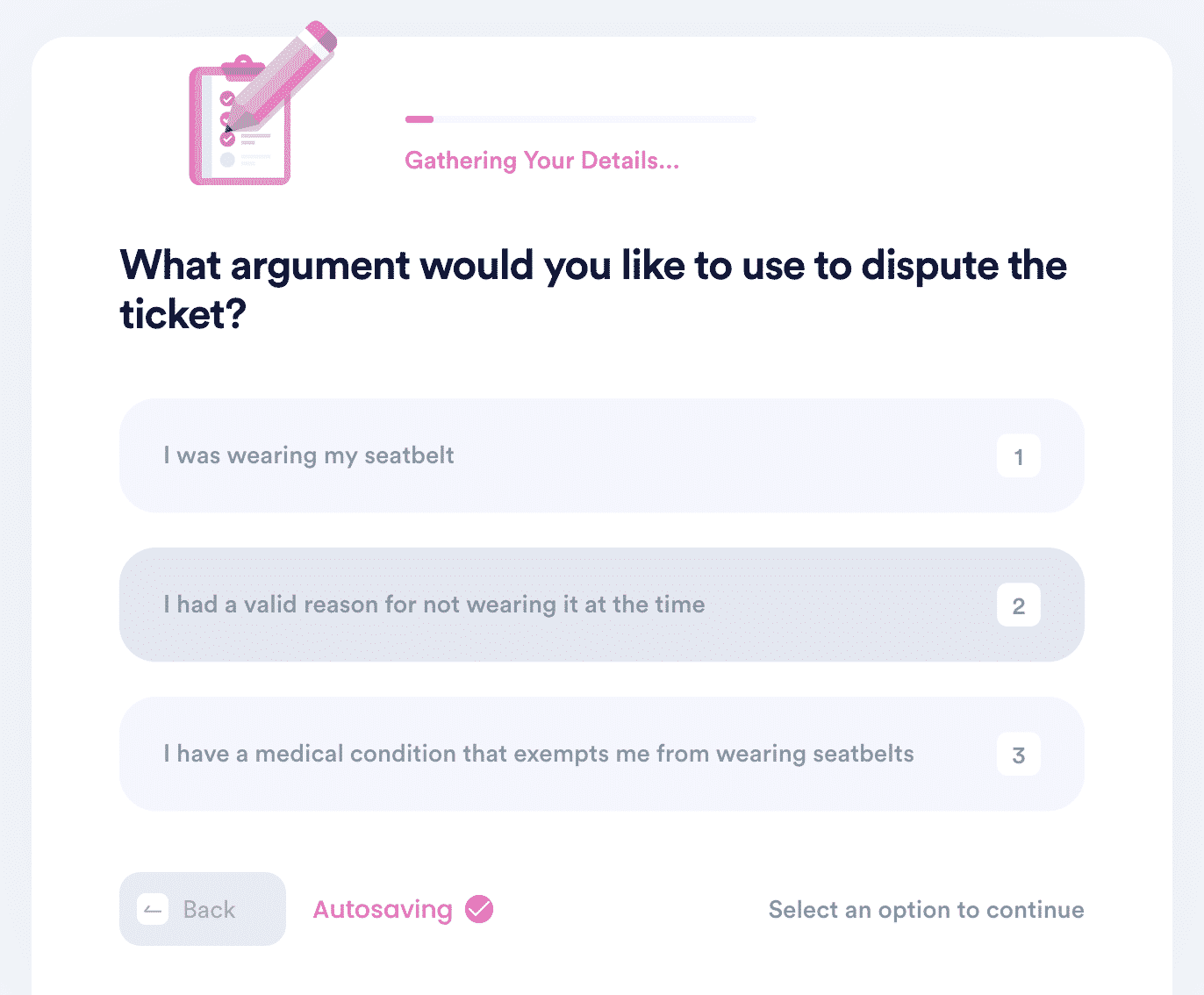 Whether you are only passing through or taking a trip to another state, you will be under that state's seatbelt regulations. Use our handy state-specific guides to avoid unnecessary trouble with the authorities and other consequences of seatbelt law violations:
Make Your Money Troubles Go Away
If you want to join free trials and not worry about automatic renewals, our app is what you need. With DoNotPay's virtual credit card, you'll be able to avoid charges and keep your personal details to yourself.
We can also help you get a refund or request a cancellation.
Getting your money back is our field of expertise—Use DoNotPay to:
No Task Is Too Difficult for DoNotPay
Signing up for our app brings you an AI-powered assistant. Check out the benefits of having a DoNotPay account in the table below: