The Best Guide to the Washington Seatbelt Laws
Washington State has maintained a high seatbelt usage in the last two decades. This follows the passing of a primary seatbelt law in June of 2002, which allows police officers to stop drivers just for not wearing seatbelts.
Staying up to date with the Washington seatbelt laws can not only save your life but also help you avoid high ticket costs and other consequences. This guide offers the best explanation of the regulations and shows you what to do if you get a citation.
WA State Seatbelt Laws—The Most Important Rules
The Washington State seatbelt laws require all drivers and passengers who are 16 years old or older to have a seatbelt on. If you don't wear the seatbelt combination—lap and shoulder belt—properly, you will be cited no matter where you're seated.
Although buckling up is the law, certain people are exempt, such as:
Persons with a medical or physical condition that prevents the use of safety belts—they must have written verification from a licensed physician that proves it
Drivers and passengers of vehicles involved in agricultural work activities and construction equipment
Drivers and passengers in other vehicles that make frequent stops on official duty
Washington State Child Seatbelt Laws
The Washington State child seatbelt laws were revised in 2020. They require child passengers to be secured in federally approved restraint systems or seatbelts. Drivers are primarily responsible for compliance with the following child seatbelt laws in WA:
| Child's Age | Seatbelt Law |
| --- | --- |
| Newborn to two years | Infants and toddlers must be properly restrained in a rear-facing car seat until the age of two or the moment they reach the car seat manufacturer's maximum height and weight recommendations |
| Two to four years | The children must be restrained in a rear-facing or forward-facing car seat with a harness |
| Four years and older | Children from the age of four who are shorter than 4' 9" must be in a properly secured booster seat. Vehicles that have lap-only seatbelts are exempt from the use of a booster seat |
| Eight to 12 years | Children who are over 4' 9" and 8–12 years old must be secured in a well-adjusted seatbelt |
The law also requires children to ride in the back seat up to the age of 13.
The Cost of a Washington State Seatbelt Ticket
If you violate the seatbelt or child restraint system laws, you can get a $124 fine. Failure to pay the fine can result in other repercussions. Seatbelt offenses are not moving violations in WA but are recorded on your driving history.
You will not be reported to insurance companies, and employers can't see it when pulling out your driving history. This means you may not experience an insurance surcharge, but multiple offenses can result in a license suspension.
Can You Contest the Washington State Seatbelt Ticket?
Was the ticket issued unfairly? You can try to get it dismissed by going to court and presenting a strong argument. The top ways you can build your defense are:
Reasonable doubt—Claiming that you had a seatbelt on and that the officer made a mistake. Your defense should explain why the officer mistakenly thought you were not wearing a safety belt
Due diligence defense—Stating that you had removed the safety belt due to justifiable reasons, such as:
Driving in reverse
Experiencing an emergency
Can't come up with a strong case? Don't let that stop you from contesting the ticket. Use DoNotPay, and you will get your appeal letter in less than five minutes.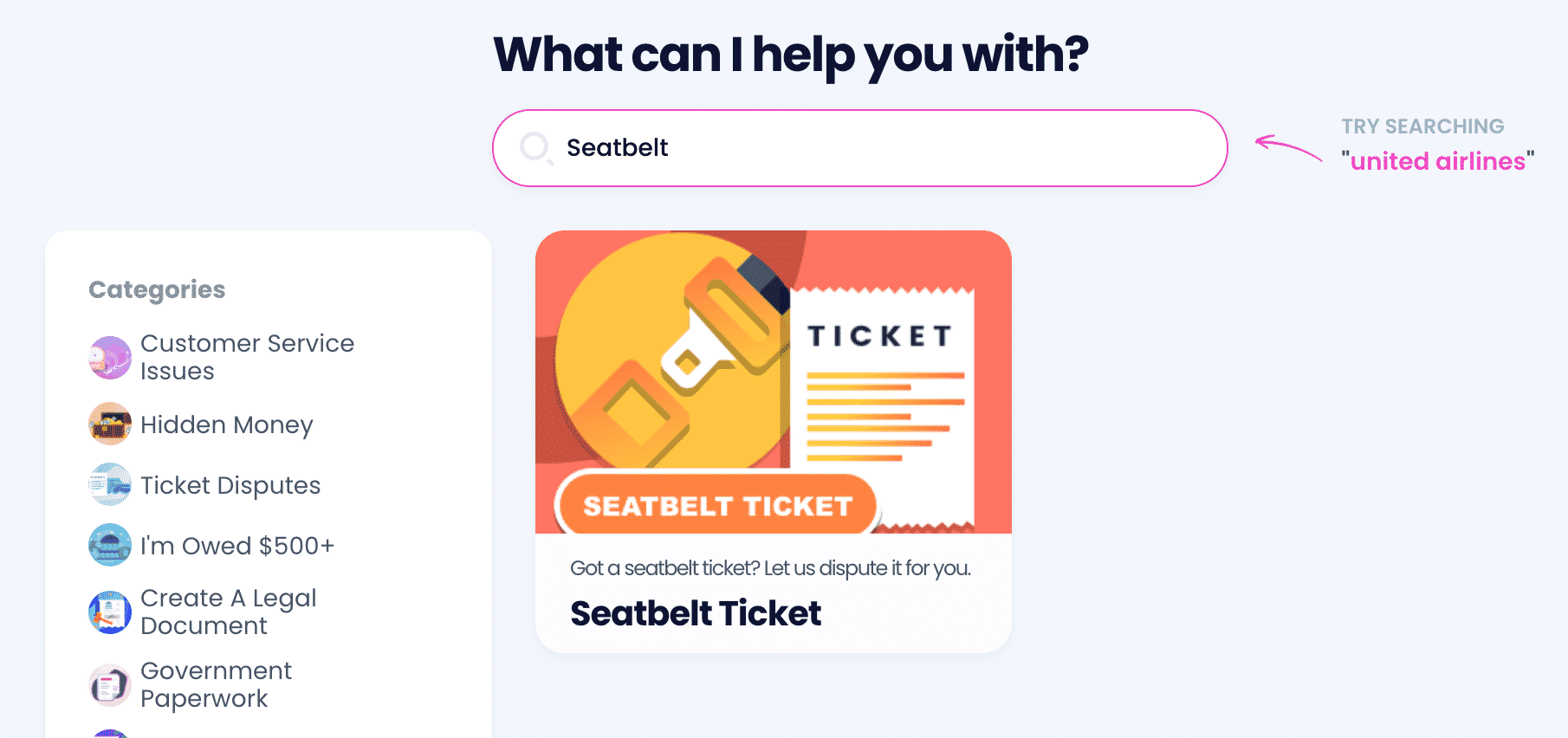 Contest Your Seatbelt Ticket in a Minute With DoNotPay
If you received a seatbelt ticket, one way to keep your driving record clean is to get the ticket dismissed. That calls for a solid defense, which can be difficult to build on your own. Fortunately, DoNotPay is ready to help you save your record. We only need to know a few details, like who got the ticket—driver, passenger, or a child—and we will generate a personalized appeal letter for you and send it to the authorities instantly.
All you will need to do is:
Find the Seatbelt Ticket feature
Snap a photo of your ticket
Answer the chatbot's questions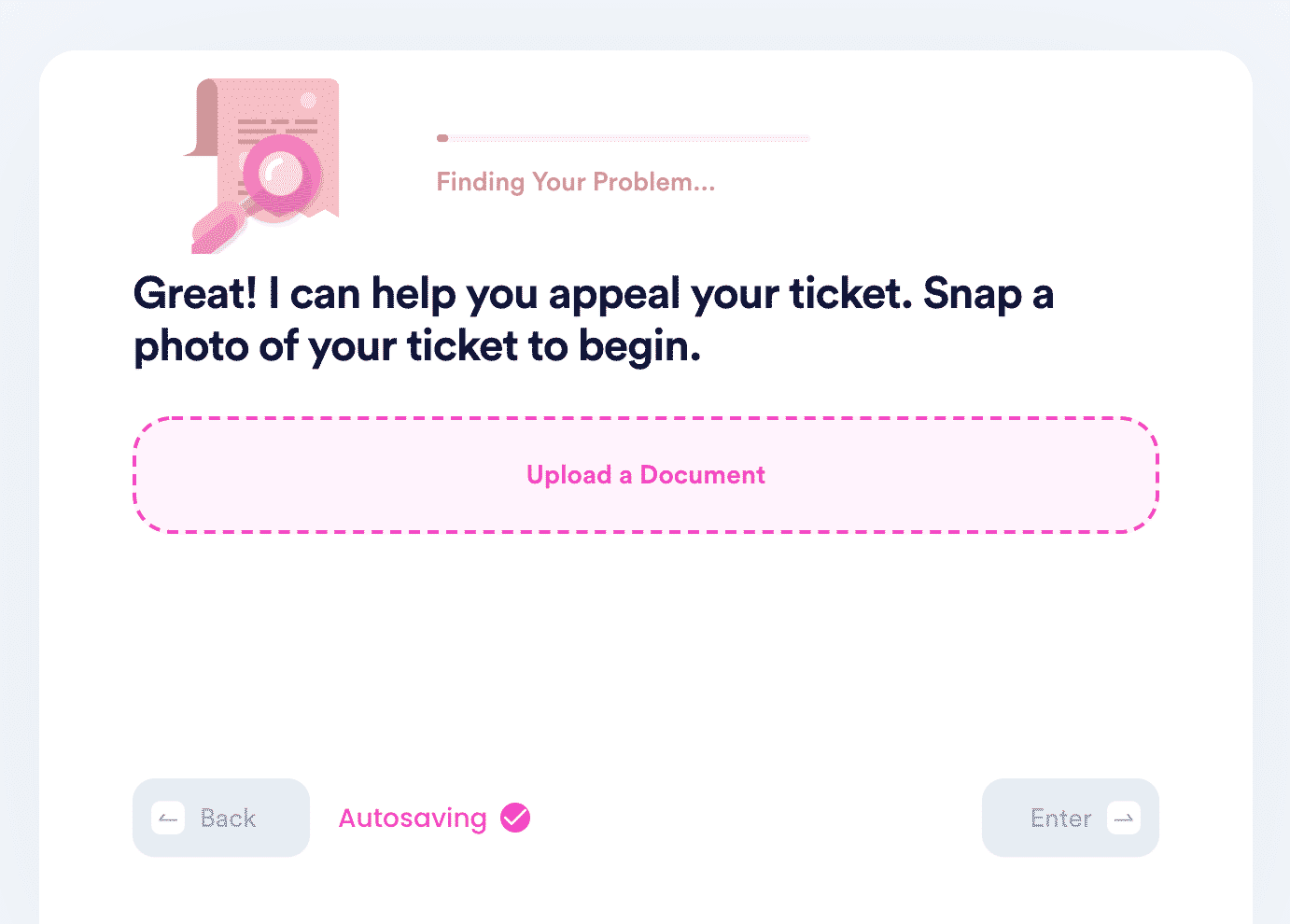 You may also find our other seatbelt-related guides helpful:
Make Your Money Troubles Go Away
If you want to join free trials and not worry about automatic renewals, our app is what you need. With DoNotPay's virtual credit card, you'll be able to avoid charges and keep your personal details to yourself.
We can also help you get a refund or request a cancellation.
Getting your money back is our field of expertise—Use DoNotPay to:
No Task Is Too Difficult for DoNotPay
Signing up for our app brings you an AI-powered assistant. Check out the benefits of having a DoNotPay account in the table below:
| Solve an Issue | Complete a Task |
| --- | --- |
| | |