A Quick Guide to the CT Seatbelt Laws
When properly belted, you can prevent minor injuries and reduce the more serious ones if you get into a car accident. On top of that, wearing a seatbelt is mandatory by law in 49 states, and you'll be fined if you don't comply.
If you find yourself on the roads of the Nutmeg State, you should know what CT seatbelt laws are. DoNotPay will simplify the learning journey by deciphering all the regulations in this guide.
Learn about the laws for the driver and passengers, and inform yourself about the cost of the ticket. Got a citation by mistake? No worries—DoNotPay will help you dismiss it without hassle.
The Overview of Connecticut Seatbelt Laws
The Connecticut law requires that drivers and front seat passengers wear seatbelts.
As of October 21, 2021, new legislation takes effect requiring back seat passengers to buckle up as well.
Prior to this addition, back seat occupants older than 16 didn't need to have a safety belt on. With this law in place, Connecticut becomes one of the 32 states that demand all motor vehicle occupants to use a seatbelt.
Connecticut has primary law enforcement for drivers and front-seat passengers, meaning that the police officers can pull them over if they are unbelted. Even if this is the case, the officers can't search the vehicle based on this cause only.
The new backseat law is subject to secondary enforcement, so the driver can't be stopped if there is an unbelted adult passenger in the rear.
Motor vehicle occupants who have a physical disability that prevents them from using a seatbelt are exempt from the law.
CT Child Seatbelt Law
Connecticut has specific child seatbelt and car seat laws. The driver needs to make sure that all passengers older than eight and younger than 16 are buckled up properly. If not, the vehicle operator will be fined.
If your child passengers are under eight and weigh less than 60 pounds, you need to secure them in a child restraint system.
What car seat or booster seat you need to install—based on a child's age and weight—is explained below:
Age
Weight
Proper Restraint System
Under two years
Less than 30 pounds
Rear-facing restraint system with a five-point harness
Between two and five years
Between 30 and 40 pounds

Rear-facing car seat until they meet the upper limits
Forward-facing seat with a five-point harness

Between five and eight years
Between 40 and 60 pounds

Forward-facing safety seat until they meet the upper limits
Booster seat with a lap and shoulder belt on
The American Academy of Pediatrics advises that children under the age of 13 ride in the back seat, and Connecticut authorities support this recommendation.
You won't be fined if you don't have a car seat for a child in the taxi, but it is advisable that you bring one.
How Much Does a Seatbelt Ticket in CT Cost?
Under the seatbelt law in Connecticut, any form of violation carries a fine of $50 for drivers and passengers who are 18 years or older. If the driver or passengers are younger than 18, the fine increases to $75. Committing a second violation of the child seatbelt law can result in a ticket as high as $199.
Disregarding the regulations on child safety restraints can also come with a requirement for the driver to attend a child car seat safety course at a local DMV.
Will the Ticket Affect Your Driving Record?
Connecticut uses a point system for moving violations. Accumulated traffic offenses can cost you your license for a set time or for good. At best, only your car insurance rate will increase due to collected points.
Getting a citation for not wearing a seatbelt is a non-moving violation. What this refers to is that you won't face demerit points against your license.
Can You Refuse To Pay the Ticket?
If you decide not to pay the ticket in full by the set date, your case will go to court. The authorities can then suspend your license, mount more fees in addition to the original amount, or even issue a warrant for your arrest with a release bond.
Another option you have is to plead not guilty and contest the citation. This is a suitable possibility if you have a foundation for:
Reasonable doubt—You were wearing a seatbelt, but the police officer didn't notice it for some reason
Due diligence defense—You weren't buckled up but with a valid cause—you have a certificate of exemption for medical reasons
Do you have a plausible argument for fighting the ticket? DoNotPay can save you from the nuance of writing the appeal! , and get your tailor-made letter in the blink of an eye!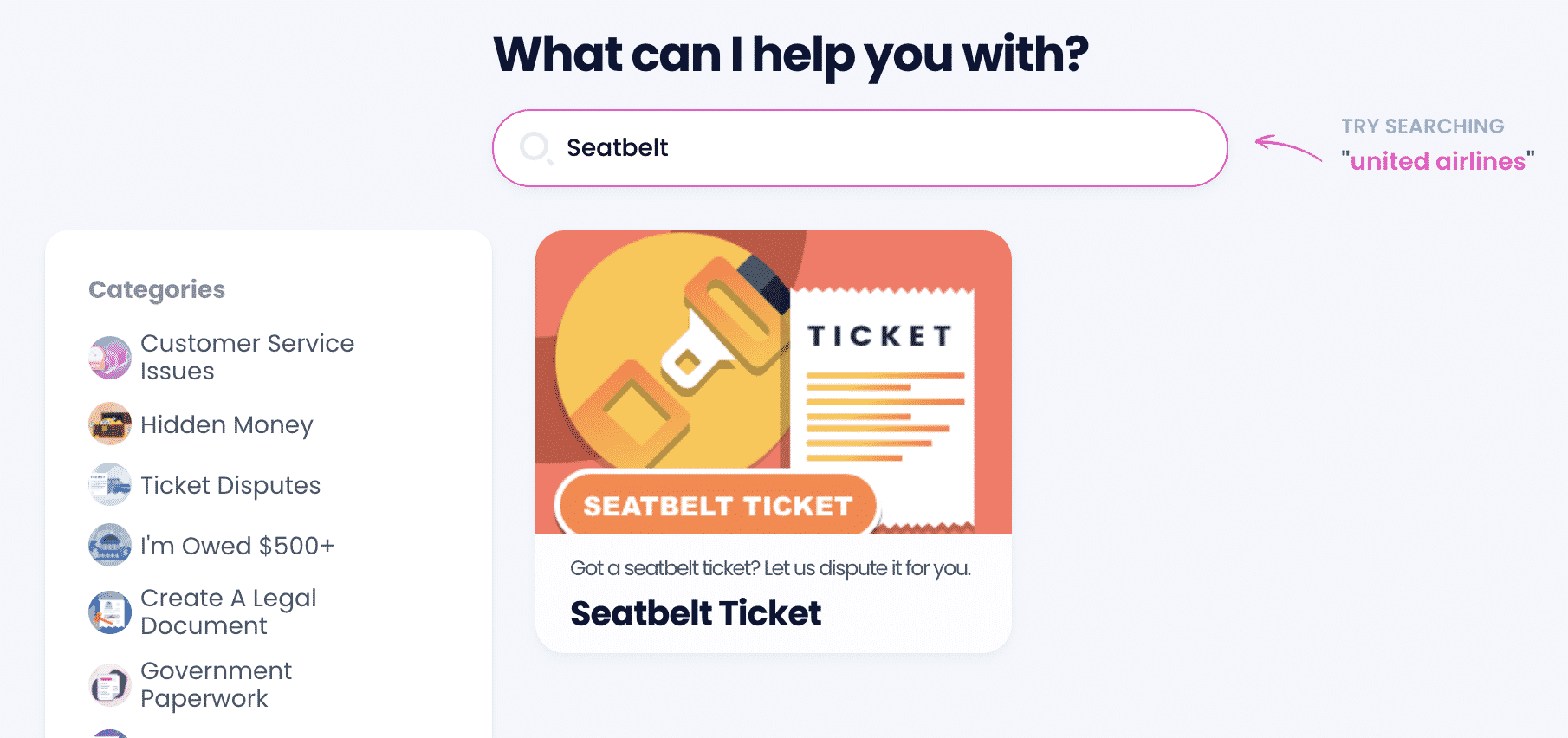 With DoNotPay, You Are a Few Steps Away From a Strong Appeal
Argue seatbelt tickets from the comfort of your home with DoNotPay's help. All you need to do is fire up the app and:
Click on the Seatbelt Ticket feature
Attach a photo of your citation
Fill out a simple questionnaire about the ticket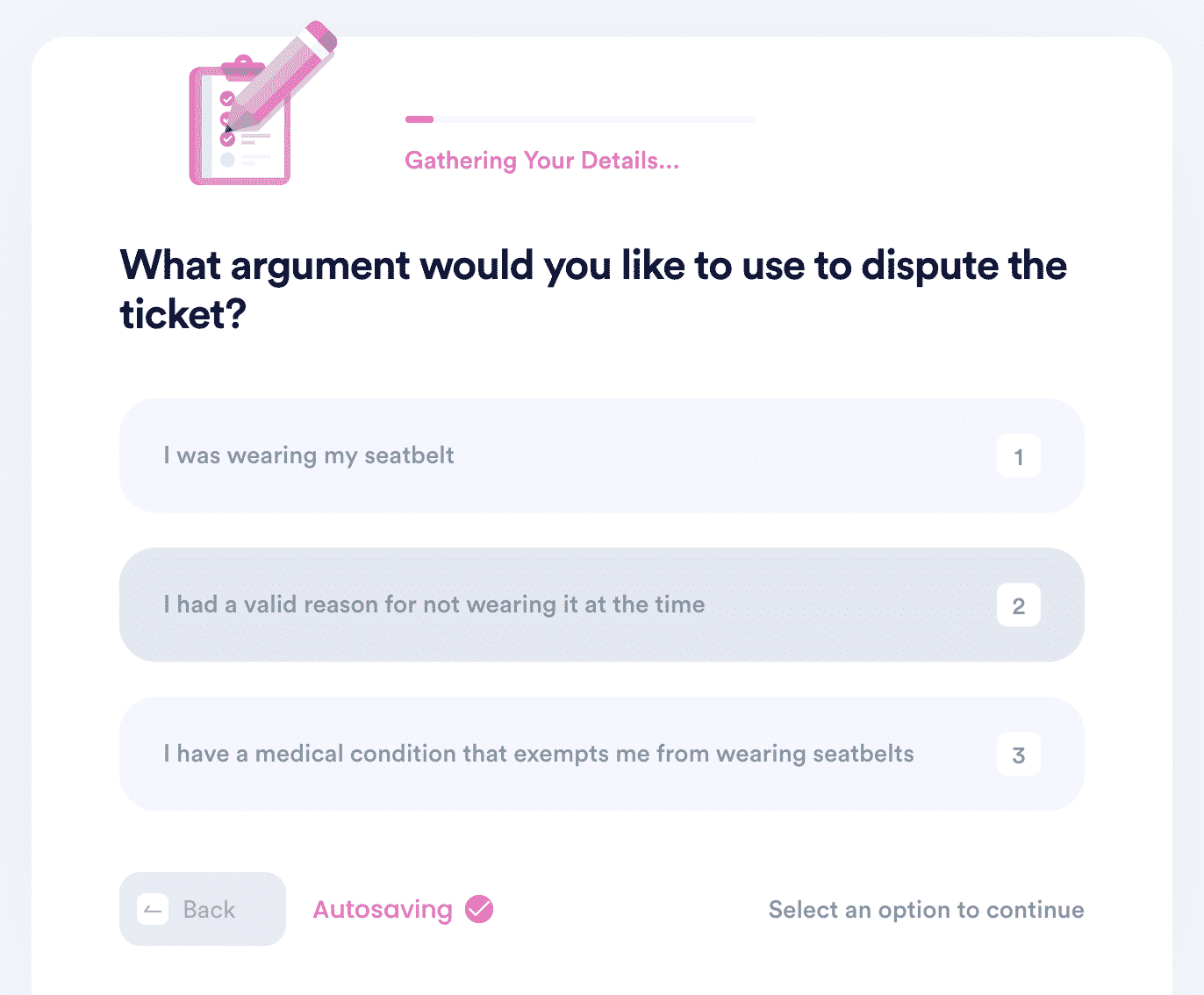 We'll use your answers to generate a top-notch letter of appeal and mail it to the ticket authorities.
DoNotPay can help you dodge the seatbelt tickets on the New York or Massachusetts roads as well. Take advantage of our comprehensive guides to learn about seatbelt laws in any state:
Our App Offers Assistance in More Ways Than One
As a multifaceted app, DoNotPay creates solutions to numerous problems. Check out the table below and get to know a fragment of what our app can do:
Use DoNotPay To Streamline Different Tasks
Tick the items off your to-do list faster by signing up for DoNotPay. In record time, you'll be able to request a refund, cancel a subscription, and get a free trial.
If talking on the phone is your worst nightmare, don't worry—you can use our app to schedule a meeting with an online notary, reach customer service with ease, and make a DMV appointment.
Feel free to also rely on our app when you want to prep for government tests, file FOIA requests, or connect with loved ones in prison.