The Consequences of Not Wearing a Seatbelt—The Effects on Your Health and Wallet
While most people fasten their seatbelt the moment they get into the car, some don't understand its importance. In 2019, out of the 22,215 passengers killed in a car accident, 47% of them weren't wearing seatbelts. Anyone can forget about it, but this measure of protection can save lives.
Learning about the consequences of not wearing a seatbelt can build awareness and help you keep yourself, your friends, and your family safe.
DoNotPay will introduce you to:
Dangers of not wearing a seatbelt
Legal consequences of not wearing a seatbelt
Benefits of wearing a seatbelt
Individuals who need to wear one
A tool for fighting a seatbelt ticket
The Dangers of Not Wearing a Seatbelt
Not fastening your seatbelt can have deadly consequences. It can affect what matters the most—your life and well-being.
Improperly wearing—or not wearing a seatbelt at all—can result in:
Getting ejected from the car in a crash, which mostly results in fatal injuries (three out of four people die in this case)
Injuring yourself or getting killed by the force of the airbag
Get injured if you improperly wear a seatbelt—such as putting the strap under your arm
Experiencing more stress due to lack of protection during the crash—even if there are no injuries
The Legal Consequences of Not Wearing a Seatbelt
Forgetting or refusing to buckle up can do more than affect your health. You can also end up with hefty fines and a tainted driving record.
Here are some of the legal consequences you should know about:
Fines for seatbelt tickets can be costly—in some states, they can reach $500
Insurance rates can increase if you get a ticket, and if you have additional moving violations on the record, the increase can be significant
You can be called to traffic court, which can result in additional fees
A seatbelt ticket can add onto penalty points that go toward getting your license suspended or revoked
You can get a reduced personal injury settlement—​​If you were a victim, but you didn't have your seatbelt on, the defense attorney can use the seatbelt defense, and you can get less money
Ignoring the ticket and not paying the fine can result in license suspension, and you can get a civil assessment fine of up to $300 for being late with the payment
How Can Wearing a Seatbelt Help?
Are you aware of the importance of wearing a seatbelt? Buckling up can help in many ways—including:
Minimizing your injuries and keeping you safe
Keeping you inside the vehicle when the crash occurs
Reducing the risk of serious injuries by 45 %
Cutting the risk of fatal injuries by 50%
Increasing the protection
Preventing you from hitting hard surfaces in the car during the collision
Stopping you from being thrown onto other passengers and hurting them or yourself
Who Needs To Wear a Seatbelt?
The law in most states requires that all people in the car are protected in case of a crash with a seatbelt or appropriate restraints for children. You should check the local regulations on who needs to wear a seatbelt in the front of the car.
Whether you need to wear a seatbelt in the backseat depends on the state. In most cases, if the passenger is 16 or older, the seatbelt isn't mandatory. For children below the age limit, you need a proper child restraint system or regular seatbelt if they reach a certain age, height, and weight.
It's essential that you get to know the laws in your place of residence. The same goes if you are traveling to another state.
The following guides on state-specific seatbelt laws can help you revise all rules and regulations in a jiffy:
You Got a Seatbelt Ticket—Now What?
Mistakes happen, and tickets get issued—so what then? You can make peace with the situation, or you can try to fight the ticket.
If you weren't aware of the laws in your state or a moment of discretion led to a ticket, sign up for DoNotPay, and we'll help you fight it! With a credible argument, seatbelt tickets can be dismissed even without expensive lawyers and trials. Our app will generate a customized formal letter of appeal and send it to the authorities.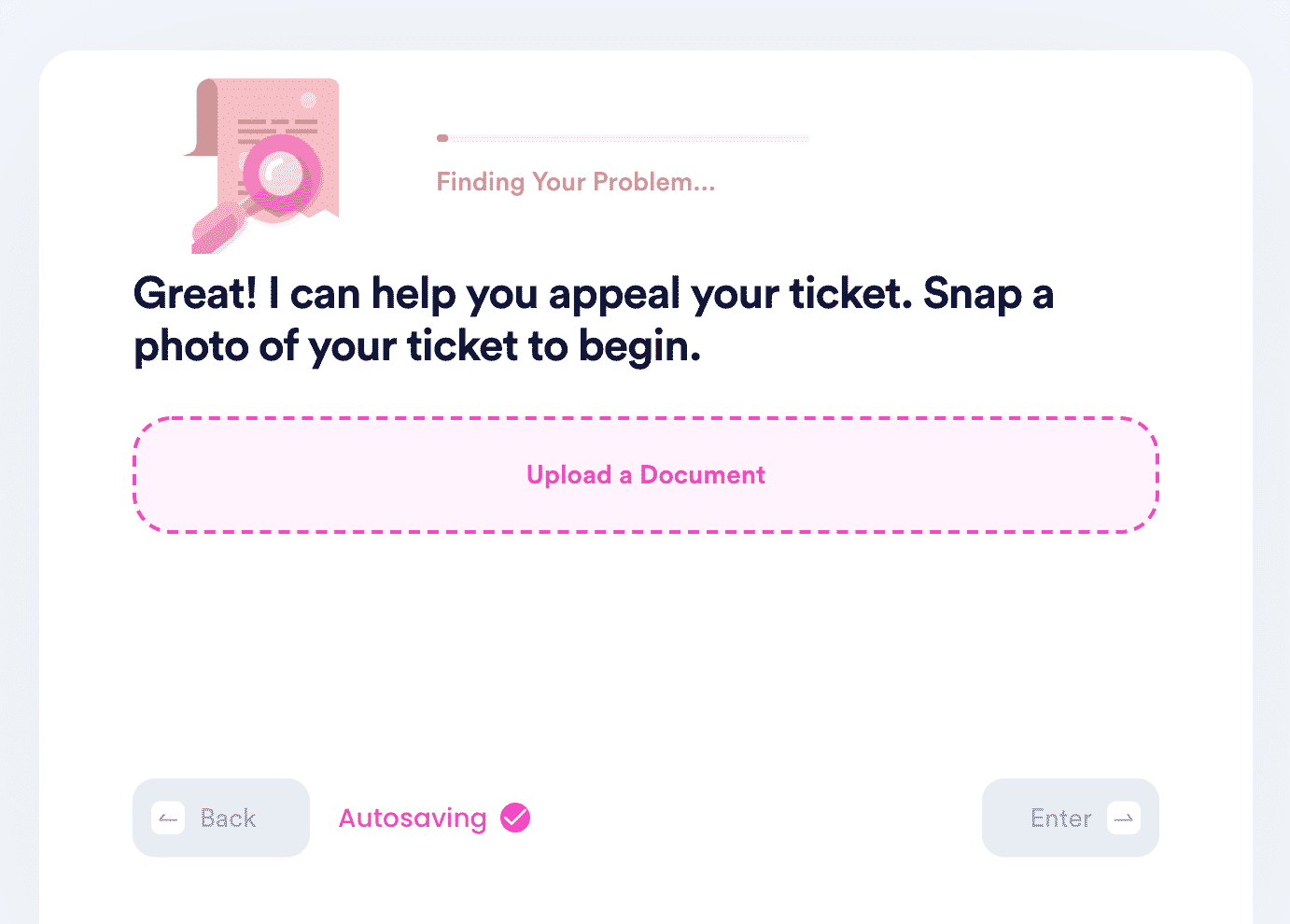 Got a Ticket? DoNotPay Will Help You Dismiss It
DoNotPay is an AI-powered app that knows which questions to ask and how to shape your defense to get you out of paying the fine. If you want to fight your seatbelt ticket, all you need to do is open a DoNotPay account and:
Go to the Seatbelt Ticket product
Take a photo of your ticket and upload it
Tell us who got the ticket
Describe the situation you were in, and let us know what explanation you want to provide
After we get the information we need, we'll draft the appeal letter and mail it to the right address. Yours is only to wait for a response and nothing more!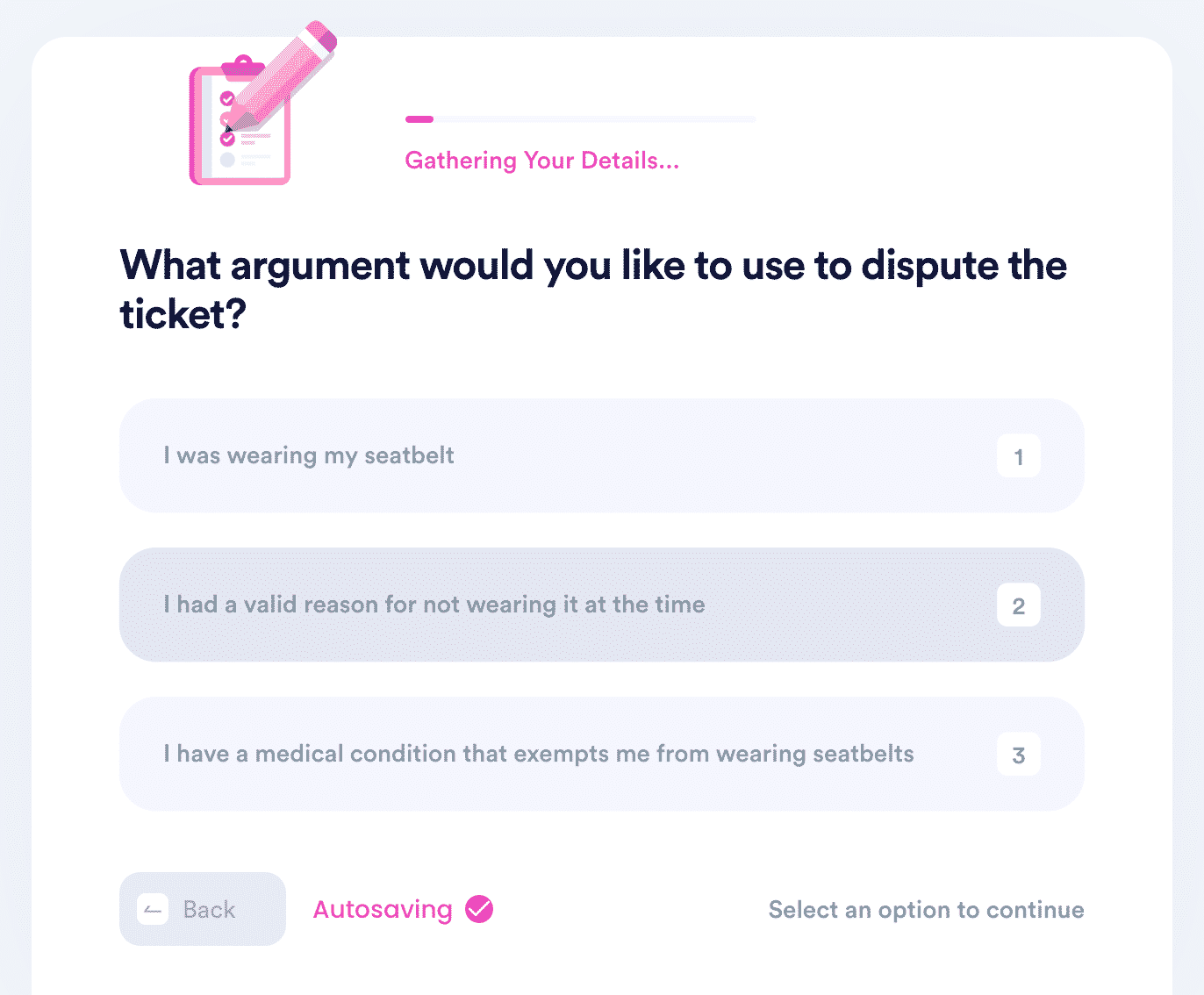 Anything Else You Need?
DoNotPay offers an exhaustive range of products and services for one low monthly fee. You can take full advantage of our offer once you resolve the issue at hand.
Our app can both save you money and help you earn it—sign up to appeal parking tickets, get assistance with utility bills, get compensation from airlines, request a refund, have your college application fees waived, find your missing money, reduce property taxes, enter any sweepstake, or send a financial aid appeal letter to any school.
We can also turn your gift card balance into cash, help you apply for scholarships, and assist you in getting compensation as a victim of crime.
There's Even More to Our Offer
The world's first robot lawyer can turn any nightmarish admin or legal procedure into a piece of cake. Look into our knowledge base to find out how to send a letter of warning to your bad neighbor, submit an anonymous complaint to your HR, fight workplace discrimination, get access to public records, deal with a stalker or harasser, put an end to robocalls, and file a complaint with any company.