The Ultimate Guide to the New Hampshire Seatbelt Law
Seatbelts reduce the risk of injury resulting from being ejected out of your seat during a car crash or a sudden stop. This is why most states created laws that encourage and enforce the use of safety belts. New Hampshire is the last remaining state to establish seatbelt laws for adults who are 18 years old and older.
What about children under 18 then? Keep reading to find out who the New Hampshire seatbelt law applies to and learn what happens if you violate it.
If you are cited, DoNotPay can help you contest the ticket in a few minutes.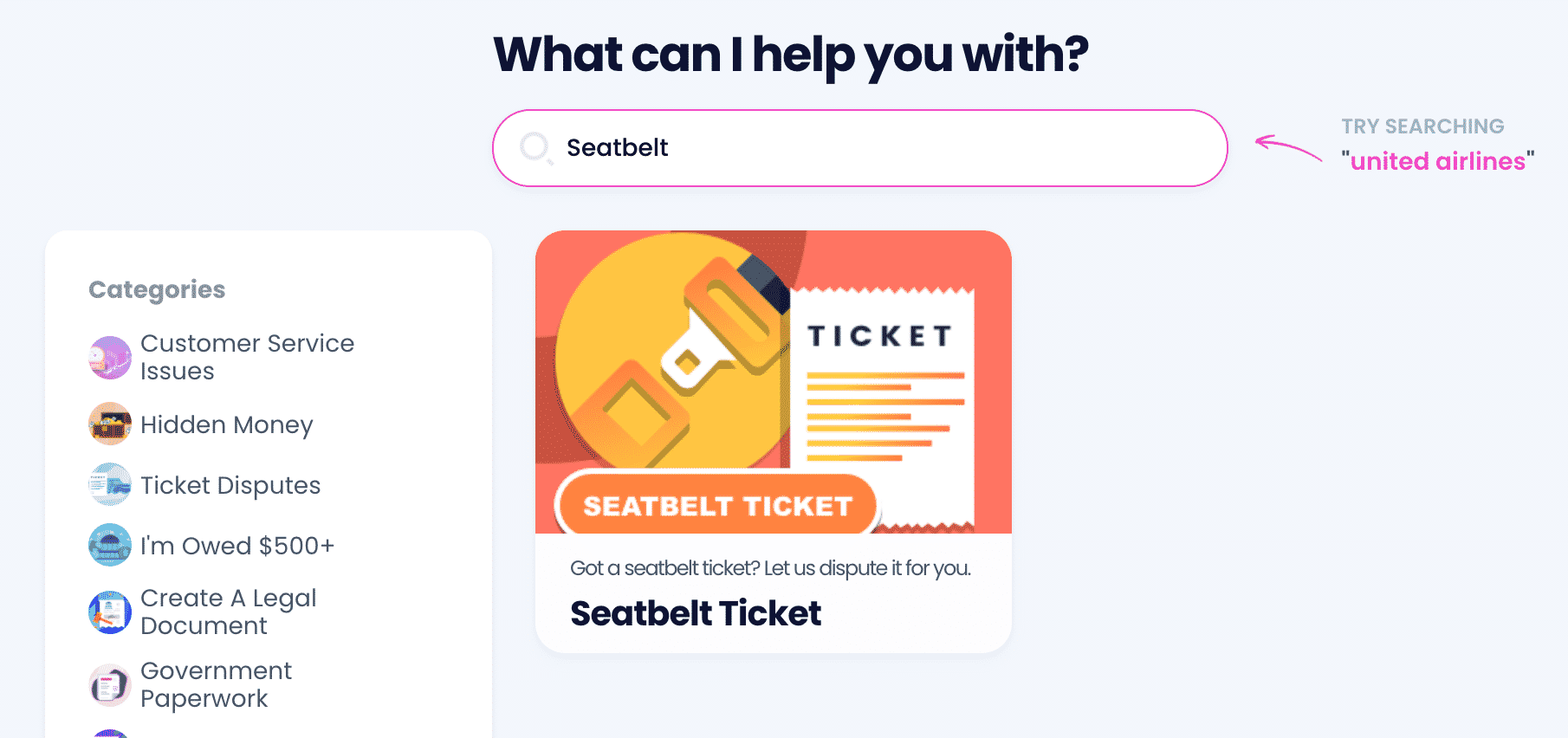 Do You Have To Wear a Seatbelt in New Hampshire?
The New Hampshire seatbelt law covers drivers and passengers younger than 18 years of age. It is a primary law, which means that you can be pulled over and ticketed for not wearing a seatbelt. Children under seven years must be properly restrained in an appropriate child restraint system—rear forward-facing car seats and booster seats. Those between eight and 18 years can use the regular safety belt.
If a police officer notices that a young person/child below 18 is unrestrained or improperly restrained, the driver can be issued with a seatbelt ticket. The fine for the first offense is $62 and $100 for a subsequent violation.
Can a Seatbelt Ticket Affect Your Insurance and Driving Record in New Hampshire
A seatbelt ticket is not a moving violation in New Hampshire. Currently, you cannot get driver record points or an insurance surcharge for a seatbelt ticket. If your insurance company uses its own point system and not the DMV points, make sure to confirm how it treats seatbelt tickets.
What Happens if You Don't Comply With Your Seatbelt Ticket?
If you get a seatbelt ticket, you must deal with the issue within 30 days. Failure to comply can result in the following:
The citation will be placed in default status
A $50 fee will be added to the original fine amount
Your driver's license will be suspended
Pay attention to the ticket requirements in terms of the fine amount, court appearance date, and deadline to prevent additional issues.
How To Deal With a Seatbelt Ticket in New Hampshire
If you are ticketed, you have the following options:
Accept and comply with the ticket
Challenge the ticket
Accept and Comply With the Ticket
This means that you plead guilty. You pay the fine and any other required charges instead of contesting the ticket. In some cases, pleading guilty may affect your insurance premiums—insurance providers go through your driving record when determining your rates.
Challenge the Ticket
If you don't want to plead guilty, you can contest your ticket. Getting a ticket dismissed requires providing a strong legal argument, which can be difficult if you aren't used to these situations, but here are some tips to guide you:
Reasonable doubt—You can argue that you were indeed wearing a safety belt or the child was properly restrained, especially if the officer did not pull you over to confirm
Due diligence defense—This is a better strategy if the officer stops you. All you will need is to present valid reasons why you were not wearing the seatbelt—if you are driving and under 18 years—or why a child wasn't restrained properly, for instance:

You were driving in reverse
An emergency occurred
The child's needs were being tended to
You have a medical condition that prevents you from buckling up—you should have medical evidence from a licensed professional
You didn't notice the child had unbuckled the seatbelt
Appeal a Seatbelt Ticket Using DoNotPay
Appealing a seatbelt ticket on your own can be stressful, but we are on your side. Allow DoNotPay to save your driving record and money. Whatever the reason for getting the seatbelt ticket is, we will help you contest it.
Your time matters to us, so you'll only need to complete these few steps:
Find the Seatbelt Ticket tool
Tell us who got the citation and upload a photo of the ticket
State what happened and which type of argument you would like us to use
That's it! We will draft a custom appeal letter and send it to the authorities on your behalf.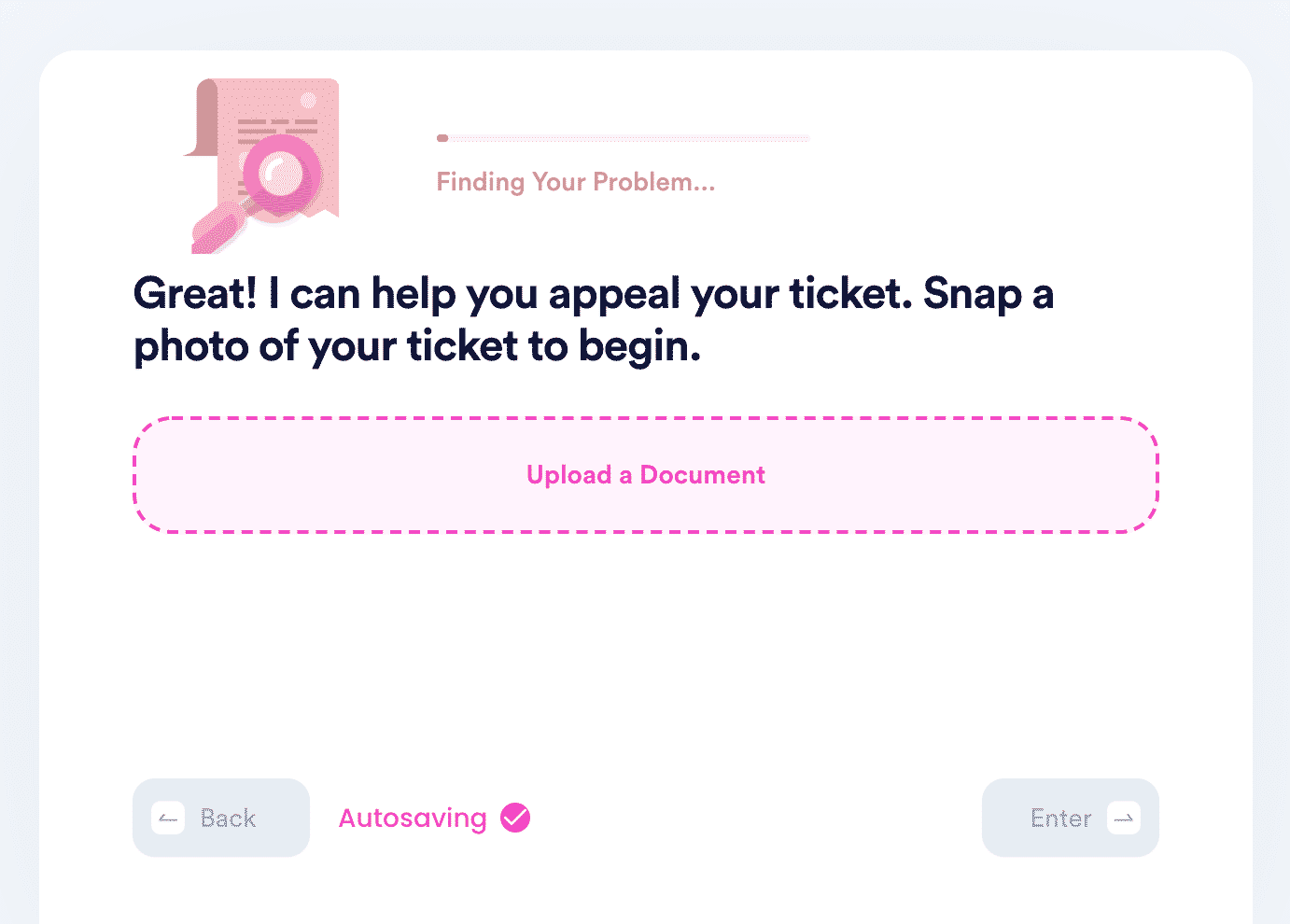 You may want to check out our thorough and up-to-date guides on other related topics, such as:
Seatbelt Laws in Other U.S. States
Do you know that seatbelt laws vary across the U.S.? If you're getting out of New Hampshire, be careful—wearing a seatbelt for adult drivers is not a matter of choice in other states.
We have complete and up-to-date guides to the seatbelt laws of every state. Use the table below and get informed before you hit the road:
Make Your Money Troubles Go Away
If you want to join free trials and not worry about automatic renewals, our app is what you need. With DoNotPay's virtual credit card, you'll be able to avoid charges and keep your personal details to yourself.
We can also help you get a refund or request a cancellation.
Getting your money back is our field of expertise—Use DoNotPay to:
No Task Is Too Difficult for DoNotPay
Signing up for our app brings you an AI-powered assistant. Check out the benefits of having a DoNotPay account in the table below:
| Solve an Issue | Complete a Task |
| --- | --- |
| | |