Seatbelt Tickets Cost—How Much Can You Expect To Pay?
"Click it or ticket" is an ongoing campaign that reached most drivers in the U.S. Many drivers tend to conform to the seatbelt laws in their state. But what happens when you forget or fail to put on your seatbelt? How much do seatbelt tickets cost? Will a ticket burn a hole in your pocket, or will you still save some money?
DoNotPay has all the information about the costs of fines throughout the U.S., and we can also help you dismiss them.
Who Gets Fined for Not Wearing a Seatbelt?
If the driver is caught not wearing a seatbelt, they will be fined, but what happens if a passenger is not wearing a seatbelt? Who gets the ticket then? It depends on your state's law, but in most cases, passengers over 18 or, in some states, 16 will be fined instead of the driver. In other states, both the passenger and the driver will be fined for a passenger without a seatbelt.
When it comes to children seatbelt laws, the driver is always liable since kids need to be properly restrained in the vehicle.
In some states, where not wearing a seatbelt is a moving violation, you might get demerit points on your driver record. This might also affect your insurance because you'll be considered a reckless driver who is most likely to be injured in a car crash.
How Much Is a Ticket for Not Wearing a Seatbelt?
The cost of a seatbelt ticket depends on the state where it's issued. The main factors that affect the cost are:
Whether the state is a primary enforcement state
Whether the state is a secondary enforcement state
What Constitutes a Primary Enforcement State, and How Much Does a Ticket Cost There?
In a primary enforcement state, a police officer may pull you over for only not wearing your seatbelt. Check out the primary enforcement states and costs of the seatbelt tickets in the table below:
State
Maximum Ticket Cost for the First Offense
Alabama
$25
Alaska
$15
Arkansas
$25 (plus court fees and jail fines)
California
$162
Connecticut

$92 for people over 18
$120 for people under 18

District of Columbia
$50
Delaware
$25
Florida
$30
Georgia
$15
Hawaii
$112
Illinois
$25 (plus court fees)
Indiana
$25
Iowa
$127.50 (including court fees)
Kansas
$30
Kentucky
$25
Louisiana
$25
Maine
$50
Maryland
$83 (plus court fees)
Michigan
$25
Minnesota
$25 (plus court fees)
Mississippi
$25
New Jersey
$46
New Mexico
$25
New York
$50
North Carolina
$25.50 (plus court fees)
Oklahoma
$20
Oregon
$130
Rhode Island
$40
South Carolina
$25
Tennessee
$30
Texas

$50 driver or passenger
$200 driver

Utah
$45
Washington
$124
West Virginia
$25
Wisconsin
$10
What Constitutes a Secondary Enforcement State, and How Much Does a Ticket Cost There?
A secondary enforcement violation happens when a police officer pulls you over for a different violation and fines you for not wearing a seatbelt in addition to your primary offense. The secondary enforcement states and costs of the tickets there are listed in the table below:
| State | Maximum Ticket Cost for the First Offense |
| --- | --- |
| Arizona | $10 |
| Colorado | $71 |
| Idaho | $10 |
| Massachusetts | $25 |
| Missouri | |
| Montana | $20 |
| Nebraska | $25 |
| Nevada | $25 |
| North Dakota | $20 |
| Ohio | |
| Pennsylvania | $10 |
| South Dakota | $25 |
| Vermont | $25 |
| Virginia | $25 |
| Wyoming | |
How To Get Out of a Seatbelt Ticket
If you want to fight a seatbelt ticket, you'll need to plead not guilty in court. There are two ways to dispute a seatbelt ticket:
Reasonable doubt—If you decide to dispute your seatbelt ticket based on reasonable doubt, you will argue that you actually were wearing your seatbelt. This implies that the officer was wrong or that you took off your seatbelt to exit your car or reach for something. You can argue that you wanted to put it back on immediately after you got what you needed. If you were wearing something that resembled the color of your seatbelt, you can also argue that the officer couldn't see the difference and fined you unfairly
Due diligence defense—A due diligence defense must explain why you weren't wearing your seatbelt. You may also try to argue your case on the basis that you thought you had your seatbelt on. A few other valid reasons for not wearing a seatbelt can be:

You were driving in reverse
There was an emergency
The kids removed the seatbelt, and you didn't notice
If you don't pay for a seatbelt ticket, your driver's license could be suspended, and the court might issue a warrant for your arrest. Luckily, you can avoid that by having your seatbelt ticket dismissed—all you need to do is !
Dispute Your Seatbelt Ticket With the Help of DoNotPay
Even if you get a ticket, DoNotPay can help you overturn it. Our robot lawyer can challenge your parking and seatbelt tickets in just a few clicks. We will create a personalized appeal letter and mail it to the authorities on your behalf—this will start your appeal process.
All you need to do is and follow the steps below:
Find the Seatbelt Ticket product
Upload a photo of your ticket and specify who got it
Select the argument you want to use
Provide us with more information about the event and procure some evidence if you have any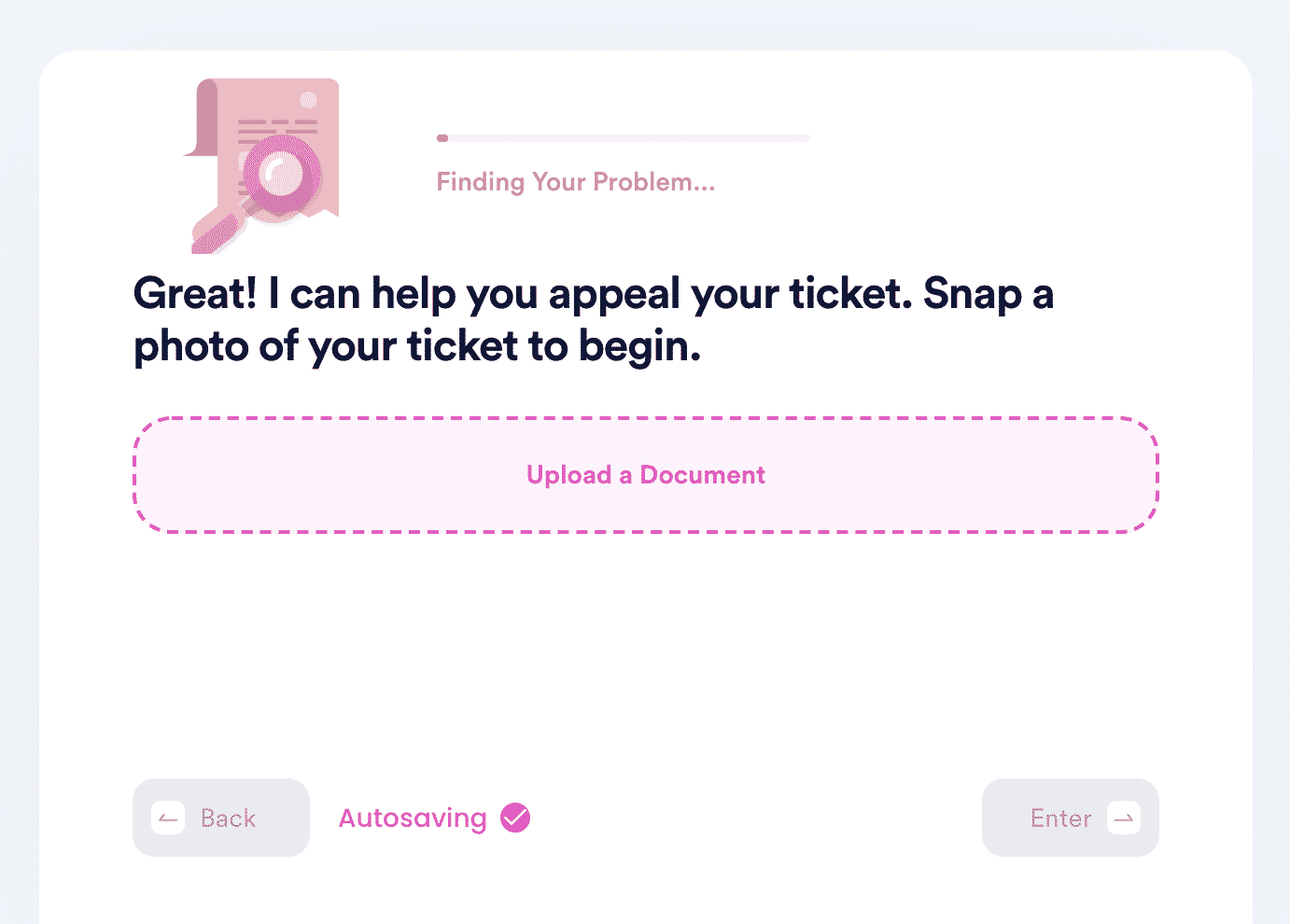 DoNotPay Turns Any Tiring Task Into a Piece of Cake
Are you tired of dealing with bureaucratic or legal matters on your own? You no longer have to—as soon as you subscribe to DoNotPay, we'll take any exhausting task off your plate.
Our app is capable of drawing up legal documents—including marital settlement agreements, child travel consent forms, powers of attorney, defamation demand letters, and affidavits to homeschool—getting them notarized remotely, filing complaints against companies, suing any individual or corporation in small claims court, sending FOIA requests, and so much more.
The World's First Robot Lawyer Offers So Much More
DoNotPay's capabilities don't end there—we can also:
Help you get a tourist visa