Alabama Seatbelt Laws for Children Explained
Whether you're only passing through the Yellowhammer State or live there, you should know the state's seatbelt laws, especially those concerning kids. Alabama seatbelt laws for children can help you ensure their safety in the event of a car crash. Abiding by these laws can also prevent you from getting a seatbelt citation and ending up in court.
If you already got a seatbelt ticket, DoNotPay can help you get it dismissed.
Alabama Child Seatbelt Laws
When it comes to seatbelt laws, special attention is directed to car safety seat and seatbelt regulations regarding children. Child seatbelt laws are much stricter because children aren't the ones responsible for their safety—parents are.
In Alabama, the law states that all children under the age of six must be properly restrained in a safety system appropriate for their age and weight. In the table below, you can find a detailed explanation:
| Age | Child Safety Seat Laws |
| --- | --- |
| Infants and toddlers | Children under the age of one who weigh less than 20 pounds have to be positioned in a rear-facing child seat in the back of the car |
| One to five | Kids who weigh less than 40 pounds and are between the ages of one and five must be secured in a forward-facing child seat in the back of the car |
| Five to six | Children between five and six who weigh over 40 pounds must be placed in an appropriate booster seat |
| Six to 15 | All kids between six and 15 who have outgrown a booster seat must be placed in the back of a car and properly secured with a seatbelt |
How Much Can You Expect To Pay if You Break Alabama Child Seatbelt Law?
While the most severe consequence of not wearing a seatbelt is suffering fatal injuries in an accident, Alabama drivers seem to be more worried about having to pay a seatbelt ticket. So, how much is a seatbelt citation in Alabama, and is there a reason for concern?
If you fail to secure your child in your car and get a ticket for it, you'll have to pay a $25 fine. Missing the deadline or ignoring the ticket may result in the amount being doubled.
Even though not wearing a seatbelt is not a moving violation in Alabama, you will get one point on your driver record for the first offense. A second or any subsequent offense will get you two more points. According to the law, your insurance can't be affected.
What About Other Vehicles and Child Seatbelt Laws in Alabama?
If you're driving something other than a passenger car, you should familiarize yourself with laws that regulate it to protect yourself and your passengers. The Alabama child seatbelt law applies to different types of vehicles—here is a brief overview:
Applies To
Doesn't Apply To

Passenger cars
Pickup trucks
SUVs
Crossovers
Vans with ten or fewer seats

Buses
Passenger vans
Taxis and rideshare vehicles
Vehicles with fewer than eleven seats used for transporting larger groups
Can You Appeal a Seatbelt Citation?
It is possible to dispute a seatbelt citation in Alabama, but to do that, you need to plead not guilty in court. There are two arguments you can use to fight your ticket—check out the table below for details:
Argument
Description
Reasonable doubt

You should use this argument if the child passenger was properly restrained and the officer wrongfully issued a ticket
You need evidence to support your claim, e.g., an impartial witness

Due diligence defense
You should use this argument if you have a good reason for why the child passenger wasn't restrained, such as:

The child had removed the seatbelt, and you either didn't notice or were looking for a proper spot to stop your car and put it back on
Your child has a medical condition that prevents them from wearing a seatbelt or being restrained in a car seat. You'll need to have a doctor's note confirming this claim
You can hire a lawyer to get you out of paying your citation, but keep in mind that it can cost you more than the citation itself. If you don't know how to fight your seatbelt citation on your own, don't fret—, and let the world's first robot lawyer dispute the ticket for you.
Let DoNotPay Help You Fight Your Ticket
DoNotPay is the fastest, simplest, and most affordable way to fight your seatbelt citations. Our chatbot will ask you a few questions and use the information you provide to create a fully personalized appeal letter.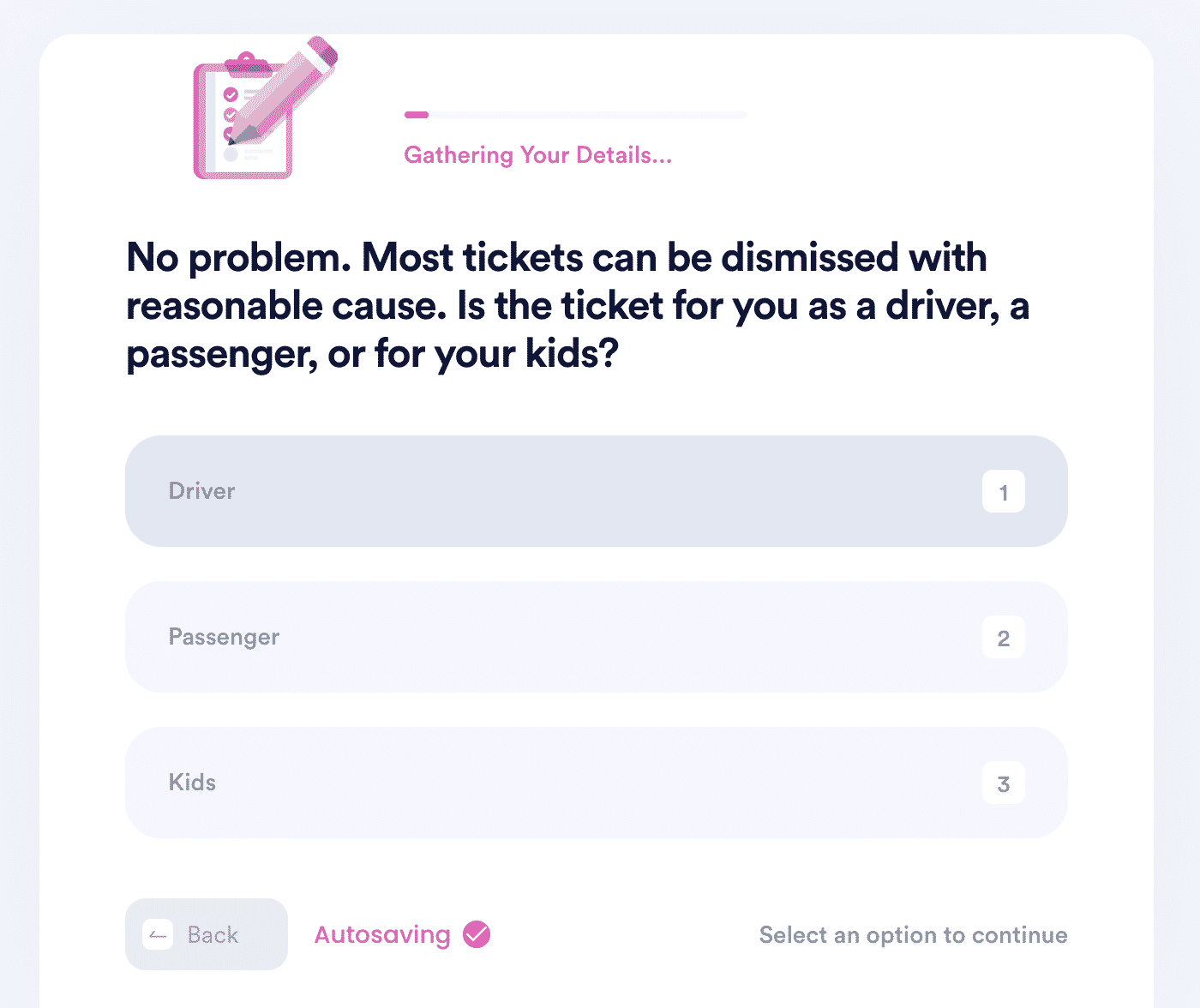 To start your appeal, and complete the following steps:
Find the Seatbelt Ticket product
Take a picture of your ticket and upload it
Provide details about the situation
Tell us which argument you'd like to use
As soon as you're done with the steps, we'll start working on the perfect appeal letter. After it's completed, we'll mail it to the seatbelt ticket authorities.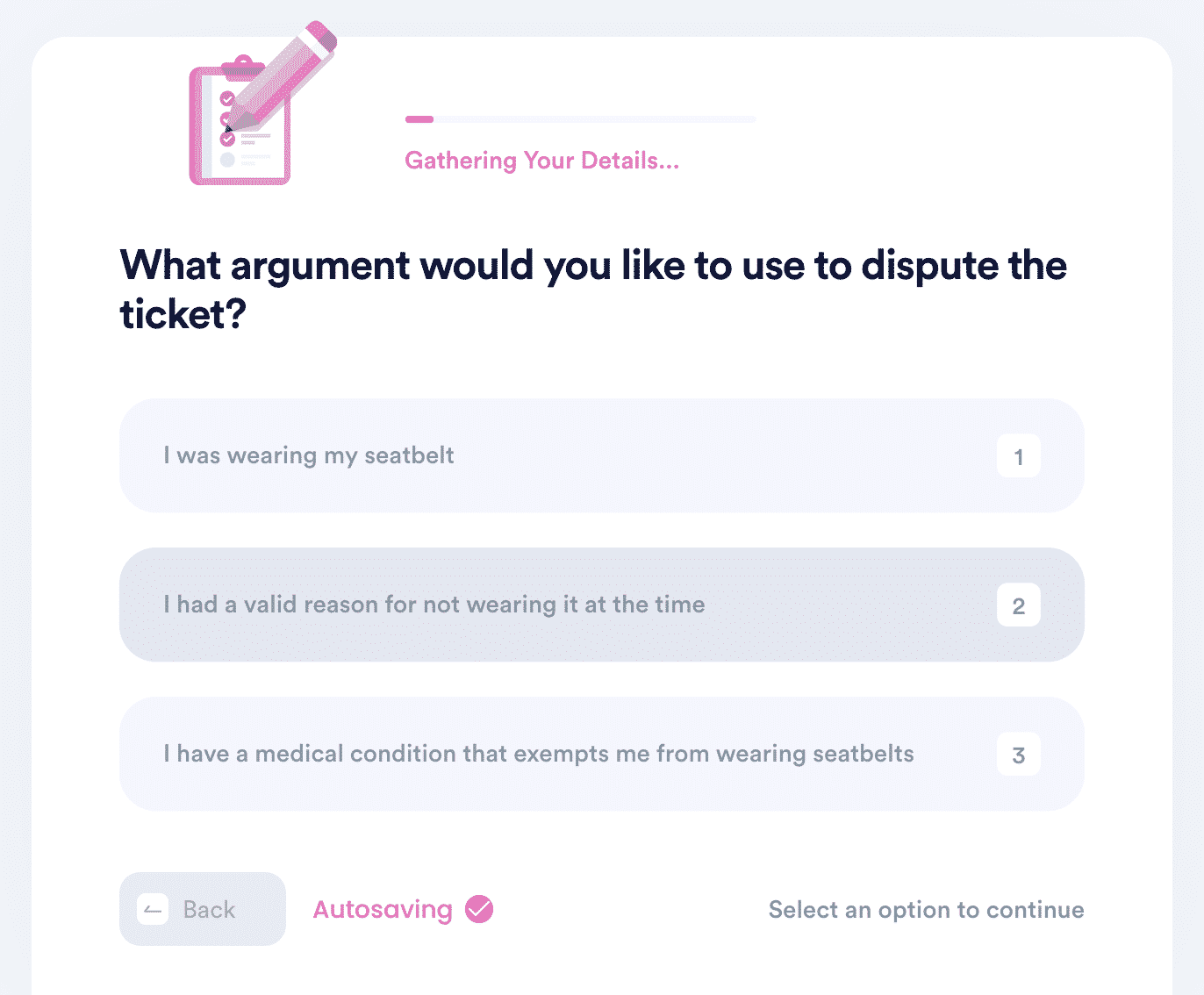 DoNotPay Turns Any Tiring Task Into a Piece of Cake
Are you tired of dealing with bureaucratic or legal matters on your own? You no longer have to—as soon as you subscribe to DoNotPay, we'll take any exhausting task off your plate.
Our app is capable of drawing up legal documents—including marital settlement agreements, child travel consent forms, powers of attorney, defamation demand letters, and affidavits to homeschool—getting them notarized remotely, filing complaints against companies, suing any individual or corporation in small claims court, sending FOIA requests, and so much more.
The World's First Robot Lawyer Offers So Much More
DoNotPay's capabilities don't end there—we can also:
Help you get a tourist visa