California Seatbelt Law—What You Need To Know
Wearing seatbelts became mandatory in California back in 1986, and the regulation stands strong to this day. Findings reported by the National Highway Traffic Safety Administration (NHTSA) showed that a few years back, the use of seatbelts saved around 14,955 lives.
You may not be able to influence the behaviors of other drivers in the Golden State, but you can prevent the devastating consequences by buckling up.
Get acquainted with the California seatbelt law to keep yourself and your passengers safe and avoid getting pesky tickets.
The Introduction to California Seatbelt Law
In the State of California, any person who is 16 or older—whether it is a driver or a passenger—must wear a seatbelt. Both the passengers in the front and the back seats must be buckled up.
The owners of the vehicle are required to keep the safety belts in working order.
Seatbelt laws are primary enforcement in California. This means that the law enforcement officer can issue you a citation for not wearing a seatbelt even if you make no other violation.
When it comes to passengers under 16 years of age, they are also required to wear seatbelts. For children younger than eight, you should follow these child safety seat regulations:
Infants younger than two and weighing less than 20 lbs should ride in a rear-facing safety seat
Children under the age of eight must be in a car seat or a booster seat in the back of the vehicle
Children younger than 13 should ride in the rear seat
Check out our guide on the child seatbelt law in California for more detailed information.
If a passenger under 16 is not wearing a seatbelt, the driver will get a ticket. If a passenger surpasses the age limit, both the driver and the passenger will be issued a fine.
Taxi, limo, and emergency vehicle drivers will also be ticketed if not wearing a seatbelt. The law also states that they can't operate a vehicle if the front-seat passenger is not properly secured.
How Much Is the Seatbelt Fine in California?
If you break the seatbelt law in California, you can face hefty fines. The cost is as follows:
| Frequency of the Seatbelt Violation | Base Fine |
| --- | --- |
| First offense | $20 |
| Subsequent offense | $50 |
These are the base fines only, which means that, on top of them, you will need to cover the cost of the penalty assessment and pay additional fees. In the end, the ticket usually amounts to around $200.
What can present a real strain on your pocket is breaking the child seatbelt law. Not securing children can result in a fine that goes up to $500. The driver of the vehicle will be responsible for the ticket even if he or she isn't the parent or the legal guardian.
Will the Seatbelt Ticket Show on Your Driving Record?
Most drivers are troubled by how the ticket will reflect on their:
Driver's record
Insurance rates
Demerit points
California is one of the states that consider a seatbelt ticket a moving violation. There is a unique ruling to it—If you are a driver or passenger over the age of 16 who doesn't have a seatbelt on, you won't get demerit points.
In case a child doesn't have a safety belt or a proper car seat, you will get one point that can stay on your record for three years. This will also reflect on your insurance rate as the insurers increase the premium when your driving record has an offense.
What if You Go Rogue and Don't Pay Your Ticket?
Ignoring the ticket means adding another violation to your record. Not paying the fine triggers a second violation for failure to appear, which can be charged as a misdemeanor under California law.
If you believe that the ticket was issued by an error or you had a good reason for not wearing your seatbelt, you should raise a legal defense and go to court.
How To Fight a Seatbelt Ticket
Under certain circumstances, the court can overturn the citation. You can get a seatbelt ticket dismissed if you:
Show reasonable doubt—If the officer made a mistake, for example
Establish a due diligence defense—When you have a doctor's certificate proving that you shouldn't wear a seatbelt or you were about to drive in reverse, for example
Does building your case sound like a nightmare? You don't have to do it alone, nor should you hire a lawyer and spend more money than you would on a fine. The easiest and most affordable solution is subscribing to DoNotPay.
DoNotPay Helps You Walk Away Without a Ticket
DoNotPay generates strong and personalized appeal letters for overturning citations. You provide us with information on what happened, and we give you a convincing letter to get that ticket off your back.
The process is as simple as it gets—yours is only to:
Click on the Seatbelt Ticket feature
Snap a photo of the ticket
Answer a few questions regarding the violation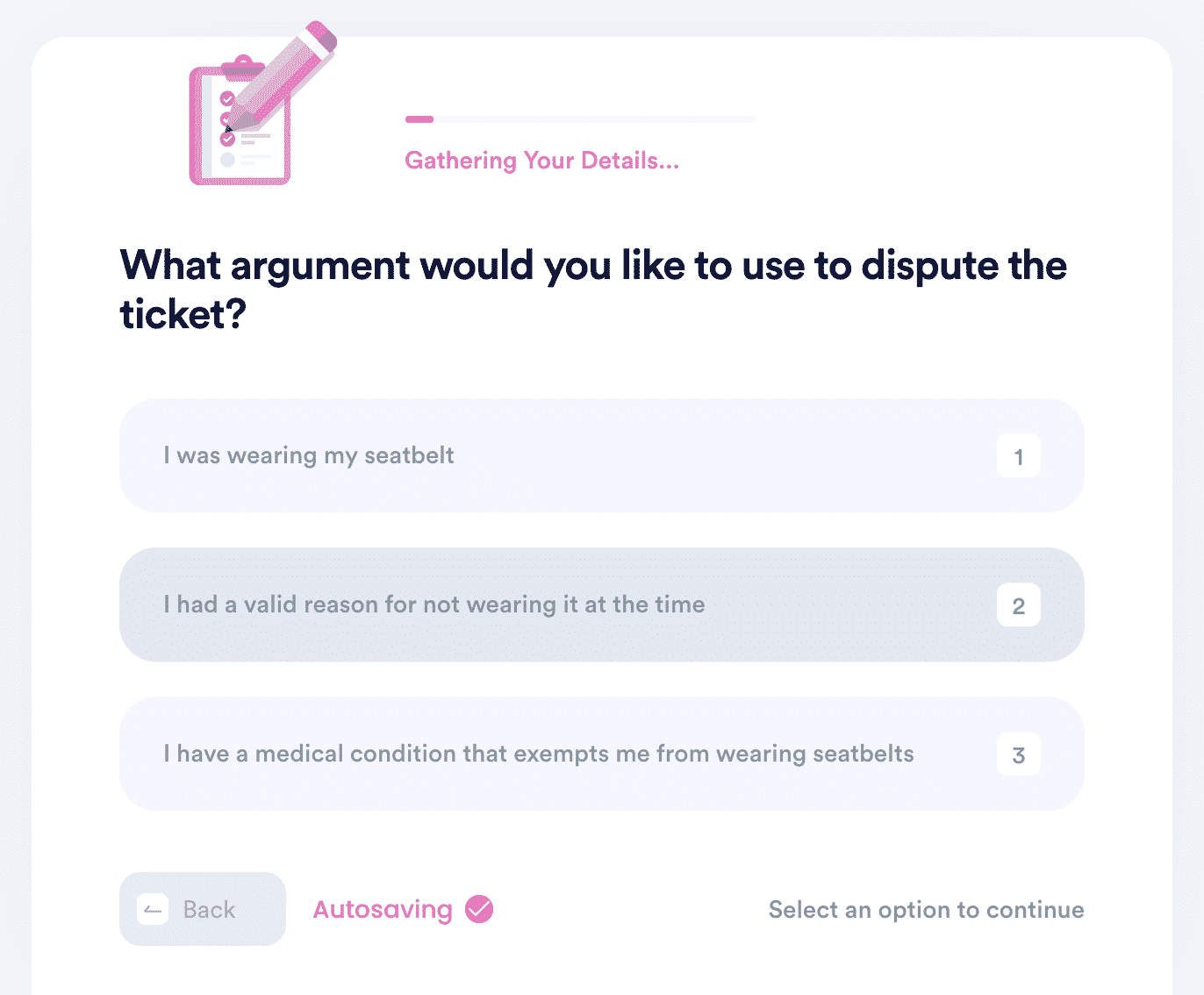 It will take you a couple of minutes to finish the whole endeavor. We'll even mail the letter to the California authorities.
If you plan to visit other states—maybe head to the Grand Canyon in Arizona or Mardi Gras festival in Louisiana—you should get acquainted with their seatbelt laws as well. Find all the info on state-specific regulations here:
Anything Else You Need?
DoNotPay offers an exhaustive range of products and services for one low monthly fee. You can take full advantage of our offer once you resolve the issue at hand.
Our app can both save you money and help you earn it—sign up to appeal parking tickets, get assistance with utility bills, get compensation from airlines, request a refund, have your college application fees waived, find your missing money, reduce property taxes, enter any sweepstake, or send a financial aid appeal letter to any school.
We can also turn your gift card balance into cash, help you apply for scholarships, and assist you in getting compensation as a victim of crime.
There's Even More to Our Offer
The world's first robot lawyer can turn any nightmarish admin or legal procedure into a piece of cake. Look into our knowledge base to find out how to send a letter of warning to your bad neighbor, submit an anonymous complaint to your HR, fight workplace discrimination, get access to public records, deal with a stalker or harasser, put an end to robocalls, and file a complaint with any company.