AZ Seatbelt Law—All You Need To Know
Every hour someone in America dies as a result of not wearing their seatbelt. Increasing seatbelt use remains the single most effective approach to save lives and decrease injuries on America's roads.
Federal laws don't regulate the use of seatbelts—each state has its own set of regulations. If you live in Arizona or plan to travel there, you should get familiar with the AZ seatbelt law.
Got a ticket and not sure what to do? DoNotPay can help you with that. All you need to do is sign up for our service and answer a few questions from our chatbot.
Who Is Required To Wear a Seatbelt According to AZ Seatbelt Laws?
Drivers and front-seat passengers in the Grand Canyon state must wear a seatbelt. The law applies to vehicles built in 1972 or later, designed to accommodate ten or fewer passengers.
If the vehicle is moving, the occupants must have the waist and chest straps securely fastened. All passengers under 16 need to be buckled up regardless of where they are seated.
According to Arizona child seatbelt laws, children must be placed in a child restraint system if they are:
Under eight
Shorter than four feet nine inches
A seatbelt ticket is not a moving violation, and no points are assigned to the driver. This means that your insurance rates won't increase.
Seatbelt Laws in Arizona—Can the Police Pull You Over for Not Wearing a Seatbelt?
When it comes to seatbelt laws, states employ either primary or secondary enforcement. To help you understand the difference, check out the table below:
| Primary Enforcement Laws | Secondary Enforcement Laws |
| --- | --- |
| A police officer is allowed to pull you over if they believe you are not wearing a seatbelt. Subsequently, they have the authority to issue a ticket if you're not wearing it | A police officer has the authority to issue a ticket for not wearing a seatbelt only if they pulled you over for another reason |
Arizona is a secondary enforcement state, which means that you will not get pulled over for not wearing a seatbelt.
There is one exception to this rule in Arizona. If the police officer sees a child who is not properly restrained—and is four feet nine inches tall or shorter and eight years of age or younger—the driver can be pulled over.
How Much Does a Seatbelt Ticket Cost in Arizona?
In Arizona, not wearing a seatbelt is considered a civil traffic violation. The penalty depends on how many people are in your car.
The statutory penalty is ten dollars per person, but you will be charged an additional fee of at least $50 if children under eight are not restrained.
If you fail to pay the fine, the court may order your driving privileges to be suspended by the Arizona Motor Vehicle Department.
What if I Don't Want To Pay the Fine?
Late fines, collection agency involvement, license suspension, and even a warrant for your arrest can all result from unpaid traffic violations.
If you think you were issued a citation unfairly and don't want to pay the fine, you have the option of disputing your ticket. To have it dismissed by the court, you should have credible arguments—you can choose between:
Mounting a due diligence defense
Creating reasonable doubt
Mounting a Due Diligence Defense
To mount a due diligence defense, you must show that you are morally innocent—you had a good reason for not wearing a seatbelt. Be careful not to stretch the bounds of credibility—your arguments must be believable.
Creating Reasonable Doubt
To create reasonable doubt, you need to provide a compelling explanation for why the officer thought you were not wearing your seatbelt. For example:
The seatbelt matches the color of your jacket, so it's not visible from afar
You took your seatbelt off for a minute to reach for something
DoNotPay Can Appeal Your AZ Seatbelt Ticket!
Disputing a seatbelt ticket is not an easy task. Instead of going through the trouble of doing it alone, opt for our service. Our app is affordable, fast, and convenient.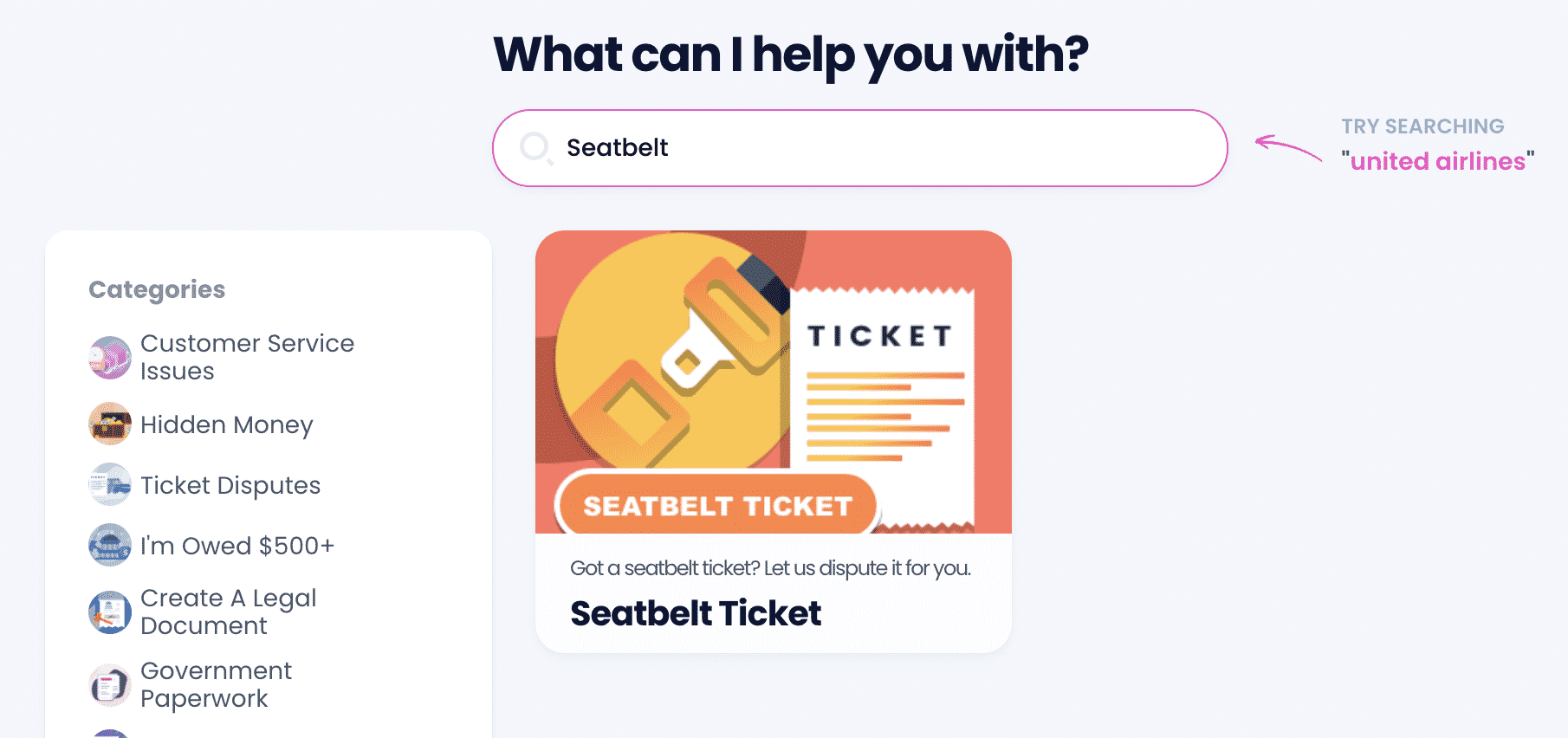 To appeal the citation from the comfort of your home, take the following steps:
Find the Seatbelt Ticket feature
Snap a photo of your ticket and upload it
Answer a few more questions about the event, including:

Who violated the seatbelt law?
When did the offense occur?
What type of argument do you want to use?
Once you've completed the required steps, we will generate an appeal letter and mail it to the ticket authorities in your stead. The whole process will take only a few minutes!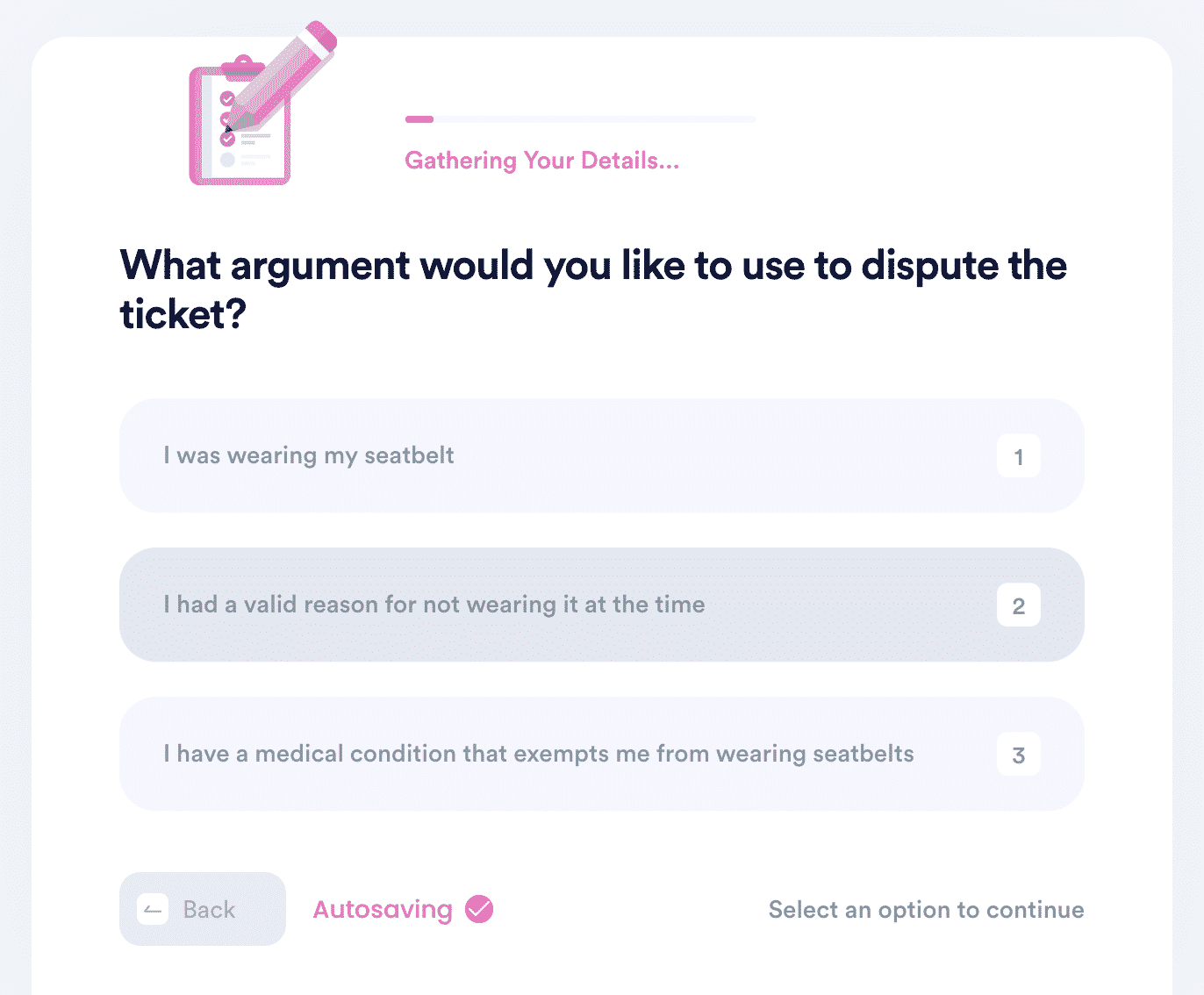 If you decide to travel to another state, you'll need to get familiar with its seatbelt laws. Our comprehensive guides for other U.S. states are listed in the table below:
Fast-Track Different Tasks With DoNotPay
Are you trying to get a refund from a company and can't reach its customer service? Was your flight canceled or delayed, and you want to get compensated? Is hiring a lawyer out of the question because they're too expensive, but you have to draft some legal documents? Once you register for DoNotPay, we'll be able to help you with all of the above and more!
Rely on our app to finally put an end to text spam, annoying robocalls, and spam emails.
Do you need help canceling your forgotten subscriptions? We'll help you detect all your active memberships or subscriptions and get rid of the ones you no longer want.
In case you're studying for your driving test, you can use our Government Tests Prep product and ace this and many other exams. We can also schedule an appointment with the DMV on your behalf.
If you have to claim your car or any other insurance or warranty, rely on DoNotPay. Use our app to also contest parking tickets in a jiffy!
Protecting Your Privacy Is Easy Using Our App!
While staying anonymous online can be difficult, we can turn it into a breeze. Get a temporary number when you sign up for various platforms. Do you want to keep other personal info to yourself? Use our virtual credit card and avoid hidden charges for free trials.
We'll also help you stay safe from stalkers and harassers, sex offenders, defamation, and workplace discrimination.