Everything You Should Know About Kentucky Seatbelt Laws
Not knowing enough about the seatbelt regulations in your state may result in serious accidents, court proceedings, and huge citation costs. Even though Kentucky has a satisfying number of drivers who buckle up regularly, keeping up with the current rules is a must for every person operating a motor vehicle.
Kentucky seatbelt laws may be confusing, but this article can help you decode them and find all the information you need in one place. Besides the best explanation of the current regulations, we offer you an amazing tool that can assist you in creating a customized appeal letter and fight any seatbelt ticket!
Learn how to do it by signing up for DoNotPay and skip the administrative hurdles without complications.
Kentucky Seatbelt Law in Brief
As per Title 16, Section §189.125 of the Kentucky Revised Statutes, the current seatbelt laws apply to any motor vehicle designed for carrying up to 15 people. Each car or vehicle must have appropriate anchors and attachments to which drivers can secure seatbelts.
The law is quite straightforward. All passengers riding any vehicle made after 1965 must wear safety belts regardless of whether they sit in the back seat or front seat. Drivers are responsible for ensuring that everyone in their motor vehicle adheres to this traffic regulation.
Breaking the seatbelt law is considered primary enforcement in Kentucky. It means that a police officer can stop the car if they notice passengers aren't wearing a seatbelt even if there are no other violations.
Since failing to wear a safety belt doesn't count as a moving violation, getting a seatbelt citation doesn't:
Kentucky Seatbelt Law Exemptions
The current seatbelt law in Kentucky states that the following categories of drivers/passengers are exempt from wearing their seatbelts:
People with medical conditions that make wearing a safety belt difficult or impossible—They must have a letter statement provided by a licensed medical practitioner or chiropractor anytime they operate or ride a vehicle
Persons who operate farm trucks that are registered for agricultural works or heavier than a ton
U.S. Postal Services (USPS) mail carriers when performing their delivery duties
What Are the Child Seatbelt Laws in Kentucky?
Statistics say that more than 90% of parents in Kentucky don't know how to secure their children adequately during the ride. While it's quite a discouraging fact, the situation can improve if all drivers become aware of the following children seatbelt rules:
| Type of Passenger | Explanation |
| --- | --- |
| Children under the age of one weighing 20 pounds or more | Must be secured in an appropriate rear-facing child seat or any other approved child restraint device |
| Children under the age of eight weighing 40 pounds | Must be in a child booster seat during the ride |
| Children above the age of eight weighing 57 pounds or more | Must be secured with a properly installed safety belt |
All passengers below 12 must sit in the back seat.
How Much Do You Have To Pay for a Seatbelt Fine in Kentucky?
The standard amount you must pay if you or any passengers in your vehicle get caught without a seatbelt is $25. Extra fees may apply if you don't pay the ticket within the specified deadline.
If the police officer notices that your child isn't in a booster seat even though they still need it, you will get a $30 fine. You can get such a citation dismissed if you prove to the court that you have purchased a booster seat for your child after the offense.
How To Fight a Seatbelt Ticket in Kentucky
There are two methods for arguing a seatbelt citation you can use:
Expressing reasonable doubt—If the law enforcement officer fails to assess the situation well and makes a mistake, you can file a claim with the ticket authorities and try to prove that you were indeed buckled up
Taking a due diligence defense—If you are the one who made a mistake, you can't use the option of showing reasonable doubt. In such a situation, you should submit a letter to the court explaining why you didn't have your seatbelt on. The reason must be strong and supported by specific evidence if applicable
Both options require you to write an appeal letter. The process takes some time, and it can be difficult if you aren't skilled in writing such documents.
Ready To Have That Ticket Dismissed? Entrust Your Appeal Letter to DoNotPay
Whether you are too busy to craft a complaint letter or insecure about doing it yourself, DoNotPay has got your back! We provide a perfect solution for appealing seatbelt tickets all around the USA by helping you generate an appeal letter from the comfort of your home.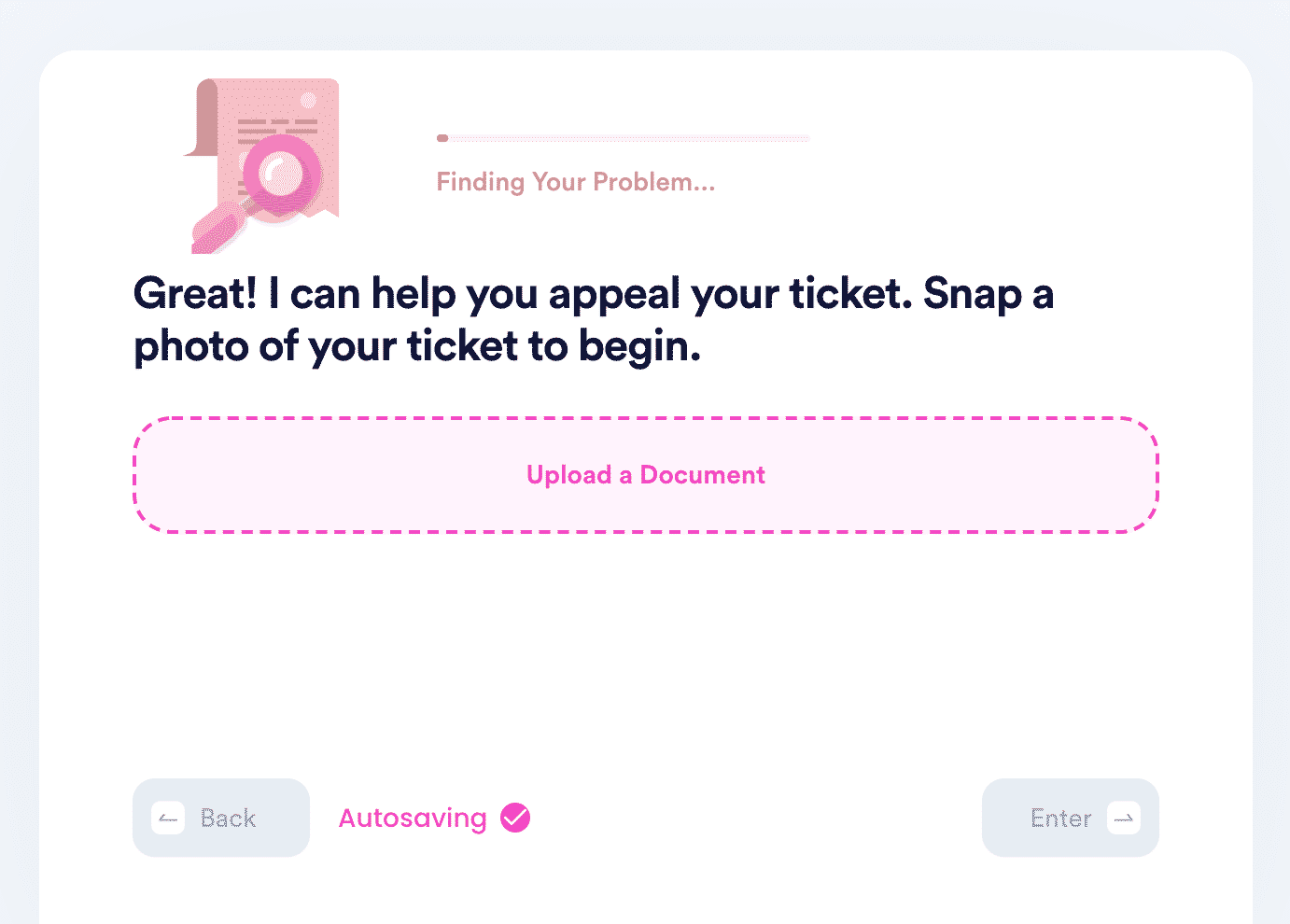 Here's what to do:
Visit DoNotPay and log in to your account
Access the Seatbelt Ticket product
Answer a few easy questions about the:

Person who committed an offense
Argument you want to use to fight the citation
Particular situation you have faced

Take a photo of your seatbelt ticket and upload it to our platform
Upon receiving your info, we will prepare a personalized claim for you in less than five minutes!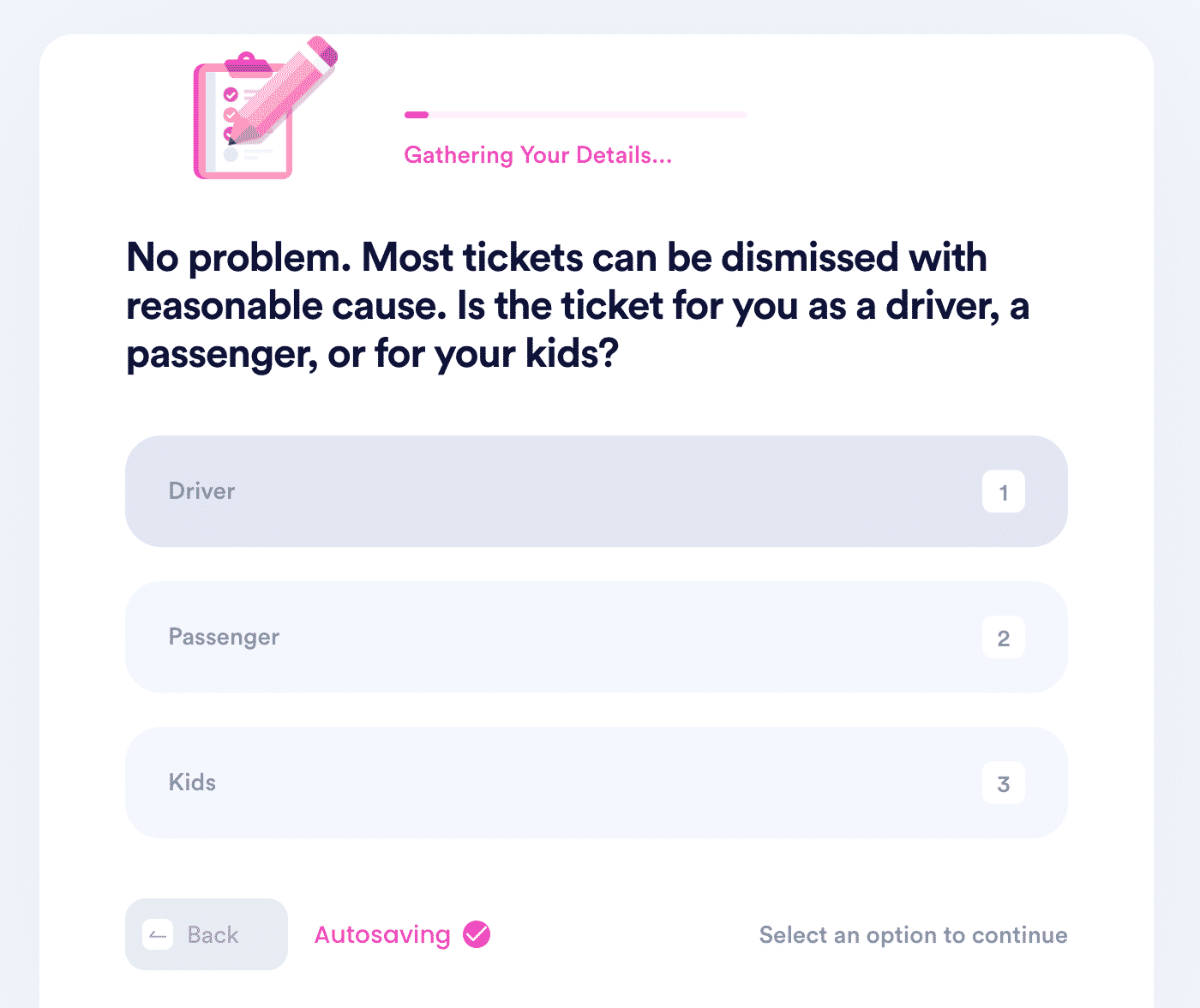 DoNotPay Offers More Assistance!
Our app boasts many features that can make your life easier.
Do you need help searching for unclaimed money or covering bills? Are you looking for clinical trials you can sign up for to earn some extra money? We can help you out in a flash!
Other tasks we can streamline for you are the following:
Forget Hiring a Lawyer—Use DoNotPay Instead
You don't want to spend a fortune on lawyer fees? No problem! DoNotPay—the world's first robot lawyer—is here to assist you! With our help, you'll be able to file complaints, sue anyone in small claims court, handle stalking and harassment, get crime victims' compensation, and draft numerous documents, including:
If you need to get a document notarized, you can also count on our help. We'll connect you with an online notary who will notarize your document in a flash.