Everything About the D.C. Seatbelt Law
Washington, D.C. takes its road safety seriously. As of 1997, it has been employing strict seatbelt regulations to lower the number of deaths and serious injuries caused by car crashes.
With the help of campaigns such as Click It or Tick It and Video Car Seat Assistance Program, it reached a safety belt usage rate of 95.4% in 2019—one of the best in the U.S. District of Columbia has managed to keep this percentage over 90% for the last five years.
What is this famously strong D.C. seatbelt law? Find out in our comprehensive guide. DoNotPay brings you the scoop on:
Who needs to buckle up in D.C.
What the ticket will do to your driving record and car insurance
What Is the D.C. Seatbelt Law?
The D.C. seatbelt law states that the driver and all passengers in the vehicle must have their seatbelts on. The safety belt needs to be used properly, or you can get a ticket.
Drivers are responsible for ensuring that the passengers comply with the law. If any of the occupants don't buckle up, the officers can pull the car over solely because of that. They have the right to do so since D.C. is one of the states with primary seatbelt law enforcement.
People in the following situations can be excluded from wearing a seatbelt:
Occupants with verification from a physician about a medical condition that prevents them from using a safety belt
Drivers and passengers in a vehicle manufactured before 1966
Passengers who don't have an available seatbelt to put on as the existing ones are occupied by other people
Taxi drivers with a taxicab license who engage in transporting passengers between 6 p.m. and 6 a.m.
What Does the D.C. Seatbelt Law Say About Children Passengers?
Children must be in a car seat or use a seatbelt at all times during the ride for their safety. The law delegates that children under eight years of age must be restrained with a proper safety system. Follow these guidelines for children's seatbelt and car seat use:
| Age | Weight | Must Be Restrained With |
| --- | --- | --- |
| Under one | Up to 20 pounds | Rear-facing car seat |
| Over two | Over 20 pounds | Front-facing car seat |
| Under four | Up to 40 pounds | Five-point harness seat |
| Under eight | Over 40 pounds | Booster seat |
| Over eight | About 80 pounds | Regular seatbelt |
How Much Is a Seatbelt Ticket in D.C.?
If the police catch you or a passenger without a safety belt, you'll need to pay the cost for breaking the law—which is $50 per offense.
If you fail to secure children, you'll face heftier fines. When you get the ticket, you can choose to:
Pay a $75 fine
Pay a $25 fee and take a Child Safety Restraint Class
If you repeat the child seatbelt law violation, the cost will increase in this order:
The second offense comes with a $75 fine and a $25 fee
The third offense comes with a $125 fine
Subsequent offenses bring a $150 ticket
Does the Seatbelt Ticket Affect Your Driving Record?
The District of Columbia uses a point system as a warning method for reckless drivers. Once you reach 10–11 demerit points, they'll suspend your license, and 12 points lead to revoking your driving privileges.
Not using a seatbelt is a moving violation in D.C., and you'll get three points if you don't comply with the seatbelt law. Once your driving record shows a sign of traffic offense, your insurance rates will go up.
What Can You Do When the Ticket Is Issued Unjustly?
When you are guilty of breaking the seatbelt law, it might be easier to pay the fine and move on. Otherwise, not paying what you owe to the authorities will result in a higher fine. They'll also assess your points, and your driving license can be suspended or revoked.
In case you believe that you didn't deserve the citation, there's an option—overturn it in court. You can do that by:
Showing a reasonable doubt—A credible explanation why the police officer thought that you weren't buckled up when you were
Presenting a due diligence defense—A valid reason why you were unbelted—explain that you were driving in reverse, having an emergency, or similar
Having a good argument may not be enough if you don't present it in the right way. If you aren't sure how to do that, ! You can get a tailor-made convincing appeal in a couple of minutes!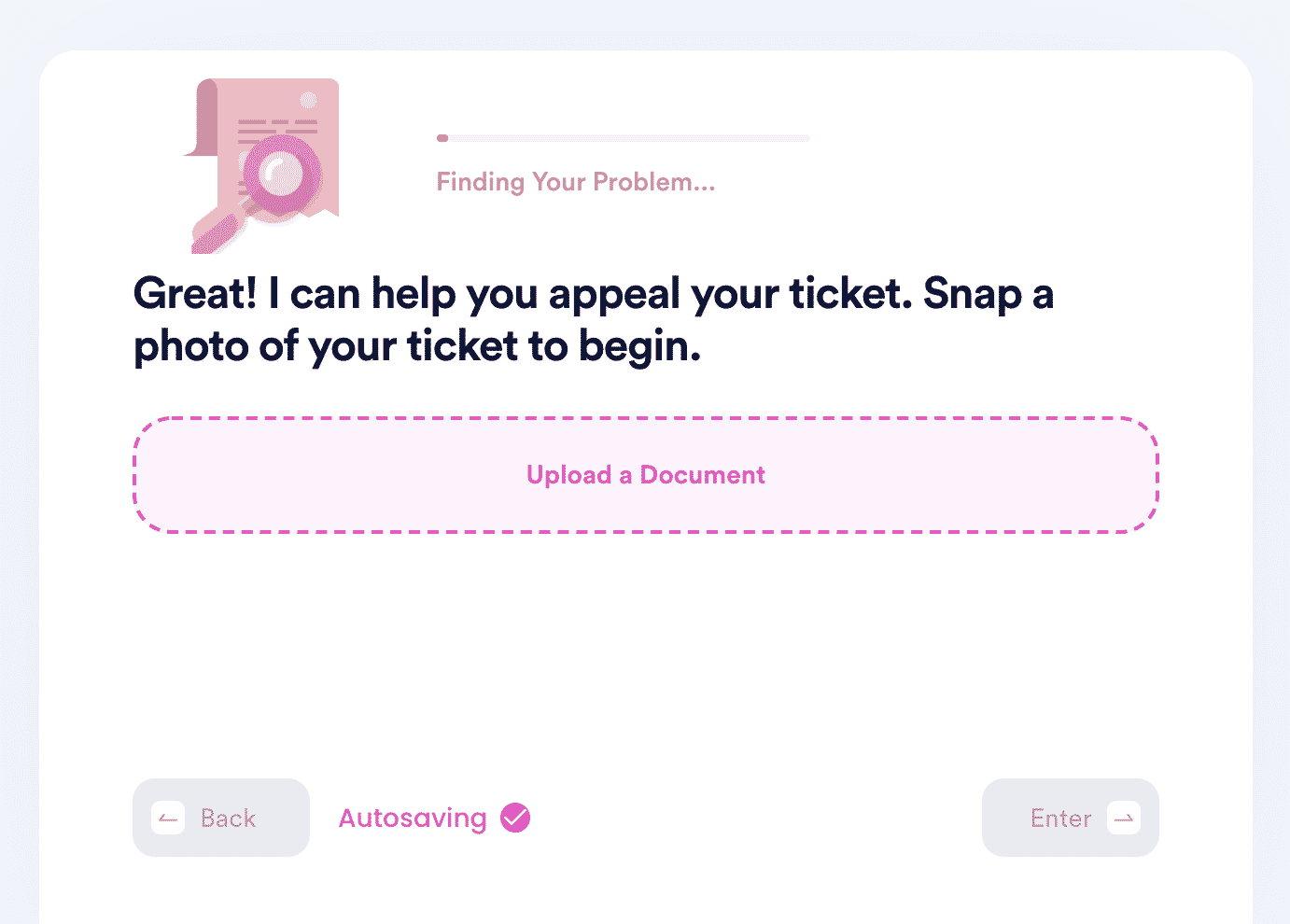 Get Your Appeal Ready in a Snap with DoNotPay
DoNotPay offers a fast, convenient, and affordable alternative to costly lawyers. We can draft and mail your ticket appeal letter, and you'll only need to provide us with information about the ticket.
Here's what you should do:
Go to the DoNotPay website and
Access the Seatbelt Ticket tool
Add a photo of the ticket
Answer a few simple questions about the event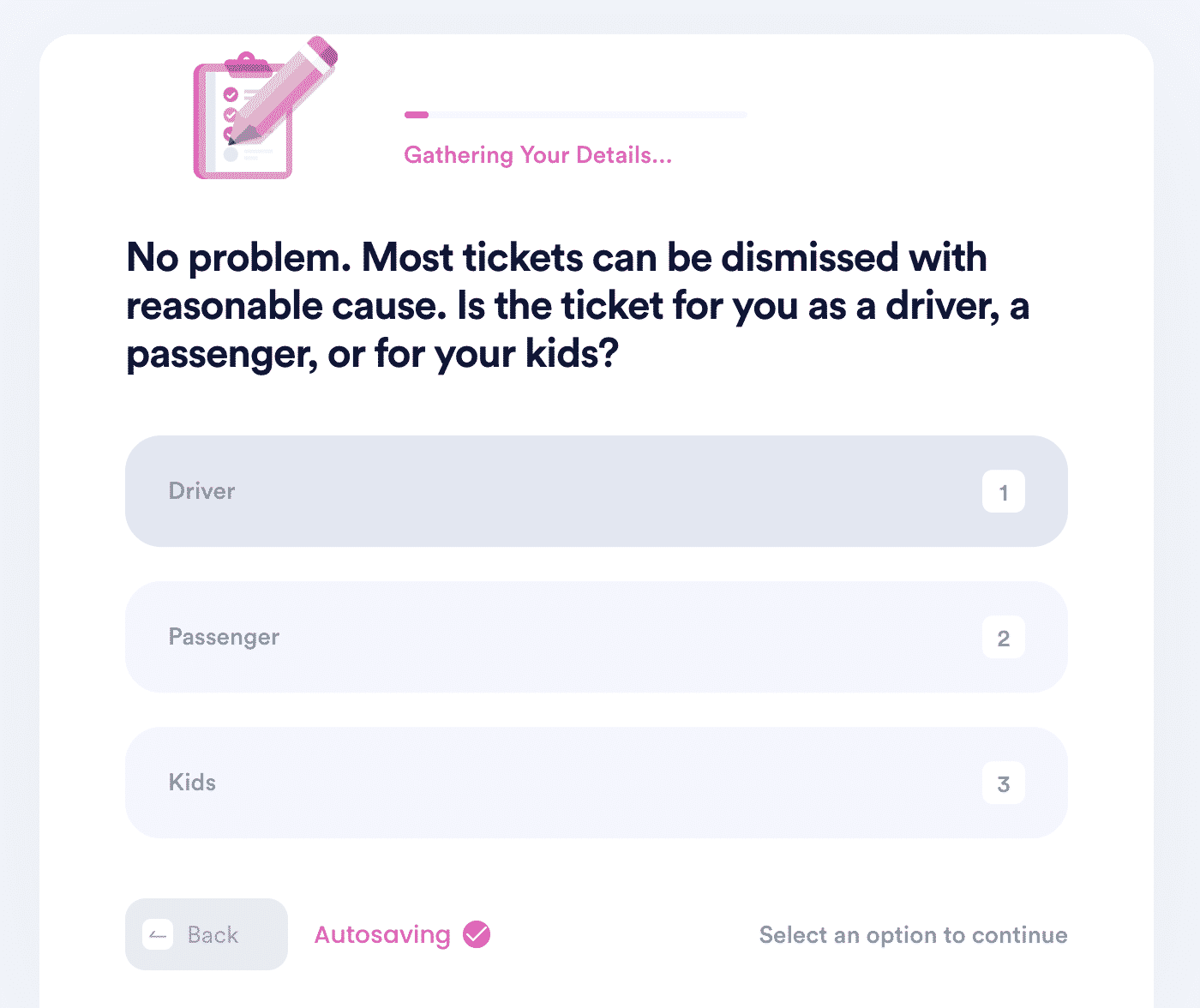 No matter where you go, you can avoid fines with DoNotPay's help. From New York to California, our helpful guides cover seatbelt laws in every state. See it for yourself:
DoNotPay's Assistance at Your Fingertips
DoNotPay is all about easy solutions. Turn to our app when you need to get rid of unwanted services, block spam emails and text spam, and overturn unpaid parking tickets. We can also assist you in registering on platforms without disclosing your number and signing up for free trials using our virtual credit card.
With our app, you'll forget about old-fashioned ways of completing certain tasks. Let us help you send faxes online, mail letters, reach customer service, and get in touch with an incarcerated loved one.
DoNotPay Has More To Offer
Our app boasts a wide range of products—from filing a warranty claim, requesting a refund, and booking a DMV appointment to getting a document notarized, filing financial aid appeal letters, and fighting discrimination at work.
For DoNotPay users, no problem is too difficult to solve. Here are only some of the tasks our app can help you complete: