Navigating the Georgia Seatbelt Laws
Car crash fatalities due to not wearing seatbelts are the most common outcomes of car accidents in the USA. Many laws have been adopted to prevent fatalities, including strict seatbelt laws. Since seatbelt laws differ from state to state, you may be confused about what you should expect in yours.
What are the Georgia seatbelt laws? Do you have to wear a seatbelt in the back seat in Georgia? Find out all the answers with DoNotPay! You can also to have a seatbelt ticket dismissed!
What Is the Georgia Seatbelt Law?
The Georgia seatbelt law is quite straightforward for both adults and minors traveling in commercial and personal vehicles. According to the GA seatbelt law:
All occupants of a vehicle aged 18 years or older sitting in the front seat must wear seatbelts
Children aged 8–17 are required to wear seatbelts regardless of where they are sitting
Passengers younger than eight should be secured in car seats
Car seats should be placed in the back seat of the vehicle whenever possible
Car seats must be fitted to the child's height and weight and be approved by the United States Department of Transportation
The Specifics of the Georgia Seatbelt Law for Children
The Georgia seatbelt law for children contains rules that must be strictly followed, and failure to do so can lead to large fines. Here's what this law entails:
| Age | Specifics |
| --- | --- |
| Newborn to 12 months | Children must be in rear-facing seats |
| One to three years old | The child is required to be in a rear-facing seat until they can fit into a forward-facing car seat |
| Four to seven years old | Children must be in forward-facing, harness-enabled car seats until they are big enough for booster seats |
| Eight to 12 years old | Children should be in booster seats until they can fit into regular seatbelts properly |
Seatbelt Laws in Georgia for Trucks
Every occupant sitting in the cab of a truck is required to wear a seatbelt. The only exception to this rule is if the truck is not in motion. Additionally, minors under the age of eighteen are not allowed to ride in a truck bed on any interstate highway. Although they can do so on smaller roadways, it is not advised.
Are There Exceptions to Seatbelt Laws in GA?
There are a few situations that can exempt you from having to be buckled up. You are not required to wear a seatbelt if you are:
A driver or passenger who is making constant stops and are not driving at a speed more than 15 mph between each stop
Driving in reverse
In a vehicle manufactured before 1965
A USPS employee delivering letters in rural areas
Delivering newspapers
Performing emergency services in a vehicle
Someone who has a written note from a doctor stating physical or medical reasons why you cannot wear a seatbelt
How Much Is a Seatbelt Violation in Georgia?
Like most states, Georgia wants to emphasize the importance of wearing a seatbelt to prevent severe injuries and death. Not wearing a seatbelt is considered a moving violation, and you can get pulled over and fined for non-compliance.
Take a look at the following table for a breakdown of the violations and the respective fines you might need to pay in Georgia:
| Violation | Fine |
| --- | --- |
| Driver or front-seat passenger without a seatbelt | $15 |
| Passengers between the ages of eight and 17 without a seatbelt | $25 |
| Children under eight not fastened according to seatbelt laws | $50–$100 |
The driver gets all of these tickets, and they can potentially lead to points being added to the driver's license.
What Happens if You Don't Pay the Fine for Your Seatbelt Ticket?
Once you receive a seatbelt ticket, you are expected to appear in court on an appointed date to pay the fine. If you forget to pay or contact the court, you could be looking at one or both of the following consequences:
Suspension of license
Arrest
Failure to pay fines and suspension of the license can affect your insurance. Drivers are often unaware that their licenses have been suspended until they try to renew their license or insurance or face another traffic violation. To avoid this situation, you should always remember to pay your fines or do a quick online check on your driving report.
If you believe you shouldn't pay your ticket, you can dispute it. The most common argument for fighting a ticket is that you have a medical condition that makes it impossible for you to wear a seatbelt or that you got the ticket unfairly or by mistake. DoNotPay is the assistant you need to get justice and get rid of a seatbelt ticket.
Contest Your Seatbelt Ticket With DoNotPay
Our app brings you an easy solution to dispute a seatbelt ticket quickly and conveniently. What you have to do is:
Find the Seatbelt Ticket feature
Let our chatbot know who got the ticket and which argument you would like to use
We will generate an appeal letter on your behalf and mail it to the Georgia ticket authorities!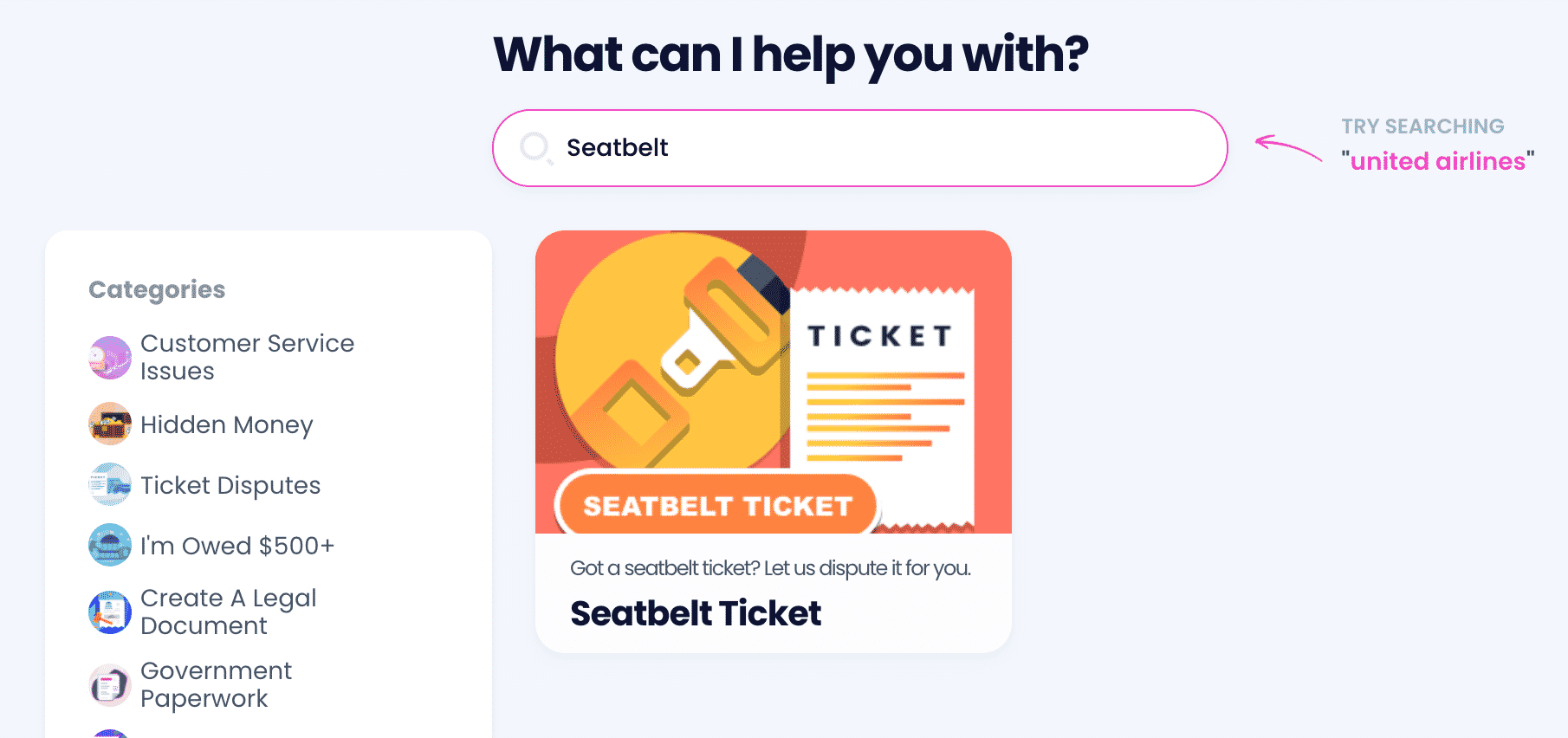 Tackle Seatbelt Laws All Over the U.S. With DoNotPay
We can help you contest seatbelt tickets all over the country! If you travel across the U.S., you should get familiar with the seatbelt laws. Check the table below and find the guide you need:
DoNotPay Brings the Best Solution to Any Problem
If you want some help canceling subscriptions, requesting refunds, or signing up for free trials without being charged, our app is exactly what you need.
No task is too demanding for DoNotPay, and our product offer keeps on growing. With us, you can lower your property taxes, enter giveaways and sweepstakes, file insurance and warranty claims, and report copyright infringement. In case you also need to apply for scholarships, draft power of attorney documents, or appeal banned accounts, we'll come to the rescue.
In a few clicks, you'll get the assistance that you've been looking for!
Our App Helps You Protect Your Privacy
Keeping your privacy intact is no easy feat since more and more services request your email address, phone number, and other personal details. If you sign up for DoNotPay, that requirement will become a thing of the past!
With our Virtual Credit Card product, you'll get a randomly generated name, email address, and payment details and stay unknown. If a platform asks you to submit your phone number, you can select our Burner Phone feature and get a temporary number.
DoNotPay can also put a stop to spam emails, text messages, and bothersome robocalls. We can even help you conduct a sex offender search for your area, file anonymous HR complaints, generate child travel consent forms, and send demand letters to your noisy neighbors.