The Best Guide to Decoding the MD Seatbelt Law
Even though Maryland boasts a huge number of regular seatbelt users among drivers, the statistics can always be better. It's crucial to be aware of the state laws and know exactly how to avoid hefty fines or court appearances for seatbelt tickets.
If you aren't familiar with the MD seatbelt law, we offer you our assistance in deciphering all the rules you should have in mind. Get all the answers you need regarding child passenger seatbelt regulations, citation costs, and the simplest appeal procedure that you can start by !
Maryland Seatbelt Laws in a Nutshell
To help you understand how seatbelt laws in Maryland work, we prepared a table with the most common questions and the best answers. Check out the details below:
Question
Answer
Who must wear a seatbelt in Maryland?
Driver and all passengers
Is a seatbelt law violation a primary or a secondary offense in Maryland?
When the passengers in the front seat aren't buckled up, it's a primary offense. If the backseat passengers are not wearing safety belts, they commit a secondary traffic violation
Is a seatbelt ticket considered a moving violation?
No
Do seatbelt citations affect your driving record or add points to it?
No
Will a seatbelt ticket in Maryland increase your car insurance rates?
No
What vehicles does this law cover?

Class A—passenger
Class E—trucks
Class F—truck tractor
Class M—multipurpose
Class P—passenger bus vehicle

What vehicles aren't covered by the seatbelt law in Maryland?
Class L—historical vehicles
Who Is Exempt From Wearing a Seatbelt in Maryland?
Not everyone who operates approved motor vehicles in Maryland is required to have a safety belt on. Drivers and passengers exempt from the general Maryland seatbelt law are:
Physically disabled persons
Persons who have a specific medical condition that doesn't allow them to buckle up—To prove their health issues, they must provide a certification stating the particular disorder and the reason why wearing a safety belt would affect their health negatively
Contact carriers and the United States Postal Services (USPS) deliverers on duty
Child Passenger Safety Laws in Maryland
If you are a parent or tend to drive children, knowing everything about child seatbelt laws in Maryland is a must. Here's what to have in mind:
Passengers below the age of 16 must be in one of the approved child restraint devices or buckled up regardless of the sitting position
Drivers must make sure that every passenger below the age of eight is properly secured in one of the federally approved child restraint systems, including:

Infant seats
Booster seats
Forward-facing seats
Convertible seats

Children younger than 16 can't ride in a pick-up truck cargo bed
A single safety belt can't be used for buckling up more than one child
The law doesn't prohibit children from riding in the front seat, but placing them in the back seat is recommended for increased safety. The only situation that forbids front seat rides is putting a child in a rear-facing restraint device next to an active airbag
How Much Does a Seatbelt Citation Cost in Maryland?
Drivers or passengers who don't buckle up can get a fine of $83. If both a driver and passengers fail to wear seatbelts, each person in the vehicle who violates the rule will get an $83 fine. Besides this expense, there may be extra fees if you exceed the citation payment deadline or don't pay the ticket at all.
How Can You Avoid Paying a Seatbelt Ticket in Maryland?
In some cases, Maryland laws allow you to get your seatbelt citation dismissed. You can do it if you:
Have an acceptable reason for not possessing a child safety seat at the time of the offense—if you got a ticket for failing to buckle up a child
Didn't have a child safety seat at the time of the offense but managed to purchase it before the court hearing date—if you got a ticket for failing to buckle up a child
Submit an appeal to the local ticket authorities by:

Convincing them that you got a ticket by mistake—if you are positive that you were wearing a safety belt
Stating a solid reason for violating the seatbelt law—if you are guilty but believe you have an acceptable explanation for committing the offense
Appeal Your Fine With Zero Fuss Using DoNotPay
Have you tried to draft an appeal letter yourself but ended up losing your nerves or relying on suspicious online templates? With DoNotPay, you can skip this inconvenience and get a personalized appeal letter before you know it.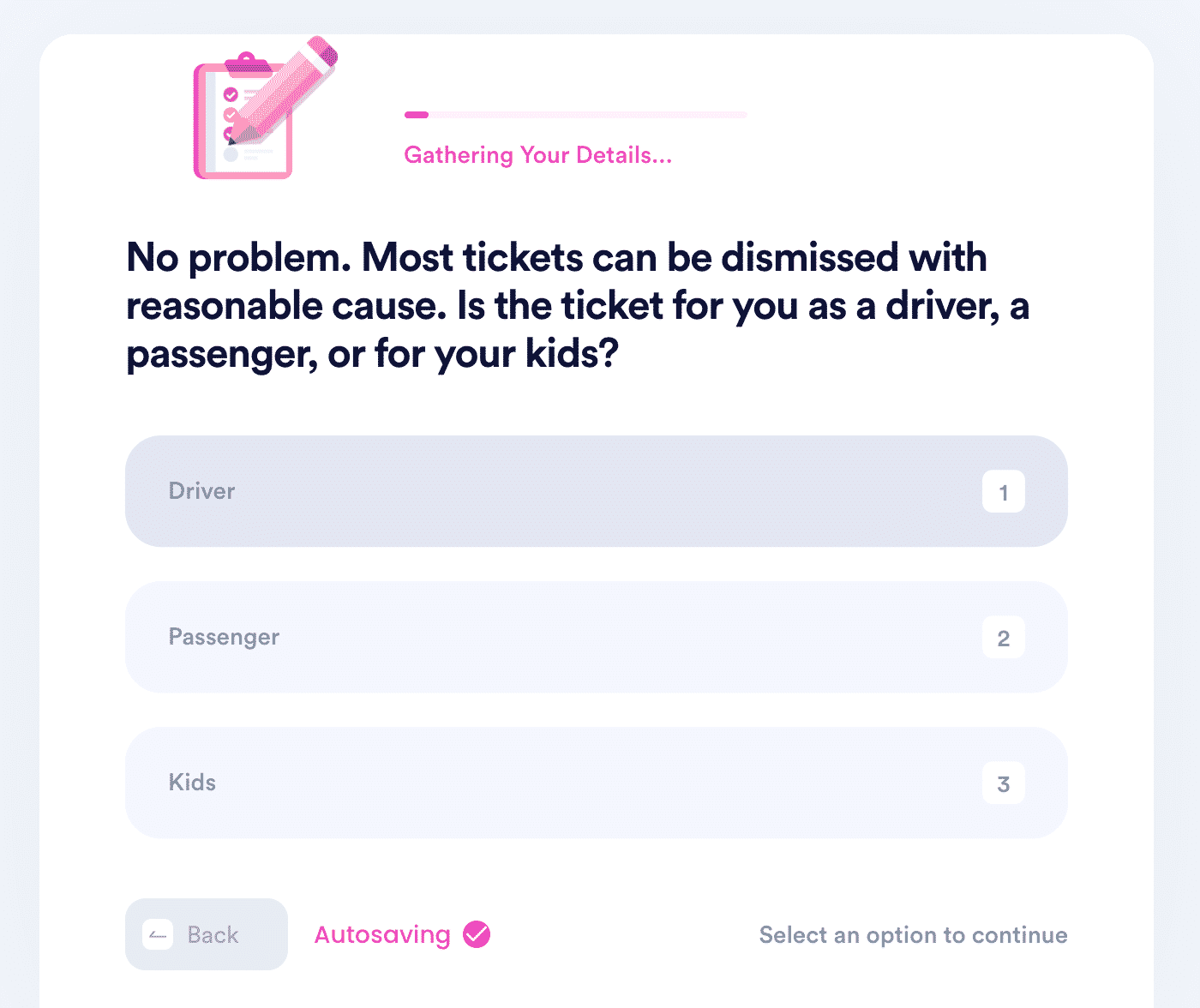 All we need you to do is take a snapshot of your ticket and answer a few simple questions. Our solution is bureaucracy-free, and you can use our app from the comfort of your home!
To get the document you need in a snap, follow the prompts below:
and sign in
Choose Seatbelt Ticket
Tell us who got the ticket
Choose the way you want to argue your case
Upload a photo of your ticket and describe your case in as much detail as possible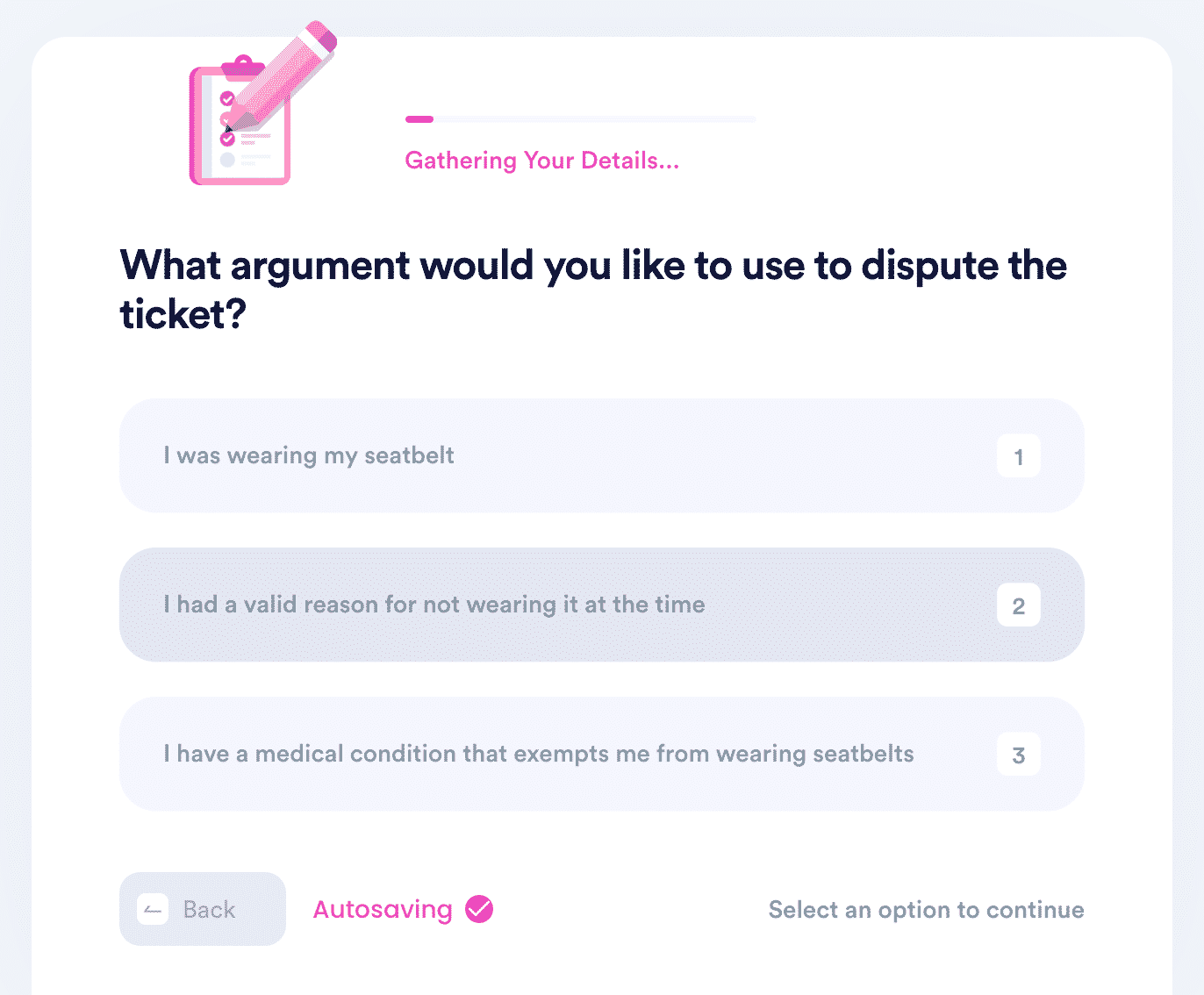 Rely on DoNotPay and Get Rid of Administrative Issues
Are you tired of returning items, canceling subscriptions, fighting parking tickets, and mailing letters? We can help you fast-track all these tasks and more! Do you need help reaching customer service, fighting workplace discrimination, submitting defamation demand letters, or filing HR complaints? Use DoNotPay and solve any issue without a hitch.
Feel free to also use our app to study for government tests, apply for scholarships, appeal low financial aid offers, and request college fee waivers.
Do you need help paying bills? DoNotPay can assist you in lowering your property taxes, getting gift card cash back, entering sweepstakes and giveaways, and getting refunds.
With us, you'll be able to both earn and save money!
Say Goodbye to Spammers With DoNotPay's Assistance
Getting spammed on the daily? Our app can put an end to this annoying issue! Block spam emails, text messages, and robocalls in a few clicks. We can even help you deal with stalking and harassment.
Thanks to our Burner Phone product, you'll get a temporary phone number that you can submit when registering on different platforms and protect your privacy.
Another way to keep your privacy intact is using DoNotPay's virtual credit card. Signing up for free trials without hidden charges and revealing your contact details has never been easier!