A Comprehensive Guide to Seatbelt Laws in Oklahoma
The risk of serious injury and death in a car accident decreases by half by wearing seatbelts and buckling children into age- and size-appropriate car and booster seats. Despite the fact that most drivers in the U.S. follow these safety precautions, some still don't. According to the Oklahoma Highway Safety Office, 687 people died in car accidents in 2016 in Oklahoma, and 52.1% of them didn't wear a seatbelt.
Failing to wear a seatbelt is not only unsafe but also against the law. Read DoNotPay's comprehensive guide and learn all about seatbelt laws in Oklahoma.
What Is the Oklahoma Seatbelt Law?
All drivers and front-seat passengers must wear seatbelts in the state of Oklahoma. This rule doesn't apply only to:
Rural postal workers while performing official duties
People who are unable to wear a seatbelt due to certain medical conditions—they must have a written attestation from a licensed physician
Can I Get Stopped by the Police for Not Wearing a Seatbelt?
Seatbelt laws in Oklahoma are primary, which means that the police has the authority to stop your car and issue a citation if you or the other front-seat passenger aren't buckled up. The law applies to drivers and front-seat passengers aged eight and older.
What Is the Cost of a Seatbelt Ticket and Will It Go on Your Driving Record?
If you violate seatbelt laws in Oklahoma, you'll need to pay a $20 fine. The offense won't go on your record or result in license demerit points. A seatbelt ticket in Oklahoma is not a moving violation and won't affect your insurance rates.
Child Seatbelt Laws in Oklahoma
The Oklahoma law states that every child younger than eight must be properly restrained in a child passenger restraint system. To keep the children safe in a vehicle, follow these requirements:
| Age | Type of Safety Restraint |
| --- | --- |
| Under two | Rear-facing car seat |
| Two to four | Forward-facing car seat |
| Four to eight | Car seat or child booster seat, unless the child is taller than 4'9" |
| Eight (or taller than 4'9") | Seatbelt (only if they're front-seat passengers) |
Oklahoma is the only state in the U.S. that doesn't require children older than eight to wear the seatbelt while riding in the back seat.
Keep in mind that the following vehicles are exempt from the child restraint requirements:
School buses
Taxis
Ambulances
Certain antique cars
If you want to keep your child safe, you'll need to select the proper car seat and adhere to the law requirements. The Oklahoma Highway Safety Office has developed a car seat program to assist parents in selecting the appropriate car seat and installing it correctly. There are inspection stations located across the state where you can get your car seat inspected to ensure that it's of good quality.
A child may also be exempt from wearing a seatbelt if a doctor certifies in writing that a restraint is not advisable due to a medical condition. A violation of car seat laws will cost the driver $50 plus court fees.
How To Dispute an Oklahoma Seatbelt Ticket
If you believe that you were issued a seatbelt ticket unfairly and don't want to pay for it, you can try to get it dismissed by the court. You can contest a seatbelt citation using one of two methods:
Express reasonable doubt
Mount a due diligence defense
Expressing a Reasonable Doubt
You can submit a claim with the ticketing authority and try to prove that you were buckled up at the time of the alleged violation. Reasonable doubt requires a convincing explanation for why the officer thought you weren't wearing your seatbelt—for example, the seatbelt was the same color as your jacket, so it wasn't visible from afar.
Mounting a Due Diligence Defense
If you're the one who made a mistake but don't think you should be fined for it, mounting a due diligence defense is your only option. You must write a letter to the court explaining why you were not wearing your seatbelt as mandated.
The justification must be compelling and backed up by facts. DoNotPay can help you build a strong due diligence defense without breaking a sweat!
Appeal Your Seatbelt Ticket With DoNotPay in Minutes!
You don't need an expensive lawyer to help you appeal your seatbelt ticket—our app is a much quicker and more affordable solution! We will generate a personalized appeal letter and submit it to the authorities using the info you provide.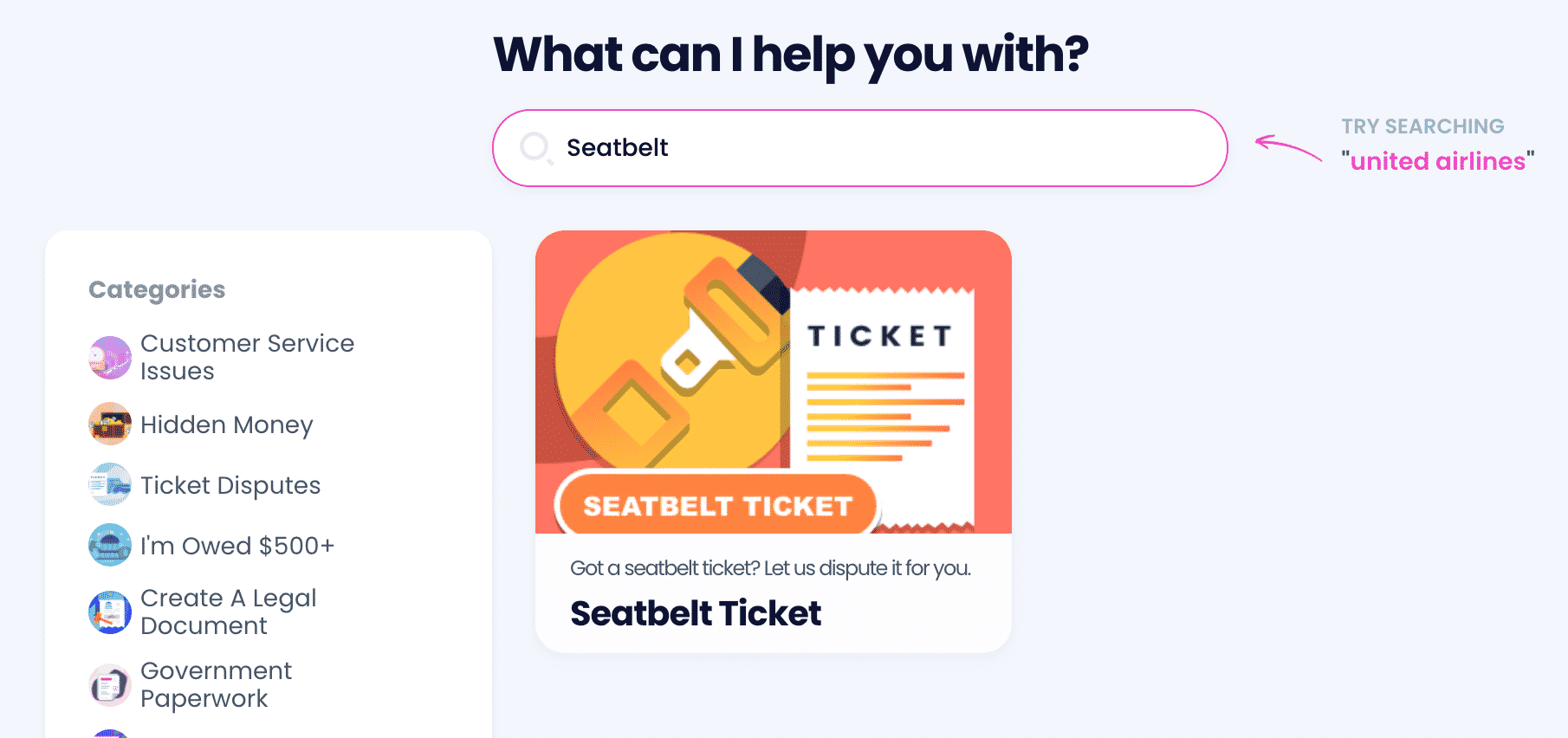 The procedure is as simple as can be—all you need to do is:
Look for the Seatbelt Ticket product
Provide us with the info about:

Who received a ticket
Which argument you want to use to fight the citation
What exactly happened

Take a photo of your ticket and upload it
After completing these simple steps, it will take us a few minutes to generate a compelling appeal letter!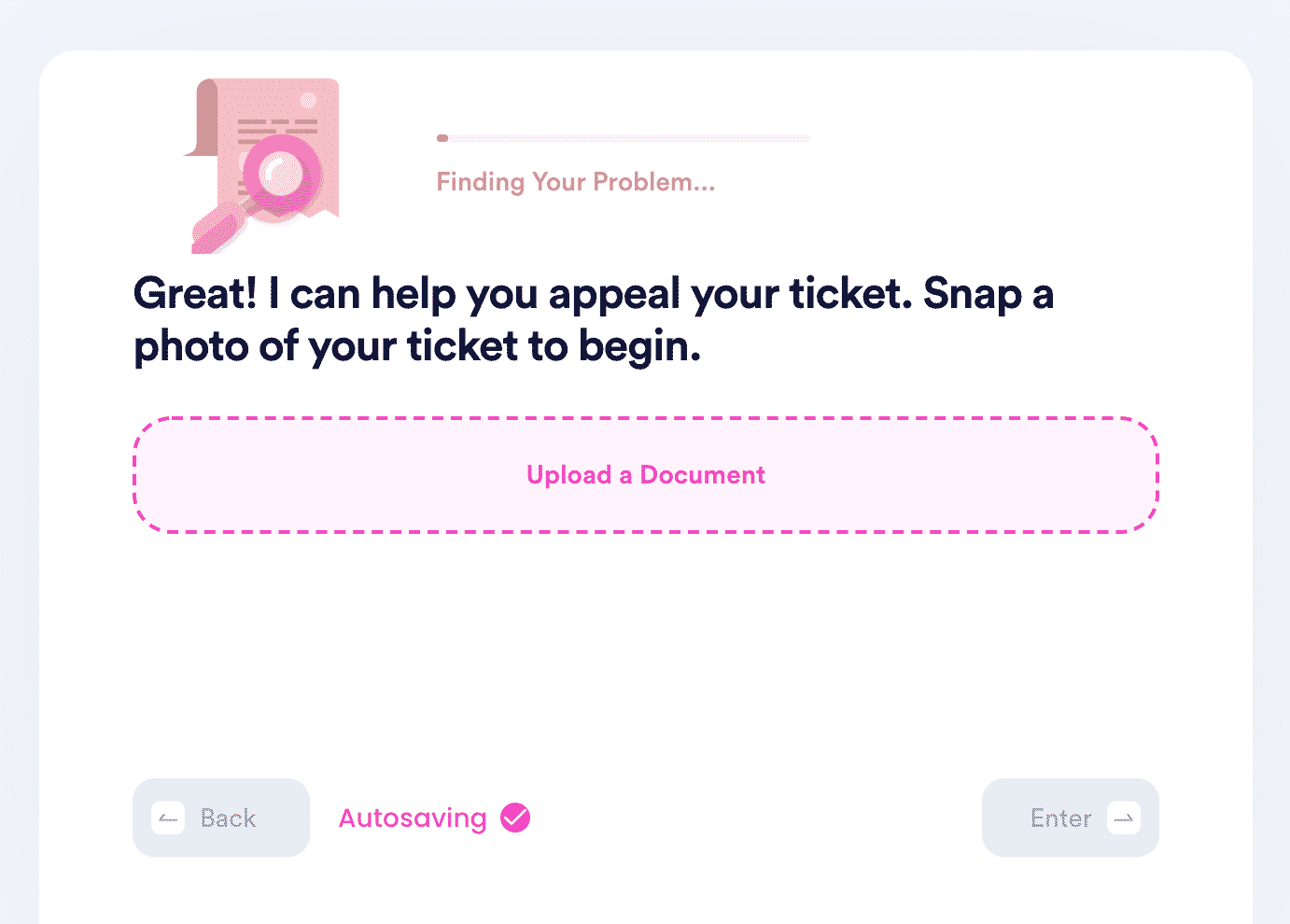 If you intend on visiting other states, you should get familiar with their seatbelt laws. In the table below, you'll find detailed guides for seatbelt laws in each U.S. state:
Fast-Track Different Tasks With DoNotPay
Are you trying to get a refund from a company and can't reach its customer service? Was your flight canceled or delayed, and you want to get compensated? Is hiring a lawyer out of the question because they're too expensive, but you have to draft some legal documents? Once you register for DoNotPay, we'll be able to help you with all of the above and more!
Rely on our app to finally put an end to text spam, annoying robocalls, and spam emails.
Do you need help canceling your forgotten subscriptions? We'll help you detect all your active memberships or subscriptions and get rid of the ones you no longer want.
In case you're studying for your driving test, you can use our Government Tests Prep product and ace this and many other exams. We can also schedule an appointment with the DMV on your behalf.
If you have to claim your car or any other insurance or warranty, rely on DoNotPay. Use our app to also contest parking tickets in a jiffy!
Protecting Your Privacy Is Easy Using Our App!
While staying anonymous online can be difficult, we can turn it into a breeze. Get a temporary number when you sign up for various platforms. Do you want to keep other personal info to yourself? Use our virtual credit card and avoid hidden charges for free trials.
We'll also help you stay safe from stalkers and harassers, sex offenders, defamation, and workplace discrimination.