Ohio Child Seatbelt Laws Explained
Car accidents are the number one cause of death in the U.S., and that's why each state takes extra steps to ensure children's safety by making child seatbelt regulations more strict.
If you want to make sure your children are safe while traveling, you should comply with the Ohio child seatbelt laws.
Knowing the laws will also help you avoid getting a seatbelt citation, acquiring points on your DMV record, having your insurance rates increased, and going to court. If you've already gotten a ticket, this article will show you how to overturn it.
Child Seatbelt Laws in Ohio
Under the Ohio child seatbelt law, all children in a vehicle must be properly secured in a restraint system or buckled up. What makes a proper child restraint system? It depends on the child's age, height, and weight. Check out the following table for details:
| Who | Details |
| --- | --- |
| Infants and toddlers | Any child under the age of four and under 40 pounds must be strapped in a rear-facing safety seat until they outgrow it |
| Children between four and eight | All children between the ages of four and eight not taller than four foot nine must be secured in a booster seat until they grow out of it. The booster seat can be placed in a front-facing position |
| Kids and teenagers between eight and 15 | Children who are eight years old or older and have outgrown the booster seat must use adult seatbelts |
The Ohio child seatbelt law doesn't specify how old your child should be to sit in the front seat.
Ohio is a mix of primary and secondary enforcement—a police officer may pull you over if they believe you're driving an improperly restrained child who is younger than four. In any other case, an officer has to pull you over for a different traffic offense and then issue a seatbelt citation.
Are There Any Exemptions to the Ohio Child Seatbelt Law?
There are a few exceptions to the child seatbelt law in Ohio. The law doesn't apply to:
Children transported in a bus, a taxi, or an emergency vehicle
Drivers who have an emergency that prevents them from properly restraining their child
Children who have a medical condition that makes it impossible or impractical for them to be restrained—the parent, caretaker, or legal guardian must have a doctor's note proving the medical condition
Do You Get Points for Failing To Comply With the Ohio Child Seatbelt Law?
If you fail to properly secure your kids in a vehicle, you can get points on your license, even though not wearing a seatbelt isn't a moving violation. For each violation of the Ohio child seatbelt law, you'll get two points. If you receive 12 or more points within two years, the Bureau of Motor Vehicles (BMV) will issue a notice for your suspension.
How Much Is a Seatbelt Ticket, and What Happens if You Don't Pay?
If you get a ticket for not properly restraining your child in Ohio, you can expect to pay anywhere between $25 and $75 (if you repeat the violation). Not paying the ticket may have severe consequences, such as:
Getting your fines doubled
Piling up penalties
Having your driver's license suspended
Losing your vehicle
Getting a warrant for failing to appear at the hearing
Is There a Way To Get Out of a Seatbelt Ticket?
If the seatbelt ticket cost is too much for you, you have the option to contest it. There are two ways you can appeal your ticket:
Showing reasonable doubt—If you decide to go with reasonable doubt, you're implying that the child passenger was properly restrained and that the law enforcement officer issued a ticket unfairly. Keep in mind that, in this case, you'll need strong evidence to support your claim
Taking a due diligence defense—Due diligence defense implies that there's a reasonable explanation for why your child wasn't restrained, such as:

Your child had a medical condition that prevents them from wearing a seatbelt or being properly restrained
The kid had removed the seatbelt, and you were looking for a proper spot to stop the vehicle and put it back on
Fighting seatbelt tickets might seem complicated, but it doesn't have to be if you . Our platform is user-friendly and affordable. We can help you create an appeal letter in a few minutes.
How To Fight Seatbelt Tickets Using DoNotPay
Paying lawyers to get you off the hook might cost you as much as your seatbelt fine. That's why you should opt for a budget-friendly option—DoNotPay. We'll create a personalized appeal letter to help you present your argument in the most convincing way.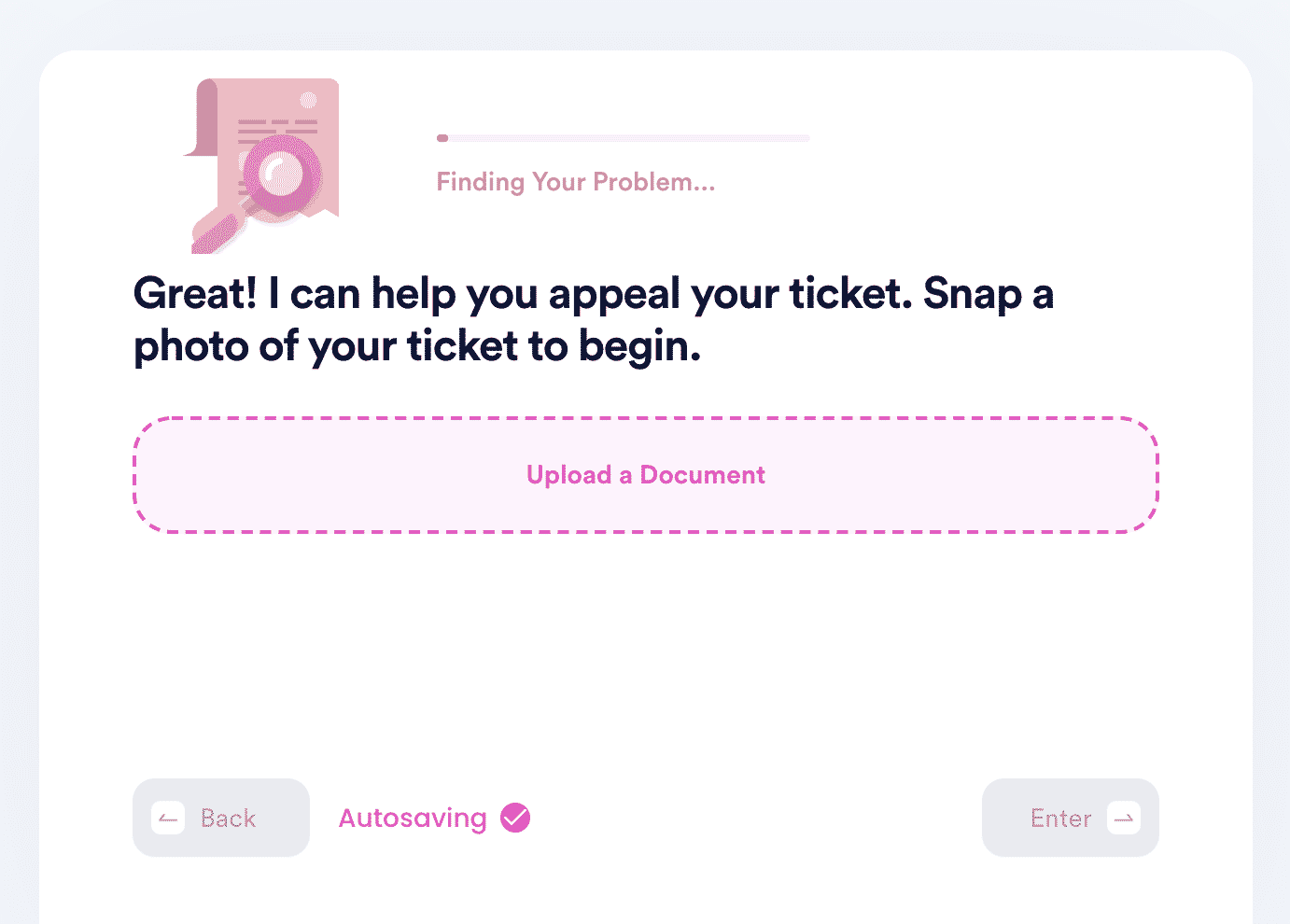 To use this feature, you only need to and do the following:
Open the Seatbelt Ticket product
Provide the photo of your citation
Answer a few questions about your ticket
Tell us what argument you want to use
Once we generate the appeal letter, we'll send it to the seatbelt ticket authorities.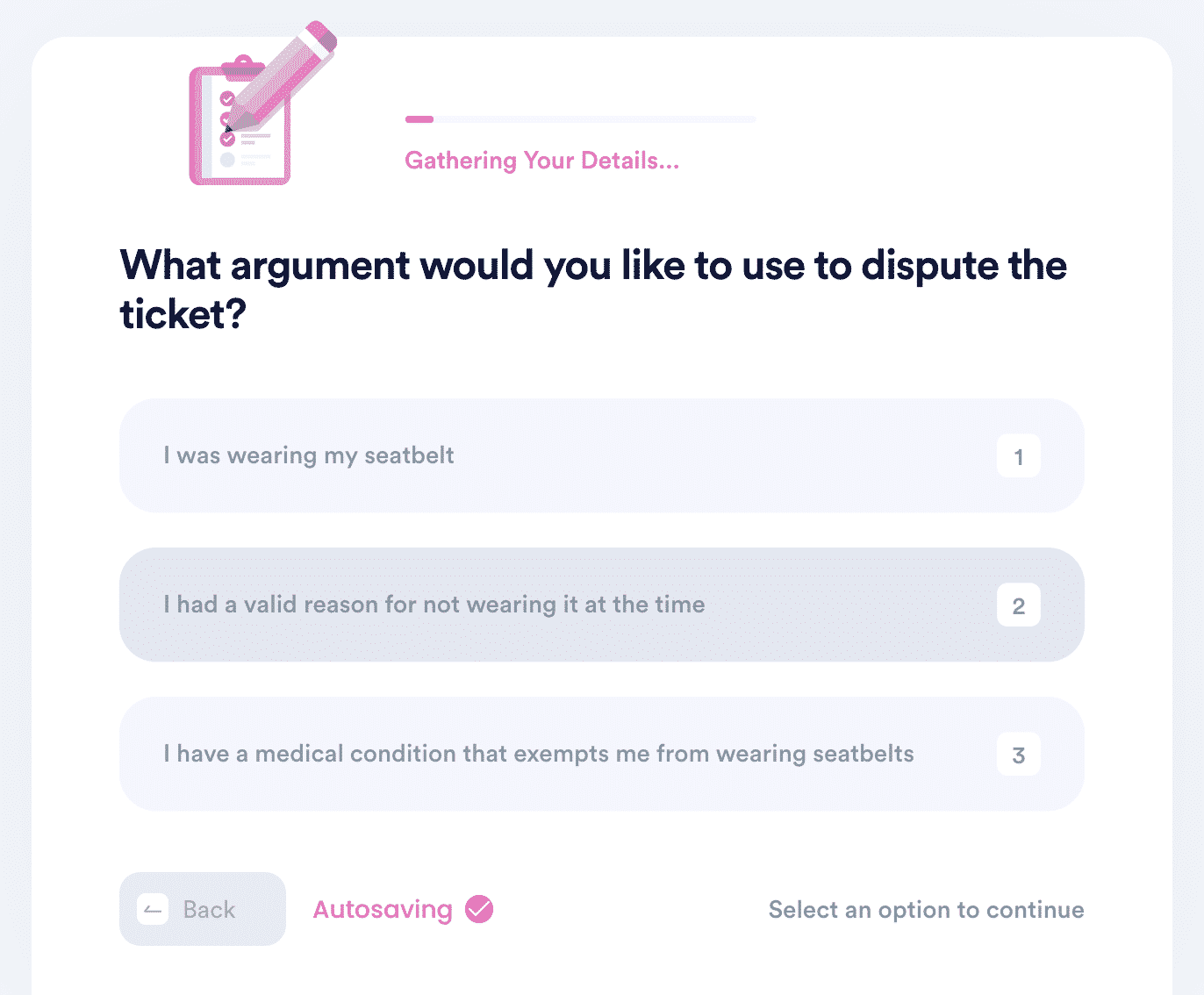 Fight Corporate Greed With DoNotPay
Greedy companies may take advantage of your time and money, but you shouldn't take it lying down. DoNotPay is here to help you get what you're owed and protect yourself!
Once you sign up for DoNotPay, you'll be able to get free trials and not worry about automatic renewals. When you don't want to disclose your personal info, use DoNotPay's virtual credit card and receive a randomly generated name, email address, and credit card details.
Tired of spending hours and even days requesting a refund or cancellation? Our AI-powered app completes the tasks within minutes.
In case you're not satisfied with an item or it was delivered late, we can help you return it for an exchange or refund. We can also fast-track claiming your warranty or insurance.
Strapped for Cash? Earn Some Money With the Help of Our App!
You may need help paying your bills, getting what you're owed, or earning some extra money. Whatever the case, DoNotPay is your go-to.
With our help, you can fight your parking tickets, request a college fee waiver, reduce your property taxes, and enter giveaways. You may even have some money lying around. Don't hesitate to search for unclaimed money under your name or redeem used gift cards.