Understanding Arizona Child Seatbelt Laws
Car accidents still take so many lives across the country, and children are the most vulnerable. In such cases, using safety belts is the single most effective way to save lives and minimize injuries. That's why Arizona authorities created laws for enforcing the use of seatbelts and child restraint systems.
This guide will answer all the essential questions about the Arizona child seatbelt laws, such as:
What does the law state?
What are the Arizona child seatbelt law exemptions?
How much does a seatbelt ticket cost in Arizona?
How can you appeal your seatbelt ticket?
What Is the Arizona Child Seatbelt Law?
Under the current Arizona child seatbelt laws:
Children under five should be properly secured in a child restraint system
Children between five and eight, with a height of no more than four feet nine inches, must be properly secured in the appropriate child restraint systems
The right restraint system for a child is determined according to the manufacturer's recommendations.
Drivers who are exempted from the Arizona child seatbelt laws include those who operate:
Motor vehicles originally manufactured without safety belts
Recreational vehicles
Commercial motor vehicles
Authorized emergency vehicles or any other vehicle transporting a child in cases of emergency to obtain necessary medical care
A motor vehicle that doesn't have sufficient space for the required number of child restraint systems when transporting more than one child under eight years of age when:

At least one child is properly restrained
The driver has secured as many children as reasonably possible
The Arizona law does not specifically state when a child should ride in the front seat, but the general consensus is the age of 13.
Fines for Violating Child Seatbelt Laws in Arizona
If you are pulled over for violating the child passenger safety rules, you will get a fine of $50. In case you didn't own the right car seat when you got the ticket, you can get the fine waived by acquiring a child restraint system and mailing the proof of purchase to the court.
In Arizona, violating the child seatbelt law is not a moving violation, and you will not be assigned demerit points.
Be careful when driving in other states that may consider disregarding child seatbelt laws a moving violation. Check the table below for more details on the children seatbelt laws in different states:
What Happens if You Don't Pay Your Ticket?
If you fail to pay the fine or appear in court for a child seatbelt violation, your driver's license may not be renewed. The court may also instruct the Arizona Motor Vehicles Department (MVD) to suspend your driver's license until you have satisfied the traffic court requirements.
It's best to avoid this because it may affect your insurance rates—companies look at your driving record when determining rates.
How To Contest a Child Seatbelt Ticket in Arizona
Do you know that you can dispute a seatbelt ticket instead of paying the fine or appearing in court? All you need is a valid reason for not securing the child, for instance:
A child's needs were being tended to
One of the children unbuckled the seatbelt when you were driving without you noticing
You were having an emergency
The size of the baby does not allow for buckling up
The child has a medical condition that prevents you from restraining the child properly
Can't get a solid defense? DoNotPay can help you by . You will only need to provide us with a photo of your ticket and some details on what happened. We will draft an appeal letter and hopefully get your seatbelt ticket dismissed.
Appeal Your Seatbelt Ticket the Easy Way—Use DoNotPay
When you contest a ticket with a solid defense, you can skip court appearances, paying hefty fines, filing paperwork, and risking raised insurance premiums. You also don't need to break the bank to get a lawyer for that. You can get help from the comfort of your home by using DoNotPay.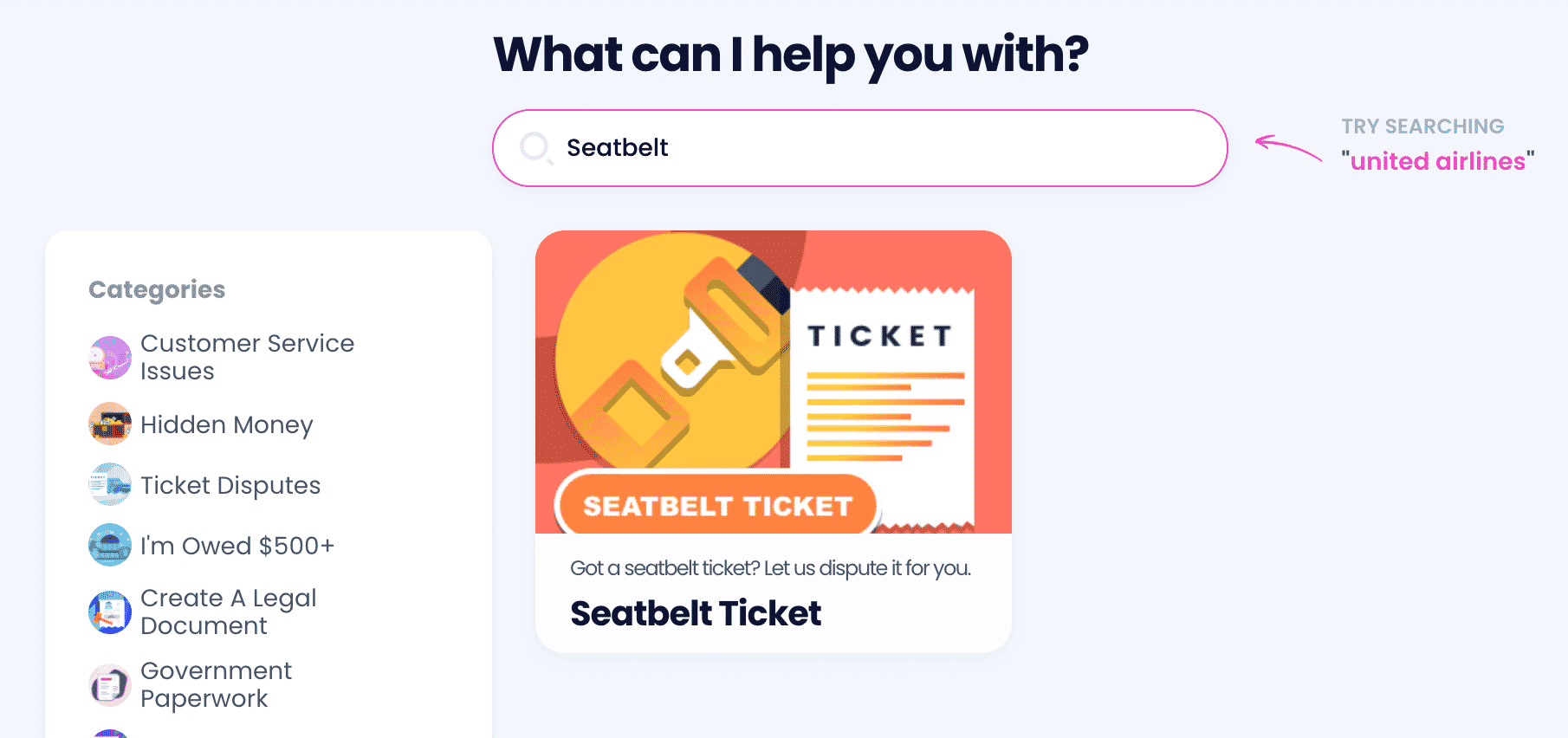 Our app offers the easiest and quickest way to contest a seatbelt ticket. Get your ticket dismissed by following these steps:
Find the Seatbelt Ticket tool
Upload a picture of your ticket
Answer a few questions, like:

Who got the ticket?
What type of argument would you like to use?
The world's first robot lawyer knows how to draft the best appeal letter using the information you have provided. In the blink of an eye, we will send the appeal letter to the right authorities for you.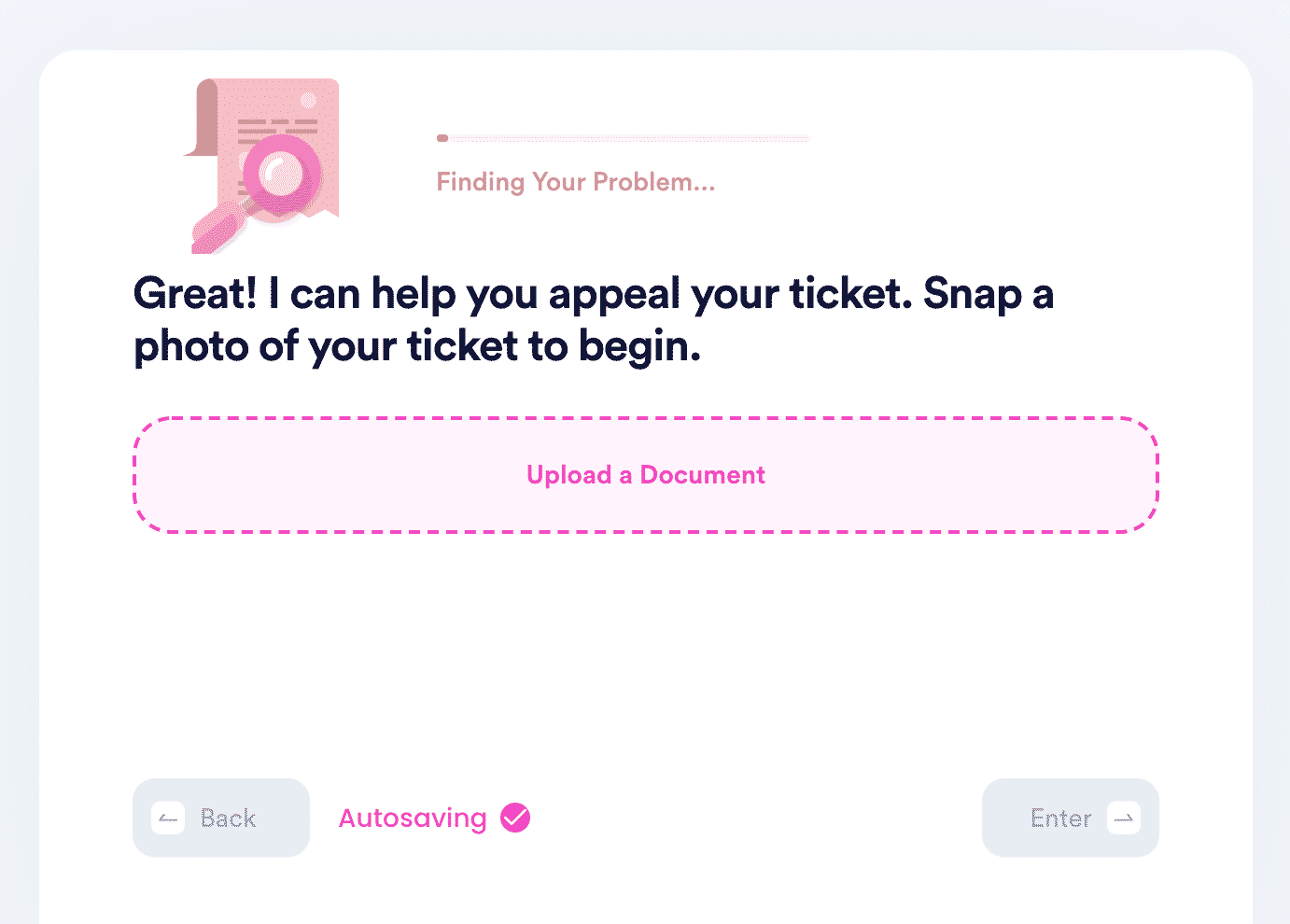 Planning to visit another state? You need to know the applicable laws to avoid the consequences of non-compliance. Check out our detailed guides to seatbelt laws in other states in the table below:
Make Your Money Troubles Go Away
If you want to join free trials and not worry about automatic renewals, our app is what you need. With DoNotPay's virtual credit card, you'll be able to avoid charges and keep your personal details to yourself.
We can also help you get a refund or request a cancellation.
Getting your money back is our field of expertise—Use DoNotPay to:
No Task Is Too Difficult for DoNotPay
Signing up for our app brings you an AI-powered assistant. Check out the benefits of having a DoNotPay account in the table below: