What Does the Florida Seatbelt Law Say?
Driving in Florida is a much safer adventure when you pay attention to the local seatbelt laws. Whether you are alone in the car or driving your family members, complying with these regulations saves lives in case of a car crash or any other similar problem.
If you still don't know much about Florida seatbelt laws but are willing to puzzle them out, our guide is all you need! By exploring it, you will learn:
Is There a Seatbelt Law in Florida?
Yes, there is. The first seatbelt law in Florida came into effect on July 1st, 1986, and was subject to several changes before it took the form it has today. These regulations have increased the total number of safety belt users in the Sunshine State to more than 90%.
Below is a list with answers to the most common questions related to general seatbelt laws in Florida:
Florida Seatbelt Law Exemptions
Here are some exceptions to the regular Florida seatbelt law:
People with physical or mental health conditions that make wearing a seatbelt difficult—They must always have a copy of the certification provided by a licensed medical practitioner when driving/traveling
Drivers and travelers riding in school buses purchased before December 31, 2000
Drivers and passengers riding in buses that transport people for compensation
Persons driving farm equipment and vehicles used for agricultural purposes
Drivers of trucks whose net weight is below 26,000 pounds
Persons driving mopeds, motorcycles, bicycles, or electric bicycles
Solid waste or recyclable collection service employers on duty
Newspaper home delivery employers on duty
Rural letter carriers employed in the U.S. Postal Services
How Do Children Seatbelt Laws in Florida Work?
Child seatbelt laws in Florida are quite straightforward and include the following regulations:
All passengers under the age of 18 are required to be buckled up while the vehicle is moving
Children below five must be secured in an adequately installed child restraint system
Babies and toddlers aged three years and below must be placed in a special child seat installed by the car manufacturer and approved by federal laws
Kids aged four and five should be placed in an acceptable car seat, separate carrier, or a booster seat
Children above the age of five can use a regular safety belt for adults
Drivers are fully responsible for securing the child in an appropriate safety restraint system
All passengers below 12 should ride in the back seat
How Much Does a Seatbelt Citation in Florida Cost?
The basic seatbelt citation cost in Florida is $35, but in most cases, it gets increased due to additional court fees. The total ticket cost depends on the county. For example, it's $114 in Miami-Dade County, $115 in Broward County, $116 in Palm Beach, and so on.
Failing to comply with the local children seatbelt laws or provide a proper child restraint system for passengers younger than five entails a $60 fine. In case of any complications or court procedures, your expenses may increase.
If a Passenger Is Not Wearing a Seatbelt, Who Gets the Ticket in Florida?
According to state law, if any passenger gets caught without a safety belt, the driver is considered responsible and gets the ticket.
DoNotPay Provides the Best Appeal Letters With Zero Hassle
Why waste hours drafting an appeal letter yourself when DoNotPay can do it for you within minutes? Our app helps you avoid unnecessary bureaucracy by generating a unique claim based on several essential details you share with us.
The entire process is quick and simple and can be performed from anywhere, which means you won't need to visit the ticket authorities' office!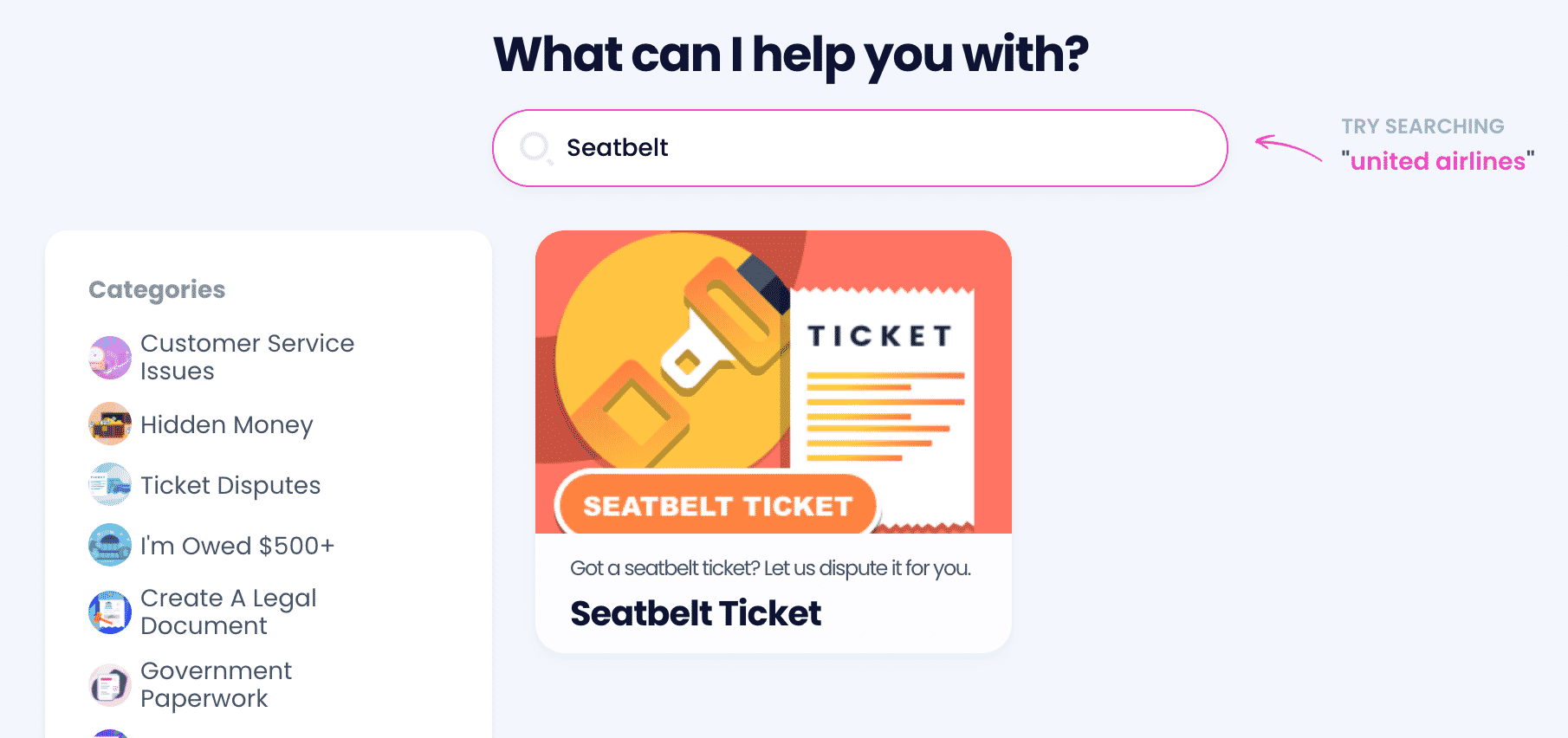 Here's how to get your appeal letter:
and log in
Select the Seatbelt Ticket product
Specify who got the seatbelt ticket and choose the appropriate argument you want to use
Upload a photo of your citation and tell us more about the offense
Not only do we compose a claim in your stead, but we also send it to the right address automatically!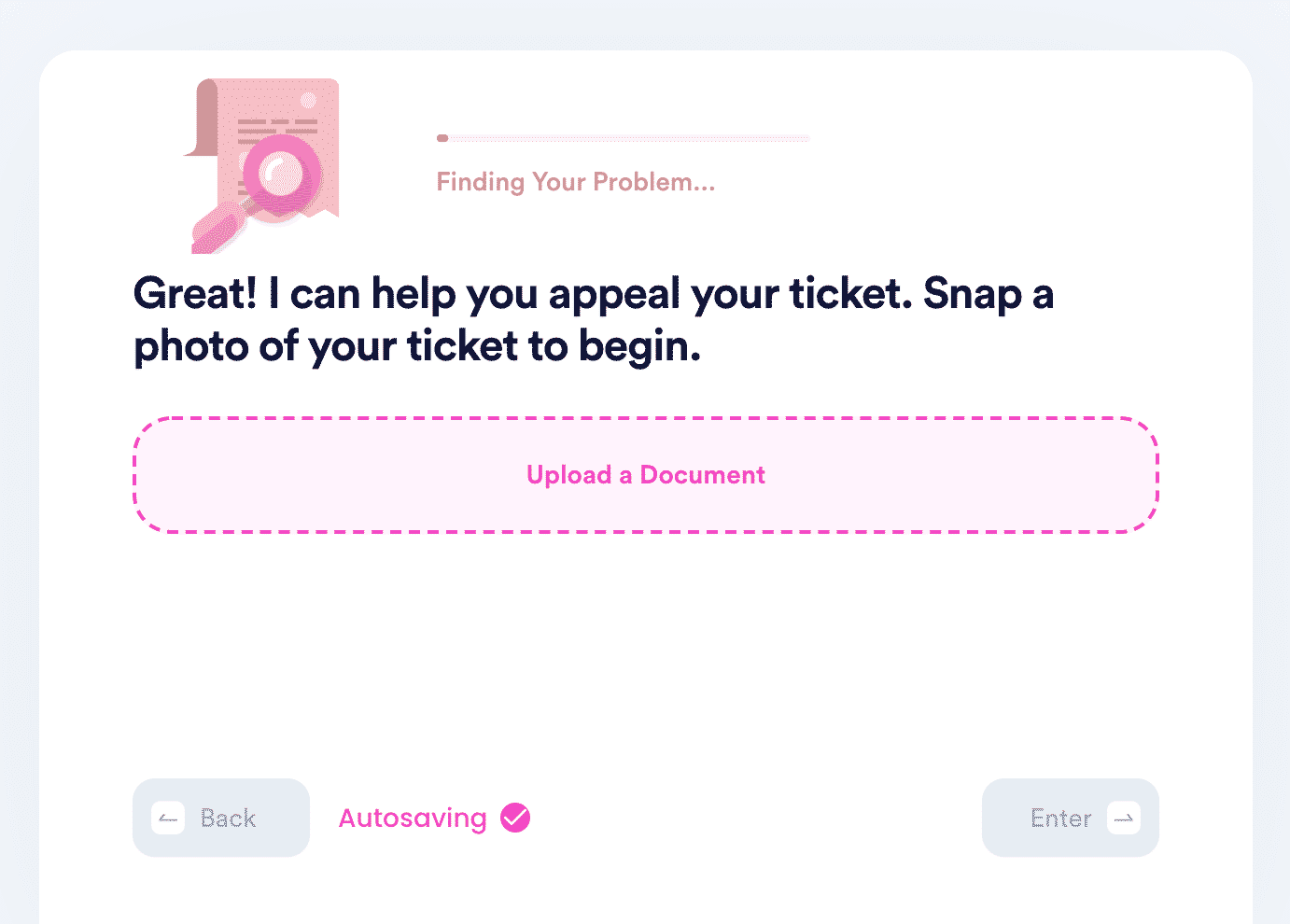 Are you traveling out of state often? No worries—we have other state-specific guides explaining how to get a seatbelt ticket dismissed in any of them. You can find the article you need in the table below:
Save Time and Money Using DoNotPay
Being on hold while trying to reach customer service is no picnic. With DoNotPay, you can jump the phone queue and reach a rep with ease. Are you contacting a company to request a refund or cancellation? No need for that! Our app can get it done in a few clicks. We can also help you return an item or handle a late delivery.
Dispute parking tickets, claim your warranty or insurance, set up a DMV appointment, contact an embassy, and deal with any other task with our assistance.
You can also request access to public records, apply for tourist visas, or file complaints with the help of our AI-powered app.
We're Not Done Helping You!
Our multifaceted app keeps getting new features that can streamline numerous tasks and solve all kinds of problems.
Would you like to join sweepstakes or giveaways? Are you up for participating in clinical trials and earning some money? Are you interested in sending mail without visiting the post office? We've got it covered!
We will help you protect your privacy by putting an end to spam emails, incessant text messages, and robocalls. If you think you're being stalked, you can count on our assistance. You can also use our app to perform a sex offender search, fight workplace discrimination, and handle annoying neighbors.