The Ultimate Guide to Seatbelt Laws—Hawaii Edition
A recent statistic on the severity of traffic accidents in Hawaii showed that within five years, there were 109 traffic fatalities and 432 serious injuries. What prevents deadly consequences of car crashes are seatbelt laws. Hawaii ranked number one for buckling up in 2019—being the only state with a 97.1% rate.
While most residents and passengers follow the rules, getting to know the regulations can save even more lives. There's also the benefit of avoiding tickets that can do serious harm to your wallet.
If you want to know more about Hawaii's standpoint on seatbelt usage, DoNotPay will help you find out:
What Are the Seatbelt Laws in Hawaii?
Hawaii has a universal seatbelt law that requires all motor vehicle occupants to be buckled up.
The police officers have the power of primary enforcement, which gives them authority to pull you over and issue a citation for not wearing a seatbelt only.
Certain exceptions in which you won't get a ticket exist. These refer to:
Emergency vehicles—an ambulance, a firefighting vehicle, or a police vehicle on duty
Mass transit vehicles that provide service to the general public on a regular basis
Taxis
Vehicles manufactured before seatbelts became mandatory
The number of passengers in the car exceeding the number of restraint systems
People with a physician's certificate about a medical condition that prevents them from wearing a seatbelt
What Does the Hawaii Seatbelt Law Say About Children?
Children who are restrained in a proper safety system are less likely to suffer serious injuries. Under the Hawaii child seatbelt law, you need to take the following measures to protect minor passengers and avoid a fine:
| Age | Weight/Height | Type of Safety Restraint System |
| --- | --- | --- |
| Under the age of two | Less than 20 pounds | Rear-facing car seat |
| Under the age of four | At least 20 pounds | Front-facing car seat |
| Four through seven | At least 40 pounds | Booster seat |
| Between eight and 12 years of age | Around four feet and nine inches tall | Lap/shoulder belt |
The restraint system ​​must respect the federal motor vehicle safety standard issued by the National Traffic and Motor Vehicle Safety Act. It is also recommended that children ride in the back seat of the vehicle until the age of 13.
What You'll Need To Pay for Breaking the Seatbelt Law in Hawaii
Considering the hefty fines, there is no surprise that Hawaii's seatbelt usage is high. For every unrestrained motor vehicle occupant, you'll need to pay:
| Island | Fine |
| --- | --- |
| Oahu, Hawaii, and Maui | $102 |
| Kauai | $112 |
If you transport children under the age of seven without a proper restraint system, the fine can range from $100 to $500. On top of that, you'll need to go to a special four-hour long class about road safety.
Do Seatbelt Tickets Go on Your Driving Record in Hawaii?
Hawaii's Department of Licensing (DOL) doesn't use a driving record point system. That doesn't mean that traffic offenses pass unnoticed. Your HI driving record will reflect traffic violations, which can ultimately result in a suspended license and an increased insurance rate.
Got a Ticket? Revise Your Options
For every cited moving violation or equipment traffic infraction, you need to appear in court on the date and time indicated on the citation. Ignoring the ticket and failure to appear can result in a judge issuing an arrest warrant.
Upon receiving the ticket, you can weigh the following options:
Plead guilty and pay the fine
Overturn the ticket
For the latter, you can base your citation on two arguments:
Reasonable doubt—You were wearing a seatbelt, and the ticket was issued by mistake
Due diligence defense—You weren't wearing a seatbelt, but you have a justifiable cause
To get your ticket dismissed, you need to present your case. If you don't want to do this on your own, you can hire a traffic lawyer. The problem is that lawyers can be expensive.
Looking for a money-saving but effective solution for building a convincing argument? Subscribe to DoNotPay, and forget about head-spinning defense bills.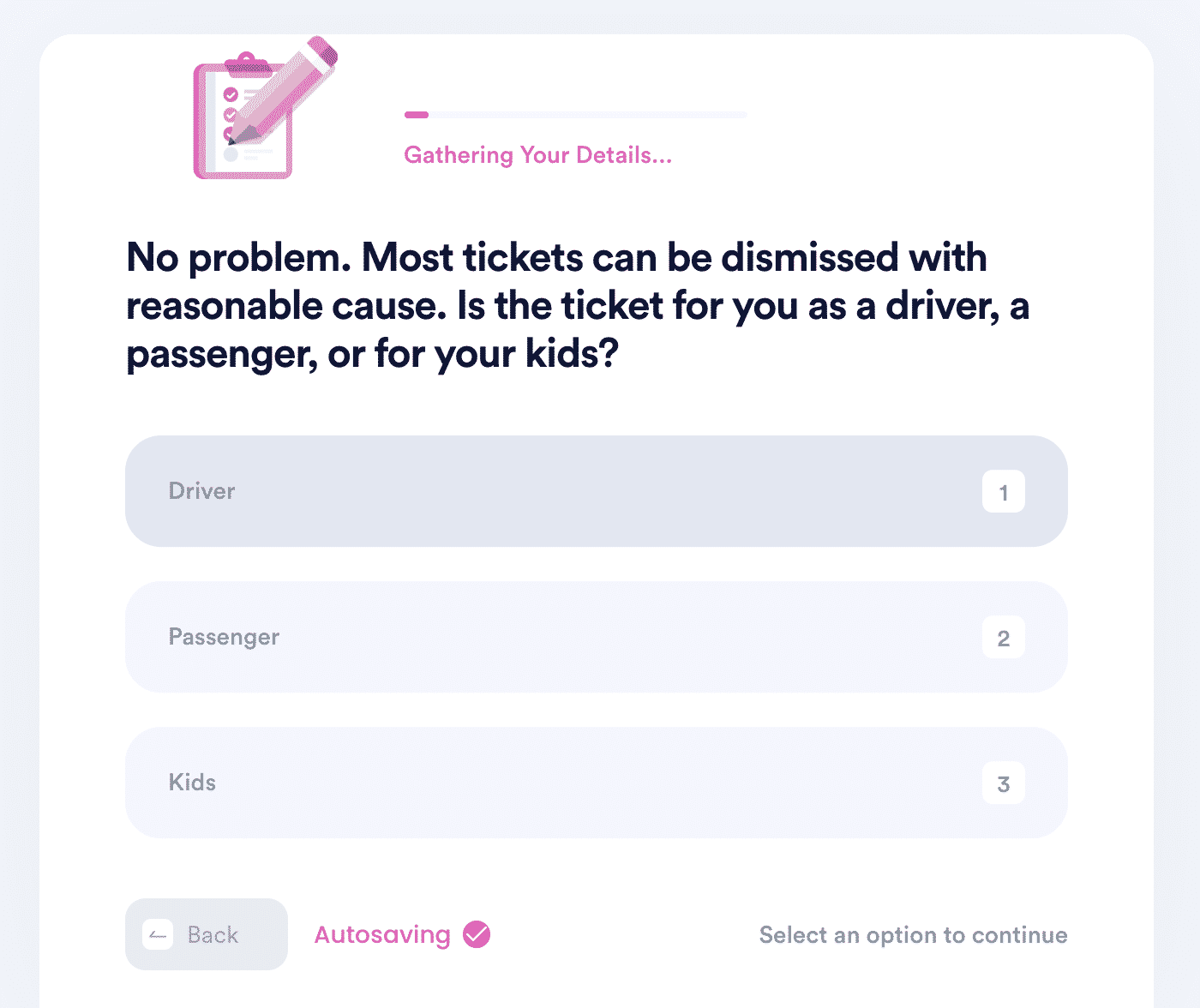 Say Goodbye to the Fine With DoNotPay's Help
What our multipurpose app can do for you is draft a powerful appeal letter that will present your argument. You'll only have to provide us with basic information about the event, and we'll generate and mail the letter automatically.
Want to see how it all works? Log in to your account, and follow these simple steps:
Open the Seatbelt Ticket product
Take a photo of the ticket
Tell us:

Who got the ticket
When it happened
Which argument you want to use to contest the citation
If you step outside the Aloha state—maybe to go on a field trip to New York or California—our guides will help you learn all about the seatbelt laws in:
Our App Offers Assistance in More Ways Than One
As a multifaceted app, DoNotPay creates solutions to numerous problems. Check out the table below and get to know a fragment of what our app can do:
| Keep Your Privacy Intact | Deal With Legal Problems | Solve Money Issues |
| --- | --- | --- |
| | | |
Use DoNotPay To Streamline Different Tasks
Tick the items off your to-do list faster by signing up for DoNotPay. In record time, you'll be able to request a refund, cancel a subscription, and get a free trial.
If talking on the phone is your worst nightmare, don't worry—you can use our app to schedule a meeting with an online notary, reach customer service with ease, and make a DMV appointment.
Feel free to also rely on our app when you want to prep for government tests, file FOIA requests, or connect with loved ones in prison.