Is Not Wearing a Seatbelt a Moving Violation?
With so many existing traffic laws and violations, learning about all of them can be demanding and time-consuming. Is not wearing a seatbelt a moving violation? Will it increase the number of demerit points on your record? In this article, DoNotPay provides the information you need to stay on the right side of the law.
Traffic Violations—The Basics
To better understand what kind of violation not wearing a seatbelt is, you need to get acquainted with the basics of traffic offenses. Depending on whether the vehicle is in motion, traffic violations are divided into two categories:
Moving violations—occur when the vehicle in motion violates the traffic law
Non-moving violations—refer to parking offenses and faulty equipment
Is a Seatbelt Violation a Moving Violation?
If you violate a traffic law while your vehicle is in motion, that's a moving violation—so not wearing a seatbelt while driving should be a moving violation as well, right? Unfortunately, the situation is not black and white.
States have different approaches to this issue. In most states, not wearing a seatbelt is not considered a moving violation, while in some—such as New Mexico—all seatbelt offenses are viewed as such. The confusion doesn't end there because most states have completely different regulations when it comes to child seatbelt laws and consider child seatbelt and safety seat offenses as moving violations.
To stay on the safe side and avoid getting a traffic citation, you should get familiar with the seatbelt laws and regulations in your state:
What Is the Penalty for Not Wearing a Seatbelt?
There are many consequences of not wearing a seatbelt, some of which are serious and far-reaching. Other repercussions include legal penalties, such as:
Who Has To Wear a Seatbelt?
Check the table below to learn who has to wear the seatbelt in different states:
States
Seats That Need To Have a Buckled Seatbelt
Age of the Passengers Who Have To Wear a Seatbelt
Alaska, California, Delaware, District of Columbia, Hawaii, Idaho, Illinois, Indiana, Iowa, Kentucky, Louisiana, Maine, Maryland, Massachusetts, Minnesota, Mississippi, Montana, Nevada, New Jersey, New Mexico, North Carolina, North Dakota, Oregon, Rhode Island, South Carolina, Tennessee, Texas, Utah, Vermont, Virginia, Washington, Wisconsin, Wyoming
All
All
New York
Less than 16
New Hampshire
Less than 18
Arizona, Missouri
Between eight and 15
Ohio
Between eight and 14
Georgia
Between six and 17
Kansas
Between 14 and 17
Pennsylvania, West Virginia
Between eight and 17
Alabama, Arkansas, Colorado, Connecticut, Michigan, Nebraska, Oklahoma, South Dakota
Front
All
Arizona
Eight or above
Florida
Six or above
Ohio
15 or above
Georgia, Kansas, North Dakota, Pennsylvania, West Virginia
18 or above
Missouri, New York
16 or above
What Can You Do if You Receive a Ticket for Not Wearing a Seatbelt?
There are several ways to go about a seatbelt ticket:
Ignore it—The chances are that the officer got your name or other details wrong, making the ticket invalid
Fix your seatbelt—The law allows you to fix your seatbelt and present the receipt at court
Request a trial—This will give you time to plan your next steps, which could be:

Missing the trial—It will take a while to reschedule the trial if you don't show up at court, giving you more time to prepare
Showing up to trial and pleading not guilty—You can win the trial instantly if the officer that issued the ticket doesn't show up. No prosecutor—no ticket
Showing up and bringing a witness—The witness mustn't be biased (someone obviously close to you) and must prepare a solid statement to help you win the case
What Can I Do if I Go to Court for a Seatbelt Ticket?
You can get the ticket dismissed if you can:
Create reasonable doubt
Raise a due diligence defense
How To Create Reasonable Doubt
To create reasonable doubt, you need to provide a rock-solid reason why the officer might not have noticed your seatbelt, which could be:
The color of the seatbelt matched your clothes
You took your seatbelt off when you were pulled over so you could reach for something in your vehicle—for example, you reached for your bag to get the ID
How To Raise a Due Diligence Defence
If you want to raise a due diligence defense, you need to prepare a statement about:
Why you were unbuckled
How you tried to avoid being unbuckled
You can also try to persuade the court that you believed you were wearing your seatbelt at the time of the offense.
Preparing evidence and a believable statement for the court typically takes a lot of time and energy. You can avoid this entire procedure by requesting a trial by written declaration—a type of trial that does not require you to be present—and DoNotPay can help you prepare your case! Sign up to save time and appeal your seatbelt ticket the simple way!
Appeal Your Seatbelt Ticket With DoNotPay!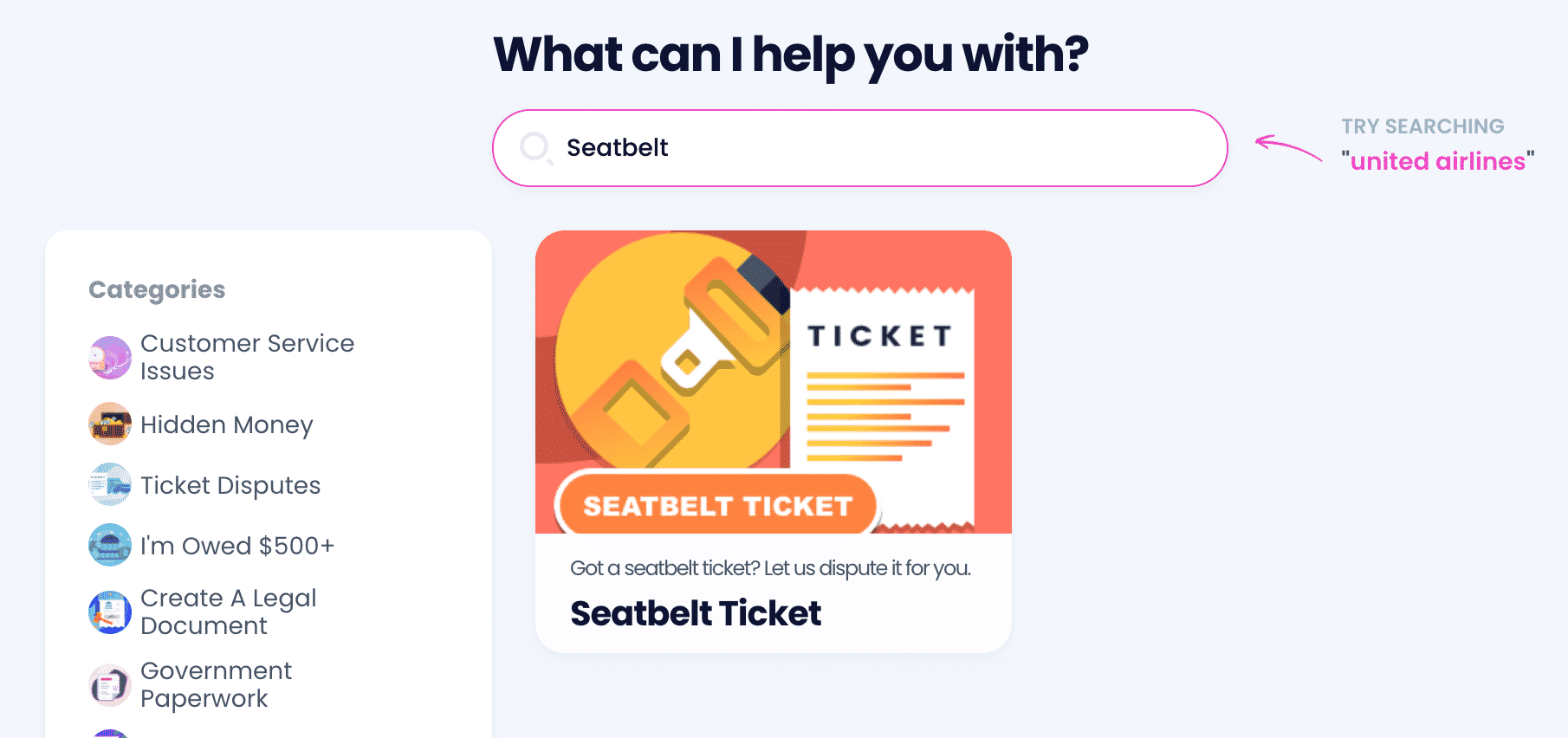 Did you receive a seatbelt ticket but have trouble building your case to dispute it? You don't have to do it by yourself—DoNotPay can help! The process takes only a few minutes of your time if you follow these steps:
Search Seatbelt Ticket
Provide details about your ticket:

Who received it
What your argument is

Attach a photo of your ticket and additional evidence if you have any
After you complete all steps, our app will automatically generate your appeal letter in a matter of minutes and mail it to the authorities!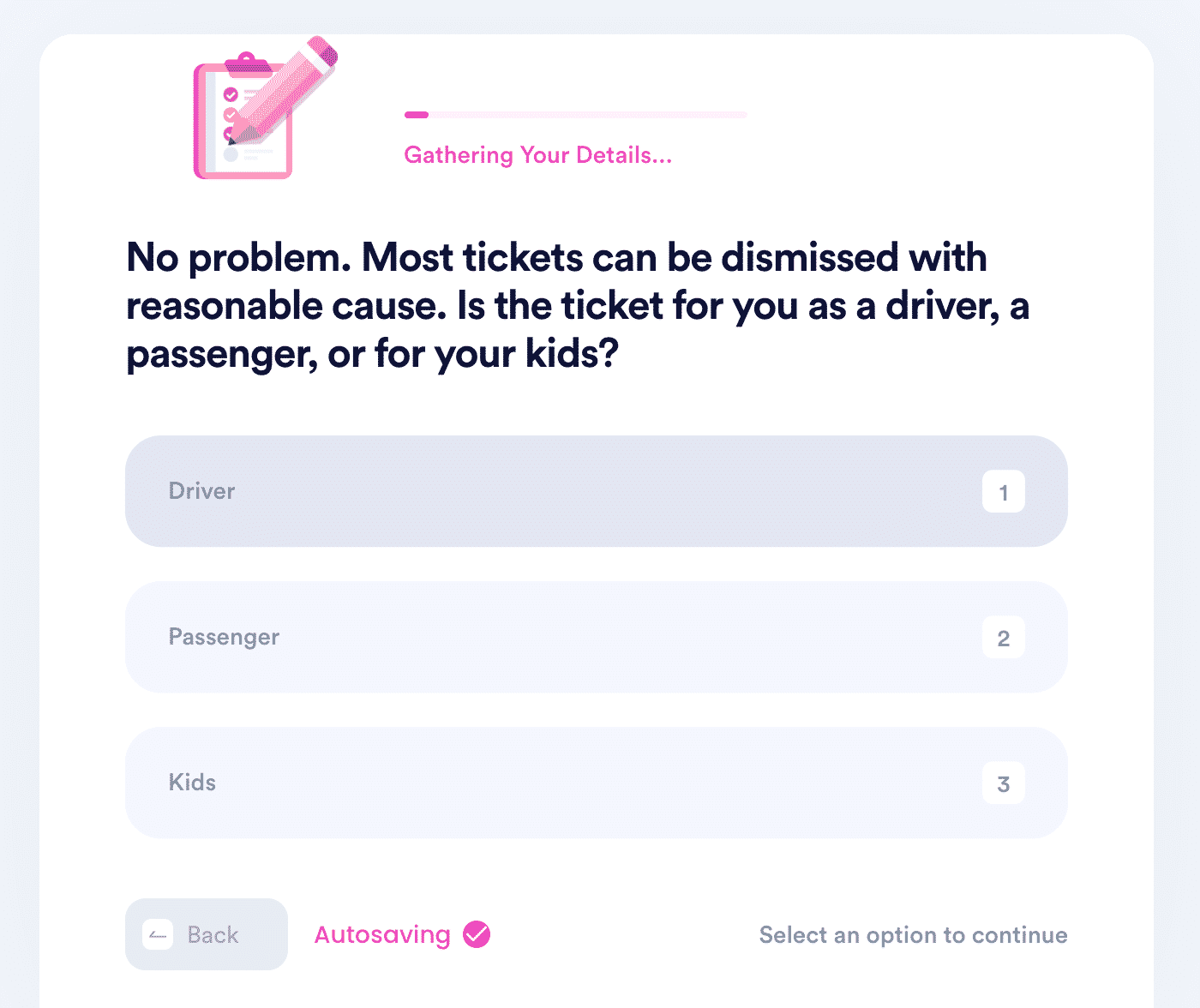 What's Next?
Once you complete the task at hand, you don't have to stop there—we offer a myriad of products that can relieve you of the stress that comes with dealing with admin and legal hurdles.
DoNotPay can assist you in drawing up a divorce settlement agreement, child travel consent form, power of attorney, and other legal documents, contacting government representatives, getting tourist visas, fighting workplace discrimination, getting a burner number, appealing banned accounts, getting access to public records, scheduling a DMV appointment, and much more.
Tackle Any Energy-Draining Task With DoNotPay
With DoNotPay by your side, you don't have to worry about how you'll cover your utility bills at the end of the month—we'll provide swift assistance as soon as you sign up!
Wondering what else our app is capable of? Check out how we can: