Homeschooling for Working Parents—How To Make It Work
Do you want to teach your child at home but are not sure how since you have a full-time job? Homeschooling for working parents is an option if they know how to organize their time properly.
presents the options for homeschooling your child while keeping up with your career. We offer you tips and tricks on time management and help you send a letter of intent to homeschool to reduce the paperwork accompanying home-based education.
Can I Homeschool My Child and Work Full-Time?
It is possible to work full-time and homeschool if you organize your time properly. Many single parents teach at home, but that doesn't mean that the task is easy. To make your homeschool and career coexist, you must:
Come up with an efficient schedule
Share obligations with your partner as much as you can
Find a job that allows as much flexibility as possible
Use a suitable learning method and homeschool curriculum
Homeschool Options for Working Parents
Homeschooling with both parents working will be more demanding but still possible. Here are your options to start homeschooling:
Working from home
Joining a co-op
Getting help from friends and family
Homeschooling after work
How To Work From Home and Homeschool
Working from home is an ideal option when homeschooling your child. You will be at home the entire time, so you won't have to worry about babysitting. Remote jobs usually come with flexible working hours, so it's easier to organize your time.
If your students are older, you can give them assignments to work on while handling some of your tasks. You can organize activities that don't require constant supervision, such as doing some online exercises or watching documentaries.
How Joining a Co-Op Can Help You Homeschool While Working
Co-ops are a great way to have your child homeschooled even though you have to work. The groups allow homeschooling families to share the workload among them. Each parent usually has a specific subject or day during the week when they are supposed to teach the kids. This makes a busy work schedule more manageable. Co-ops also enable your child to make friends and socialize with peers.
Why Having Help From Friends and Family Is Important
Not everyone has the luxury of having friends and family near them and getting help with homeschooling when needed. If you are the lucky one, make sure to use the opportunity. Even a few days a week of someone watching your kids while you are at work can make a significant difference.
Many grandparents would love the opportunity to spend more time with their grandchildren, so don't shy away from reaching out.
Homeschooling After Work
What happens when you can't work from home, don't have a co-op to join, and have no family members who can help? This is where it gets tricky. If you and your partner must go to work, you will need to be creative and super organized.
The best part of homeschooling is the freedom it entails—you get to set your homeschooling hours. Since home education doesn't take nearly as much time as the traditional one, you can teach for only a few hours per day. This leaves room for you to homeschool your children in the evening after you get home from work. If you work night shifts, you can teach during the day.
You also don't need to be a teacher five days a week—with good organization, you can cover everything in three days and have a relatively relaxed working week.
Sending a Letter of Intent To Homeschool—Is It a Must?
Regardless of your working status, you will most likely need to inform the authorities that you will homeschool your child and handle various administrative chores related to home-based education. Your first task is to send a letter of intent to homeschool to the superintendent of your school district.
Homeschooling laws in most states impose this requirement. You can check if it applies to your jurisdiction in the table below:
DoNotPay Can Generate a Notice of Intent for You in a Jiffy
DoNotPay offers a straightforward way of creating a letter of intent to homeschool to help working parents by taking a portion of the administrative burden off their backs. Our app can tackle the entire task without trouble, and you only have to:
Choose the Notice of Intent to Homeschool product
Give us the necessary info about your school district
Answer a few questions from our chatbot about your child
DoNotPay will send a PDF document quickly, but we can also mail it for you if you like. It is also possible to get your letter of intent notarized remotely with DoNotPay's help.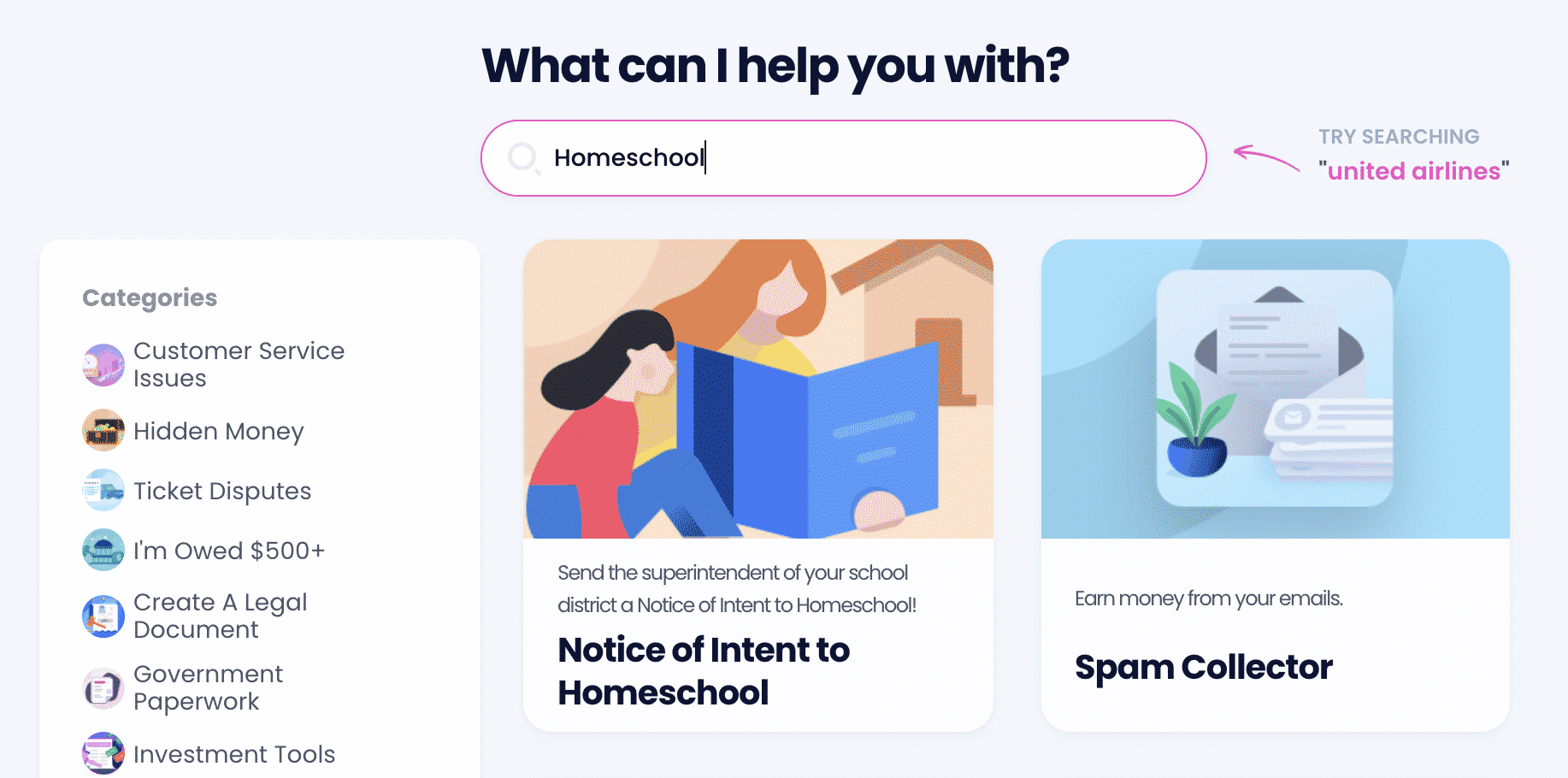 Got More Questions About Homeschooling? DoNotPay Has the Answers!
If you are new to homeschooling, you probably have many questions about the process. Check out our helpful guides and find answers to the following questions:
Deal With Administrative Issues With Ease
Drafting contracts and agreements, getting your documents notarized, disputing parking tickets, and creating passport photos will become a breeze once you sign up for DoNotPay.
We can also help you:
DoNotPay Helps You Protect Your Consumer Rights
Don't let companies take advantage of you! With our help, you'll be able to cancel any subscription or membership and request a refund.
As a consumer, you may be overwhelmed with endless steps and piles of paperwork you need to go through to get what you're owed. This is where DoNotPay comes in—let us be your assistant and fast-track the following:
Have you forgotten about a free trial you signed up for? Avoid being charged by using our app! With DoNotPay's virtual credit card, you'll get unsubscribed automatically without the company taking any money from you.
Are you getting spammed via email or text? Get rid of spam for good with our nifty app!