What Percentage of Homeschooled Students Go to College? DoNotPay Answers the Question
Do you want to know what percentage of homeschooled students go to college? You can find the answer in our easy-to-read article! We'll tell you everything you need to know if your homeschooled child wants to attend college and help you get started in homeschooling in no time.
Can Homeschooled Students Get Into College?
It's a common misconception that homeschoolers don't do well in college or can't attend it at all. The truth is that they can not only get into colleges, but they often outperform their peers from public schools. Many Ivy League Universities also specifically recruit homeschoolers as they often excel on standardized tests and pre-college exams.
Percentage of Homeschooled Students That Go To College Successfully
67% of homeschoolers graduate from college successfully, which is 10% higher than that of their public school peers. Their success comes from the various benefits that homeschooling offers, such as:
| Benefit | Explanation |
| --- | --- |
| Having academic flexibility | Parents can often choose which curriculum they'll use for teaching. This allows them to work around their child's needs, strengths, and learning pace |
| Learning in a family environment | Being taught by a parent or someone else while surrounded by family not only helps homeschoolers learn but impacts their social development |
| Receiving effective instruction | When students have a say in choosing their subjects or curriculum, they're more motivated to study and learn more effectively |
| Being involved in community activities | Homeschooled children often partake in community activities, services, and volunteering, which hones their social skills before college |
| Having more time | Teens who prepare for college have more time at their disposal and can focus more on preparing their homeschool transcripts for admission |
Can You Get a Scholarship as a Homeschooler?
Homeschooled children have the same chance of getting a scholarship as their public school peers. They can also get scholarships and various other resources from homeschool associations, such as the North Carolina homeschool association.
How To Get Into College as a Homeschooler
To get into college, homeschoolers will need to prepare the following:
Transcripts—Colleges usually require that the applicants have a transcript listing all the classes they've taken through high school with the grades they've received. Transcript requirements depend on your state's homeschool laws, so be sure to check them out before applying to college
High school diploma—In the past, you needed to pass the General Educational Development (GED) to get into college. Now, homeschool diplomas have the same standing as the ones from public and private schools. A parent-issued certificate is also acceptable once the student completes the required coursework
Letter of recommendation—Students should ask two non-relatives, such as a private teacher or someone from a co-op class, to write the letter for them
Extracurriculars—Having proof of dedication to extracurricular activities boosts the students' chances of getting into college
Standardized testing results—Nearly every college in the U.S. uses ACT and SAT exams to evaluate a student's readiness for further learning
Do You Need To Be a Certified Teacher To Prepare Your Child for College?
Certification isn't required for you to prepare your teen for college. You can help them by:
Choosing the right curriculum
Instructing them in subjects they're passionate about
Preparing the paperwork for admission
Should You Homeschool Your Child if They Plan on Attending College?
There's no definite answer to this question, but according to the statistics, there are no downsides to homeschooling your child if they want to go to college. You can even start homeschooling them in the middle of the year!
Transitioning your child from school to homeschool is easy as you typically only need to file a letter of intent to homeschool. This document will notify the superintendent of your school district that you want to homeschool your child. Obtaining the letter is a breeze if you subscribe to DoNotPay.
DoNotPay Helps You Draw Up and File a Letter of Intent To Homeschool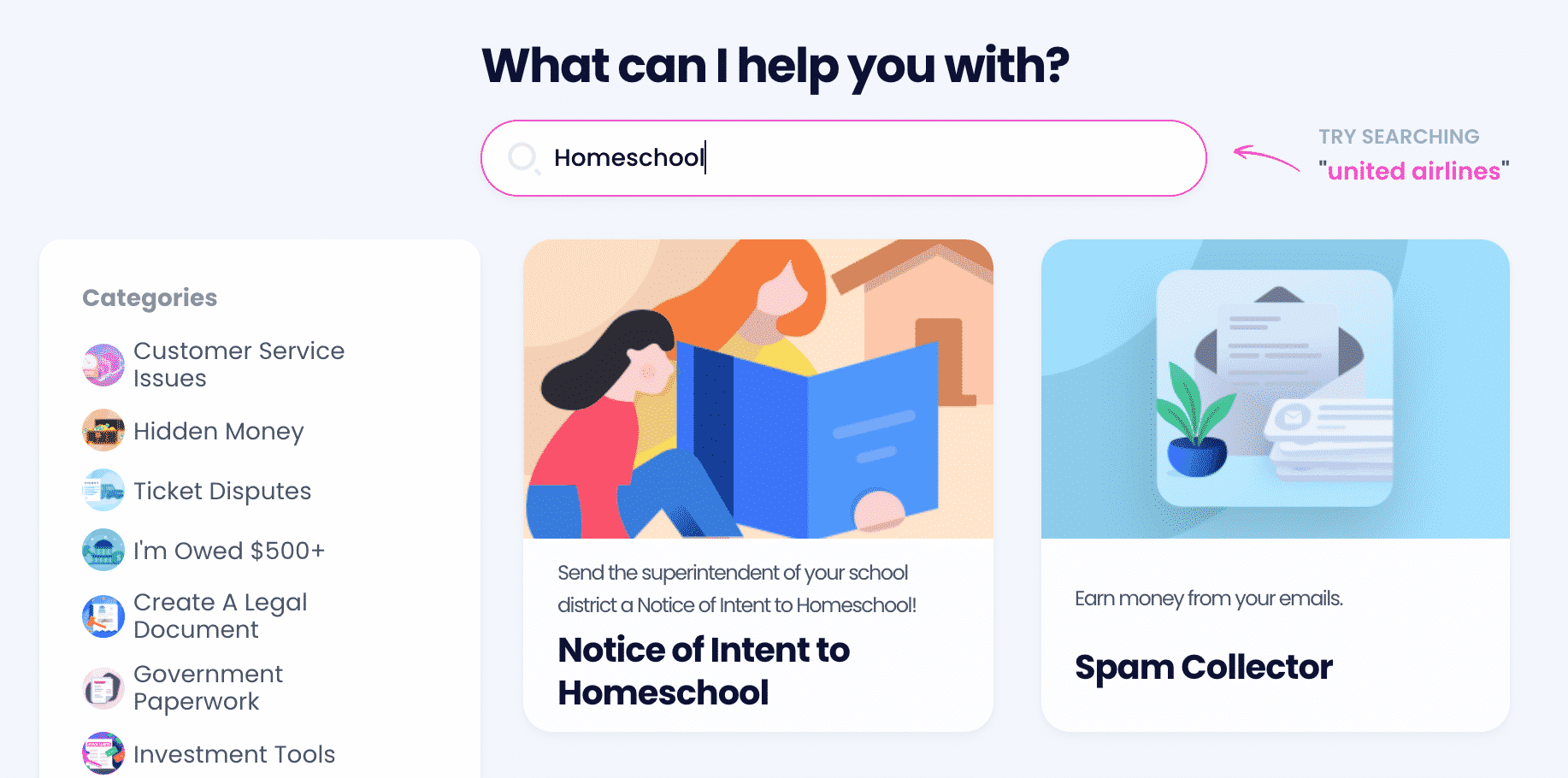 Have you decided to homeschool your child? If so, the first step will require you to submit a letter of intent to homeschool. DoNotPay can generate one for you in a flash, and all you'll have to do is follow a few easy steps. Here's the drill:
Select the Letter of Intent to Homeschool product
Answer our chatbot's questions regarding your child and the homeschool plan you wish to use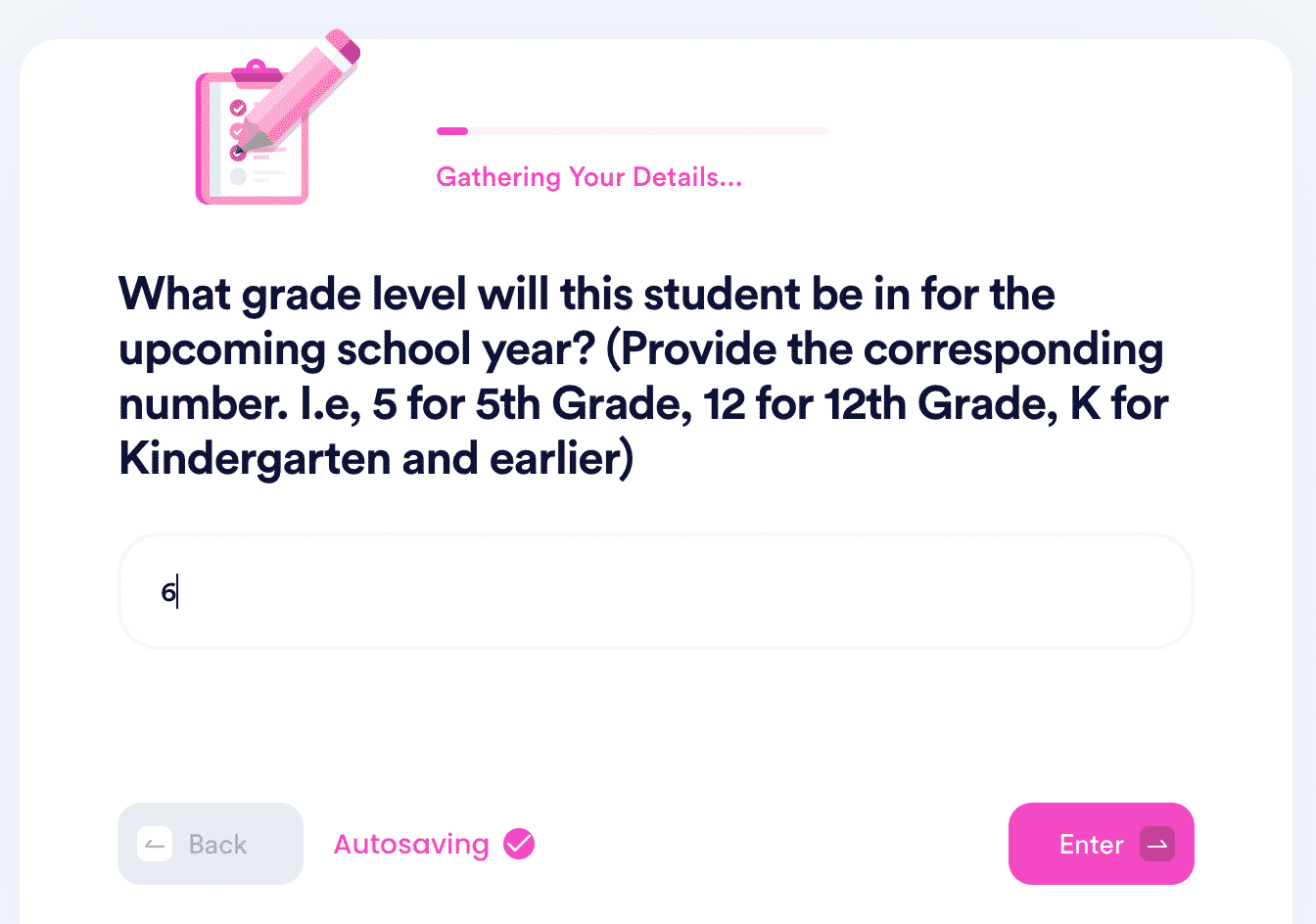 We will then use the details you give us to create a letter tailored to your needs. You can then choose whether you want DoNotPay to forward it in your name or send it to you via email.
Need more information on homeschooling? Check out DoNotPay's learning center and read our easy-to-follow articles, such as:
Discover DoNotPay's Solutions to Mundane Tasks
Our product range doesn't end there—we can also help you sue anyone in small claims court, cancel any subscription, start a free trial risk-free with our virtual credit card, get refunds and chargebacks, send anything through online fax, pay your utility bills, demand airline compensation, and deal with your annoying neighbors.
As soon as you sign up, we can also put an end to robocalls, copyright infringement, email and text spam, and stalkers and harassers. Our app's abilities don't stop there either—get perfect passport photos, free raffle tickets, compensation for victims of crime, or insurance or warranty instantly!
There's So Much More We Can Assist You With
Check out how else we can help—DoNotPay can:
Sign up now to take advantage of our nifty products!