Scholarships for Homeschooled Students From A to Z
The price of education in the United States is not low, and most families are constantly on the lookout for some financial aid opportunities. Parents who teach at home are worried that their children won't have the same financial assistance options as their peers, but are they right?
offers all the necessary information about scholarships for homeschooled students.
Can Homeschooled Students Get Scholarships?
Even though homeschool students may not have the same options as their public school peers, they can still apply for different scholarships. The choices exist, but it is crucial to know where to look for aid and how to apply.
The most common reason why homeschoolers miss out on merit-based scholarships is that they don't follow the application instructions properly. These rules are often not clear and may be challenging to follow without the help of a guidance counselor.
To get equal chances, you should always double-check the requirements and ask for help from the scholarship provider if needed.
Scholarships for Homeschooled Students—What Options Are Available?
Specific scholarships are more available for homeschooled students, but all options should be explored. Check out the following table for more information about available choices:
Type of Scholarship
Brief Explanation
Need-Based Scholarships
Merit-Based Scholarships

The homeschool community loves merit-based financial support because of the more fair criteria
It is less important where you attend school rather what you have accomplished
The National Merit Scholarship program is homeschool-friendly

Location-Based Scholarships

You can find scholarships for homeschoolers funded by your state, county, or city
This financial aid is usually limited by population, which makes your odds of receiving them higher compared to some other options
If your student is interested in volunteering, they should also check out community service scholarships

Demographic Scholarships
This aid option is great because it supports:

Minorities
Women
People with specific backgrounds
People of particular ethnicity or religion

Athletic Scholarships

Scholarships for athletes fall under the most difficult category for homeschoolers to receive
The situation has been changing recently, and homeschooled students have more opportunities
Best College Scholarships for Homeschool Students
The cost of homeschooling doesn't need to be high if you choose the right curriculum and organize your time properly, but most parents are worried that they will have to pay full college tuition. The good news is that homeschooled children can get financial aid to help them cover college expenses.
Here are some popular scholarships available to homeschoolers across the U.S.:
Apologia National Scholarship for Christian Service—Provides $2,000 to homeschooled students across the United States
Craig Dickinson Memorial Scholarship—Gives $1,000 to graduating seniors who were homeschooled for at least the last two years
Cypress Homeschool Association Scholarship—Offers $2,000 to graduating seniors in Texas who have been homeschooled for at least three years
Herb Kohl Excellence Scholarship Program—Grants $1,000 to homeschooled students in Wisconsin who want to enroll in any public or private university in the U.S.
HOPE Scholarship Program for Home-Schooled Students—Guarantees $3,000 to qualified homeschoolers admitted to one of Georgia's public or private universities who earn a minimum cumulative GPA of 3.0 during their first year
Janice M. Hedin College Scholarship for Homeschoolers—Gives $1,000 to home-educated students in Washington State who want to go to college
A Necessary Step for Successful Homeschooling
To give your child a chance for higher education, you must respect the local requirements for home-based education and ensure you follow the procedures to a tee. Regardless of who's teaching your child, it is the parent's responsibility to file the necessary paperwork and keep records. The initial step is to send a notice of intent to homeschool to the superintendent of your school district.
You should check local homeschool laws, but this is a requirement you need to meet in most states before you can get started with homeschooling. The good news is that you don't need to deal with the process alone—DoNotPay can help you!
Create a Letter of Intent With DoNotPay's Help
If you want to have an airtight legal document in the shortest time possible, you should use DoNotPay to create a letter of intent to homeschool. You won't have to waste your precious time and energy and can:
Download the PDF and mail it yourself
Allow us to send the letter in your stead
Get the letter notarized if necessary
These are the only steps to take:
Choose the Notice of Intent to Homeschool product
Give us the information about your school district
Answer a few questions about yourself and your child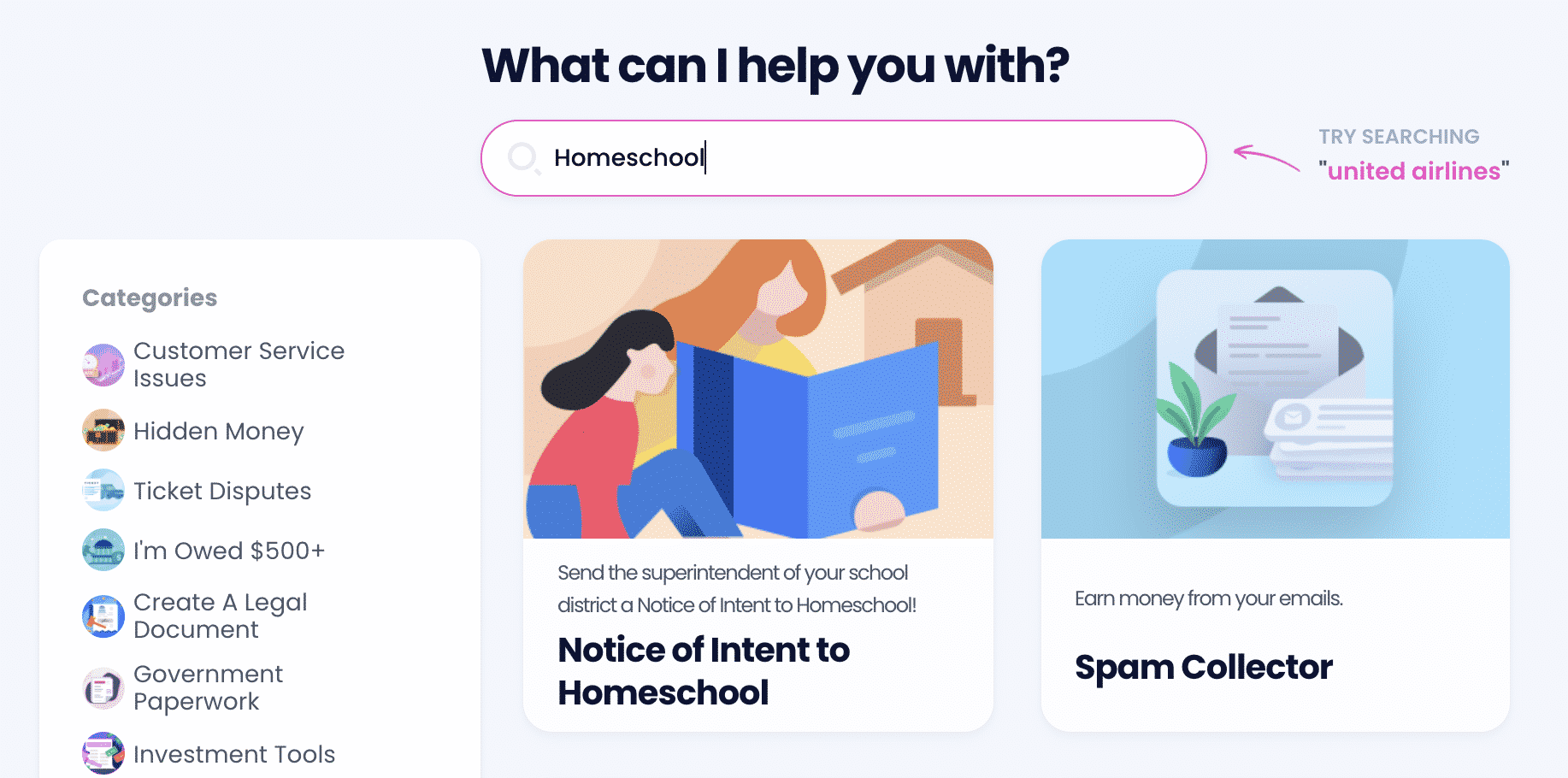 DoNotPay is your source of other homeschool-related info. We can answer questions, such as:
Let Our App Assist You With Paperwork
You don't have to deal with bureaucratic tasks on your own! DoNotPay is here to help you cancel your memberships, appeal parking tickets, discover unclaimed funds, and get any document notarized online.
If you need help covering your bills or you'd like to get extra cash by signing up for clinical trials, we are your go-to!
We can also assist you in drawing up and sending out the following documents:
Keep Your Online Safety Intact
Staying anonymous is almost impossible these days, but with DoNotPay's help, your contact and payment details will remain private.
Thanks to our Burner Phone product, you'll be able to keep your phone number to yourself and get a temporary one you can use when you register on various platforms.
If you want to avoid getting charged and revealing your personal info when signing up for free trials, we can help you kill two birds with one stone. Get our multifunctional virtual credit card and skip submitting your name, email address, and payment details.
With our app, you can also handle stalkers and harassers, fight workplace discrimination, and block spam.