Studies on Homeschooling—Should You Homeschool Your Child?
Parents decide to homeschool their children for numerous reasons—such as illness, religious beliefs, or safety concerns—but most of them still wonder if teaching at home is the optimal educational option. The best way to delve into homeschooling hot topics is to check out extensive studies on homeschooling.
to learn more about the pros and cons of home-based education and see if teaching at home is beneficial. We can also help you send a notice of intent to your school district and take some administrative tasks off your back!
Studies on Homeschooling—The Impact on Academics and Social Skills
Before embarking on the homeschooling journey, you should do thorough research and check the related statistical data. Parents thinking about homeschooling mostly worry about:
Whether their children will have appropriate social experience and will they relate to others
Most studies on homeschooling focus on these issues, so the results can help you make an informed decision.
Research About Academic Performance of Homeschooled Students (K–Grade 12)
Most studies done on homeschooled children showed that they reach high levels of academic achievement. Here are some relevant examples:
Studies on Homeschooled Students' Achievements in College
Many would argue that the results of homeschooling are only visible when children go off to college. Here is what studies have to say about homeschooled children's academic performance at universities:
According to Online College.org, homeschoolers generally have higher GPAs than their public school peers. Homeschooled first-year students have an average of 3.37 GPAs, while children who went to public schools have 3.08 GPAs
A study called College Performance: Homeschooled vs. Traditional Students also found that homeschoolers had a higher:

High school GPA
SAT score
First-year of college GPA
We should mention that most homeschooled children also had a higher socioeconomic status.
Studies on the Impact on Homeschoolers' Social Skills
Various studies tried to determine whether there are truly any consequences of taking children out of traditional schools. Here are some of the results:
How is it possible that the results were so good if children had not been attending classes with their peers?
Homeschooled children have many other opportunities to socialize, including sports, scouting, playdates, art classes, music classes, volunteer work, and co-ops.
How well your child adopts the essential social skills depends on you as a parent. What's even better is that you can choose who your children interact with. It is also important to note that homeschooled kids are not in danger of bullying or peer pressure.
Should You Inform Someone if You Decide To Homeschool?
In case you've been convinced by study results and want to take your child out of school to start homeschooling, you will probably need to create a notice of intent to homeschool. Most state laws require you to send this legal document to the superintendent of your school district.
The good news is that you don't need to write the letter of intent alone—DoNotPay can help!
Use DoNotPay To Create a Letter of Intent in a Flash
If you want to speed up the tedious process of writing a letter of intent to homeschool—use DoNotPay. Our app will handle the task efficiently. We can send the document instead of you.
These are the only instructions you need to follow:
Select the Notice of Intent To Homeschool product
Provide us with the info about your school district
Enter the relevant information about you and your child
Once you complete the questionnaire, you can have your letter of intent notarized via DoNotPay.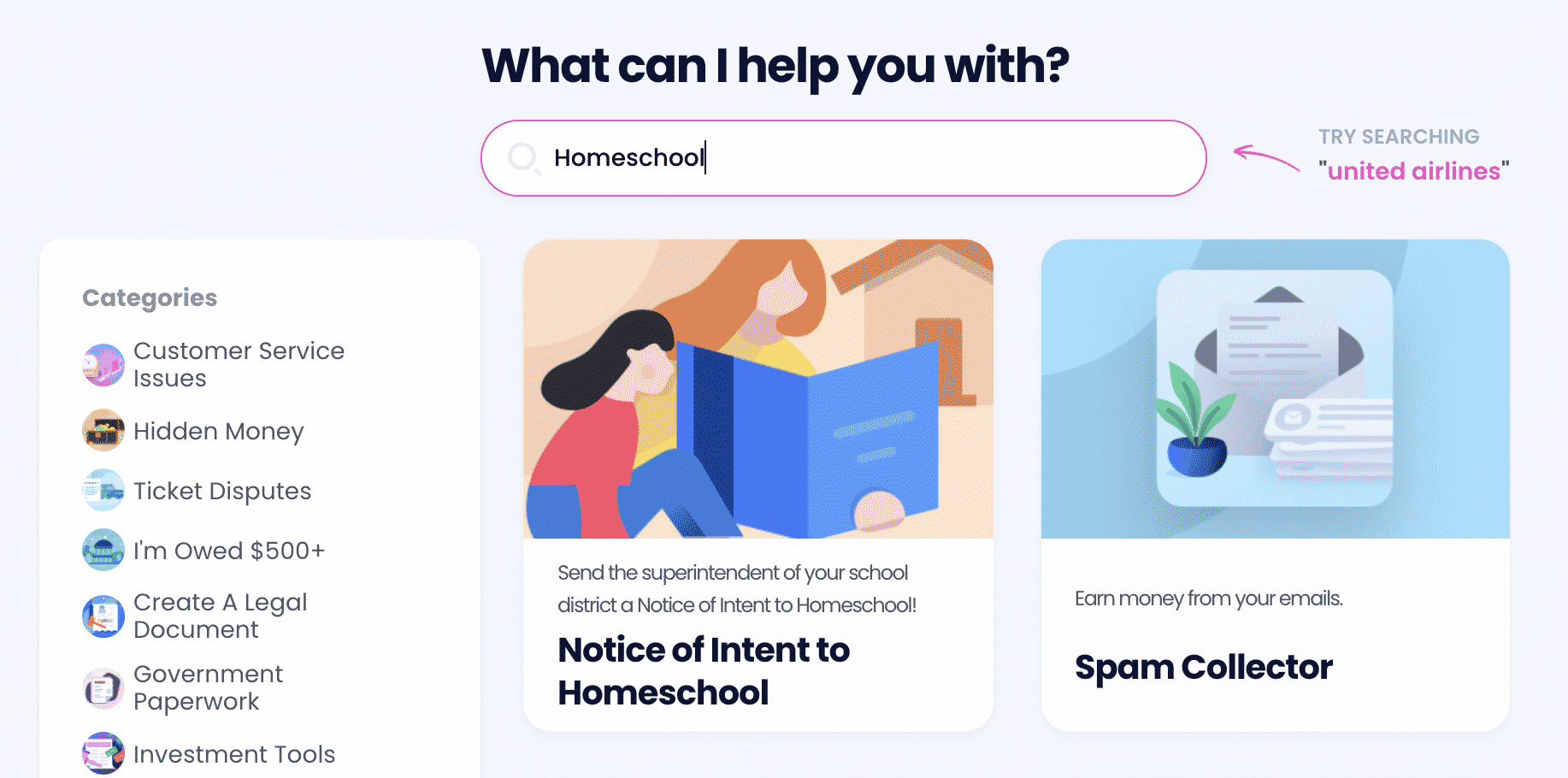 DoNotPay Offers More Info on Homeschooling
DoNotPay is your reliable source of information on homeschooling. Here are some common questions we have answers to:
DoNotPay Offers Quick Solutions to Tedious Problems
Are you overwhelmed by your never-ending to-do list? We're happy to jump in with a perfect solution to deal with everyday tasks the easy way!
Once you subscribe to DoNotPay, you'll be able to schedule DMV appointments, lower your monthly bills, and contest parking tickets without breaking a sweat!
If you are looking for further assistance, our app will show you how to deal with the following tasks effortlessly:
Rely on DoNotPay's Legal Assistance Any Time!
If a company refuses to cooperate, use DoNotPay—the world's first robot lawyer—to sue it in small claims court! Getting the justice you deserve is only a few clicks away!
You can also use our app's various features to do the following: