Read Our Guide Before You Join a Homeschool Co-Op! We Will Help You Prepare
Did you make up your mind to homeschool your kids? There are over five million homeschooled students in grades K-12 in the U.S., so they won't be alone, especially not if you join a homeschool co-op.
You can start one yourself or team up with an existing co-op of homeschooling parents. Find out the details on the benefits, types, and costs of homeschool co-ops in our guide!
DoNotPay can help you send a formal document informing the school district superintendent of your decision, which is necessary in many states, so sign up for our service!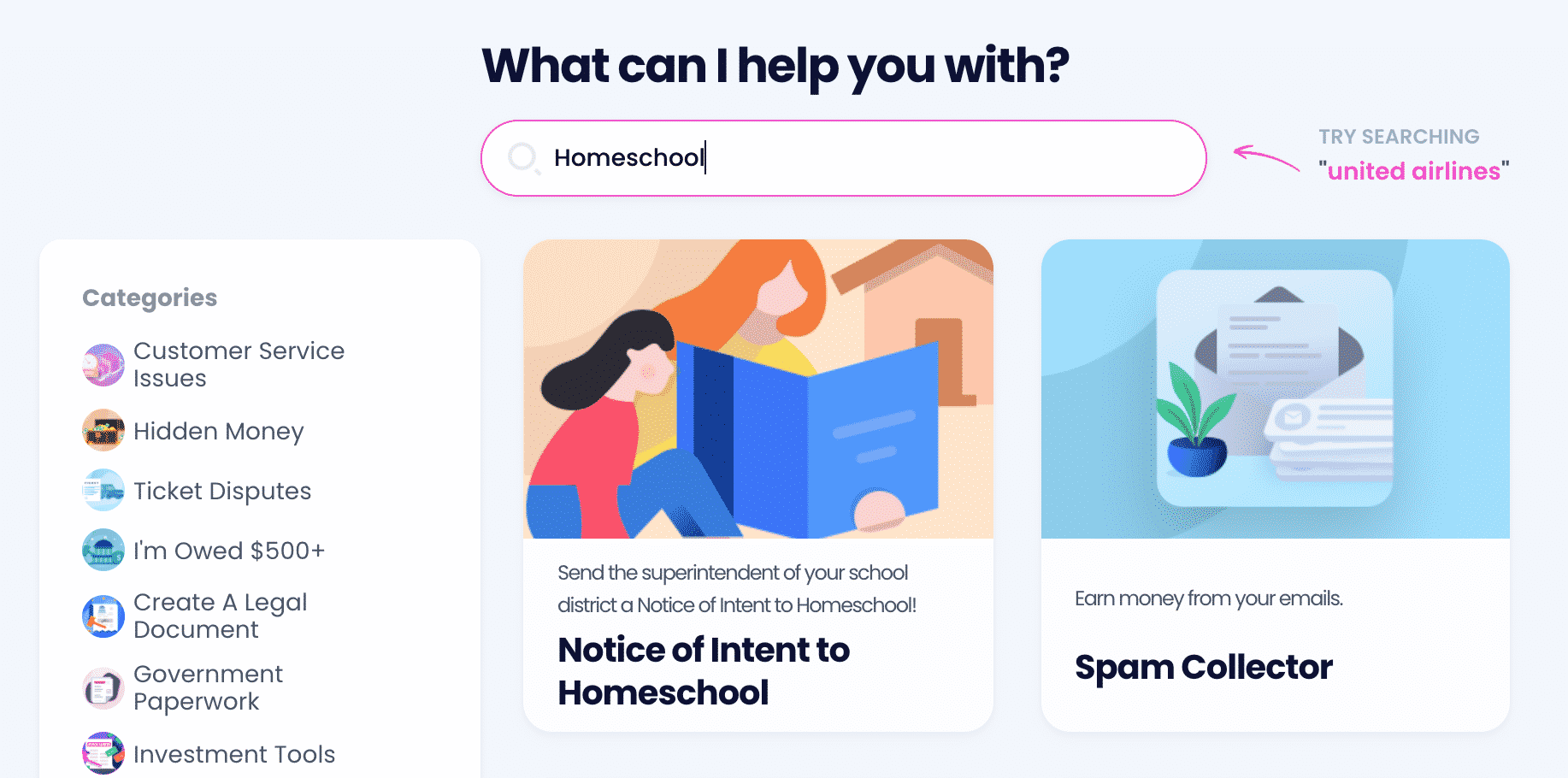 What Is a Homeschool Co-Op?
A homeschool co-op is a group of like-minded homeschooling parents who join together in efforts to make their children's education more prosperous and social. The frequency of the meetings is entirely up to the members—you can meet once or five times a week.
The focus of co-ops can be on any of the following activities, whether they're social, cultural, or educational:
Each parent can teach a different part of the homeschool curriculum based on their forte, which ensures that their children will get a more thorough understanding of each topic discussed.
There are also parents who join a co-op out of necessity. They share the expenses with the group, which makes homeschooling more manageable.
What Types of Homeschool Co-Ops Are There?
Categorizations of homeschool co-ops are numerous. Based on their size, these groups can be:
Small—Some homeschool co-ops are so small they're called clubs. They don't have many members and mostly focus on a single activity or area. Their meetings usually take place monthly or bimonthly. These clubs can be further divided into those that focus on subjects like:

Literature
Sports
Science
Nature
History
Geography
Biology

Medium—Medium-sized groups are ideal for sports or other competitive disciplines where children can collaborate
Large—The so-called homeschool groups are like entire grades or even schools—they number a lot of students. These groups usually host field trips, fairs, and other activities for homeschoolers and help each other out with resources, materials, and shared space for teaching
How To Find a Homeschool Co-Op
Finding other parents, or even teachers, that homeschool their children used to be difficult, but that's no longer the case. Comb through the following to see your options:
Where To Look for Co-Ops
Explanation
Social media
The easiest way to find a co-op fast is to search for one on Facebook, Twitter, Instagram, and even LinkedIn. You can type homeschool co-op into the search bar of a social media platform. To narrow down the results, you can add something more specific, such as homeschool co-ops Austin
Websites
Here are some of the most popular homeschooling websites to get you started:

In person
If you live in a big city, the likelihood that you're surrounded by homeschool co-ops is high. Reach out to the following local communities to find one fast:

Community centers
Churches
Non-profit organizations
Schools
Everything You Should Consider Before Joining a Homeschool Co-Op
Getting started in homeschooling is hard at first, but if you join the right co-op, you will share some of the responsibilities with others. Before you do that, it's important that you:
Study the homeschool laws—Switching from a public school to homeschooling varies in ease from one state to another. The most demanding states require you to obtain a teaching certificate. Homeschooling is legal in all states, even if you start in the middle of the year
Prepare for homeschooling—Taking your child out of a public school can be a shock, so make sure that both of you are ready for this big step. Planning ahead is key to achieving that. You need to take the homeschool hours, curriculum, subjects, and other aspects of it into consideration
Think about the methods you'll be using—No one, except the state (in some cases), will tell you how to homeschool your child. You have to appropriate your teaching to the needs, talents, and preferences of your kid, and you may even consider creating a curriculum from the ground up
DoNotPay Can Help You Start the Homeschooling Adventure!
The mere intent to homeschool is not enough to get you started on the homeschool journey. You must let the school district know by sending the superintendent a formal letter—otherwise, your child's education may not be formally acknowledged.
Drafting and mailing the notice yourself can be a drag, especially when there is an option to do it in five minutes—with the help of DoNotPay.
Follow the steps to use our Notice of Intent to Homeschool product:
Open the Notice of Intent to Homeschool feature
Enter your details
Type in some information about your child
We will then send you a PDF of the completed letter of intent to homeschool or mail it directly to the superintendent of your child's school district. If necessary, we can also help you get the document notarized remotely.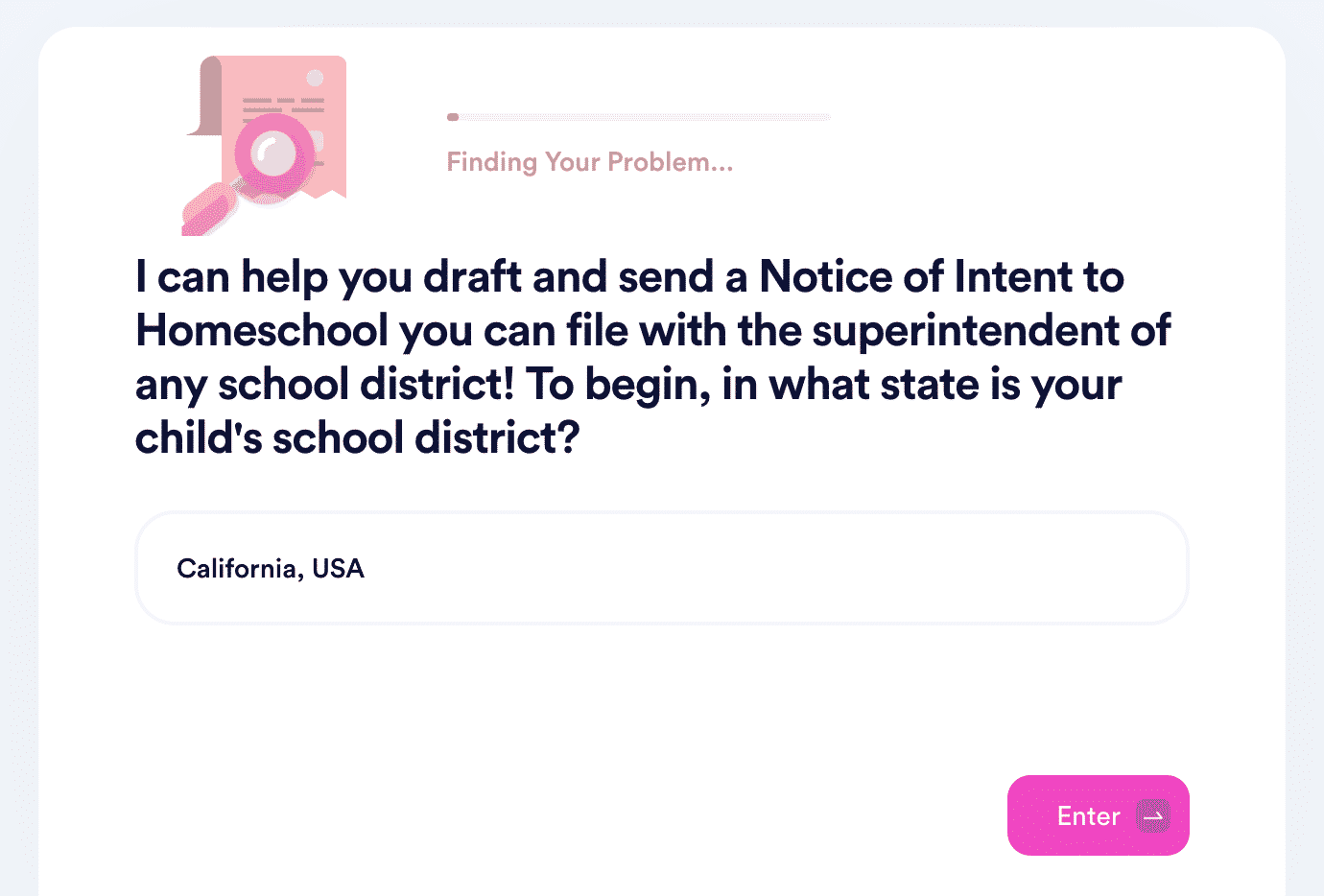 Explore DoNotPay's Vast Database To Handle Administrative Issues Head-On
Dealing with administrative issues is never a fun experience, but you can save yourself from unnecessary hassle with our app! Once you sign up for DoNotPay, there is little you can't do. Aside from helping you deal with everyday tasks, such as reaching customer services, you can also use our app to:
Make Your Legal Troubles Disappear
Is a company giving you a hard time? Don't fret! DoNotPay can walk you through the process of suing it in small claims court and help you get the justice you deserve!
The best part is that assisting you take companies to court isn't all our app can do! We can also help you with: