Single-Parent Homeschooling From A to Z
Homeschooling your child is never easy, but it is even more demanding for a single parent. Most people who raise their children alone are reluctant to embark on a homeschooling journey.
Is single-parent homeschooling really that challenging? DoNotPay will present all the relevant information and help you start homeschooling as a single parent. We can also send a letter of intent to homeschool to the district superintendent and inform them of your decision to take your child out of school.
How To Make Homeschooling Work as a Single Parent
Many single parents around the U.S. have managed to organize their time and finances and successfully teach their children in the safety of their homes.
Here are some handy tips for homeschooling as a single parent:
Find a job that allows flexibility
Organize your time
Use an appropriate curriculum
Join co-ops
Single Working Parent Homeschooling—Jobs You Should Consider
Most single parents are the only source of income for their family, so making homeschooling your only job is not possible. Unless you have other family members willing to help, having a typical 9–5 job will require you to hire a nanny, which is another expense.
The best option for you is to work from home and have flexible working hours. Here are some ideas to consider based on your skills and experience:
Blogging
Web design
Tutoring
Virtual assisting
Social media work
Direct sales
Music lessons
Bookkeeping
Customer service rep
Writing or ghostwriting
Creating and selling products online
How To Organize Your Time as a Single Parent Homeschooling
Once you have the financial aspect covered, you must manage your time efficiently. Homeschooling allows parents to organize lessons as they see fit, so making a productive schedule is possible.
You should also keep in mind that teaching your child at home does not take nearly as much time as learning at schools because your sole focus is on your child, and everything is adjusted to their skills and learning preferences.
Home-based education allows you to teach in the evening after work, for example. You can also decide how many days a week you want to teach. Note that some parts of the country have strict laws about homeschooling hours, and you should check them beforehand.
How Choosing the Right Curriculum Helps You as a Single Parent
You can choose between a plethora of curriculums, but finding a suitable one is crucial. You should pay attention to:
Your child's learning style
The learning method you wish to use
The cost of the curriculum
The best option for working parents is to find a curriculum that enables the children to work independently at least for a part of the day. You can also cut the cost significantly if you choose an online program because it doesn't require many supplies and materials.
How Joining Co-Ops Is Beneficial for Your Homeschooling Experience
As a single homeschooling parent, you will need all the help you can get. Joining or starting a co-op allows you to share responsibilities with other parents. It will also leave you with more time to work and earn.
Co-ops also promote team spirit and socializing with other students. The best part is that you know who your children interact with and that they are safe.
Do You Need To Send a Letter of Intent To Homeschool?
Most states require parents to send a letter of intent to homeschool to the superintendent of their school district. Take a look at the table below to find out if this is a mandatory step in your place of residence:
If you don't want to deal with writing the letter of intent yourself, you can count on DoNotPay for help!
Allow DoNotPay To Create a Letter of Intent To Homeschool for You
If you want to get a rock-solid letter of intent to homeschool, you should turn to DoNotPay for help. Our app will generate this legal document for you in a matter of minutes, and you only need to:
Choose the Notice of Intent To Homeschool product
Provide us with essential information about your school district
Give us the necessary info about you and your child
We will send a PDF document instantly. You can also let us send the letter to the superintendent in your stead. If you wish, you can even get your letter of intent notarized with DoNotPay's help.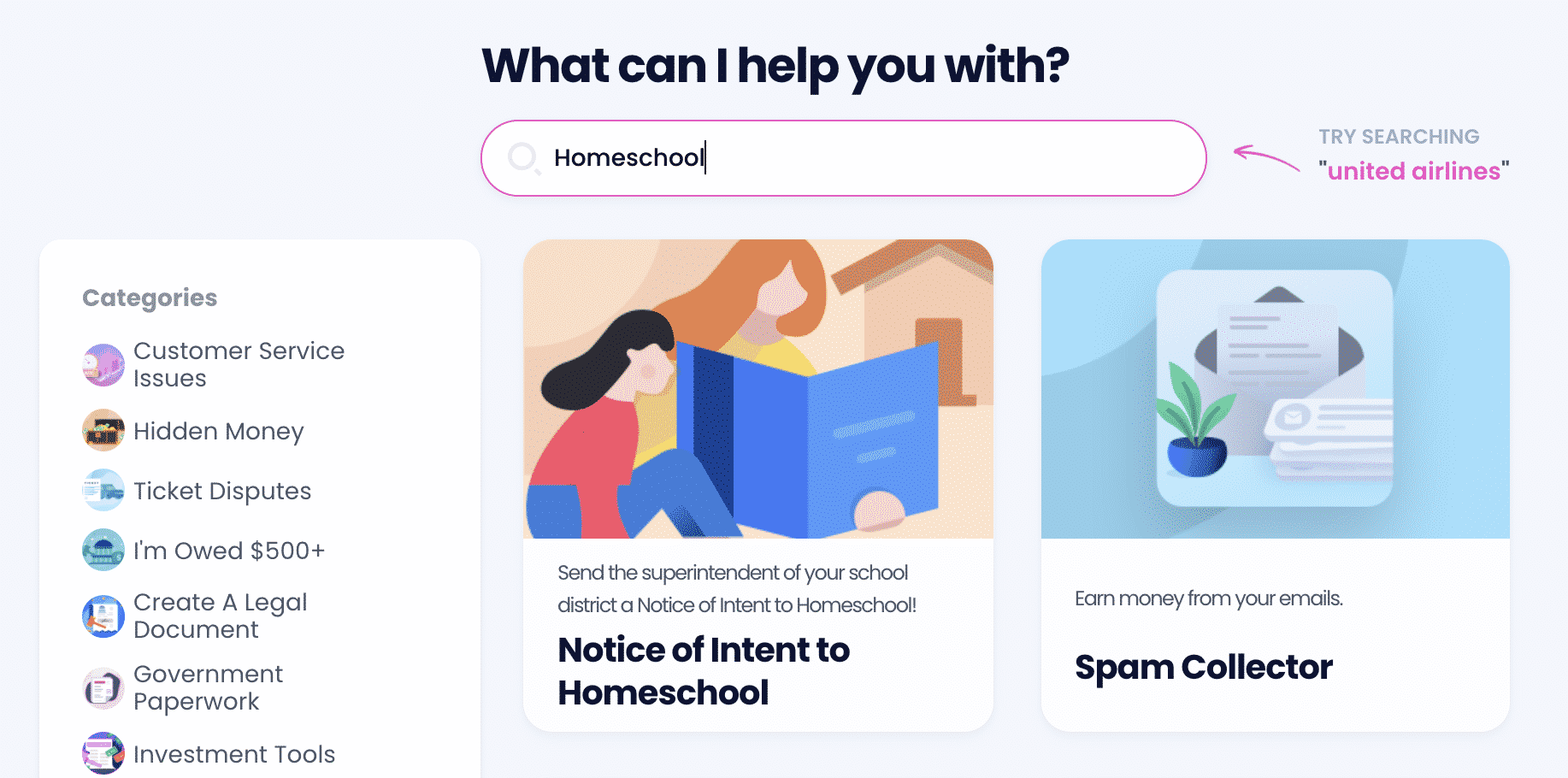 If you have more questions about teaching your child at home, DoNotPay is here to answer them. We can tell you:
DoNotPay Offers Quick Solutions to Tedious Problems
Are you overwhelmed by your never-ending to-do list? We're happy to jump in with a perfect solution to deal with everyday tasks the easy way!
Once you subscribe to DoNotPay, you'll be able to schedule DMV appointments, lower your monthly bills, and contest parking tickets without breaking a sweat!
If you are looking for further assistance, our app will show you how to deal with the following tasks effortlessly:
Rely on DoNotPay's Legal Assistance Any Time!
If a company refuses to cooperate, use DoNotPay—the world's first robot lawyer—to sue it in small claims court! Getting the justice you deserve is only a few clicks away!
You can also use our app's various features to do the following: