Seatbelt Safety Course in Texas—Why Do You Need It?
Seatbelt tickets bring many inconveniences. In some states, they can add points to your driver's license, increase the insurance rates, and bring considerable costs and serious injuries. Whether they are moving violations in the state where you live or not, failing to comply with the seatbelt rules can cost you an arm and a leg.
In most states, you can avoid paying a seatbelt citation by accepting to attend a safety course. If you live in Texas and wonder if this option is available in your state, we have got your back! This article explains the basics of the seatbelt safety course in Texas and helps you understand its importance.
What Is a Seatbelt Safety Course?
A seatbelt safety course is a special batch of lectures related to the proper use of seatbelts in vehicles. It's made for drivers and passengers who were pulled over by the police and ticketed for not wearing a safety belt. Judges usually require offenders to complete such a course to get their fines dismissed.
The primary purpose of seatbelt safety courses is to inform the drivers who have violated the local seatbelt laws about the importance of buckling up. Seatbelts save thousands of lives a year, and the authorities do their best to educate drivers and emphasize the need for increased safety belt use.
As a safety course attendant, you should learn how to:
Fasten your safety belt properly
Comply with other current adult and child seatbelt laws
Follow general driving safety rules
Avoid similar mistakes in the future
Do I Choose the Texas Seatbelt Safety Course I Want To Attend?
If the judge requires you to start a seatbelt safety course, you can choose it yourself, but your choice must be approved by the Texas Education Agency (TEA). The institution provides a list of acceptable online and regular courses you can take. They differ in:
Duration
Price
Format
Approach
Some Approved Texas Seatbelt Safety Courses
Here's a list showing some quality courses approved by TEA:
Aceable Defensive Driving on Any Device
ApprovedCourse—TDLR Defensive Driving
A Sense of Humor—Comedy Ticket Dismissal
Texas Defensive Driving Online
I Drive Safely—Texas Defensive Driving
Online Video Defensive Driving Course
Fun Ticket Dismissal—Online Driving Course
Defensive Driving Comedy Course
Stick My Ticket—Texas Driving Safety Course
Comedy Driver Course
Serious Fun Driving
Driver Safety Texas
Other Ways You Can Fight a Seatbelt Citation in Texas
Completing a seatbelt safety course is usually quite easy, but what if you can't find a convenient one? No worries—there are still other ways to have your Texas seatbelt ticket costs waived. They include:
Going to court with a lawyer—Even though professionals know how to create a proper defense, you may spend tons of money on a simple seatbelt fine, as you must pay a lawyer's services
Show reasonable doubt if you indeed wore your safety belt—The police officer may have mistakenly written a citation for you even if you didn't make an offense. If this happens, you have the right to use reasonable doubt as an argument and prove that you were complying with the proposed rules
Mount due diligence—You made a mistake, and now you admit it, but how can this go in your favor? The answer is simple—give the court a good excuse for breaking the Texas adult or child seatbelt law. You may have a specific condition because of which you can't wear a seatbelt, or your child may have unbuckled their seatbelt while you weren't watching. Showing a solid piece of evidence is a plus
Use DoNotPay to compose an appeal letter—Ready to fight your seatbelt fine from home? Subscribe to our app and let us have your ticket dismissed for you
No Inspiration for Writing an Appeal Letter? DoNotPay Has Got You Covered
Crafting an appeal letter to get your seatbelt ticket dismissed isn't a joke. Using incomplete or generic online templates or writing the claim yourself if you don't know how to do it can only make everything worse. Luckily, you have DoNotPay right by your side!
Our app gathers all crucial details about your case and creates an excellent personalized claim. It's a simple process, and you can do it from any location without collecting a ton of paperwork!
To get your customized appeal letter, do the following:
Access your DoNotPay account from any web browser
Search for the Seatbelt Ticket feature in our app
Indicate who received a citation
Take a photo of the ticket and upload it to our platform
Answer a few simple questions our chatbot has for you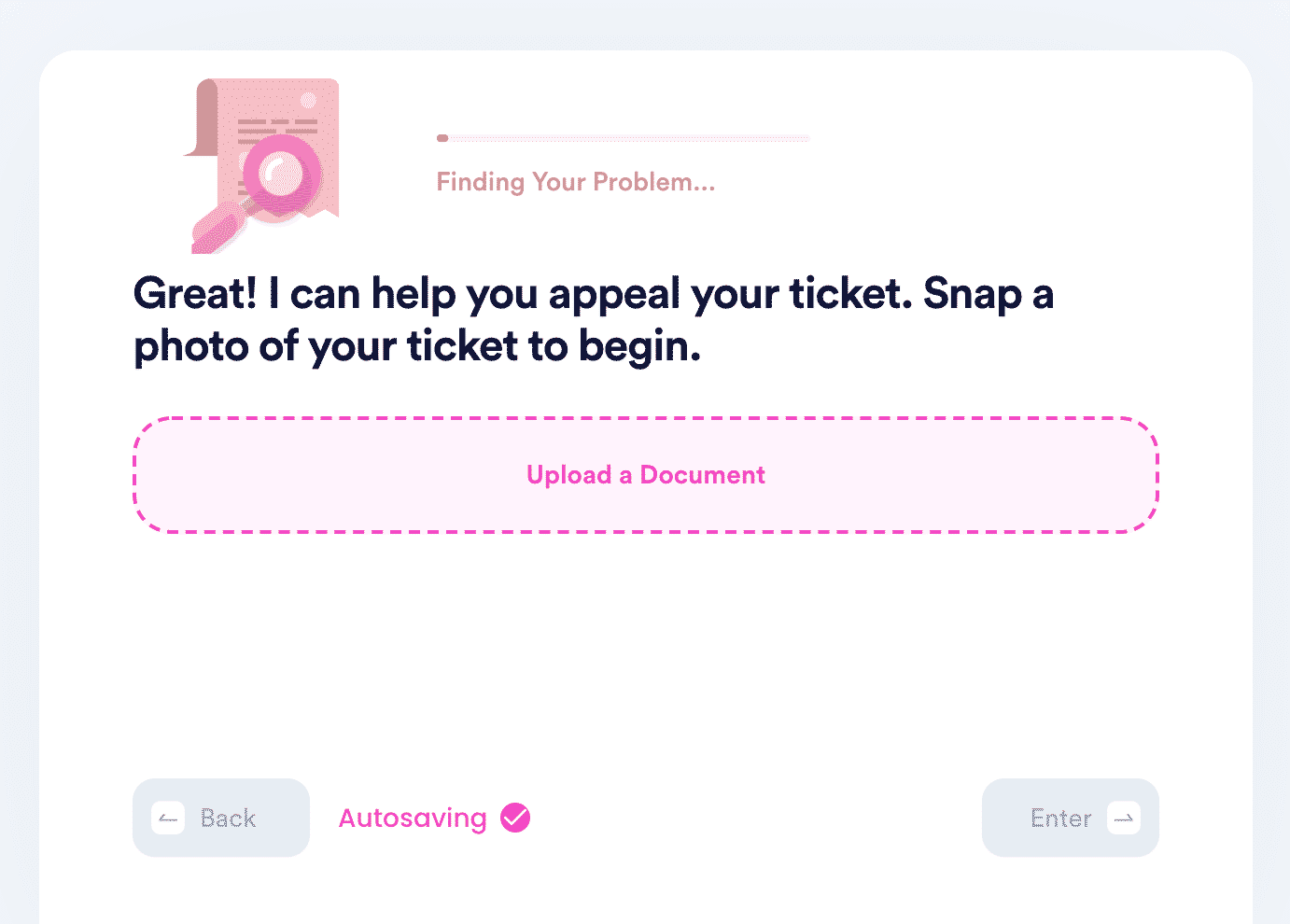 Once we create a claim, we will direct it to the right office, which means you don't need to wait in endless lines!
Leaving Texas? Figure out how to dispute a seatbelt ticket in other U.S. states by following our advice! The following table contains the guides for every area in the country:
Save Time and Money Using DoNotPay
Being on hold while trying to reach customer service is no picnic. With DoNotPay, you can jump the phone queue and reach a rep with ease. Are you contacting a company to request a refund or cancellation? No need for that! Our app can get it done in a few clicks. We can also help you return an item or handle a late delivery.
Dispute parking tickets, claim your warranty or insurance, set up a DMV appointment, contact an embassy, and deal with any other task with our assistance.
You can also request access to public records, apply for tourist visas, or file complaints with the help of our AI-powered app.
We're Not Done Helping You!
Our multifaceted app keeps getting new features that can streamline numerous tasks and solve all kinds of problems.
Would you like to join sweepstakes or giveaways? Are you up for participating in clinical trials and earning some money? Are you interested in sending mail without visiting the post office? We've got it covered!
We will help you protect your privacy by putting an end to spam emails, incessant text messages, and robocalls. If you think you're being stalked, you can count on our assistance. You can also use our app to perform a sex offender search, fight workplace discrimination, and handle annoying neighbors.