How Much Is a Seatbelt Ticket in Texas? DoNotPay Has the Answer
The last few years were disappointing in terms of traffic crashes in Texas. Despite on and off lockdowns, the state witnessed a 16% spike in the number of traffic fatalities involving unbuckled passengers.
To combat the issue, local law enforcement has been super strict with pulling vehicles over for seatbelt violations. These violations often lead to motorists and passengers being slapped with seatbelt tickets entailing hefty fines.
How much is a no-seatbelt ticket in Texas? The answer can vary depending on your situation. DoNotPay has prepared an insightful guide to help you understand:
The no-seatbelt fines in Texas
The available methods to appeal and overturn unfair tickets
Understanding Texas Seatbelt Laws
All U.S. states (except one) have mandatory seatbelt laws for adults, but the requirements of these laws vary from state to state. To avoid unnecessary expenses and stay safe on the road, get a grip on the seatbelt provisions in Texas.
Is a Seatbelt Ticket a Moving Violation in Texas?
A moving violation is a breach of traffic legislation that occurred while your vehicle was in motion. Not wearing a seatbelt can be both a moving or a non-moving violation, depending on the state you're in. In general, offenders with moving violations face higher fines and demerit points on their driver's license.
As per Texas seatbelt law, seatbelt-related offenses (both front-seat and backseat) are considered non-moving violations unless not wearing one leads to severe consequences, like a multi-vehicle crash.
What Is Considered a Seatbelt Safety Violation for a Child in Texas?
According to Texas' child seatbelt laws, an adult can be ticketed for seatbelt safety violations for a child or a teen traveling with them. These state laws require an adult driver to ensure a:
Child under eight is restrained in an appropriate and properly fitted booster seat
Passenger over eight wears a seatbelt while the vehicle is in motion
How Much Are Seatbelt Tickets in Texas?
Refer to the following table to check out the fines for committing a seatbelt violation in Texas:
Violation
Offense
Fine
Non-moving
Not wearing a seatbelt (passenger vehicles, includes sports utility vehicles and trucks)
$150
Not wearing a seatbelt (commercial vehicles)
$210
Seatbelt safety violation for a child (first offense)
$125
Seatbelt safety violation for a child (second offense)
$225
Moving
Seatbelt violation that causes an accident
$270
Remember that the Texas lawmakers can increase the fines any time to punish repeat offenders and stress the importance of wearing seatbelts.
If you're assessing your total expenses for settling a ticket, you should know you may also need to spend more on high legal costs, processing fees, and surcharges if:
Paying the fine is not a smart solution if you have a good reason to contest the ticket, but hiring an attorney to handle your case can cost a lot.
Are crazy legal expenses standing in the way of proving your innocence? If you want to appeal your seatbelt ticket without spending a fortune, to handle the legal hassle in your stead! We save your time and resources by helping you send an appeal to the authorities within minutes—all from the comfort of your couch!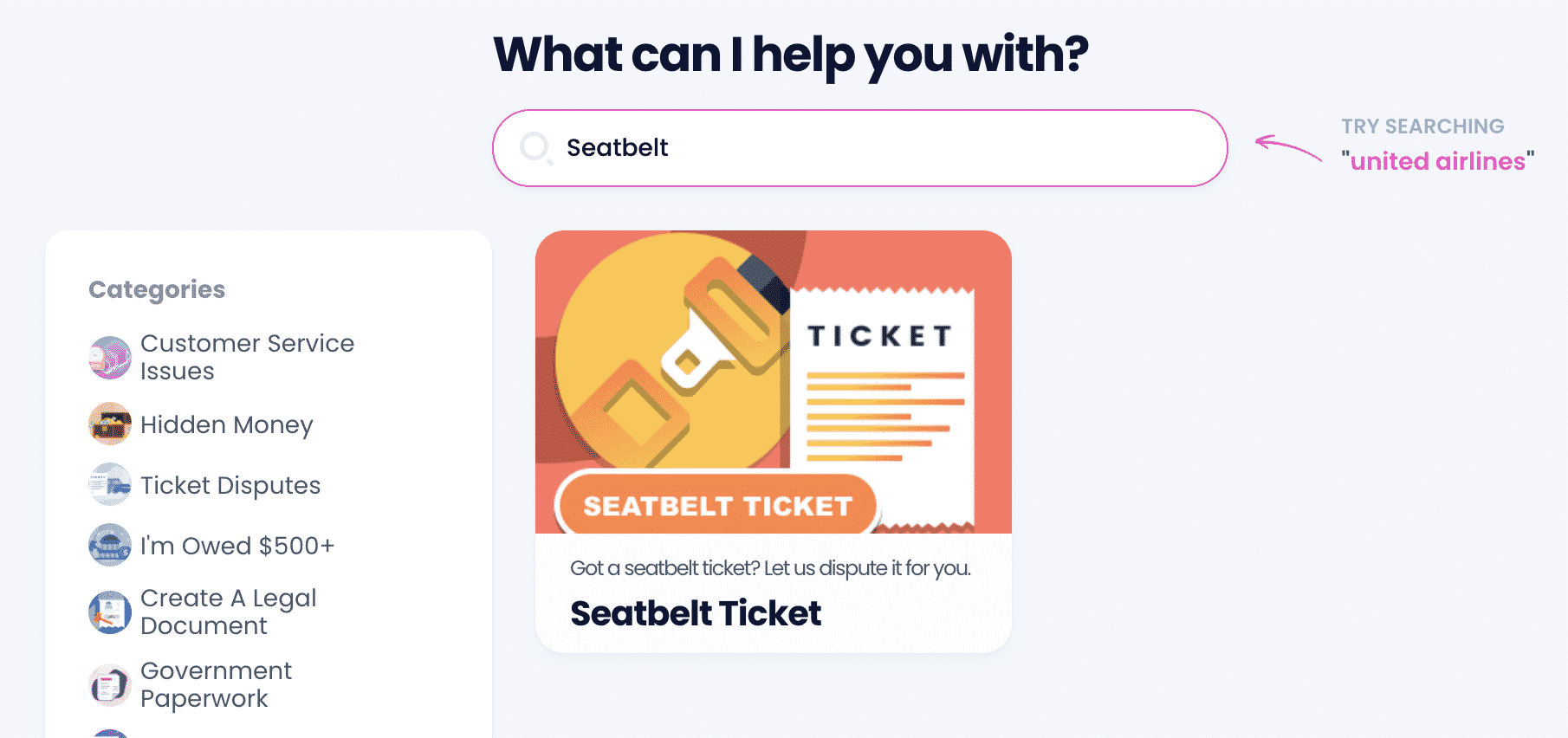 What Are the Points for Seatbelt Violations in Texas?
Accumulating traffic violation points can raise your insurance expenses and even get your driving license suspended. Currently, the Texas Department of Transportation doesn't levy penalty points for seatbelt violations that are non-moving in nature. If you were involved in an accident due to not wearing a seatbelt, you will get three demerit points on your license.
Modes To Settle a Seatbelt Ticket in Texas
You have the following five options to pay off seatbelt fines in Texas:
Mailing the check to a municipal court
Paying the fine online
Clearing the fine in person by visiting a municipal court during working hours (be prepared to wait in long lines if you use this method)
Paying through Western Union as per instructions mentioned on the ticket
Using the Credit Card Form attached to your ticket and mailing it to the court address
If you are unable to pay the fine, you can:
Ask the court to put you on a deferred payment plan
Do community service to reduce the fine
Enroll in a traffic safety course recommended by the court (as per the Texas seatbelt ticket dismissal laws)
Fight the ticket in court to:

Eliminate the fine
Reinstate your driving records and insurance rating
Dismissing a Seatbelt Ticket—How Does DoNotPay Help?
The process of getting a seatbelt ticket dismissed is tedious and uncertain, but DoNotPay makes sure you don't have to go through it alone. Our Seatbelt Ticket product collects the information specific to your case to prepare a customized appeal letter.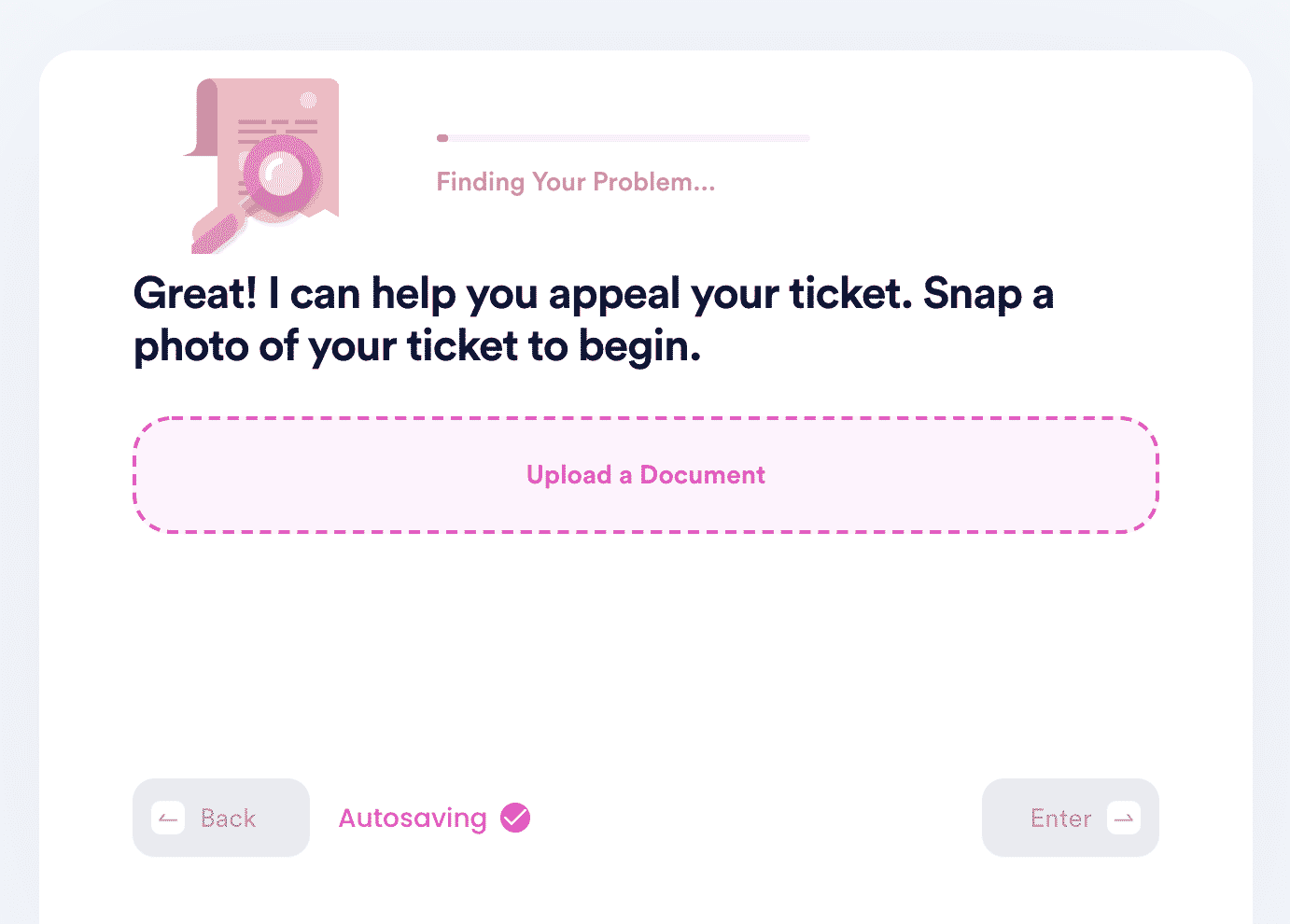 Here's how we operate:
and click on Seatbelt Ticket
Upload a photo of your ticket
Tell us who received it—a driver, passenger, or a kid
State your argument and add evidence if available
We will use your responses to draft an appeal letter reflecting your argument in the best way possible. You don't have to worry about mailing the letter to the authorities—we'll do it for you!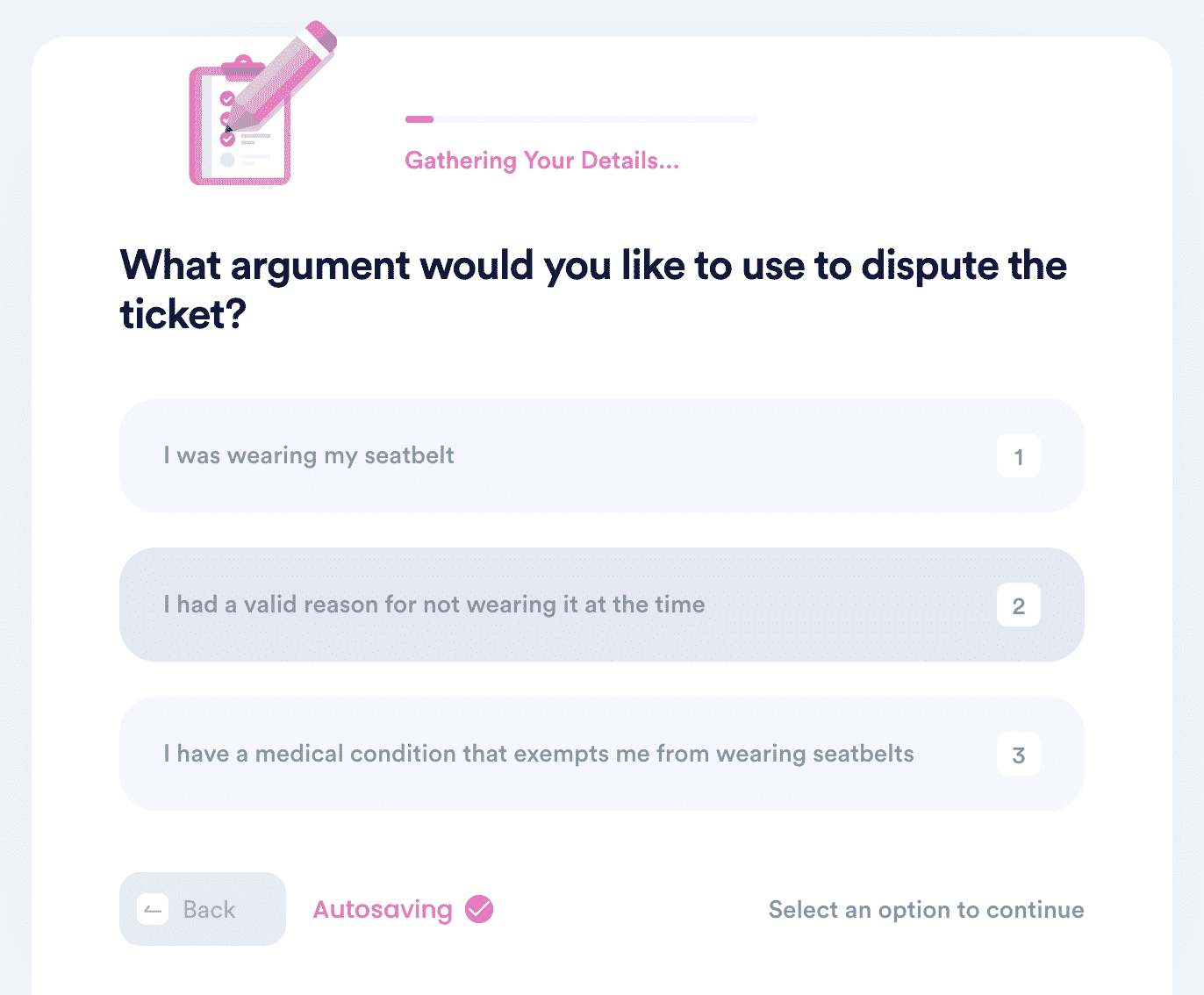 What Arguments Work in Court?
Your chances of getting the ticket overturned depend on the arguments you have. Browse through the following table to understand what would hold in court:
Reasonable Doubt Argument
Due Diligence Argument

Use this argument to prove that you actually wore the seatbelt
Examples: "My seatbelt was the same color as my jacket" "I have a witness who saw me with my seatbelt on"

Use this argument to prove that you did not wear a seatbelt because you had a valid reason not to
Examples:

"My medical condition prevents me from wearing a seatbelt"

"My seatbelt turned faulty"
What's Next?
Once you complete the task at hand, you don't have to stop there—we offer a myriad of products that can relieve you of the stress that comes with dealing with admin and legal hurdles.
DoNotPay can assist you in drawing up a divorce settlement agreement, child travel consent form, power of attorney, and other legal documents, contacting government representatives, getting tourist visas, fighting workplace discrimination, getting a burner number, appealing banned accounts, getting access to public records, scheduling a DMV appointment, and much more.
Tackle Any Energy-Draining Task With DoNotPay
With DoNotPay by your side, you don't have to worry about how you'll cover your utility bills at the end of the month—we'll provide swift assistance as soon as you sign up!
Wondering what else our app is capable of? Check out how we can: