Learn All About Homeschool Groups in Texas
Connecting with other homeschooling parents who can give you advice and support is important, especially when starting your homeschooling journey.
The best way to get in touch with other homeschooling families is to join one of the homeschool groups in Texas.
This comprehensive guide will give you more information about homeschool laws and the types of homeschooling groups you can join in Texas.
Sign up for our service to avoid wasting your time on the tedious task of writing a letter of intent to homeschool. We can do it for you in no time!
Types of Texas Homeschool Groups
Before choosing a homeschool group, you should get familiar with the types available in Texas:
Statewide groups
Regional groups
Local groups
Virtual groups
Co-ops
Other groups
Statewide groups
Statewide homeschool associations have a larger perspective on homeschooling in Texas. They can assist you in finding local homeschooling groups, co-ops, and online homeschooling platforms.
Regional groups
Some homeschool groups are formed to support, help, and connect homeschoolers in different parts of the state. They function as hubs for other smaller groups and typically sponsor seminars, book fairs, and other events.
Local Groups
As a beginner in homeschooling, you might want to connect with other homeschooling families in your area. Local homeschool groups hold regular meetings and organize special events for families who homeschool their children, such as:
Field trips
Workshops
Clubs
Spelling bees
Graduation ceremonies
Co-Ops
Homeschooling cooperatives (co-ops) are networks of families involved in homeschooling. These families meet regularly and work together toward the same goals.
Other groups
Some more specific groups in Texas are:
Virtual groups—support homeschoolers in an online environment. They can operate on a local or national level
Field trip groups—organize field trips that provide homeschooled students with some new learning opportunities
Special needs support groups—provide support to families of children with special needs
Extracurricular groups—focus on a specific area of study or recreation. They often organize activities such as:

Theater
Sports
Band
Choir
Boy scouts
What Are Some of the Best Homeschool Groups in Texas?
To discover some of the most popular homeschool groups in the state of Texas, take a look at the table below:
| Homeschool Groups | Description |
| --- | --- |
| Big Country Home Educators | This homeschool group supports the efforts of Christian homeschooling families |
| North Texas Home Educators Network (NTHEN) | NTHEN is one of the largest regional homeschooling organizations in Texas. It provides support to local homeschool groups throughout north, northeast, and central Texas |
| Texas Home School Coalition | This organization is dedicated to assisting the homeschooling community and promoting understanding and acceptance of home education in Texas |
| Austin Area Homeschoolers | This is an inclusive group composed of homeschooling families who want to share their homeschooling experiences. There are no special membership requirements |
| Arlington Association of Home Educators (AAHE) | A Christ-centered homeschool support group, but you don't need to be a Christian to join |
| Common Ground Homeschoolers of Dallas | It offers homeschooling families support and the opportunity to take part in different activities |
| Homeschoolers East | This is a secular and inclusive homeschooling group located in Dallas. Members meet weekly for co-op classes and organize field trips and camping trips |
| Heart of Texas | It is a support group with a mission to provide leadership and support to homeschooling parents. It encourages relationship-building within the homeschooling community |
| Dripping Springs Homeschooling | It encourages homeschoolers in the Dripping Springs to connect and organize all kinds of group activities |
Besides homeschooling costs, such as curriculum, entrance fees to museums, and online courses, be prepared to pay a fee to join most homeschool groups.
Texas Homeschooling Laws
To homeschool your child in Texas, you must:
Use a written curriculum (books, workbooks, etc.)
Operate your homeschool in a "bona fide" manner
You don't have to be a certified teacher to homeschool your child. If you don't feel qualified enough to teach everything, your child can be taught in another family's home a few days a week, or you can hire a tutor.
Permission from your school district to homeschool is not necessary, but you must withdraw your child from public school if they're already enrolled (you can do it anytime, even in the middle of the school year).
Although it's not determined by the law, a parent should homeschool their child for two to four hours each day (depending on the age).
DoNotPay Can Generate a Personalized Letter of Intent To Homeschool
You are not required to submit a letter of intent to start homeschooling in Texas, but if you do decide to write one or move to another state, we can help.
The fastest and easiest way of drafting a notice of intent is to use our app.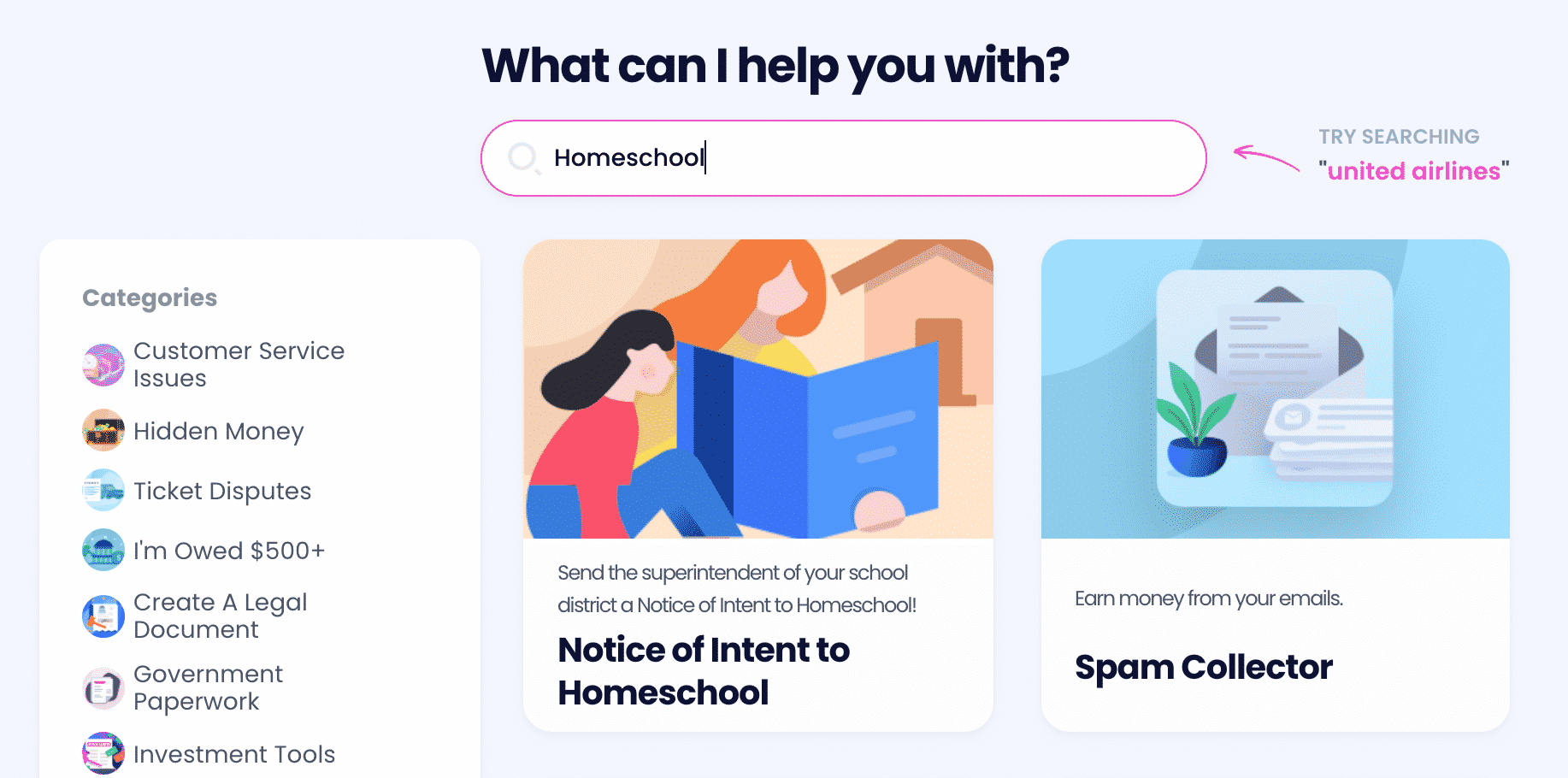 All you have to do is:
Locate the Notice of Intent to Homeschool feature
Answer a few simple questions from our chatbot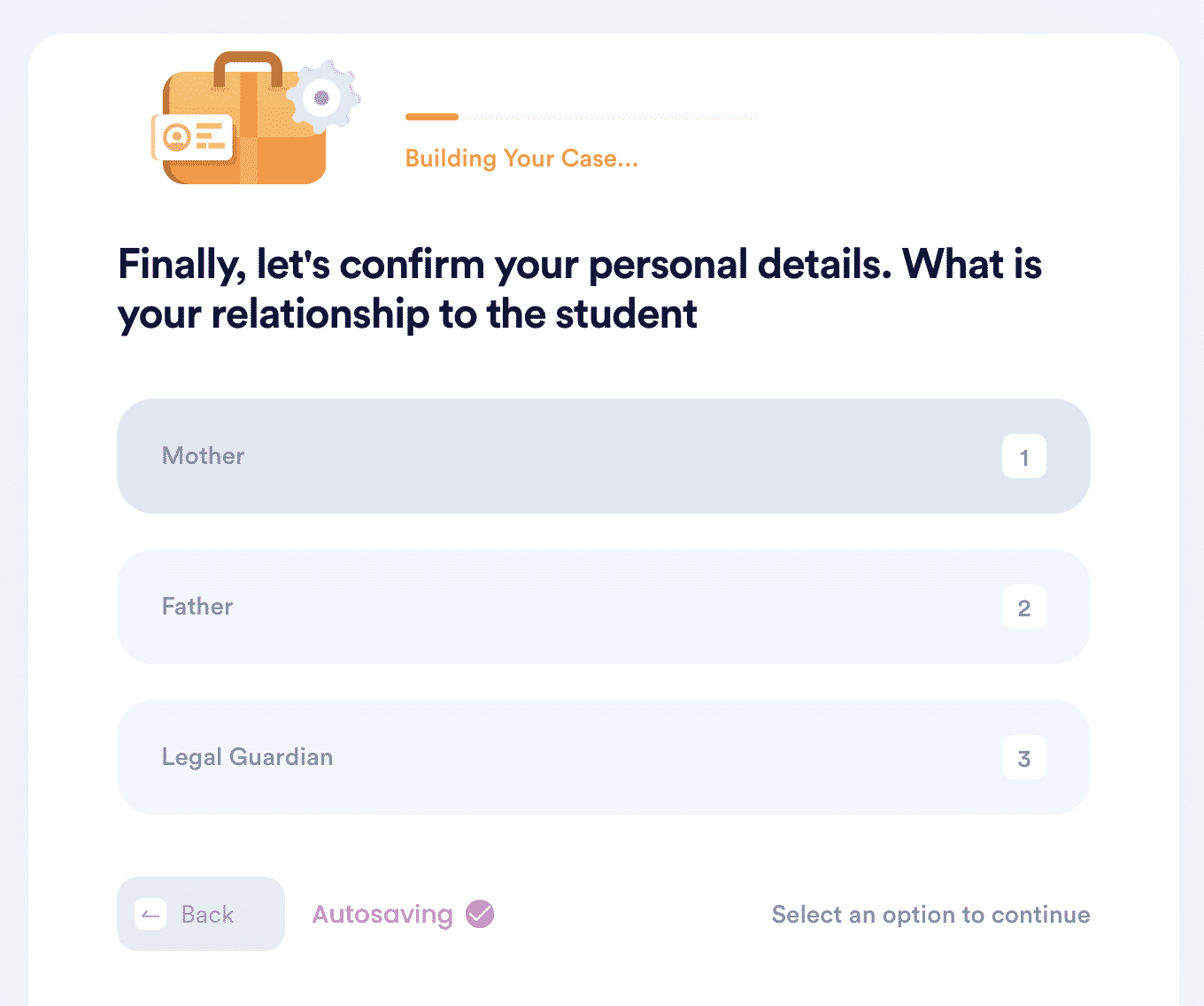 Resolve Any Other Issue You Have Swiftly With Our Assistance
The world's first robot lawyer is capable of tackling any legal or administrative task in your stead. We can draw up any legal document for you—including a power of attorney, child travel consent form, and divorce settlement agreement, to name just a few—help you sue any company or individual in small claims court, send a letter of warning to your noisy neighbors, help you reduce your property taxes and utility bills, and a lot more.
Sign up now if you want to stop email and text spam, claim any insurance or warranty, appeal parking tickets, schedule a DMV appointment in a flash, mail anything worry-free, find your missing assets, create passport photos, or contact embassies and consulates effortlessly.
Let DoNotPay Guide You Through Any Obstacle
Are you tired of corporations not taking their customers seriously? So are we, and that's why our nifty product will assist you in suing any company or individual in small claims court!
If you don't want to have any online service take advantage of you, you can sign up for any free trial completely risk-free with our virtual credit card's help, cancel any membership on time, and demand a refund or chargeback in a split second. DoNotPay can also draw up an airtight return request and send it to a company of your choice instantly.