When and Why To Notarize a Letter?
Here are some situations when you must take your letter to a notary:
The purpose of this procedure is to verify your identity and prevent fraudulent activity. Failing to get the proof of validation will prevent you from using the letter as a legally binding document. This can be a huge problem, which is why it's recommendable to get informed about the process. You should also check how letter notarization works in your state and follow the proposed procedure.
How Can You Notarize a Letter on Your Own?
Despite being crucial for many legal documents, notarization is often tiresome and stressful. To make your letter legitimate, you must go through the phases listed in the table below:
Steps
Details

Look for a notary

You can find public notaries in many institutions and places, including:

Courthouses

County clerk offices

Insurance companies

Banks

Law offices

Credit unions

Independent offices

Independent notaries offer mobile services, which means they can come to your address

Schedule a meeting

Scheduling methods vary from notary to notary. Most offices allow you to arrange a meeting via phone or online. You must also pay notary costs

Provide a piece of identification

When you meet the chosen notary, bring an official document with a photo, such as an ID, driver's license, valid passport, etc. 

Go through a check

The notary can refuse to notarize your letter if they:

Find any discrepancies in it—missing details, inaccuracies, etc.

Realize you are signing the document against your will

Notice you are under the influence of alcohol, drugs, or medications

Realize you are mentally unstable

Sign the letter

Once they determine that your document is ready for validation, you must sign it in front of the notary. They will finalize the notarization by providing their signature, seal, and commission details
Notarize Any Document in the Blink of an Eye With DoNotPay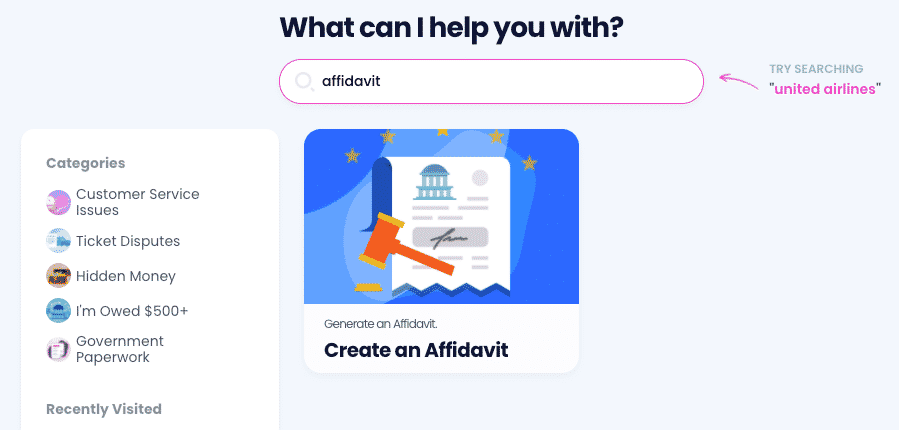 What makes a notarization procedure problematic is its length and complexity. A single mistake may cause immediate rejection. In such cases, you must reschedule the visit, which is time-consuming and tiresome. 
Online notaries changed the game and made the process simpler, inspiring us to design our Notarize Any Document feature.
With DoNotPay, our awarded virtual lawyer, you get a chance to notarize any legal document with zero hassle! You don't need to leave your house or spend loads of money on unreliable apps because we offer you a quick and affordable solution. Our notary service allows you to arrange a virtual meeting with a notary and validate your letter from your phone or laptop! 
Here are the steps you should follow:
Open DoNotPay in your preferred

web browser

Navigate to the

Notarize Any Document

section

Upload the document that needs notarization

Input your email address
Once you are done, we will send you a link to confirm a virtual appointment time and date! 
You can use this procedure to notarize copies, diplomas, birth certificates, forms, affidavits, and many more documents. The articles from our knowledge base will help you get familiar with notaries in:
Create and Notarize Your Legal Documents in the Same App
Are you struggling to draft your lease, rental, or business contract? We designed a special tool to help you generate contracts and legal documents! Give us some basic info, and we will provide you with a ready-made personalized document aligning with state-specific laws!
To use our service, open DoNotPay in any web browser and:
Find the document template you want to modify

Answer a few questions regarding the desired contents of your contract
With our customizable templates, you can generate:
Visit DoNotPay's Knowledge Base for More Handy Tips
With DoNotPay, you can get a notary's signature on various documents, including:
Get familiar with our service and learn how to notarize any document in a few taps!
If you found our advice useful, check out some additional tips from our learning center! We answer many notary-related questions, such as:
Our Robot Lawyer Gets Rid of All Admin Tasks
What makes DoNotPay so unique is that it helps you get back what is rightfully yours in many different ways. You can appeal parking tickets, find unclaimed money, demand a refund for canceled or delayed flights, get help with bills you cannot pay, or get your college application fees waived with the help of our platform.
If you're sick and tired of annoying robocalls, spam emails, copyright violations, text message spam, or stalkers and harassers, DoNotPay can assist you in getting rid of them once and for all.
DoNotPay Can Help You Save Money
Have you ever subscribed to a service's free trial you forgot about after a few days? Many Americans have, which is why DoNotPay has a free trial feature that will help you avoid getting charged once the trial is over.
If you want us to scan all your active memberships and help you not pay for the ones you don't use, connect your email address or credit card to DoNotPay. Our cancel feature will ensure that you don't waste your money on subscriptions you don't even remember exist.
If a merchant charges you once the free trial is over, though, you can use our robot lawyer to request a refund and skip the phone queue when doing so.
In case a company refuses to grant you a refund, you can also use our app to sue them in small claims court.